If you have already registered at Bitrix24.Network, you can create a new Bitrix24 account at any time. Here is how:
Log in to your Bitrix24.Network Profile.
Done! Your Bitrix24 account is created.
First steps in a new Bitrix24 account
Select your Bitrix24 most used items (CRM, Tasks and Projects, Communications or Sites). It will determine what page will be displayed as the main page - CRM, Tasks, Activity Stream messages or Sites. This can be reset later with the help of Configure menu option.

You can always use the Help section. Click the ? button at the top right corner to learn more about Bitrix24.

Fill out your profile: click on the person icon at the top right corner > My Profile > Edit. Here you can add your photo, position, set date of birth, etc.

Open the Bitrix24 Settings page to configure work time parameters, set company name to display in the header, etc. Here you can choose one of 2 available options to be used by the system: company & employees or organization & users (the last one may be of interest for non-profits, various communities, educational or religious institutions or other clubs).

Invite users to your Bitrix24 account by clicking the Invite users button.
You can always navigate from your Bitrix24 account to your Bitrix24.Network profile page and back.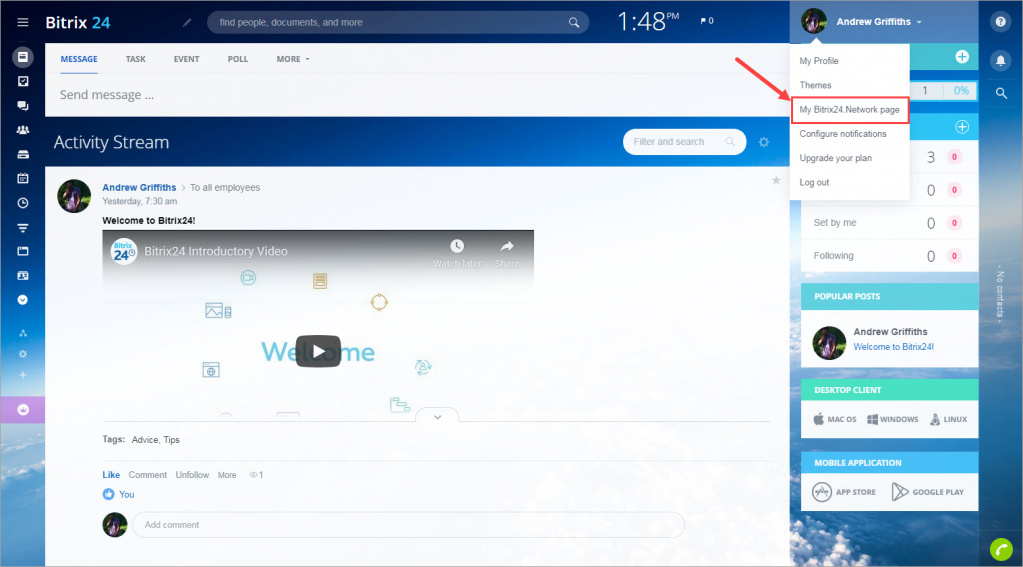 Recommended articles: