Please note that you cannot completely delete users from your Bitrix24 account.
For active users - you can dismiss them (users will completely lose access to your account and will be moved to Inactive users section).
For invited users - if user hasn't accepted invitation yet, he\she can be completely deleted.

For inactive users - here you will find all users that you have dismissed; you can hire them back at any time.
You cannot completely delete dismissed users from your account. At the same time dismissed users have no access to your Bitrix24.
Dismiss User
To dismiss users go to
Employees
section >
Employees
tab, select user > click the
cogwheel
button and click
Dismiss.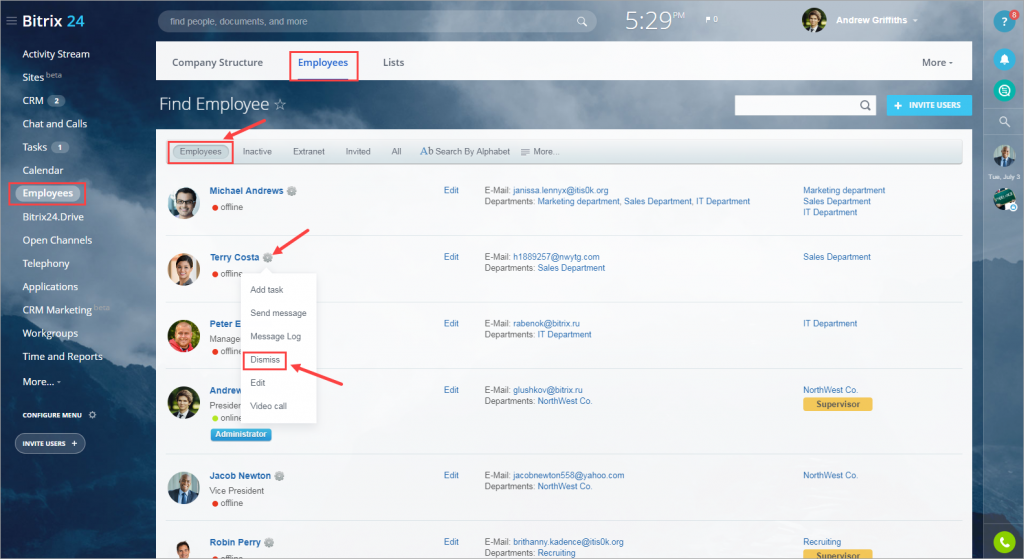 When you dismiss a user, it may be important to assign a new responsible person for user's tasks, files, calendar events or CRM records. Here is how to take care of the dismissed user's data:
Files: open user' My Drive, move all files & folder to one general folder & share it with other users.

Tasks: open Tasks list, select tasks & apply group action to them: e.g. for ongoing tasks (where dismissed user is responsible) - assign the responsible person, for set by me - change creator, for following - add an observer, etc.
Calendar: you can add this user's calendar to favorites.
CRM: open CRM records list (e.g. leads), filter all leads by responsible user = dismissed user, select all records & apply group action - Assign responsible person. Important: please make sure you have CRM Access Permissions configured so that you have full access to all records of the dismissed user.
Delete Invited User
You can delete an employee only if he\she has been invited but hasn't authorized to your Bitrix24 account (hasn't accepted the invitation yet). In this case the employee is listed under the Invited section.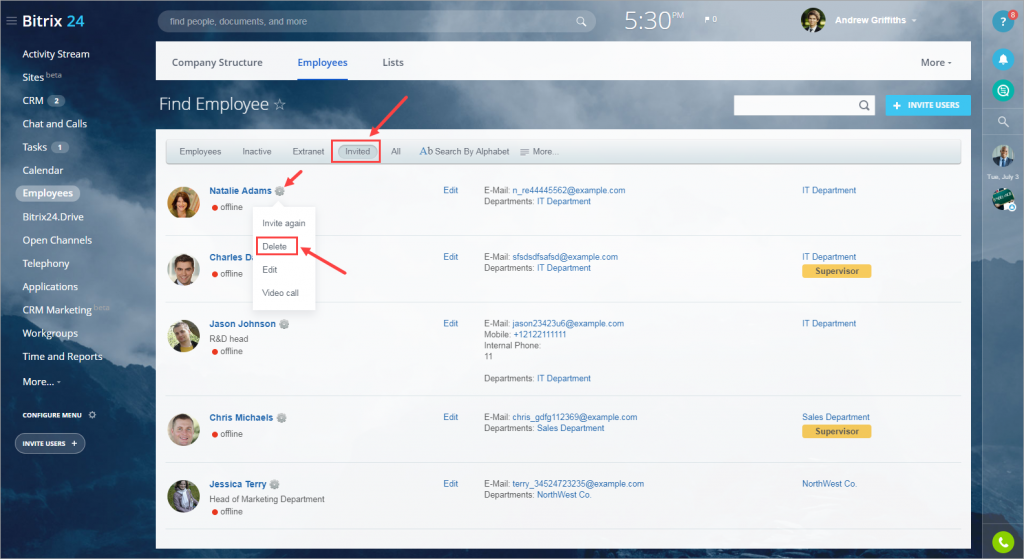 Error! Invited user has not been deleted
If you fail trying to delete the user who hasn't accepted the invitation yet – the reason may be he\she has been assigned the default 'Complete Profile' or any other tasks. The solution is to delete them. Go to the User Profile page and open Tasks > All - and delete all tasks listed. Please note that you need to delete tasks, not finish.

License & Business Tools
All other employees can be dismissed only (not deleted), thus, the dismissed employees are not counted in your license. However, Inactive & Invited users may have access to business tools. In order to manage business tools users please go to Subscription > Business tools. Read more here.
Please note that the dismissed employees may have assigned tasks or associated CRM records, involving other users - therefore, removing employees from the system completely can lead to data loss & therefore is not performed. In order for the company to maintain its data, the employees can be dismissed only (associated data remains accessible).