Attention! Outlook 2010 or higher version is required for fully functional integration.
Open My calendar page & click on MS Outlook. Please note that this option is available for Windows users only.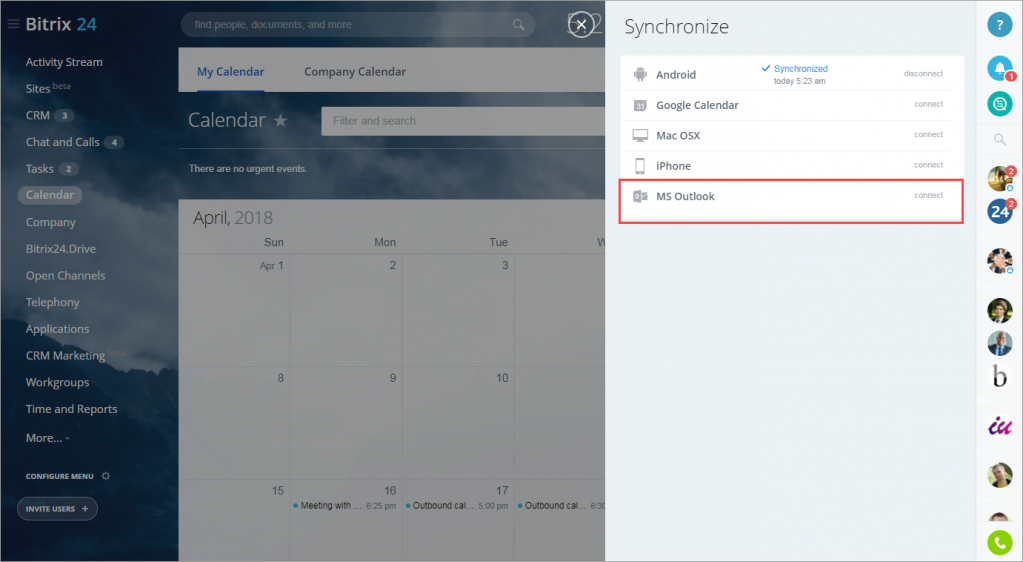 This will show MS Outlook pop up with Connect Calendar to Outlook? request, click Yes to connect the calendar, or Advanced - if your calendar or system needs more configuration options.
Enter the folder name (which is in essence the calendar name) and the description. Click OK.
Once you have finished configuring the connection, the calendar will appear in MS Outlook showing the events on the calendar grid.

Export other calendars you want to show in MS Outlook.
Whenever a new event is added to the MS Outlook calendar, this event will automatically show up in Bitrix24 calendar.
Example
Consider the following example:


1. Choose the day for an event and double-click the day on the calendar grid in MS Outlook. The new event form will open.

2. Fill in the fields: Subject, Start time, End time, Description. Note: you can provide information in the Location field, however it will not reflect in Bitrix24 events.

3. Click Save and Close.

4. The new event is now visible in the MS Outlook calendar.
Once the event has been added to MS Outlook, the system will synchronize it with Bitrix24 calendar. You can view the synchronization progress in the MS Outlook status bar.
Bitrix24 calendar will display this event as soon as synchronization is finished.
In MS Outlook, double-click the event you want to modify. Edit the event parameters in the event edit window and then click Save and Close.
To delete an event in MS Outlook, simply select the required event and choose
Delete
in the menu.
Any action you perform on an event will automatically run synchronization so both calendars in MS Outlook and in Bitrix24 are intact.
Turn Off Outlook & Bitrix24 calendars synchronization
To turn off calendars synchronization (between Bitrix24 and Outlook), the connection needs to be turned off in Outlook. Open the Calendar section of Outlook, right-click the name of the calendar and choose Delete from the drop-down options.
After confirming deletion, synchronization will be turned off.
Authorization to Bitrix24 request popup
If "authorization to Bitrix24" requests pops up constantly in your Outlook, try to set there your Bitrix24 authorization details & click "remember". If it doesn't help - you will need to completely delete all synchronized data from Outlook & Bitrix24 to make sure the sync has been stopped:
open your Outlook , find Bitrix24 calendar - delete all tasks from this calendar;
delete this Bitrix24 calendar from Outlook;
check if your Outlook email is integrated with Bitrix24 CRM (CRM > Settings > Email Integration) – if yes, delete this integration.