Tasks Views
Switch between available tasks views: simple List, Kanban boards, Planner or Gantt Chart.
What task view modes are for:
List - simple list view of tasks
Kanban - customizable task boards for projects (workgroups)
Planner - individual customizable task boards
Gantt Chart - bar chart illustrating a project schedule (task duration, deadlines, dependencies)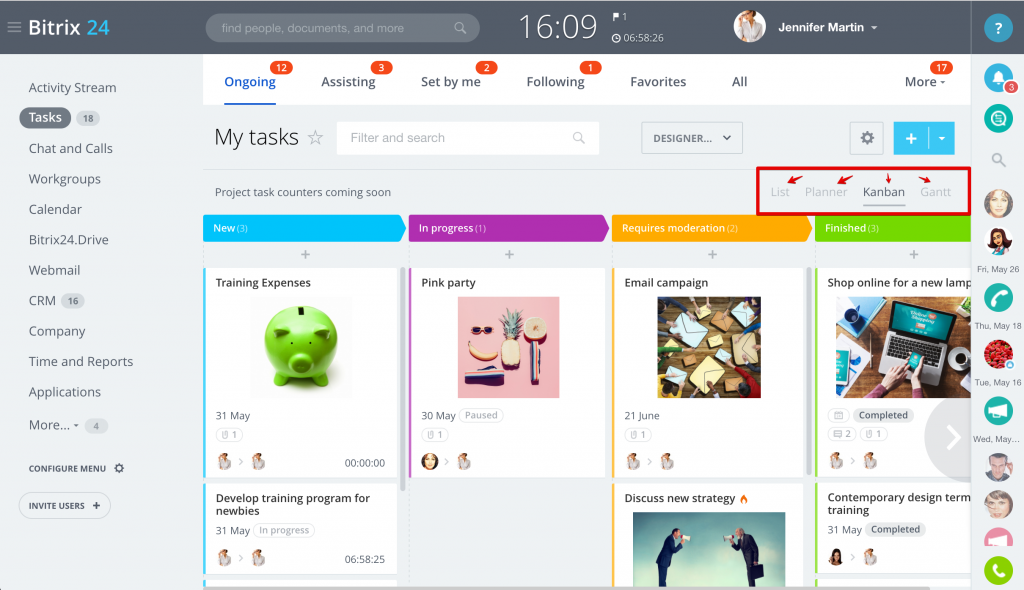 Tasks List Grid
When you first open tasks list you'll find filters & counters above the list. These tools will help to navigate between tasks. Tasks List shows both projects tasks (click on +/- icon to show\hide project tasks) & independent ones. The upper task panel will help to navigate between the tasks depending on your role in the task:
Ongoing - your tasks
Assisting - your task role is participant
Set by me - you are task creator
Following - you are task observer
Favorites - tasks you have marked as favorites
All* - shows all tasks you have access to (for account administrators - turn on Admin mode in your Profile to view all account tasks)
Availability - shows users involvement in tasks
Projects - general projects chart with tasks counters
Supervising - general chart with users tasks counters
Reports - tasks reports
Templates - tasks templates, including recurring tasks templates
*Only Bitrix24 account administrator has access to all tasks:
activate Admin Mode from My Profile page options
go to Tasks > All Tasks
open filter > add filter > task parameters
set task parameter as Show Tasks I Don't Participate In.
Department head has access to subordinates tasks only. All other users have access to own tasks or tasks they are involved in.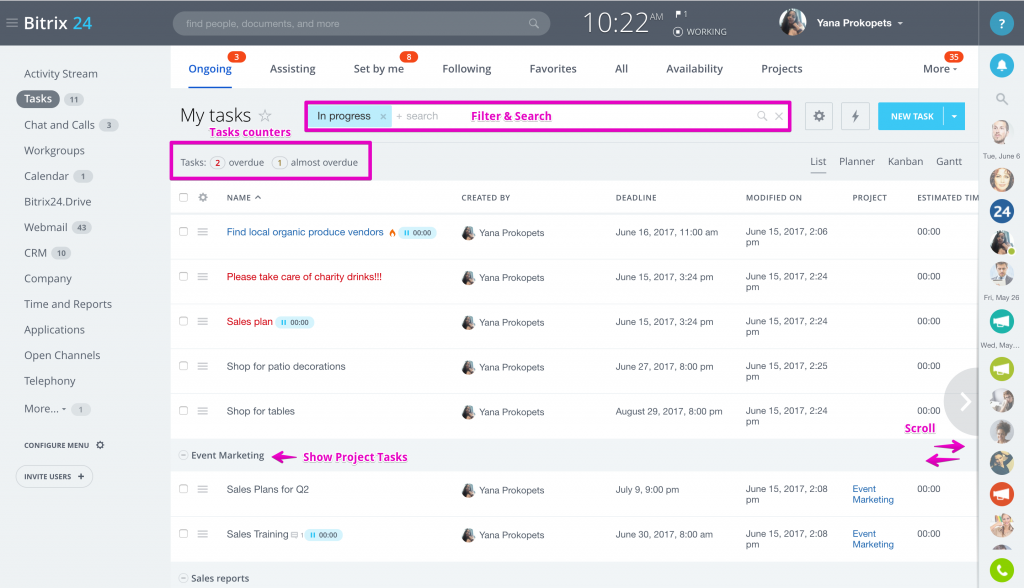 To navigate between tasks details inside task list view you can scroll page either horizontally or vertically. To change column sorting click on column name. To change columns order simply drag & drop column name.
Task list grid is customizable: click on Settings icon in the left corner above the list to open List View wizard: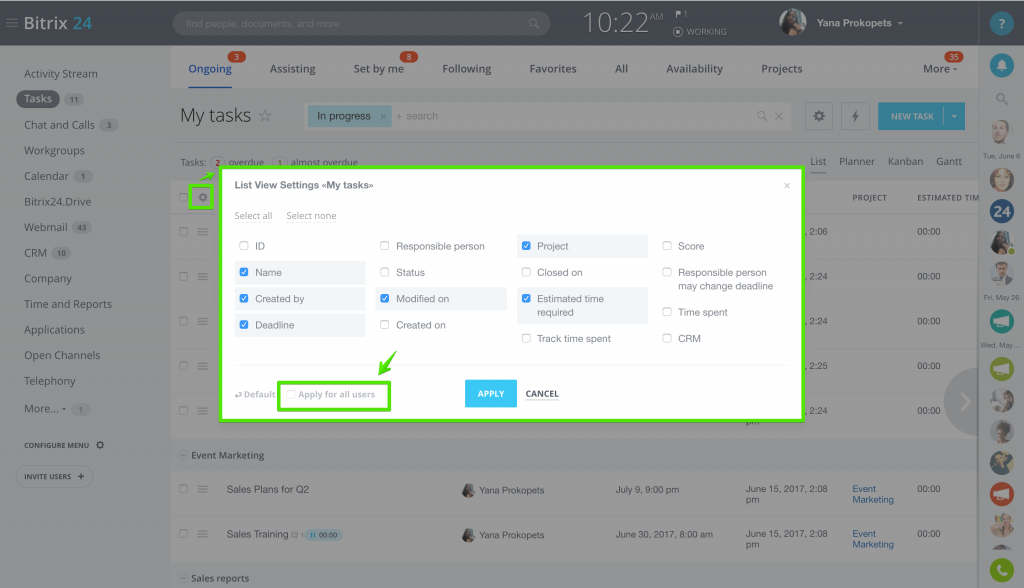 The List View Setting page shows all available tasks details that you can add or remove from the Task List columns. Use Apply for all users option to save List view configuration for all account users.
Task Filters & Smart Search
Tasks filter widget consists of:
Quick access filters: placed on the left side, such as Completed, Deferred, Overdue, etc. You can pin any of the default filters (task filter will be applied to list automatically each time you open tasks), or add your own filter to the left panel (configure filter conditions & apply Save Filter option).
Filter conditions: placed on the right side. To add more conditions to filter click on Add field below the conditions list & enable\disable task conditions (fields).
Filter settings: allows to reorder (drag & drop) quick access filters & filter conditions fields, pin, edit or delete filter, Apply for all users - save filter configuration for all account users.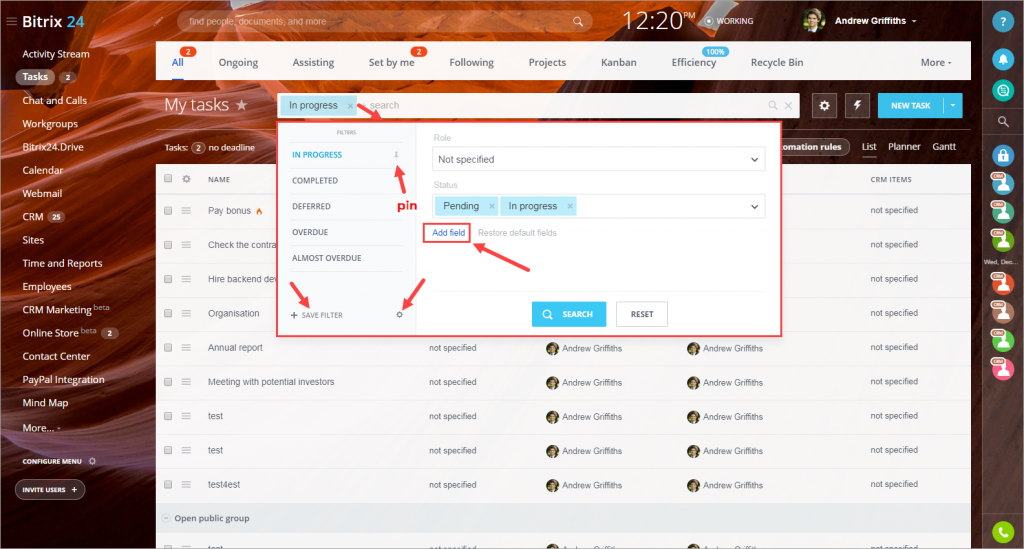 You can use both filter & search keyword together to achieve best search results.
Actions With Tasks
Click on the settings icon next to the task name to open task options menu: view, edit, create subtask, finish, pause, defer, etc.
If you need to apply an action to a group of tasks, select tasks or use For All option (located below the the task list) - to apply it to all tasks (take into account active filter conditions above) & open Select Action menu below the list. Choose action & click Apply. Read more here.
Task List Settings
As shown on the image above, task list Setting menu opens:
Task Export - export tasks into Excel or Outlook
Group subtasks - enables subtasks group view
By Groups - enables tasks view broken into groups
Sort - select column to apply sorting to
Task Templates
Task template is a pre-set task form which is used in order to automatically generate new tasks based on the template conditions.
This means you can create a template for a task which you plan to reuse it future. If you work with recurring tasks here is when the templates comes in handy: you can create a template for a task & make it repeat within a set frequency (daily, monthly, etc.).
Task with subtasks templates are available as well. Read more about how to work with tasks templates here.
Roles in tasks
There are four roles in tasks: Responsible person, Created by, Participants, Observers.
Responsible person - person who will work on a task and will be responsible for its implementation.
Created by - person who has created the task. Also, this user confirms that the task is finished.
Participants - users that can help the Responsible person to finish the task if it's needed. They can perform the same actions as the responsible person.
Observers - users that can observe the work on the task, leave comments, get notifications, but can't participate in the work on this task.
Observers
and
Participants
roles are available to
commercial plans
subscribers only.