Bitrix24 account administrator can always check user's login at user's profile page. Open user's profile for editing - the login data will be displayed in the upper line of the profile next to "this employee is using this profile:...").
Important: Bitrix24 account administrators cannot change users logins inside Bitrix24 account. In order to change user's login you should have access to user's Network Profile Page.
Please note: there can be up to 3 profile page fields containing email addresses associated with the employee, but only the upper one (see red mark on the screenshot) field displays the login information: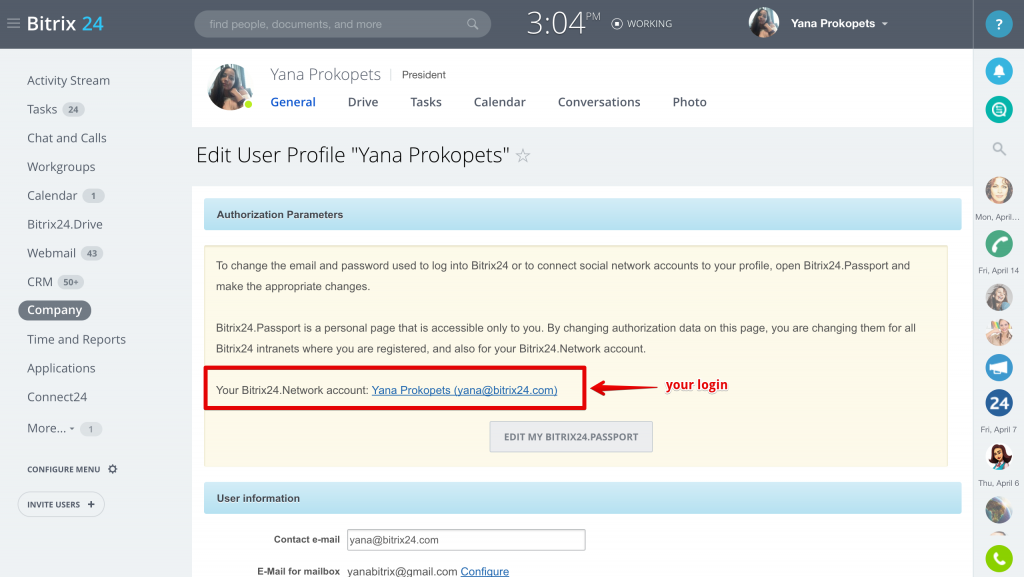 1. Bitrix24 Network Profile email address = Bitrix24 login: the upper profile page field displays the message: "Edit user authentication data in the user's Bitrix24.Network profile. This employee is using this profile: email address" – this is user's login both for Bitrix24 Network & your Bitrix24 account.
Here is how to change Bitrix24 login.
2. Contact email: email address that will be displayed as contact info on user's Bitrix24 profile page.
Important: Contact email address is not an employee login!
Though contact email address & login may be the same, but it can also differ. Bitrix24 login can be changed only by the employee him\herself inside Bitrix24 Network Profile Page.
Please note:
contact email address is automatically filled with email address on which the invitation has been sent.
@bitrix24.com email addresses - should be configured separately for each user inside Manage Email Accounts. These email addresses are not connected with authorization to Bitrix24 – please do not confuse.
3. E-Mail for mailbox: email address of connected maibox (when user either creates @bitrix24.com mailbox or connects an existing mailbox to Bitrix24 via Webmail section. Not connected with user's login.