On August 1, 2021 we introduce a new range of Bitrix24 plans! All existing plans will become archived and new ones appear with new features.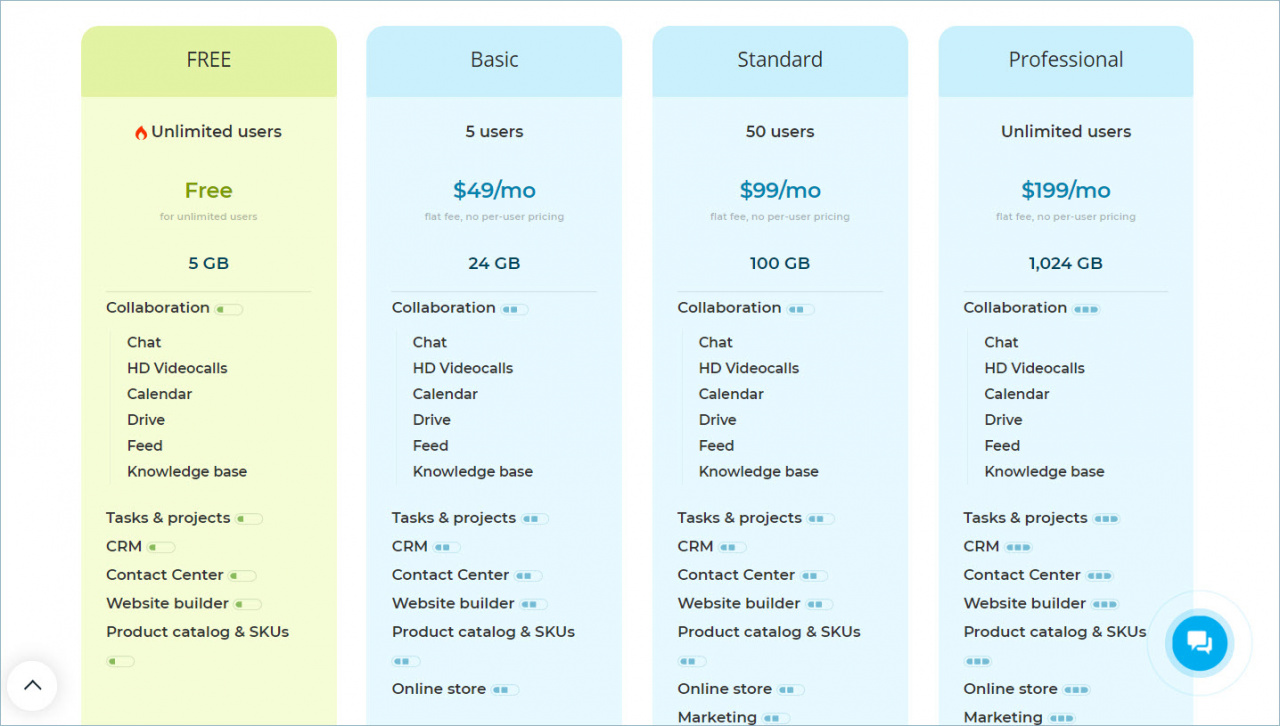 New Bitrix24 plans
Free – the initial plan with a basic set of tools for organizing the work of your company.

Basic – a plan for small sales departments and microbusinesses up to 5 people.

Standard – a plan for large sales departments and work groups up to 50 people.

Professional – a plan for a company or department of any type and size.
Existing commercial plans (Start+, CRM+, Project+, Standard, Professional) are removed from sales. For those who switched or will switch to them before August 1, 2021, the plans will continue to work with the possibility of further prolongation! If after August 1, 2021 you switch to free plans, you won't be able to subscribe to archived plans again.
Q&A
I have a Free plan now. What will change for me on August 1, 2021?
Restrictions for the Free plan will be introduced gradually, and will not come into effect until September 1, 2021. If you prefer, you can switch to any commercial plan: an old one (before July 31) or a new one (after August 1).
I have a commercial plan now, can I use it and renew it?
Yes, you can renew your archive plan, as long as you do it in a timely manner.
If for some reason you do not renew your plan and your Bitrix24 goes to a free plan, it will be impossible to return to the archive plan. In this case, you will be able to buy only new plan. That's why we recommend not to miss the deadline to renew the archived plans.
Will the archived plans receive updates in the future?
A part of the new features will be available on the archived plans in the future. However, there will be unique features that will only be available on the new plans.
Can I switch from Free to the commercial archive plan now?
You can only do this until July 31, 2021. From August 1, only the new plans can be activated.
Will my Bitrix24 settings be saved when switching to a new plan (CRM, forms, tasks, business processes, etc.), or will I have to configure everything from scratch?
All your settings will be saved, but certain features (which will not be included in the new plan) will stop working after a while. It is important to carefully study the differences between the archived and new plans before switching to a different plan.
If I have previously purchased a plan for 1/3/6/12/24 months and now I want to switch to a new plan, will it be prorated?
Of course, the sum that's already been paid will be prorated, and an additional time period will be added to the new paid plan that you've purchased.
Is it possible to switch from one archive plan to another archive one on August 1,2021?
No, you can only switch to a new plan or continue to renew your current archive plan.