If you need to perform a particular type of actions with a group of tasks (or with all tasks) - you can use the group actions tab located under the tasks list.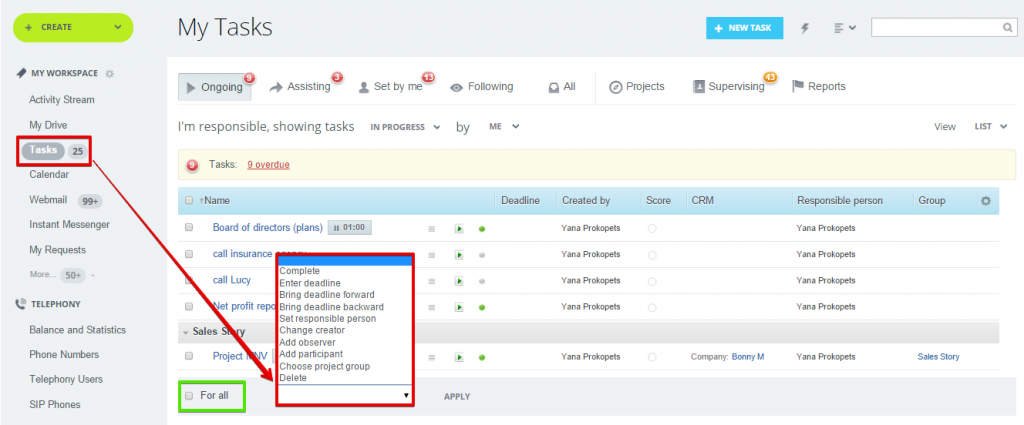 With the help of this group actions menu you can perform following actions with the chosen group of tasks:

- complete tasks;
- enter deadline;
- bring deadline forward (set number of days, weeks or months);
- bring deadline backward;
- set responsible person;
- change task creator;
- add observer;
- add participant;
- choose project group (bind task to the particular workgroup);
- delete.

This means you don't need to open each task individually, but you can choose a group of task & apply a group action. Here is how to do this:

1. Choose tasks you need to edit by one of these ways:

a) Mark the tasks in the tasks list which you need to modify:





b) Filter tasks list by the parameters you need (extended & custom filters are available form Tasks>All>Filter) and click "for all";





c) If you want the task list to reflect the full list of all tasks in your Bitrix24 - open All tasks section & set filters = all, click "for all";





After clicking "for all" tab you will be notified with the following message:





Please make sure you do need to modify all tasks chosen & pay attention that subtasks of the chosen tasks will be modified as well.

2. After the tasks are chosen, open the group actions menu under the tasks list, choose the action and click apply.