We recommend that you activate your free 30-day demo mode, and take advantage of all the features that Bitrix24 can offer. The free 30-day demo provides all the tools available in the Professional subscription plan (with the exception of custom domain name support, and limit by IP).
The free 30-day demo mode can be activated inside your Bitrix24 Cloud account under Subscription > Activate Trial: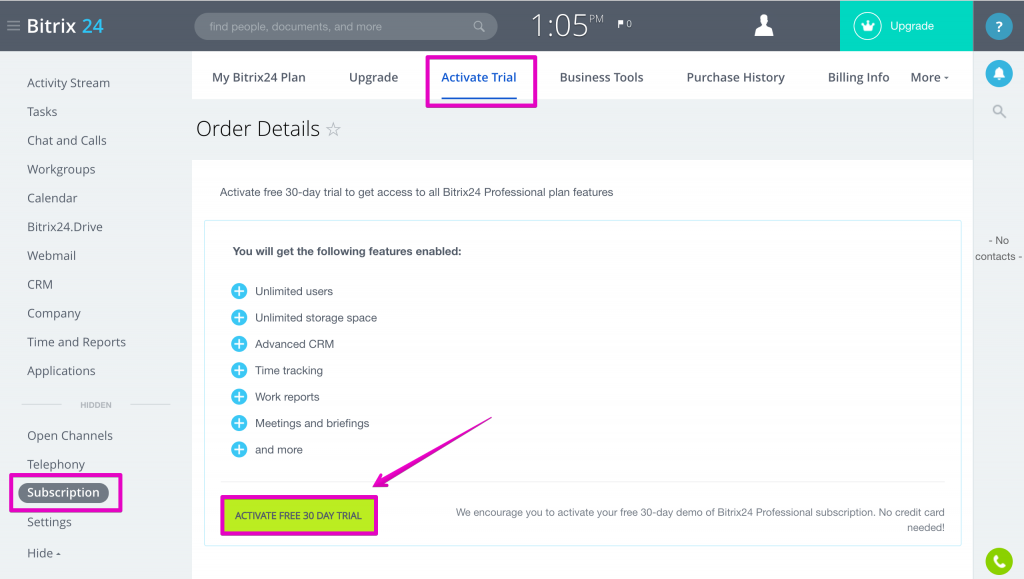 Any user (including users who have no admin permissions) can activate the 30-day demo mode for your Cloud account.
If you have already purchased and activated a commercial subscription for your Cloud account, and you decide to activate your unused 30-day demo mode afterwards, your commercial subscription period will not be extended, and you will be charged on the scheduled due date (according to your billing cycle).
Free 30 days trial can be activated only once for 1 Bitrix24 account & cannot be prolonged.
Please note that some options may not be available for the demo version, such as:
Data restore from backup file based on client's request
Own domain name mailbox
What happens when my trial expires
After the trial is over your account will be automatically downgraded to Free plan. All data will be kept (for any advanced tool you used during the trial), however, the access to it may be limited. The access to that data will automatically be restored when you upgrade to an appropriate Bitrix24 plan.
Users: if you've invited more than 12 users during the trial, only the first 12 users will keep access to business tools after the trial is over. If you want to restore access to business tools to all users, you need to upgrade.

Administrators: after the 30 day trial is over, your Free plan account will be brought back to 1 account administrator limit (account creator). To add more administrators you need to upgrade.
Cloud storage: if you've used more than 5 GB worth of cloud storage during the trial, all your data will stay inside the account, but you will not be able to add any new files - only view the existing ones. In order to add more files you can either delete unwanted files to stay below the 5GB limit or you need to upgrade. Read more about cloud storage here.

Call recordings: the limit for the Free plan is 100 records per month, so if you've recorded 40 calls during the trial, you'll have 60 more free records for the current moth left. If you go beyond the Free plan limit, you need to upgrade.

CRM records view limit: all plans in Bitrix24 come with unlimited CRM records. The Free plan, however, has 5000 records view limit. If you've added more than 5000 records during the trial, all records will be accessible, but your list view limit will be set to no more than 5000 records at a time. In order to lift this limit, you need to upgrade.

Bitrix24 On premise (self-hosted version) is also available as a free 30-day trial version for installing the product locally or on a remote web server. If you choose to go commercial during the 30-day evaluation period, you can simply purchase a license key and use it to switch your trial product copy to a commercial one. No data will be lost, no time will be wasted on installing the product anew! You can download your Bitrix24 on premise (self-hosted) trial version here.