A Company is a CRM object holding data and the history of interaction with a company. A company is generally a large record in the CRM, since it can contain several contacts and deals, and their histories. You can add new company not only from Companies section in the CRM, but also from new deal or new contact creation form. If you have companies list already you can also import it in CRM>Companies (more about CRM import here).



New company creation form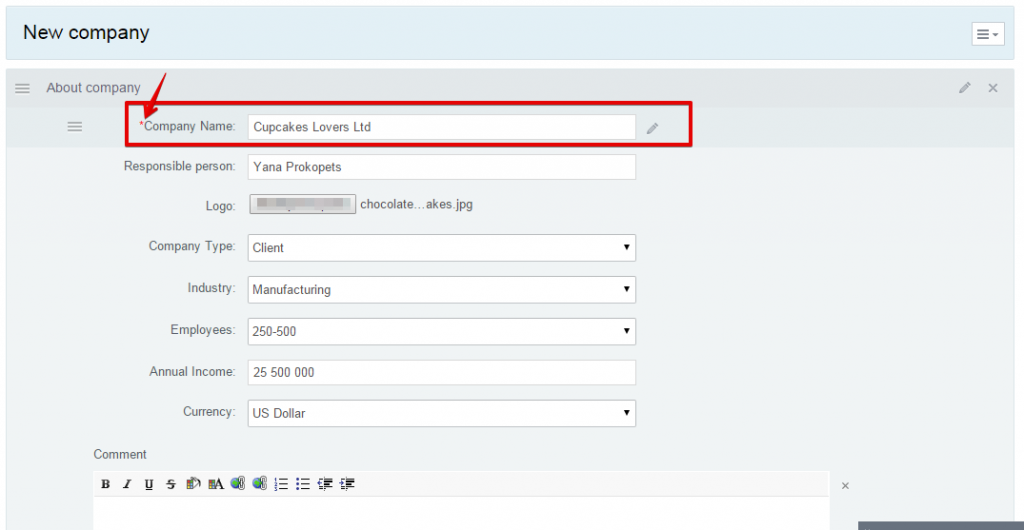 Company name
– the only mandatory field in the new company creation form. That is by default, though you can create new custom fields and make any of them required, which means a new company won't be created until this field's value is added\chosen. New custom fields can be added in CRM>Settings>Custom fields (read more
here
).
Responsible person
- user responsible for this CRM record (only one user can be set as CRM record responsible person). By default the user who has added this company is set as record's responsible person, click on this field to change the responsible user.
Logo
- the company logo, image that will be displayed next to the CRM records name in your Bitrix24.
Company type
- selection list of company types, only one value can be chosen. This selection list can be customized in CRM>Settings>Selection lists.
Industry
- selection list of industries. The list can be customized in CRM>Settings>Selection lists.
Employee
- selection list defining company size by the amount of employees. The list can be customized in CRM>Settings>Selection lists.
Annual income
- field defining the financial value of the company.
Currency
- the field reflects the annual income currency. You can choose from the existing currencies or, if your currency is not listed, you can add it in CRM>Settings>Currencies>add new currency.

Comment
- any additional information which may be useful for the sales team. Remember that new custom fields can be created in CRM>Settings>Custom fields. Use visual editor tabs to change comment color, font type, add links, etc.
Available to everyone
- this field does not actually opens the company to all users, it allows users with access level set as "all open" to have access to this CRM record. (Access Permissions should be configured in CRM>Settings>Access Permissions)

Contact information
- this field allows you to add any type of contact infomation you have - company's email addresses (use "add" tab to add more than 1 email address & choose address type work\other), phone numbers, sites, legal & postal address, payment details.

Contacts
- this section allows to connect your existing CRM contacts to this company. Please note that several contacts can be connected to one company, but same contact cannot be connected to more than 1 company at the moment.
Move, add, edit, hide or show form fields
With the help of
add field
and
add section
tabs you can also create new sections & add new custom fields of string, number, yes\no and date types. If you need to add list, file or other custom field types this can be done in CRM>Settings>Custom fields.
The form fields names can be edited (pencil tab). You can move the fields (drag & drop the left side filed tab) or hide them ("x" tab).

Please note that hidden fields are not in fact deleted, you can always add them back with the "show filed" tab at the bottom of the form:

You may also use the "show filed" tab after you've added new custom fields in CRM>Settings>Custom fields.
After the new company form is configured you can save preferences for all users of your Bitrix24 intranet, which mean their form will look exactly like yours - use settings tab on the right top of the form:

Sometimes when you need to come back to the default form view (or if you have any problems with saving the new record) you can reset settings (for you only) or reset preferences for all users.