After the company is added to Bitrix24 CRM, you can start working with it - let's consider the sample of what Bitrix24 Company details page options offer:






Stream - CRM object's own stream, a chronological view of all activities performed on the company along with all messages and comments made on it. Quick activity tabs help:

- set tasks: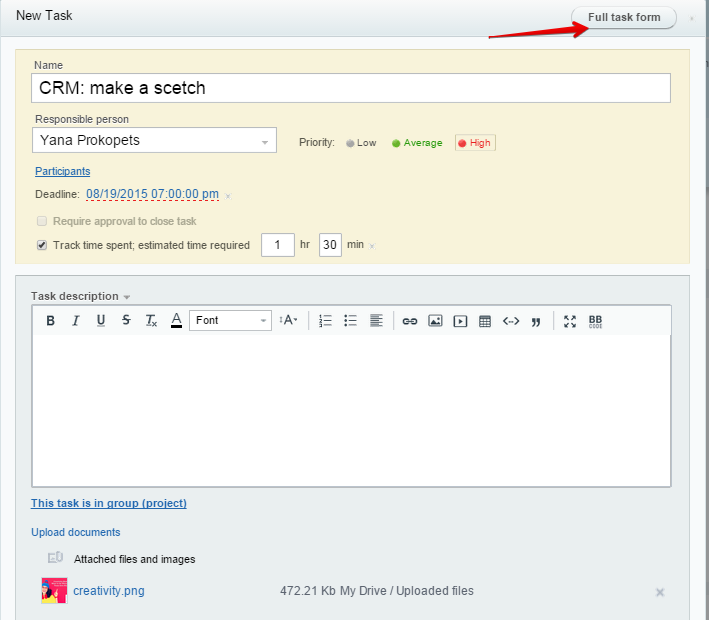 The task is attached to the CRM record by default - but you can open the "full task form" - "more" and attach the task to the different CRM record if you need. The task interface is same as in My workspace>tasks (read how to work with tasks here).

"More" tab in tasks opens options like add observers, repeat task and CRM record connection.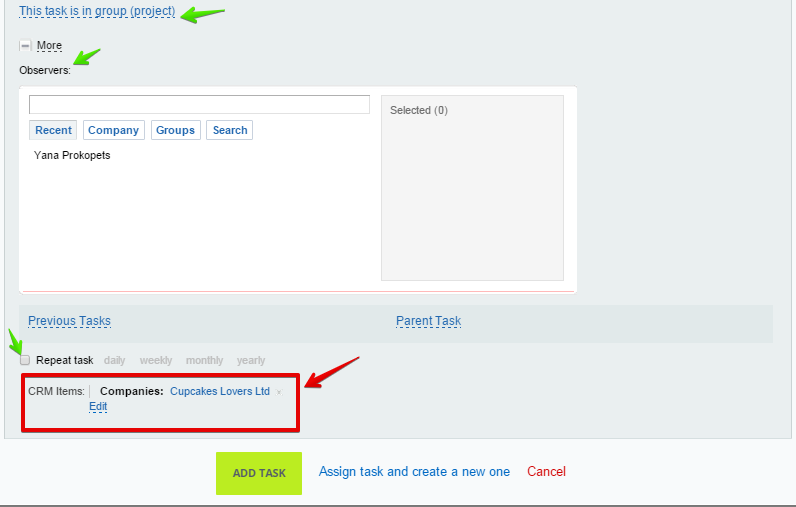 - add meetings - plan new ones or add completed ones (note status pending\completed). Reminders can be set to notify responsible user. You can attach files from your Bitrix24 Drive or from your computer, change task priority, add meeting description, etc.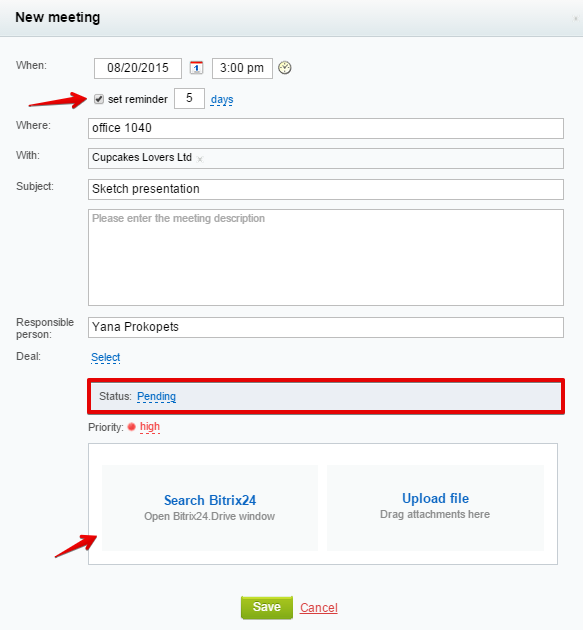 - add calls: you can plan an outgoing call or report a fact of incoming call, set reminders, attach files, add description. By default the call will be attached to the company it has been created from: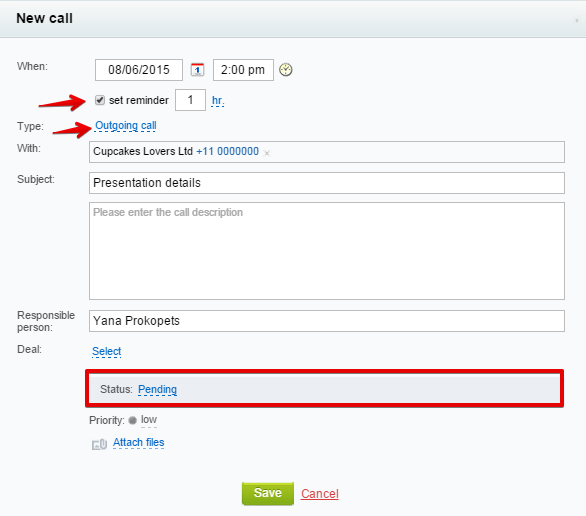 - send emails: the company's email address is filled automatically, you can change the "from" email address for a different one (your main integrated CRM email address is set by default), attach files and even choose the email template ( email templates are configured in CRM>Settings>Email templates, read more here)

Activity - new tasks, calls, meetings and emails appear not only in the Company's Stream, but will be also listed in Activity section (next to the Stream) & in "Current Activities" (reflect most current activities that require your attention).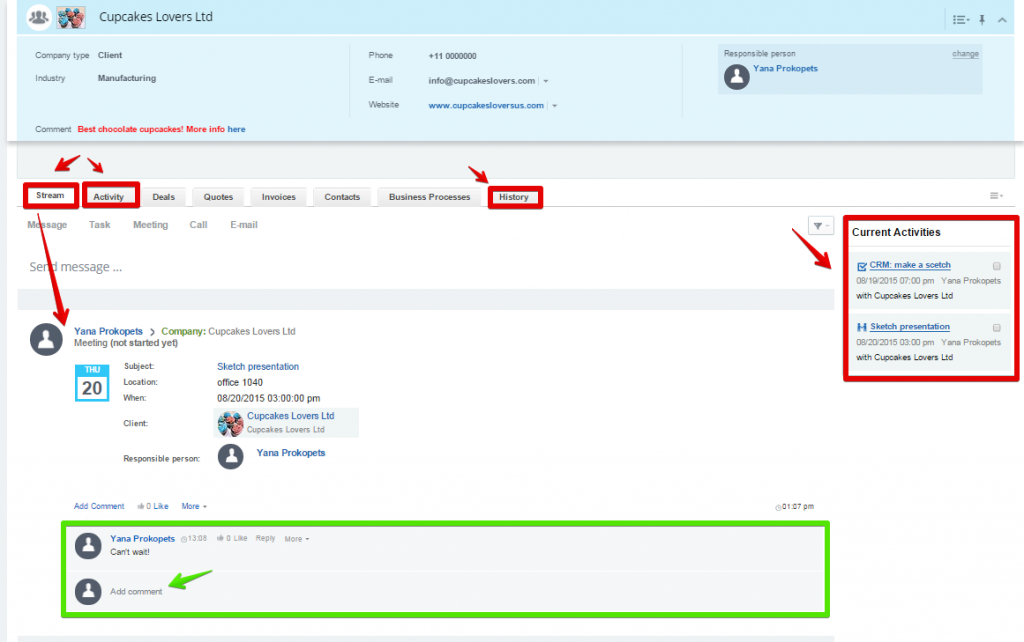 Activities are represented in the format of List, which columns can be configured from the list settings: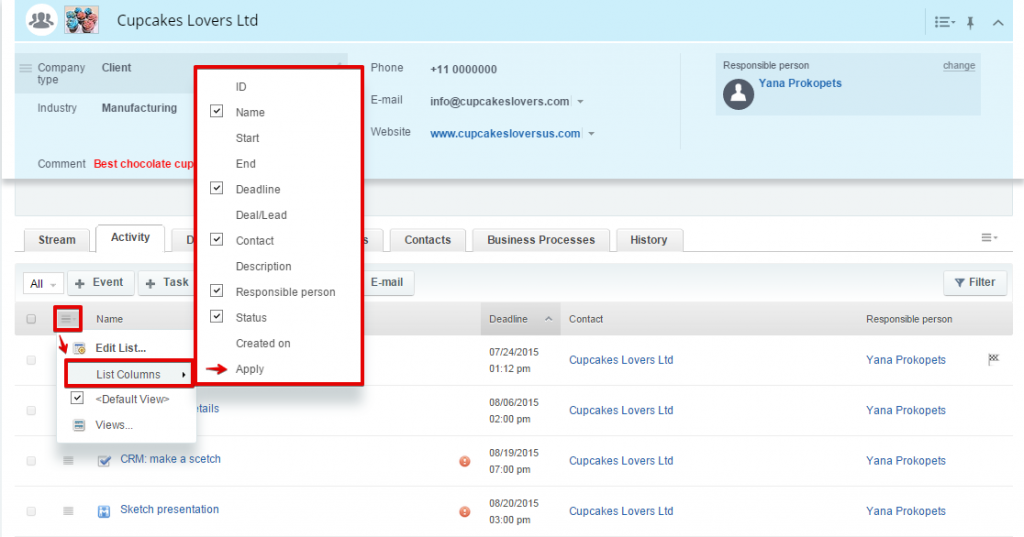 If you have a lot of activities listed, you can use filter for easy navigation - limit results by activity type, status, priority, responsible person, etc.: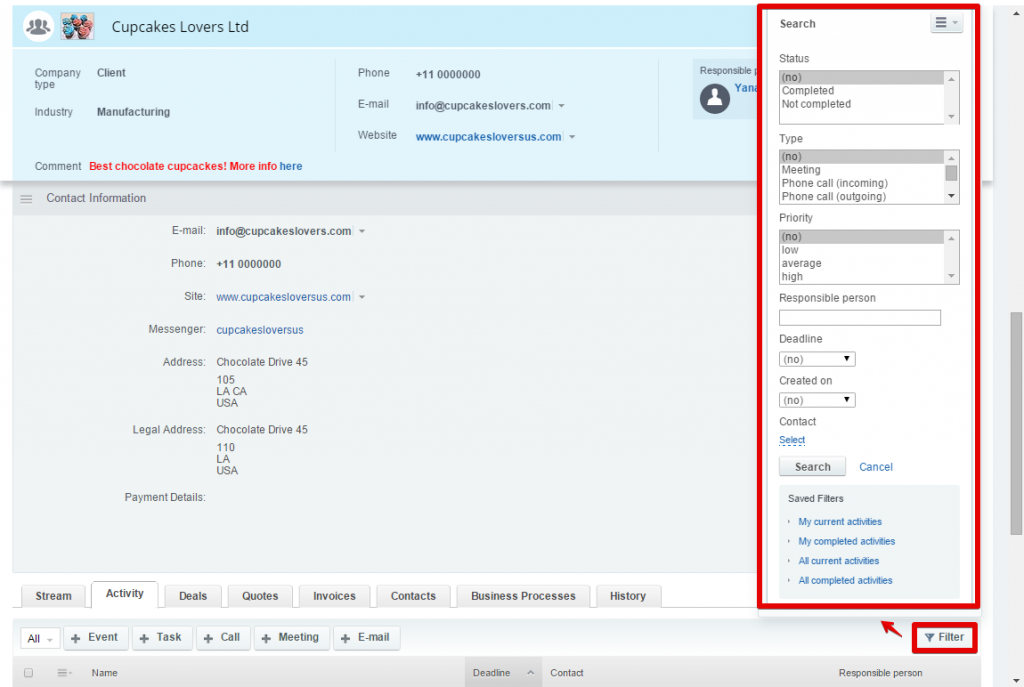 All Activities logs will also be listed under "History" section.

History - lists all changes being made on the CRM record, including activities and details changes.





With the help of add "event" tab you can add information, phone call, email or offer that took place in the past. For example - email message text, when it has been sent or attach file: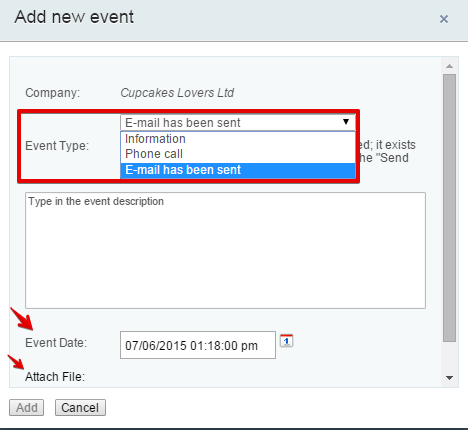 Business Processes - this section will show those of the running business processes, which have this particular company involved. Please note that business processes are configured in CRM>Settings>Business Processes (read more here). If there is no business process running for this CRM record you will see the following message:





Contacts - shows contacts associated with the company. Please note that several contacts can be associated with 1 company, but each contact can be connected with 1 company only.





Quotes - shows associated quotes. New quote can be added with the help of "quote" tab, the list columns can be configured from the list settings

Invoices - shows associated invoices, total amount & number of paid invoices.