The Working Time Management module overview can be found in the Training course. Here are some tips on how to use this module:
1. To start working day click green "Clock in" tab, to pause it click "Break", use "Continue" to resume & "Clock out" to finish.
Even if you have finished ("clock out") your working day - you can always click "continue working day" to log more working time spent.
2. If you haven't clocked out the previous day - you won't be able to start a new working day until the previous working day finish time is logged (you'll see red clock in\out tool alert):

Please note that you will have to set the previous day clock out time manually & may need to type in the reason as well (depending on the Time module settings configured by your intranet administrator). If the reason field is mandatory - you won't be able to log the previous day clock out time without giving the reason.
3. There are 2 different work report tools - "Daily Summary / Plan" & "Daily (Weekly \ Monthly) Report". Their main difference is that Daily Plan / Summary is the user's personal organization tool available at any time during the day – it can be filled with necessary information & edited, when the Work Report form appears automatically daily (weekly\monthly) at the particular time (depending on the settings configured by the administrator) & after the user click "send" – the form appears in the administrator's Work Reports section under My Company.
4. Users can add information to the Daily Plan \ Summary tool and it will be automatically added to the Work Report form (it still can be edited in the Work Report form):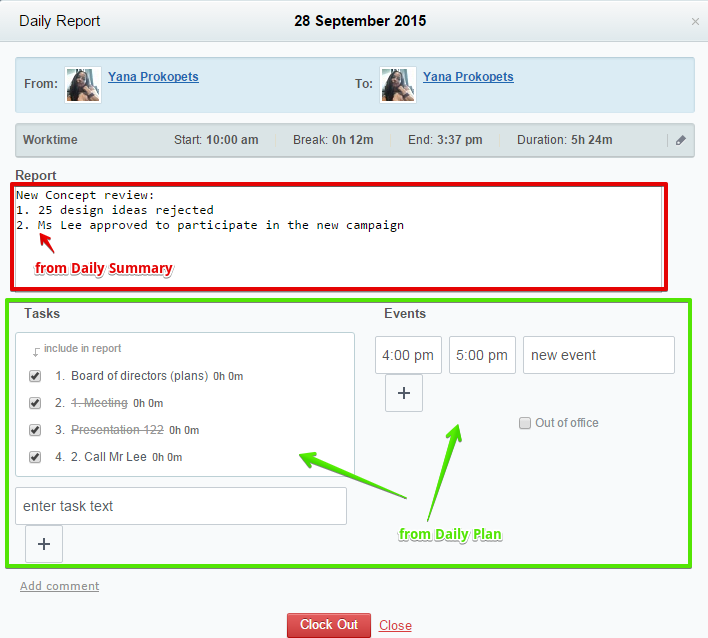 Please note that your Work Report can be edited after you've sent it to the supervisor (users can find their reports under My Company>Work reports):

But (!) only before the supervisor gives it a score
(positive, negative, no score):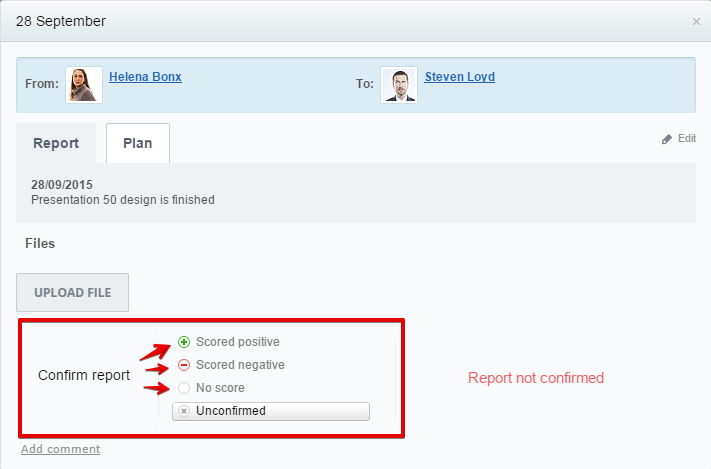 After the report has been scored - it automatically locks (no more available for editing) for the employee. Only supervisor (administrator) can change report's status to "unconfirmed" to open the report for editing: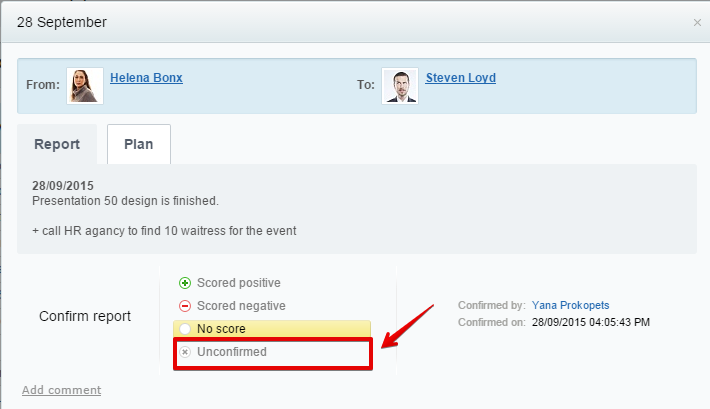 5. Tasks & calendar events: events from your personal calendars or events where you have been invited to - will be reflected in the Daily Plan tool. If you want tasks to be added to the Daily Plan tool – you need to check "Add to Daily Plan" option in the full task's settings.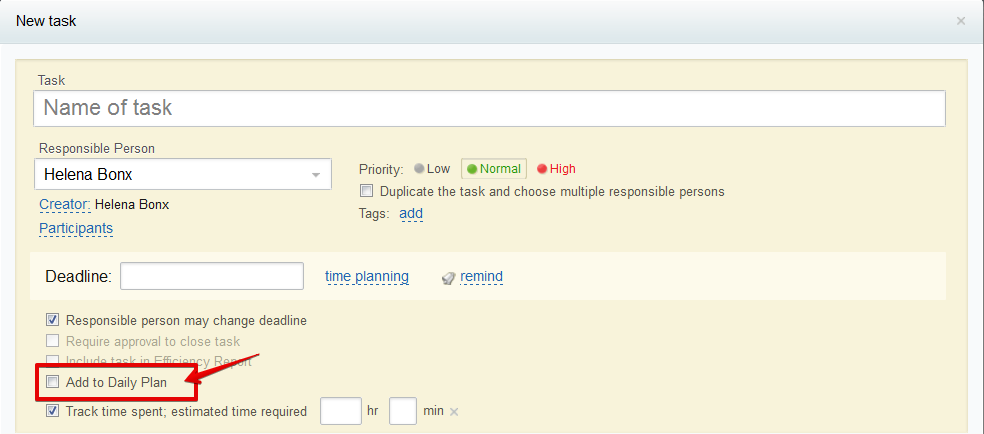 Alternatively – you can click "select from list" option to add tasks to your Daily Plan. New tasks & events can be easily added directly in the Daily Plan tool via a simple form too.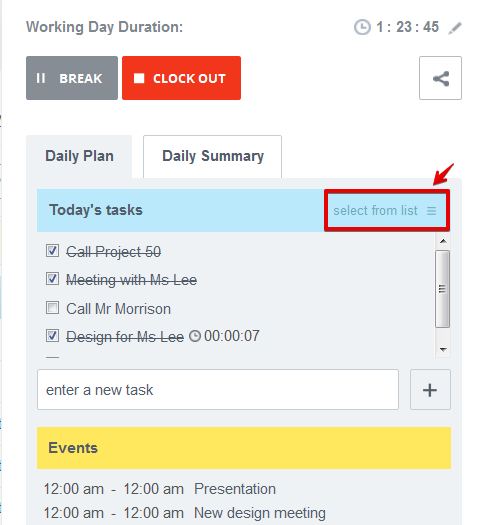 6. You can edit your work time directly in the Work Report form: navigate to Worktime section & click "edit" option: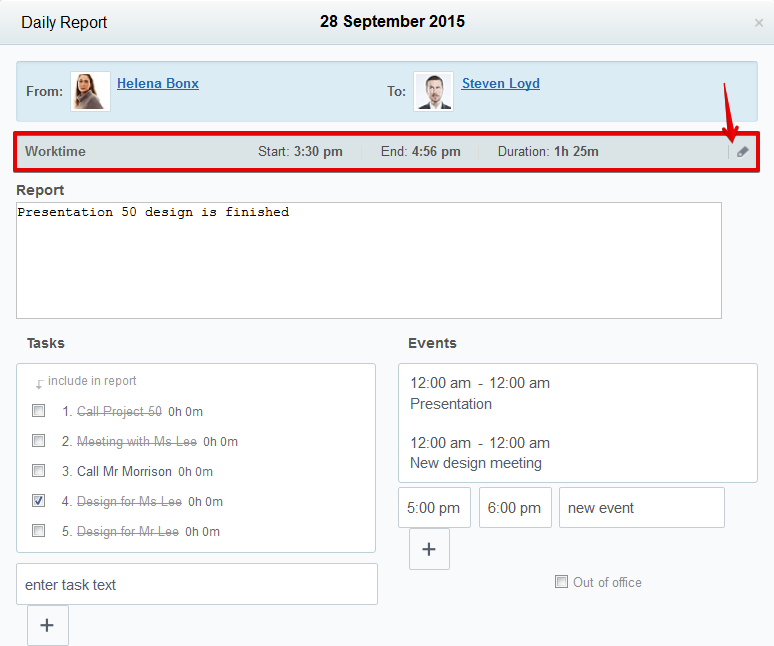 It allows you to edit the beginning & end of your current working day (you may need to specify the time change reason):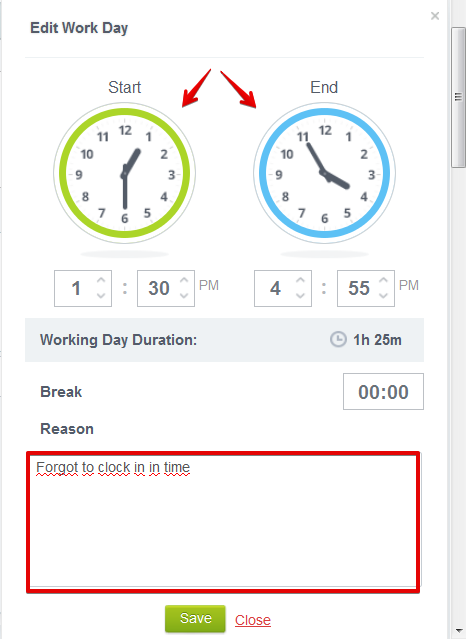 Please note that the edited work time automatically receives "unconfirmed" status & will require further approval by your supervisor.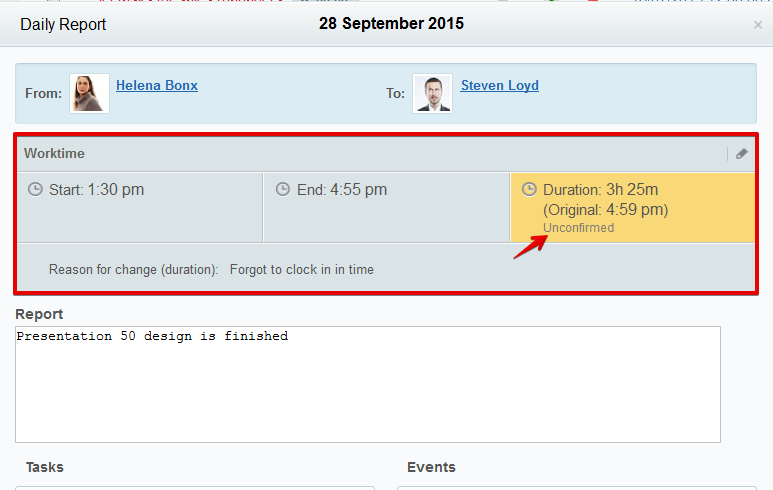 Your supervisor will see changed time log with the special "!" symbol - which means that this time is not confirmed & requires attention: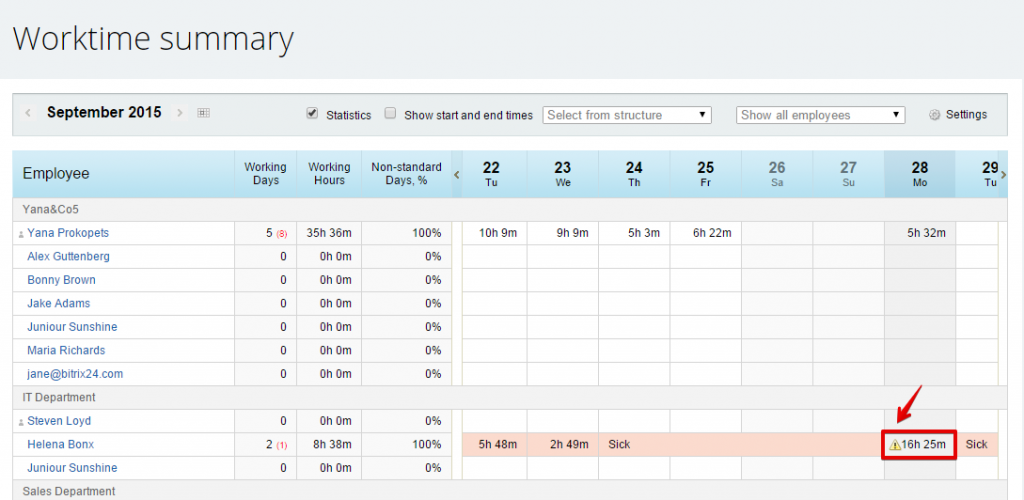 After employee's changes in work time are confirmed - this employee automatically receives a notification & the time log appears with approved green sign: