Employees list can be found under Company > Employees. You can switch between different list views with the help of the following filters: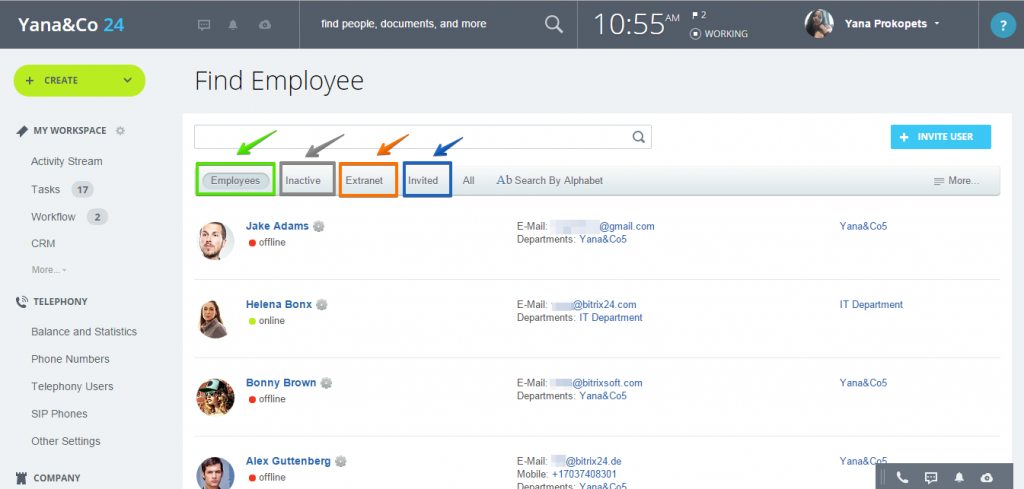 Employees - all active intranet users, who have accepted your invitation. You can use Settings tab located next to each user name in the list to perform the following actions: add task, send message, open message log (chat history), dismiss, edit profile or perform a video call:




Inactive - dismissed intranet users. Please note: dismissed users cannot be completely deleted from the system. You can click on the dismissed employee's name to open user's tasks, Activity Stream messages, Drive (files) & calendar. After the user has been dismissed, he\she disappears from the chat - but you can find your & him\her chat history if you choose "Message Log" option in the inactive user settings. Dismissed employee can be hired back at any time





Extranet - external users with limited access to your intranet (see intranet vs extranet user comparison chart here).

Invited - those users, whom you have sent the invitation to your intranet, but they haven't accepted it yet. (these users can be totally deleted from the system).

All - all users (active, inactive, extranet & intranet users).

Employees are shown in the list with intranet role status (administrator) & company structure role (supervisor) marks: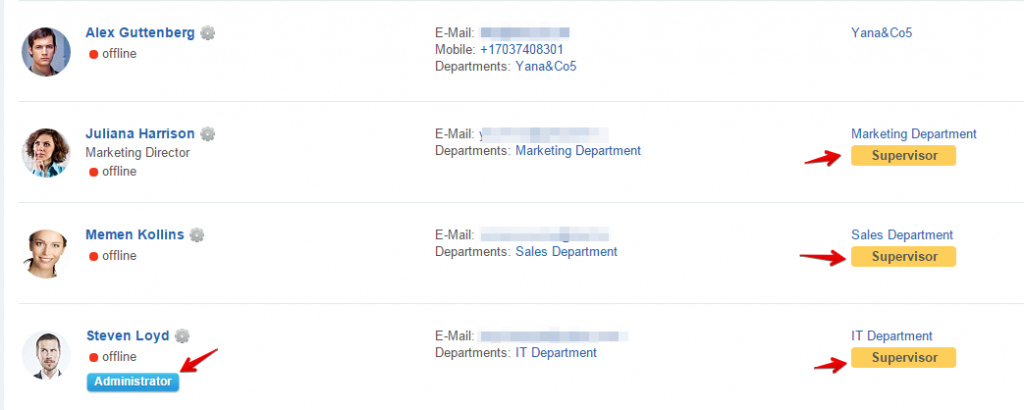 You can invite new users from several places in your Bitrix24 intranet, including the Employees page. Please note that you can use what type of access the invited user will have - employee or external user: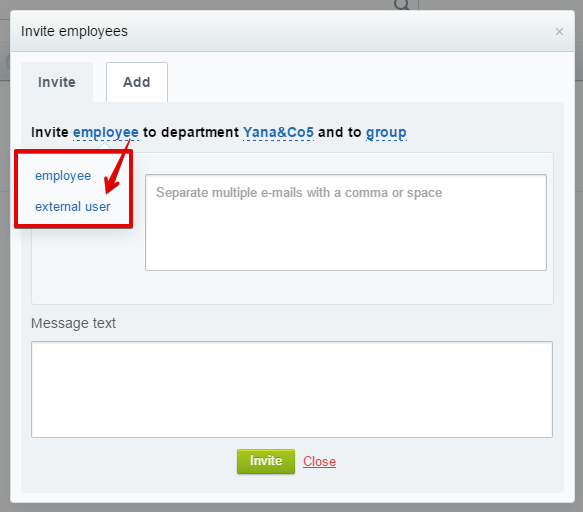 If you have a big amount of users in your intranet you can use one of the 3 search options to find particular user: main intranet search located on the upper panel (3), employees list search (1) or alphabetic filter(2).





Additional actions with employees list: list can be exported to Excel, synchronized with Outlook or synchronized via CalDav (with Apple products) .