MAKE Interactive, Bitrix Gold Partner, Netherlands.

IMPORTANT: This integration is currently available for self-hosted Bitrix24 only.

An IT consulting and services company using Bitrix24's CRM and Helpdesk in combination to organize their fee-based maintenance services. A large number of incoming tickets are handled daily, and the need to have the full record of tickets (helpdesk) and interactions (CRM) in a single location is imperative.

Here at Bitrix, we have had more than a handful of inquiries concerning getting the CRM and helpdesk to work together. We're pleased to post this blog from one of our top partners.

Unique features of this implementation include:

Smooth operations flowing among CRM, Tickets, Tasks, and Workgroups (and the Activity Stream)
Display of tickets in CRM
Ticket fields linking to CRM objects

Objective:

The client found it highly desirable merge the functionality of the CRM and the Helpdesk so that client support requests could be handled with the proper tool, but visible in the CRM. The end user is an IT services agency. Without the history of support requests, the CRM record of the client would not present a full view of the relationship and status of the client.

Note: Since this system integrates tickets with both Contacts and Companies in the CRM, the term "Contact" is used and could both of these.

All tickets in this system are initiated by email. The standard Technical Support menu point in the Bitrix24 intranet is visible only to support staff.

The most noticeable modification in this case is the extra tab in the Contact detail page that displays that Contact's tickets.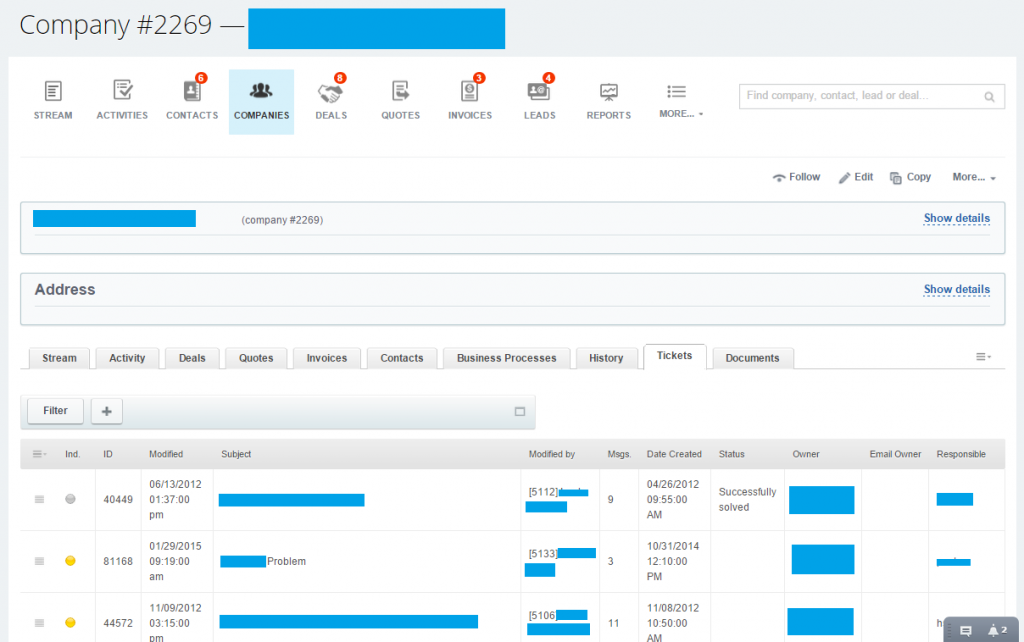 Note the fully functional filter for tickets just above the table.

There is also a customized Documents tab. This was made with storage for contracts in mind.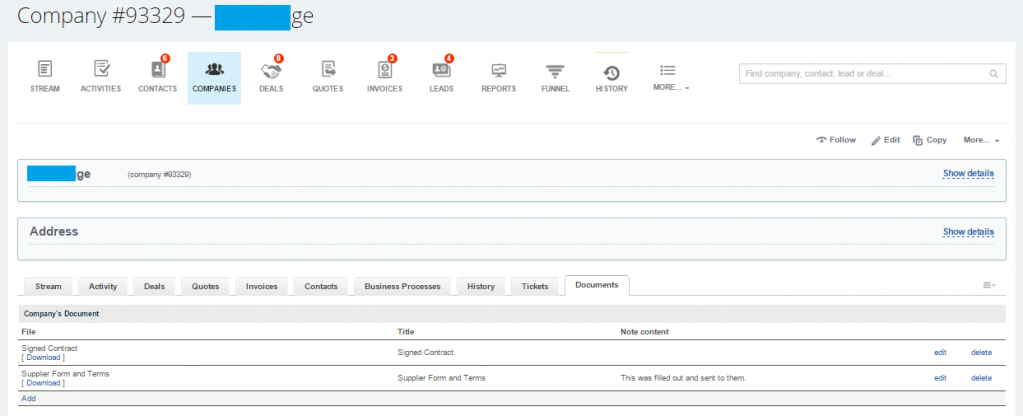 When a ticket is created (by email or other means), it is automatically associated with the CRM Contact which corresponds to that user. Because the system created in this case represents a helpdesk for clients who have subscribed to services, there is no handling of email from unknown users – but very minor changes would allow CRM Contacts to be created on the basis of incoming tickets from as-yet unknown users.

In the Technical Support section, the individual ticket discussion view has several customizations, including the option to create tasks (point 3 below), link to such tasks (point 1) when the status is changed, as well as custom fields associating the ticket with a CRM object (point 2). These tasks include several subtasks, are assigned to the person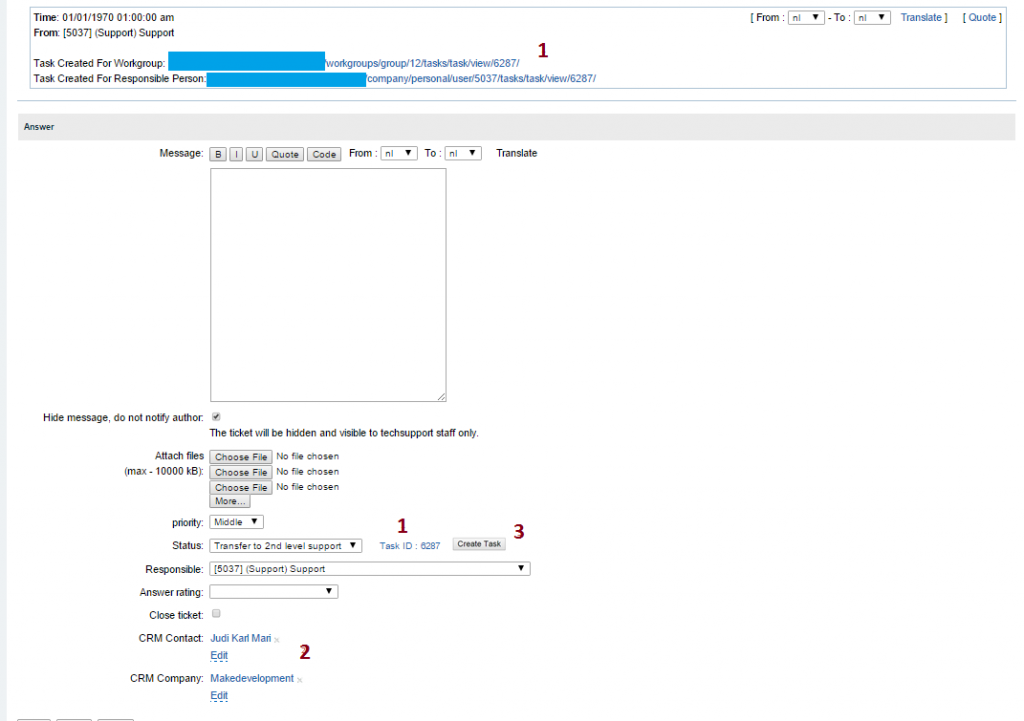 responsible for the ticket, and likewise are associated with the corresponding workgroup and Ticket. Naturally, reporting on tasks completed, time spent on tasks, current statuses of tasks, etc. is yet another output of the project.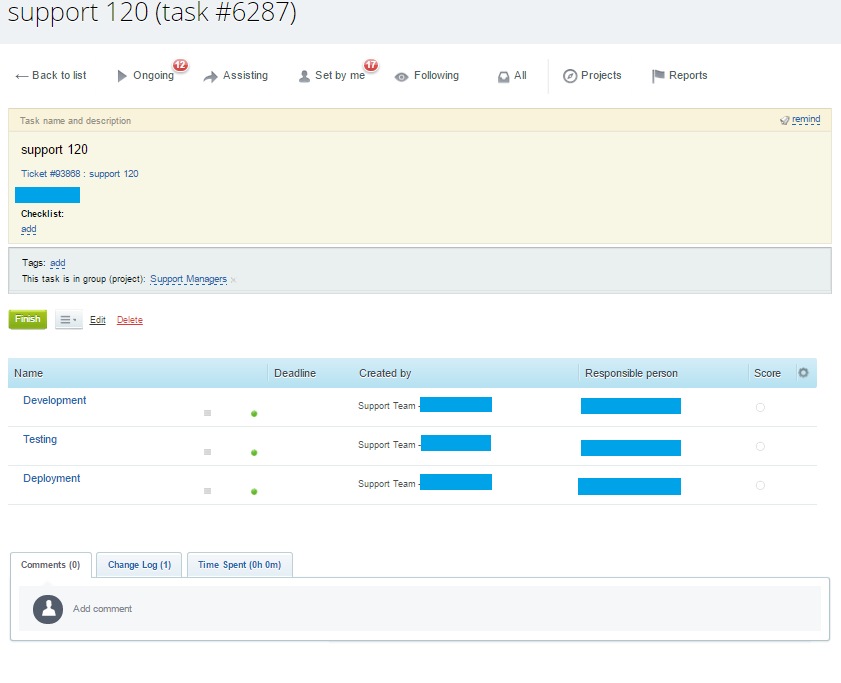 The resulting tool benefits all types of employees. Support agents can find any client issue rapidly, determine the status and responsible person(s) who are working on the issue in the event that it is not a client for whom they are responsible, and make any changes in tickets – the main 'work space' of the system. All changes are easily noted by anyone opening the CRM item or ticket. Furthermore, there are Ticket reminders that go to the Activity Stream with a link back to the ticket: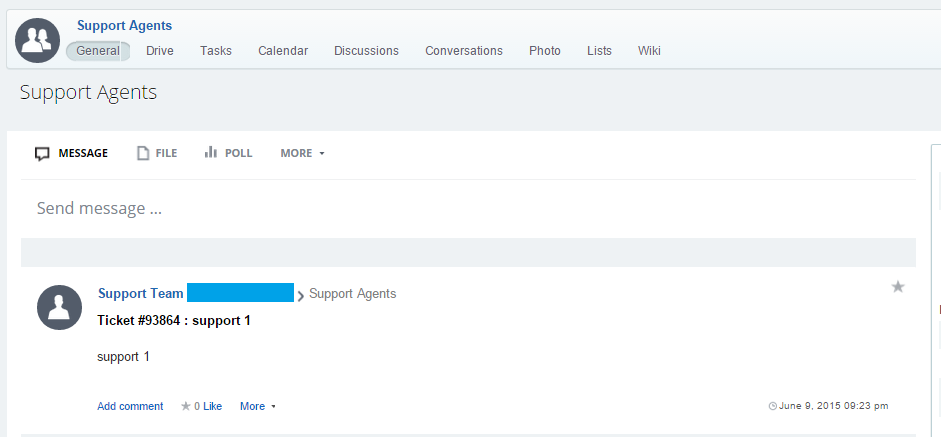 High-level agents (troubleshooters) can get a clear view of all tickets' histories, easily find the contact persons from the client via the CRM, and provide guidance right with the ticket. Management benefits from task and CRM reporting, and from knowing that all support issues are handled smoothly and transparently.

If you are interested in this or similar customization in your onsite Bitrix24 installation, please contact Make-Interactive directly:

Services: Cloud & Self-hosted versions
Location: Tilburg, the Netherlands
Phone: +31 (0)13-7620150
Email: sales@make-interactive.com
Website: make-interactive.com