You can edit your Open Channel settings at any time: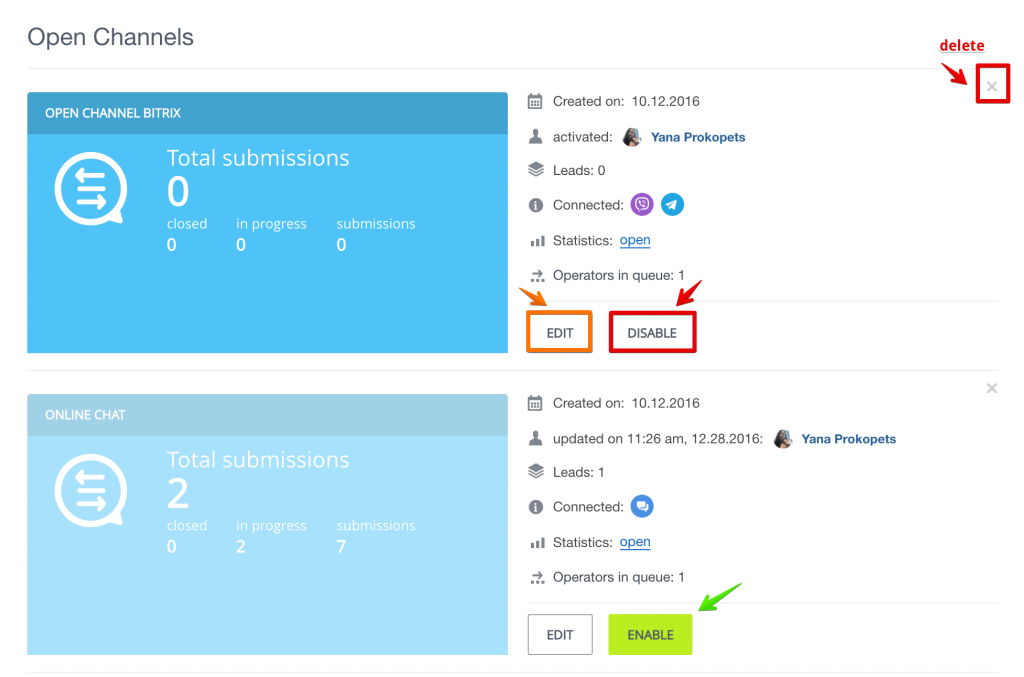 1. Open channel name - is set automatically and can be changed, but your clients' won't see it anyway.

2. Communication channels – you can connect several communication channels (e.g. Facebook, Telegram) to your Bitrix24. Connected communication channels are highlighted.

3. Submission routing configuration.

Verify client in CRM database:

- If the client has been identified in your Bitrix24 CRM – the message will be transferred to the user who is responsible for this client in your CRM (even if this user is not listed in the queue).

- If the client is new (not found in the CRM), you should choose an option how this client will be processed after:
a) the system will create a new lead automatically. Important: a new lead will be created only if client's contact information is available.
b) you will have to create lead manually in the chat window (in this case lead's name & chat history will be automatically transferred to a new lead CRM form).

New Lead Source: by default, leads received from open channels will be marked with "open channel source". Sources can be configured in CRM > Setting> Start point > Statuses > Sources.

Queue: select responsible persons to respond to submissions in the Open Channel. You can also specify submission distribution mode (evenly or exactly as enqueued) and responsible person response timeout for auto requeuing (from 1 to 30 minutes).

There are three options for submission distribution mode:
Evenly means that a current order of employees involved is of no sequence; submissions will be distributed so that all the employees receive similar workload.
Enqueue implies that a current order of employees takes precedence; a new submission will be sent to the first available person, and then to the next one in the queue if no response follows.
To everybody - requests will be submitted to all employees in the queue.
Evenly type of distribution for submissions among responsible persons is available for Bitrix24 Plus, Standard or Professional plan subscribers only.
Unanswered submission processing: if none of the employees could answer the submission, you can set the system to reply with an automated text message, submit a CRM form (coming soon), enqueue it back or do nothing.


Features of Evenly type of distribution


The main goal of that algorithm is to provide the customer with an operator's response as soon as it possible, not to distribute an even number of sessions between employees in the queue. The algorithm tracks time since the last response for each operator. Then it passes the dialogue to the operator with a longer time period passed since the last response and starts tracking time again. This eliminates a constant flow of chats to one operator (considering all other conditions being equal for operators in the queue). If distributing goes only among several operators then there is(are) reason(s) for that.


Exceptions might depend on Open Channel settings: e.g. passing dialogs, redirecting to other operators, going offline, working day pauses. The main criteria, however, is online\offline status. If operators are online, only they will get new chats, other (offline) employees will not get any incoming sessions. The system will direct chats to all people in the queue only if they all are online/offline.
4. Customization of working time preferences:
set the timing for open channels messages processing by your Bitrix24 users and what will happen with the off-hours messages. For example: clients will receive an automated text reply, a new CRM form will be submitted or the system will do nothing waiting for you.
All history is saved – chat messages will be attached to the corresponding CRM record. Open Channels statistics is at your disposal as well.
5. Configure actions:
prepare a greeting message that will be sent immediately after the client has submitted initial message. You can also prepare an automated text reply which will be sent to a client as a conversation closing action. Conversation timeout & auto closing can also be configured there.
6. Send customer rating request: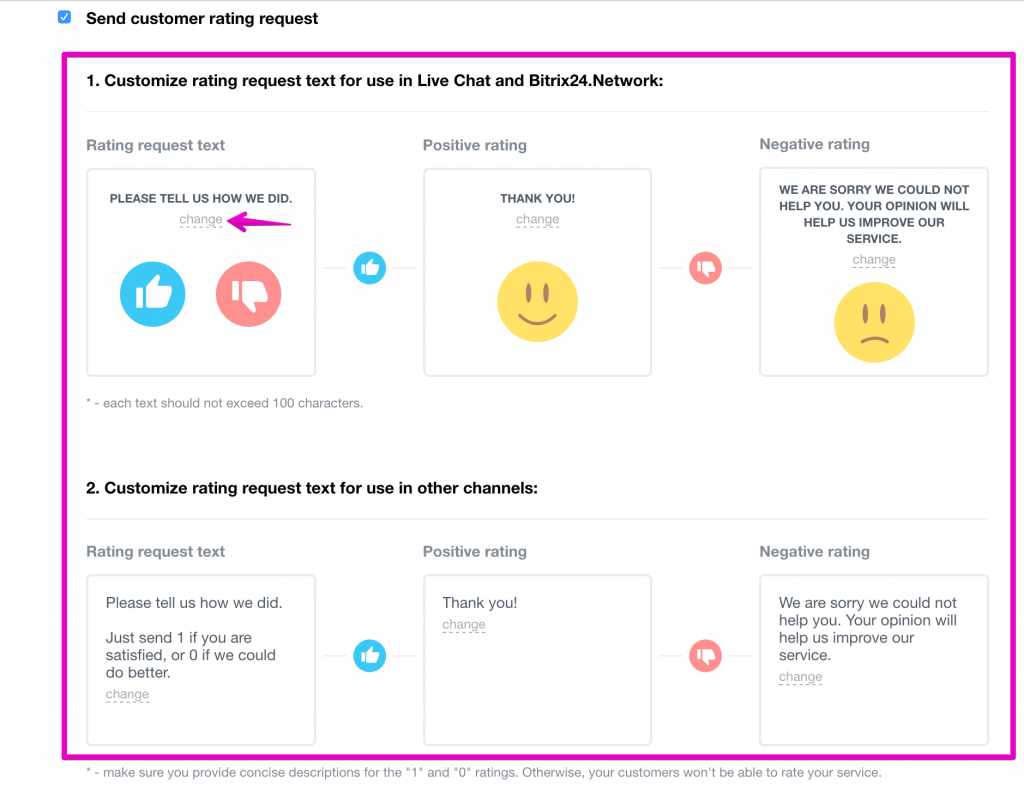 Customize rating request text for use in Live Chat & Bitrix24.Network.
Customize rating request text for use in other channels.

Customer Rating Request option is available for Bitrix24 Plus, Standard or Professional plan subscribers only.
Impress your clients with your proficiency and personal approach. Become leading customer-oriented company with Bitrix24 Open Channels!
Chat to CRM: please note that while chat sessions are free and unlimited, only 100 sessions can be added to CRM under the Free plan.