Bitrix24 Standard plan will suit most companies looking for workflow automation and increased efficiency.
Get 50 Business Tools Users
If you have more than 12 employees, you need more users access to business tools like tasks, CRM, Drive or Calendar.
Get 5 Account Administrators
Bitrix24 Free plan is limited with 1 account administrator. In case you need more - have a look at Bitrix24 Standard plan with 5 admin slots at your disposal.
Get More Storage Space
Bitrix24 Standard comes with 100 Gb of storage space included, as compared to 5GB for Free plan.
Business Process Automation
Automate time consuming and resource-intensive processes such as repetitive tasks, document management, HR self-services, Back Office requests or any other sales related workflows. If your goal is to get a transparent process with human factors risks minimized, Bitrix24 workflows designer is here to help.
Whether your team deals with simple workflows (leave request , expenses report) or complex ones (leads - & deals processing in the CRM), there are several advantages the workflow automation gives:
Repeated actions which your manager had to perform before are now delegated to the system, which means your managers get more free time for other more important tasks.

You get easy new employee onboarding: self-service processes don't require other employees to help new hires and eliminate risks of possible mistakes.

Managers responsible for results can guide and control the process at any step.

Sales automation in CRM.
Bitrix24 Standard plan subscribers get several preset workflows templates (easily accessible from Activity Stream > Processes) & Business Process Designer, where a new workflow template can be built from scratch.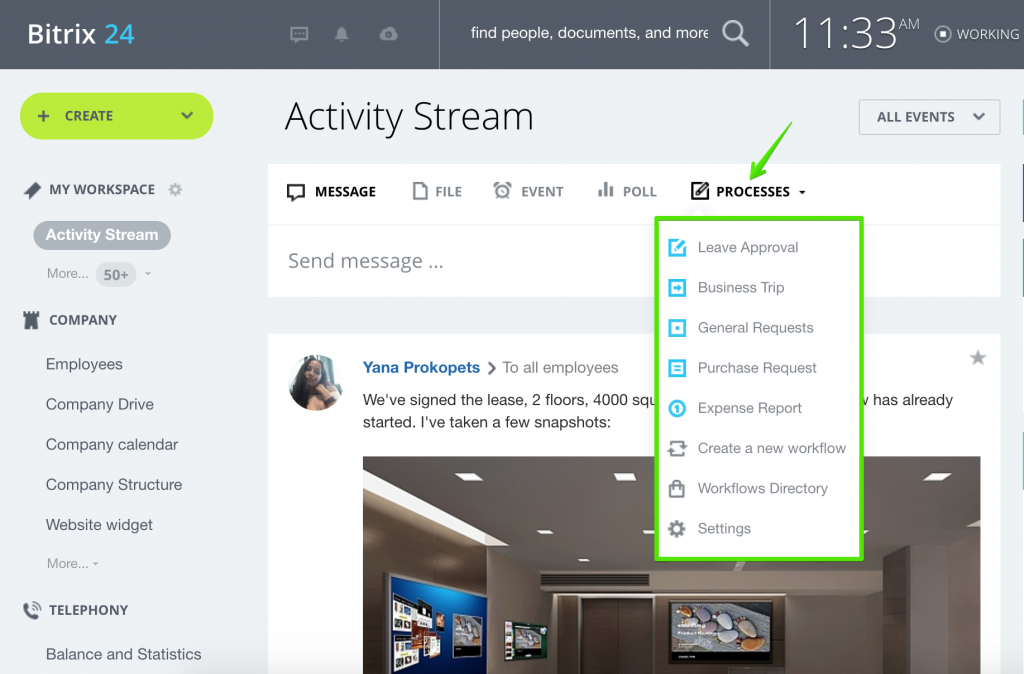 Absence Chart
Get all users absences recorded inside common
absence chart
.
Get Multiple Sales Pipelines
Differentiate sales by using different pipelines for various business directions. In Bitrix24, there is no need to set up sales pipeline management templates, all you have to do is define lead and deal stages that are relevant to your sales process. The rest is done automatically.
Why is this important? Suppose, you run a car dealership and have multiple profit centers – you sell cars, parts, insurance, accept trade-ins and do repairs – to name a few. The problem is that the sales process for new or used cars is totally different than one for selling parts or insurance. Setting up a test drive is an important stage for selling or leasing a car, but it's simply not applicable to insurance sales or oil changes, which don't involve multiple sale stages. That's where multiple pipelines and sales funnels are so handy.
Bitrix24 Standard plan subscribers get 10 sales pipelines. Consider Bitrix24
Professional plan
- in case you need more (our top plan offers unlimited pipelines).
Bitrix24 Standard plan subscribers can customize deal form fields, deal stages, build separate Sales Funnel for each pipeline to analyze sales process and estimate future sales.
Improve Presale Consulting & Customer Service
Open Channels consolidate various means of digital communications with your clients in Bitrix24. That is a fast and easy way to communicate with your clients in real-time. Simple as that - you get all clients messages in your Bitrix24 chat. Conversely, your clients will receive your response via their message source – Facebook or Telegram (Skype, Web chat and Viber coming soon). Just select a group of employees responsible for social media queries and new messages will be automatically dispatched between them with the help of Bitrix24 Open Channels.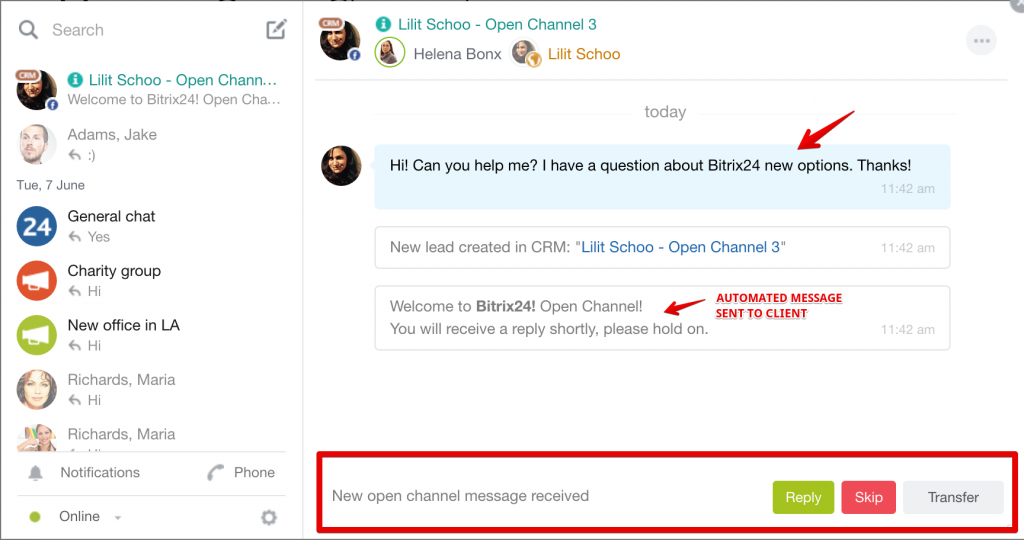 Why you should try it today:


Presales consulting using digital channels.

Various sales channels including online chat, social networking and instant messengers.

Customer care (single- and multi-tiered) – your clients receive faster service, all chat history is saved in the CRM.

An extra source of leads for your CRM – new leads are distributed between sales managers based on the queue configured in channel settings.

Repeat sales using CRM data.
Bitrix24 Standard plan offers unlimited open channels.
Get More Integrated Email Accounts
Unlike Bitrix24 Free (1 inbox per user limit) plan, Standard plan offers 5 inboxes per user integration. Also, shared inboxes are not available to Free plan users, while Standard plan users can add an unlimited number of shared inboxes.
Bulk Emails
The Standard plan users can send up to 50,000 bulk emails every month.
Add Custom Fields To Tasks
In Bitrix24 custom fields for tasks are available starting with Bitrix24 Standard plan. Simply click 'Create new task', scroll to the bottom and create a custom field. The following types of custom fields are currently available for tasks - text (e.g. client preferences), number (e.g. budget), date\time (e.g. event date) and true\false. Each custom field can be marked as required or multiple, if necessary. If you are an administrator, you can share the newly created task field with all employees and enable field dragging.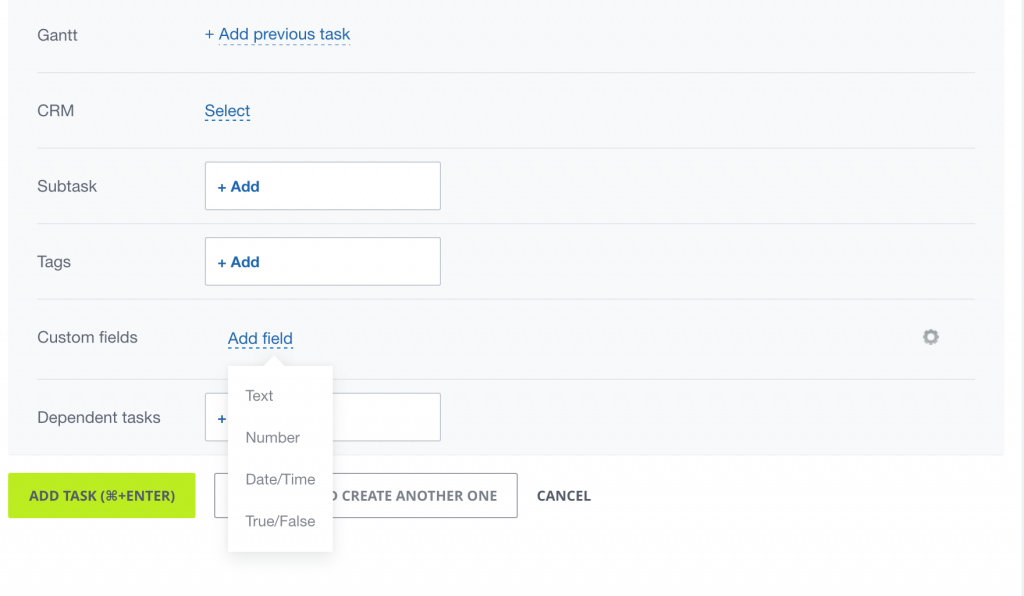 Create More Sites
With Bitrix24 Standard pan subscription you can create & publish up to 10
sites
, compared to 1 site for Free plan.
Set Custom Telephony Access Permissions
When you have numerous sales agents working with telephony,
access permissions configuration
may come quite handy. You can restrict access to telephony to those users who do not work with calls, and configure other users' access to call statistics, call recordings, user and telephony settings, or phone number management section.
You can configure outbound calls separately for each user– as in call anybody, only CRM clients, CRM clients & company employees or prohibit outbound calls to specific employees entirely.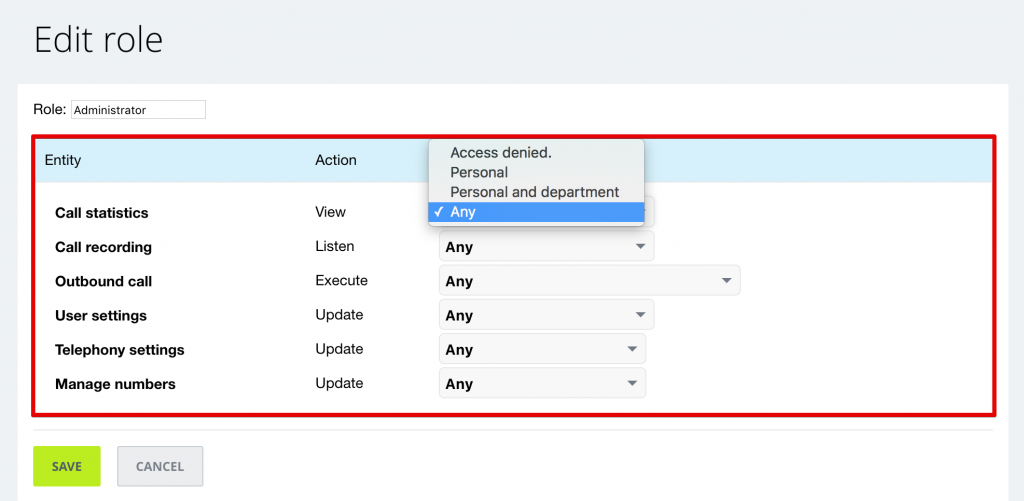 For example, you can make one of your sales agents to access only own call statistics, limit access to telephony settings and allow to make outbound calls to CRM clients only.
Lock Files For Editing
When several users are working with the same document, it may be important to have an option to "Lock document for editing by another user". This action may help you to protect the file from changes being made by other users who also have access for this file.
Improve Security & Protect Data
Disable Public Links: by default, Bitrix24 Free plan subscribers have the option "Allow public links" enabled, which means any user of their account can generate a link for the file & share it outside. But sometimes, when you deal with sensitive information you may be wise to restrict file sharing. Starting from Bitrix24 Standard plan you can disable public links to prevent others from being able to share files publicly with users outside your Bitrix24 account.
Set Access Limit By IP: you can choose to allow individual users and departments to access the service only from chosen IP addresses. For example, everyone would be able to access Bitrix24 from your local network, but only certain employees could access from mobile devices or from home, and only some of them would be allowed access from any location.
Backup Restore: as you probably know, all Bitrix24 cloud accounts are backed up daily (both free and paid plans). This means that your Bitrix24 accounts data is protected from any tech issues or any unpredictable circumstances that may happen at our end. But if the problem is at your side, e.g. somebody of your employees has deleted any data (tasks, CRM records, etc.), backup restore is available for Bitrix24 Standard & Professional plan subscribers only.
Brand Your Bitrix24 Account
Starting from Bitrix24 Standard plan you can add your own company logo to your Bitrix24 account.
You can compare Bitrix24 plans here - Bitrix24 Cloud pricing.