Records Management, or Lists, help you manage record-based data. Suppliers' directories, product catalogs, expense items, etc.
Capabilities:
construction of data fields for any type of object, including files;
access settings for each list;
filters, sorting, column display, group editing, easy assignment of access permissions, import and export, etc.
any hierarchical structure for storing objects can be implemented;
unlimited number of lists;
lists in workgroups;
Create List
As you may well guess, the green
Create New
tab creates a new list: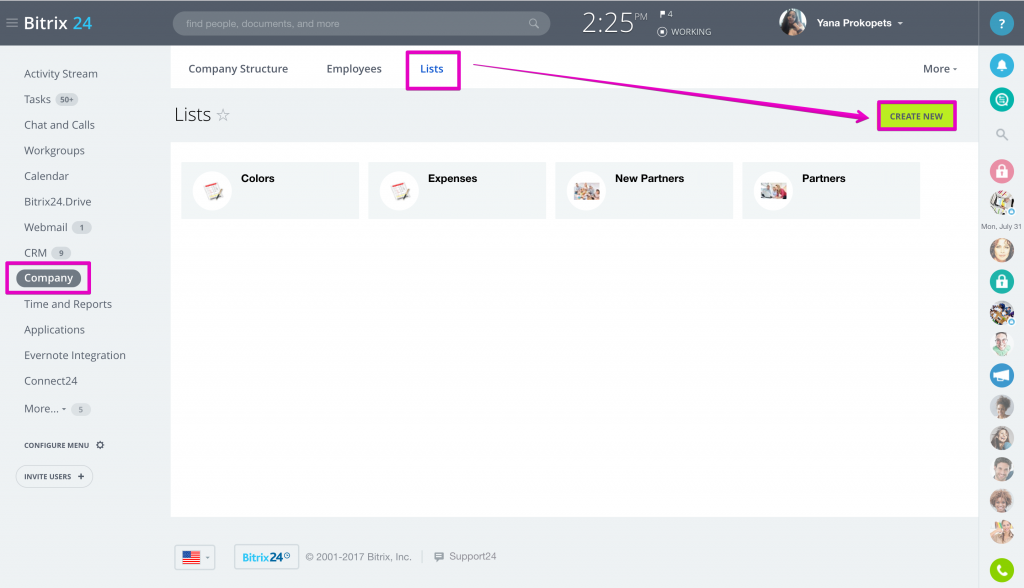 The New List form consists of the three main sections:
Settings: shows the general list settings such as list name, description, sorting and image. The only required field on this page is the List name, other fields may be left unfilled: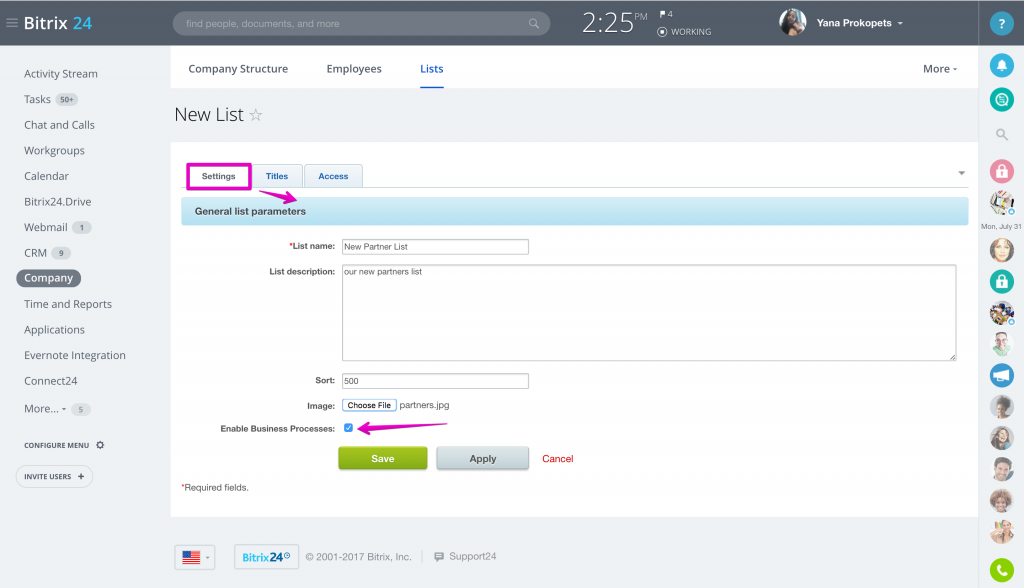 Important:
Enable Business Processes
option allows you to run
workflows
based on this list.
Titles: titles for list sections & elements can be customized here. The Titles section is useful when you need to have the names to be more meaningful with respect to the content. Consider the following example: when you create a list of your company's partners, you can rename titles of elements and actions with them: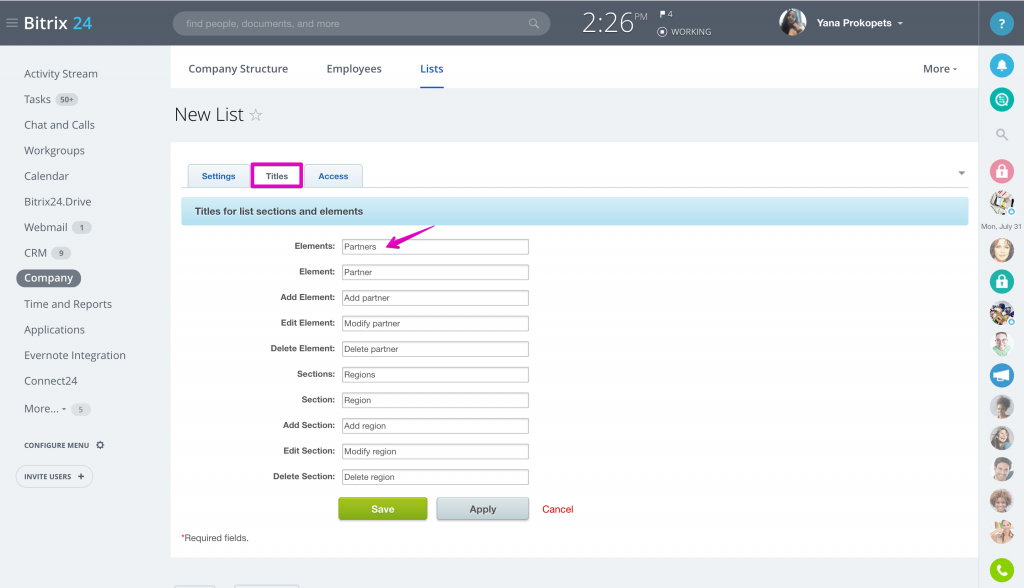 Access: here you can select users, groups or departments & configure access permissions for the them - who will be able to read, edit the list or will have full access to it.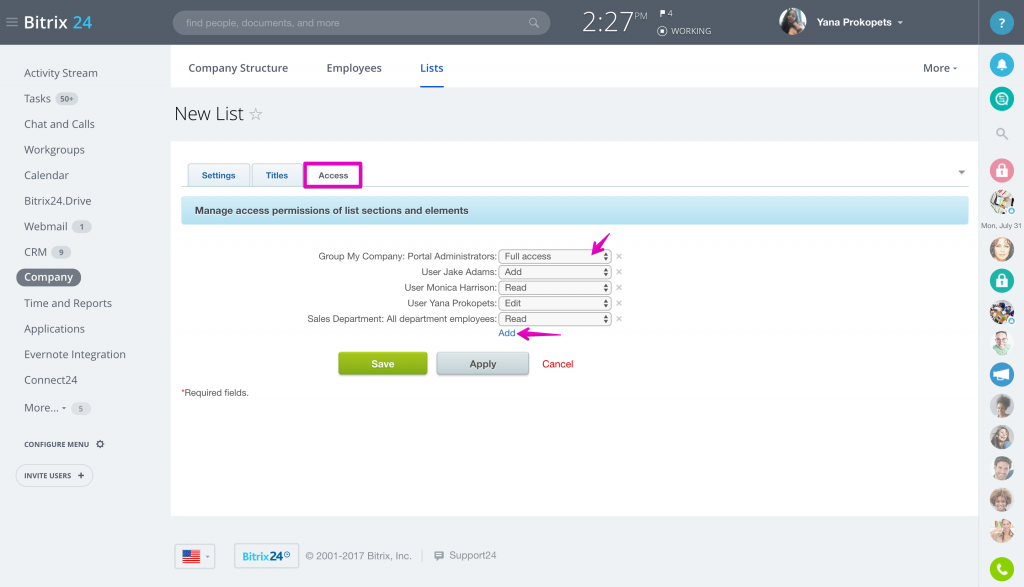 Obviously, these are only the most general parameters. Click
Save
to create a new list.
Customize List fields
The next step after a new list has been created, is to configure list fields. Open the list & go to
Actions > Customize fields
: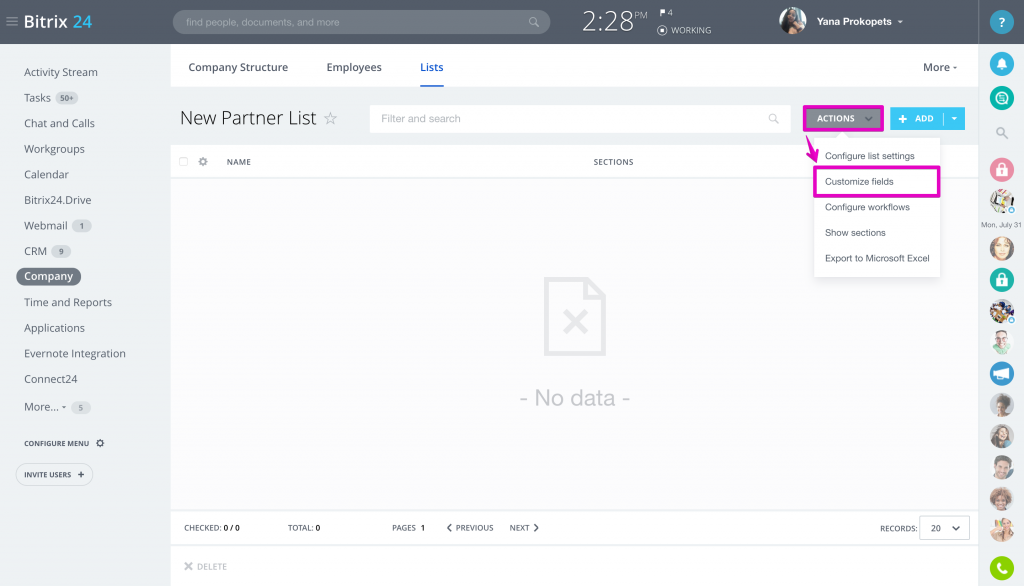 At
Fields Configuration
page you will find the only default field -
Name
(you can edit it if you'd like). Use
Add Field
tab to add new fields to the list: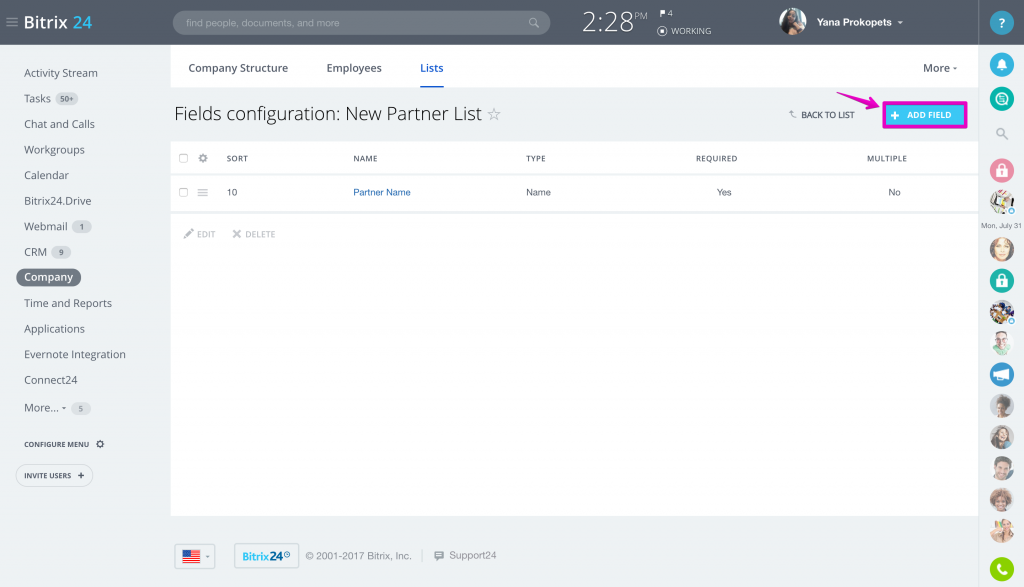 The New Field form has only one required field that is field name: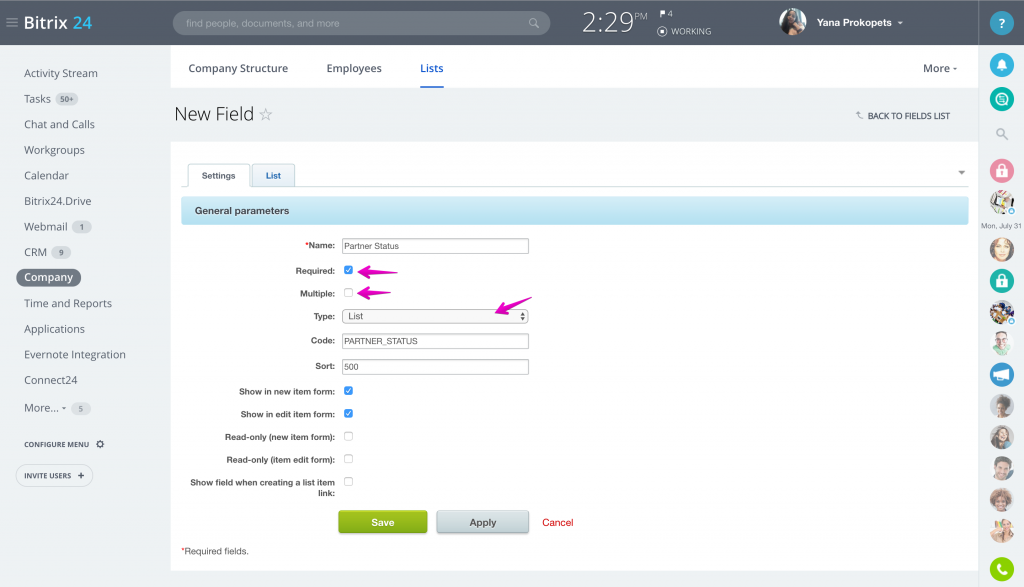 The following parameters are available:
Sort: the less is the value, the higher the field is positioned
Required: specifies that the field must exist (you won't be able to add a new list items if this filed isn't filled)
Multiple: you can assign more than one field value to the field (when enabled)
Type: specifies the filed value type - list, string, bound to user, date, etc.
Default Value: set it to the most frequently used value so users donít have to kill their time providing it again and again.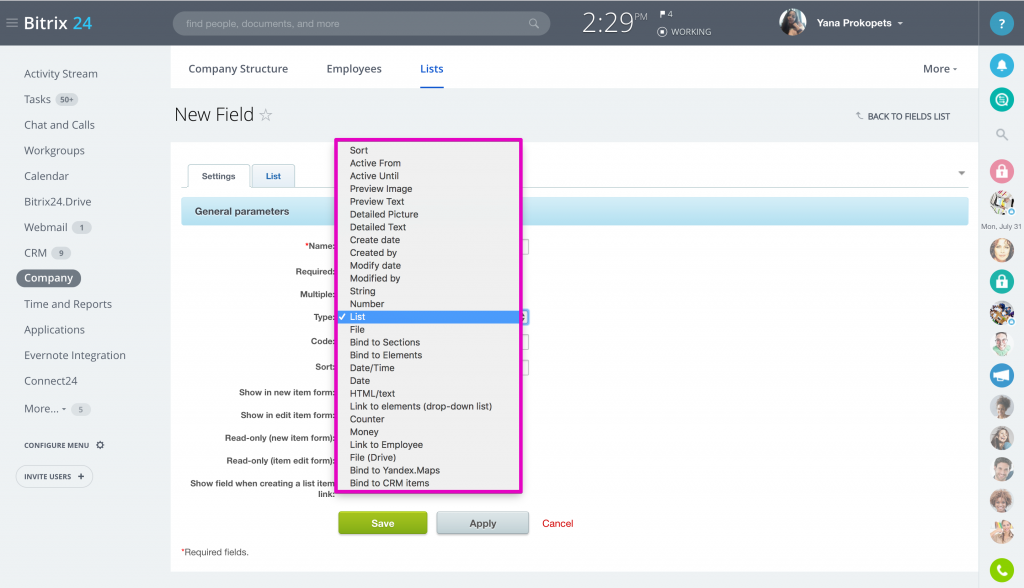 When you select a list type of field, a new tab is created automatically; open it to add list values: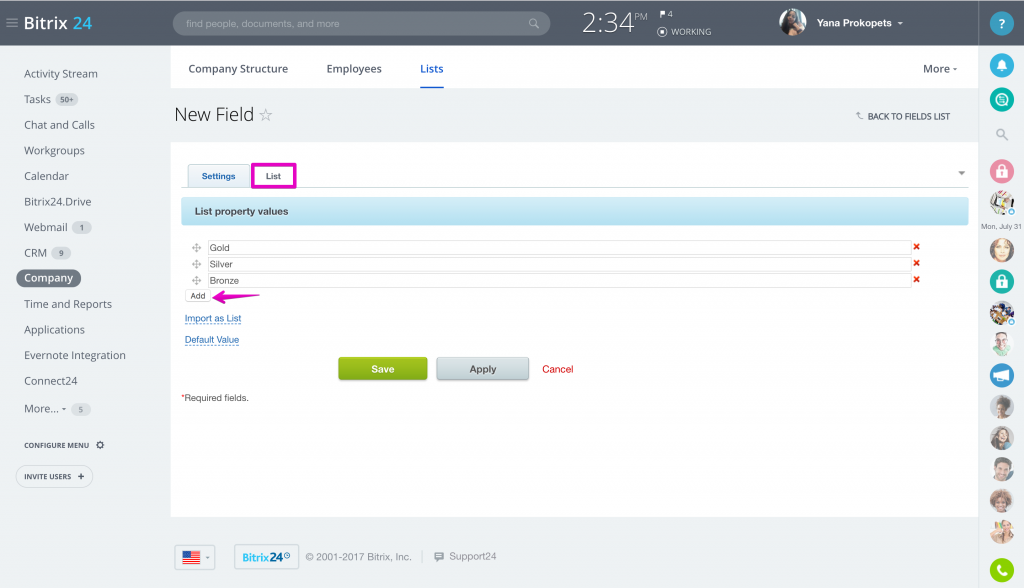 To quite Fields Configuration page use
Back to List
option: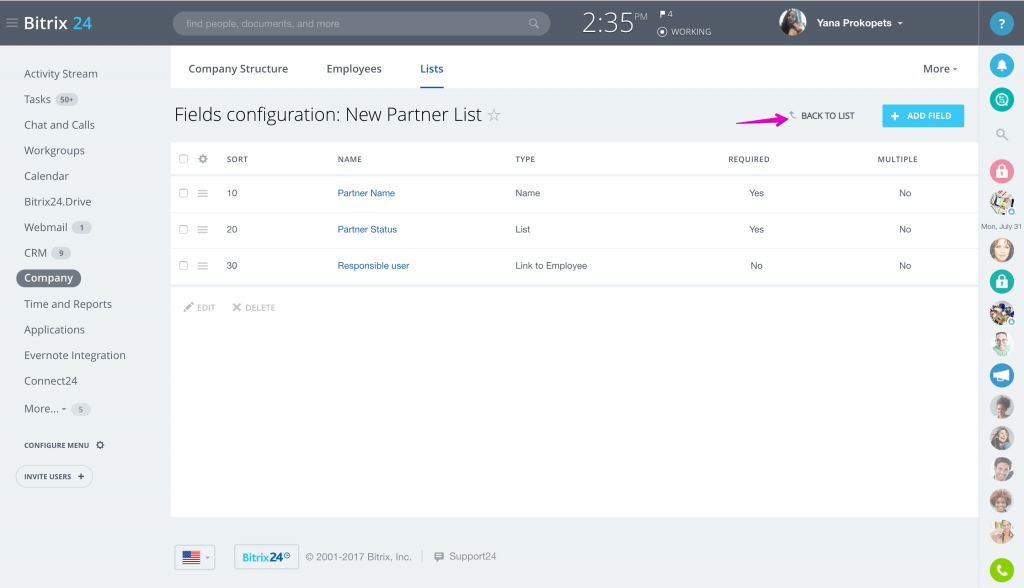 Add new list items
After the list settings & fields are configured, you can start to add new List elements & sections: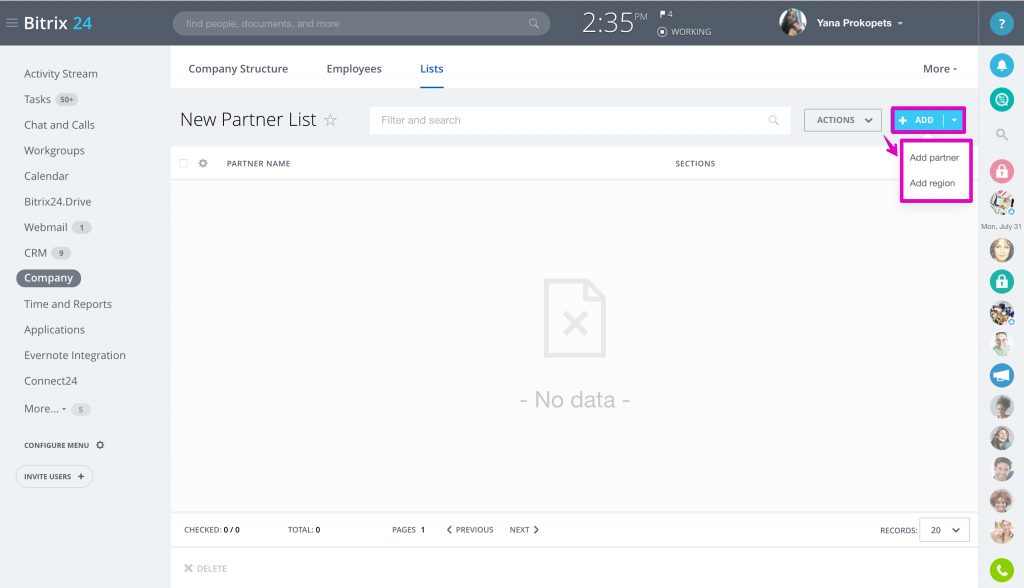 It is easy to add new sections - just click on Add Section & fill in section name.
To add new list elements click on Add element (in our example the Add element title has been substituted to Add partner). The new list element form will show fields you have configured for this list, Section tab (renamed to Region is our example), Business Processes & Access.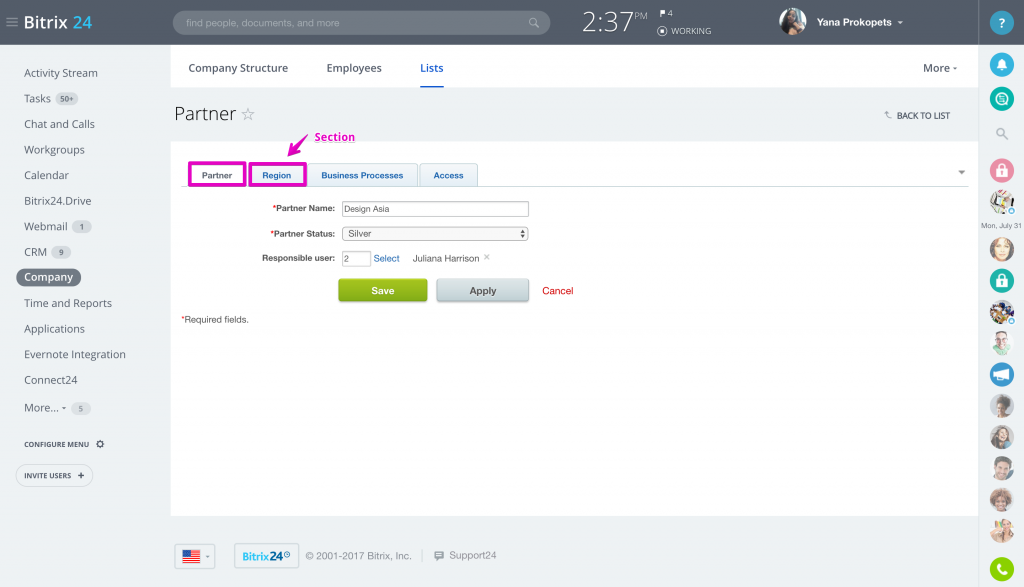 Go to Sections tab to select section for this list item (if needed):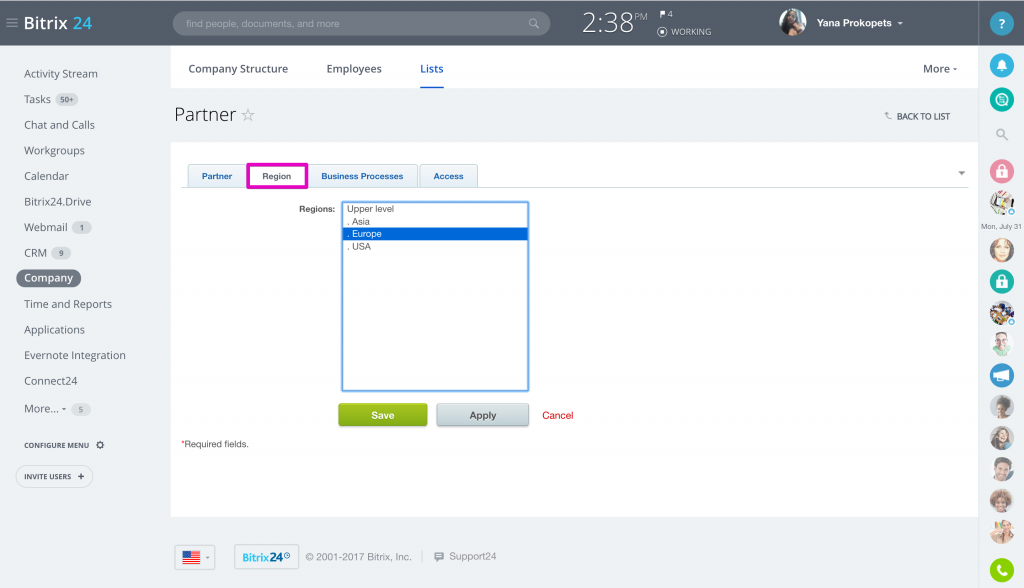 You can switch between
Show Section
views for easier navigation: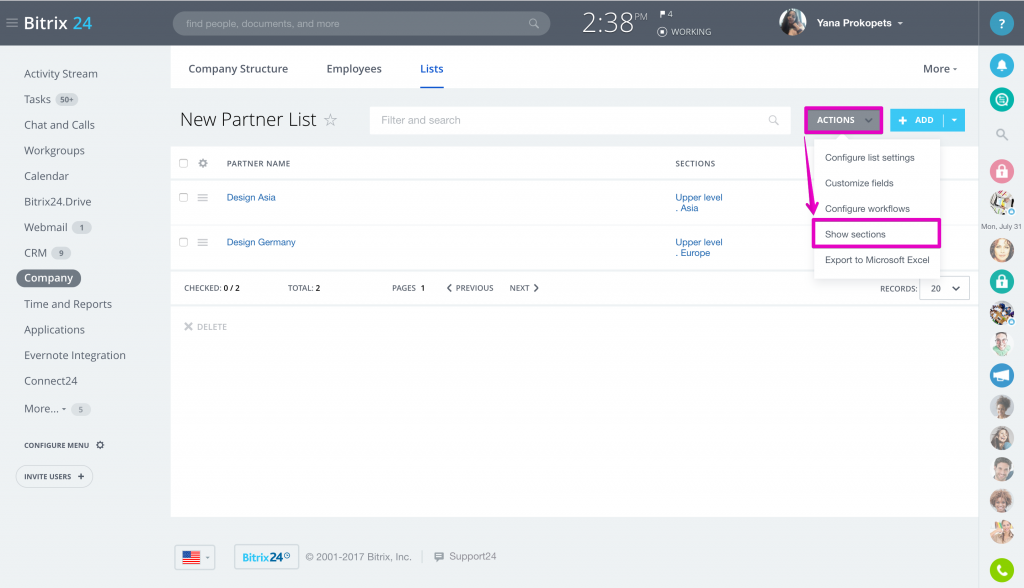 Here is how it looks when
Show Sections
option is enabled: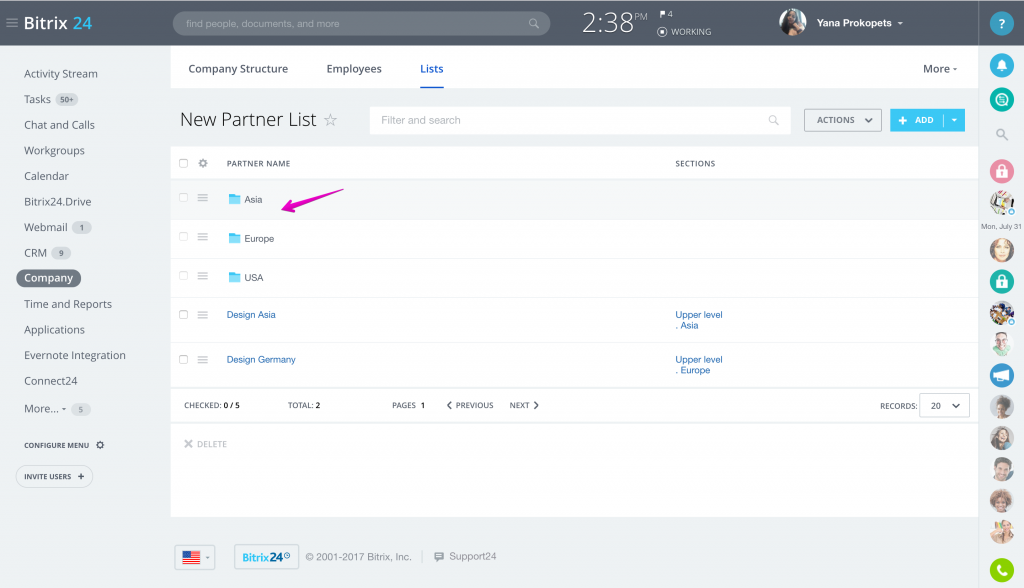 List Grid
List Grid columns reflect the fields you have configured for the list. You can set which fields will be shown in the Grid with the help of
Settings
icon located in the left top corner above the list: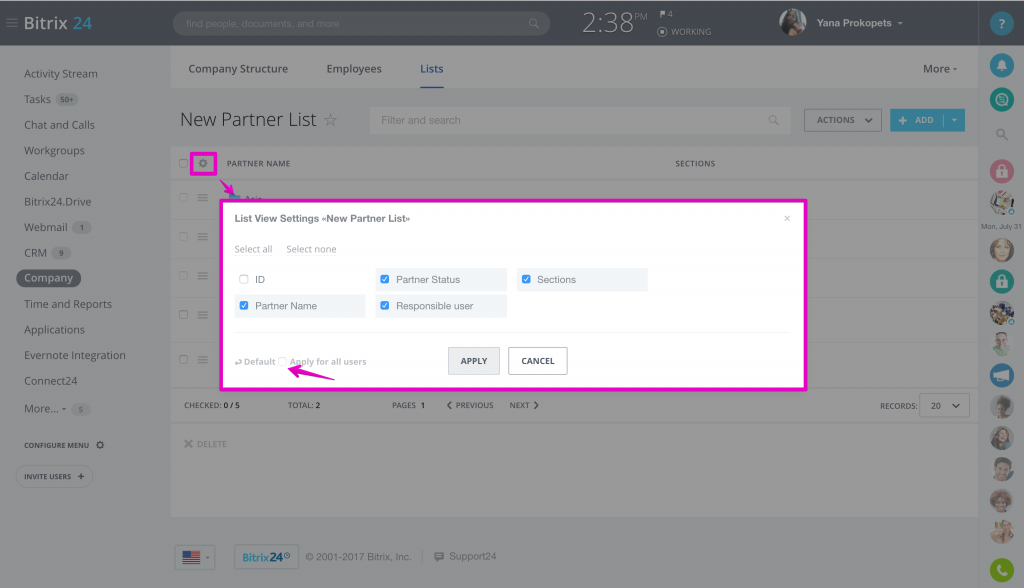 Select fields you want to see in the List Grid & click Apply.
Use
Apply For All Users
option to save List Grid configuration for all account users.
To reset settings use
Default
option.
List Filter & Search
To navigate between you list items easily use smart Filter located above the list: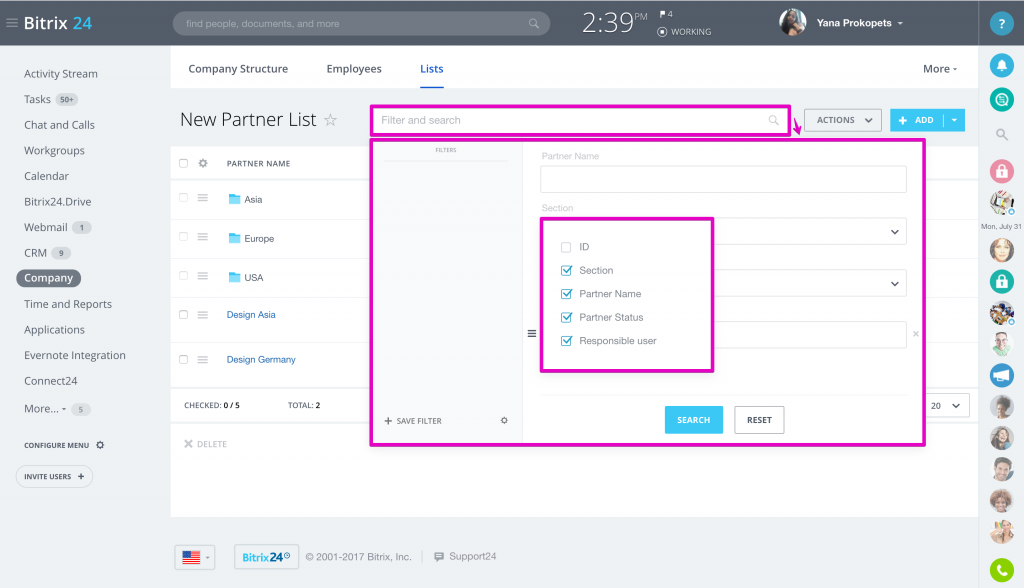 You can add list fields to the filter widget with the help of
Add
tab. Set field value & click
Search
.
If you'd like to save filter configuration for all account users, click on Setting icon inside the filter & use
Apply To All Users
option.
You can use both filter & smart search together to archive best search results: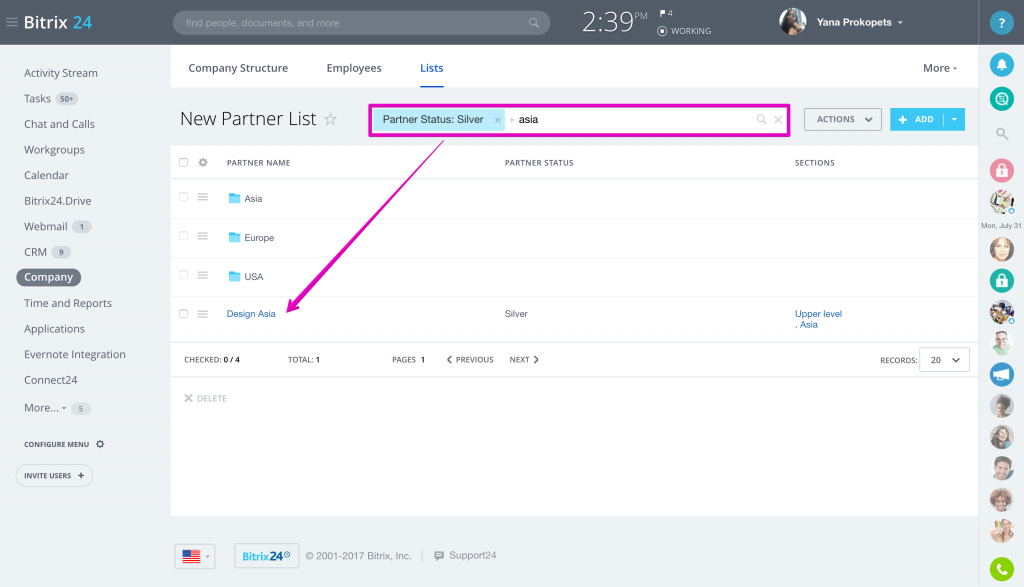 Export List
You can export your list to Excel. For that, open the list, go to
Actions > Export to Excel
: