Bitrix24 tasks reports is a universal reports designer that can be found under Tasks > More > Reports.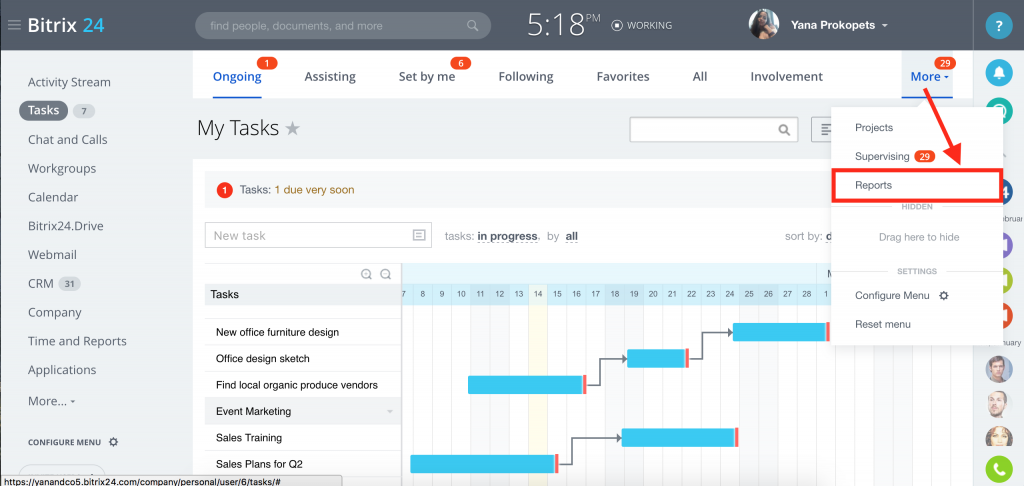 You will find 5 pre-made tasks reports on this page. You can copy (e.g. if you'd like to edit report conditions), export (export to CSV from reports list or export to Excel tab inside each particular report) or delete any of the reports.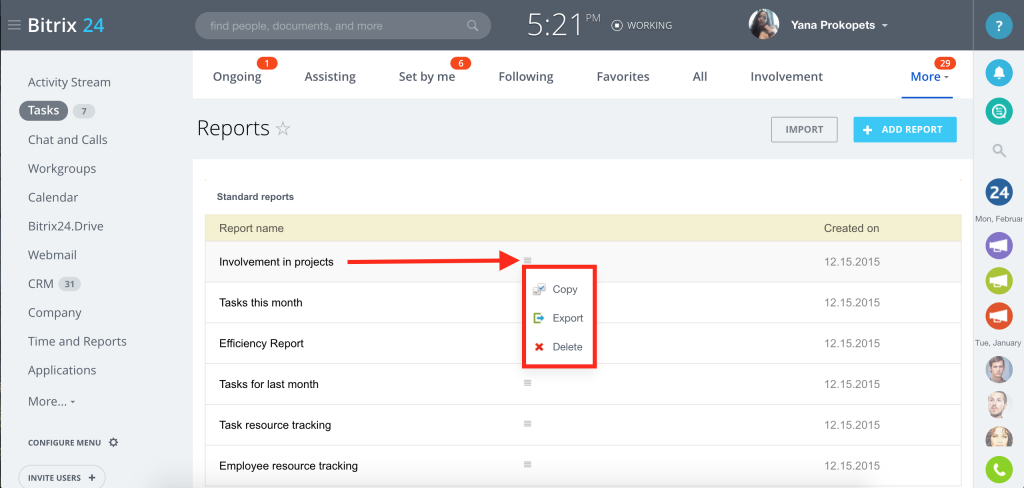 Besides that you can always create a new report from scratch (use add report tab) or import existing one (import file must be in CSV format).
How to create new tasks report
Use "add report" tab to open reports designer. First, you need to add report's name & report period (time period that will be applied for the report).

Columns
- this section allows to configure report's columns. "Add" option allows to add a new column. List of available columns now includes Documents (uploaded to tasks) & CRM items (connected to tasks included in report).

Calculate column option - displays calculated amount or number of unique values under report's column (total). Depends on your column's data format.
Use up\down arrow tabs to configure columns order in report. Delete column or edit it's name with the help of options available on the right next to column's name line. For numeric data types you can use "% of" option to display column value in percentage.
Filters
- use + (-) tabs to add (delete) filters that will be shown in the right side widget on report's page. Filters will allow you to limit data shown in reports (based on selected filters conditions). Use "and\or" option to create complex conditions (in order to avoid overcomplicated conditions branches, conditions are limited to 4 levels entry).
Change filter in report - an important option which allows to add filter to the right side report filter widget & determines if users can configure & apply filters in reports directly.

Maximum items
- limit maximum number of elements displayed in report.
Show chart
- allows to construct charts for columns with option "calculate column" on (where applicable).

Choose arguments & values to be shown in the chart.
Sharing
- share configured report template with your colleagues. Please note that with the help of this option you can share report template (not report itself with your report data).