First, you can set different views for your My Calendar page: your own calendar, your tasks, configured calendar or several calendars events at once (use right side menu).
You can also switch between Month, Week or Day view for your calendar.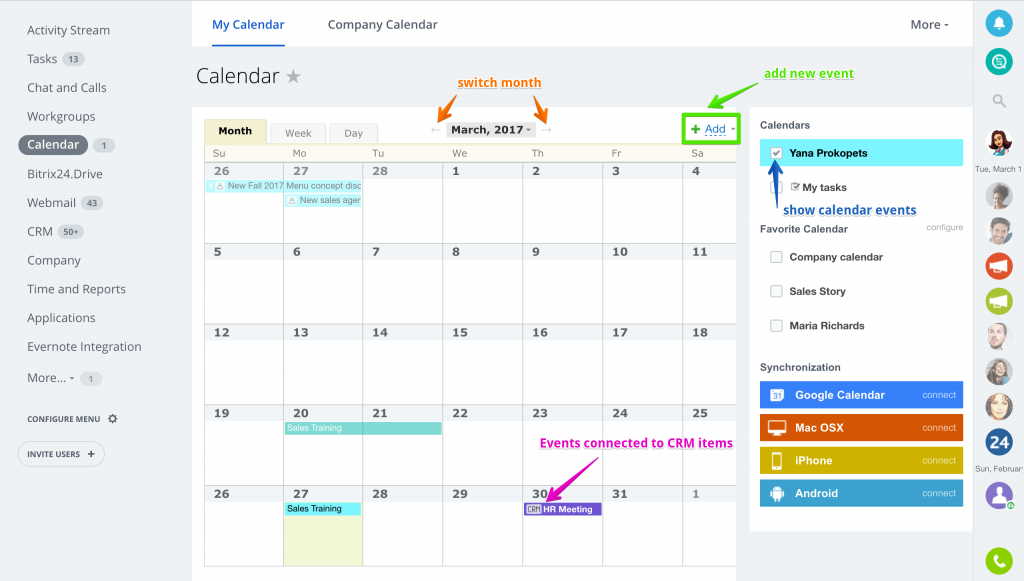 Click "Add" to add a new event (or click on any calendar table day).
A new event form have several sections:
Event: the first one reflects main event details such as date, name, location & user's availability. You can also set reminder for the event here.


Important: make sure you choose the right calendar if you have several in the list (e.g. in case you have Google calendar connected - you have to choose it in the calendars list otherwise events won't be synchronized).




Description: here you can add description to your event. It may be text with links, files, images, video (urls) or quotes.




Guests: add users to the event. You can also use additional options such as "notify when user confirm or decline invitation", "this meeting is public" (anyone can join it) or "invite again" (if the event is changed (e.g. event time) - the invitation will be sent again). After you add users, you'll see a chart showing user's availability during the time of the event (red marks) & your event (blue column).




More: here you can make events recurring, connect them to the CRM items (leads, contacts, companies or deals), set event's importance, choose color or event make event private.



You can edit recurring events even after the event is saved, in this case the system will ask you if you'd like the changes to be made to this particular event only, this & all subsequent events (old ones will stay untouched) or all instances (old, current & future events).