We are currently working on Simple CRM mode (CRM without leads), therefore, switching between modes is not available right now.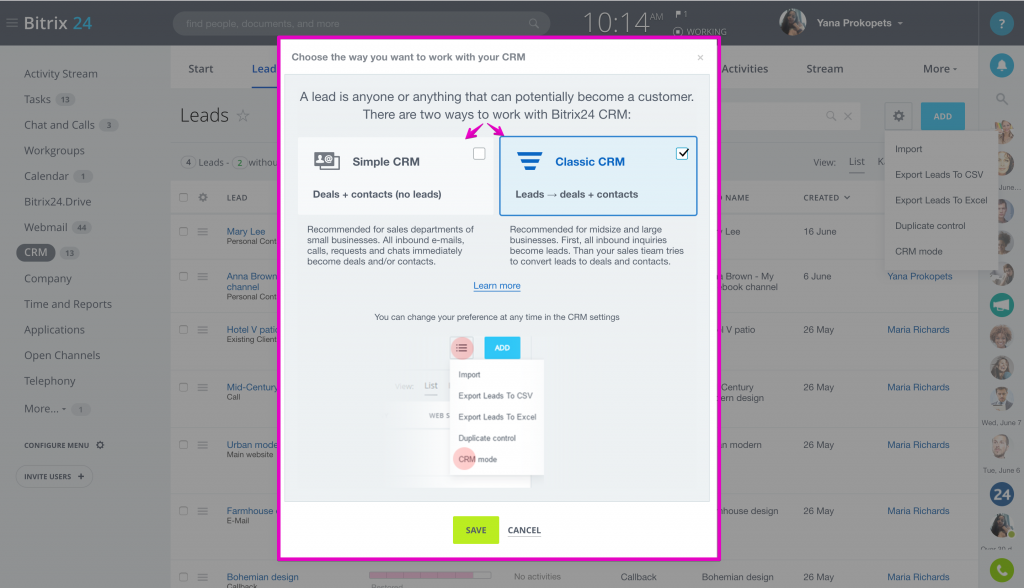 Depending on the way you are going to work with your clients in the CRM, we have designed 2 Bitrix24 CRM interface templates for you to choose from (
CRM Mode )
:
Simple CRM (Simplified Client Management): this CRM interface doesn't have leads (lead - is an individual who might become your customer, but currently isn't) and is built around contacts and companies. This option will better suite your team if you either do not work actively with new leads or when you have qualified clients form the beginning. For example, if you run a dental clinic and most of your calls are for appointment settings.

How it works: you add new clients directly as contacts or companies to the CRM.


Classic CRM (Full Lead Management): When you have a large volume of incoming leads (via calls, emails, web forms, social networks) and only part of them becomes qualified clients. For example, if you are a real estate agent and most of your incoming inquiries will never end in a deal.

How it works: you add new leads to the CRM first, and convert them to contacts, companies or deals later. You can add new contacts & companies directly too, skipping lead stage.

Important:
you can change your Bitrix24 CRM interface layout from
Lead
or
Deal Settings > CRM Mode
at any time.