Each Bitrix24 user can configure notifications sent from Bitrix24 account for:
email
account internal notifications (website, mobile & desktop apps)
push notifications for mobile app
Important: notifications should be configured by each user individually & cannot be set by account administrator for other users in Bitrix24 cloud version.
Notifications configuration page is available both inside desktop app
Settings
section & inside web version
Profile
options: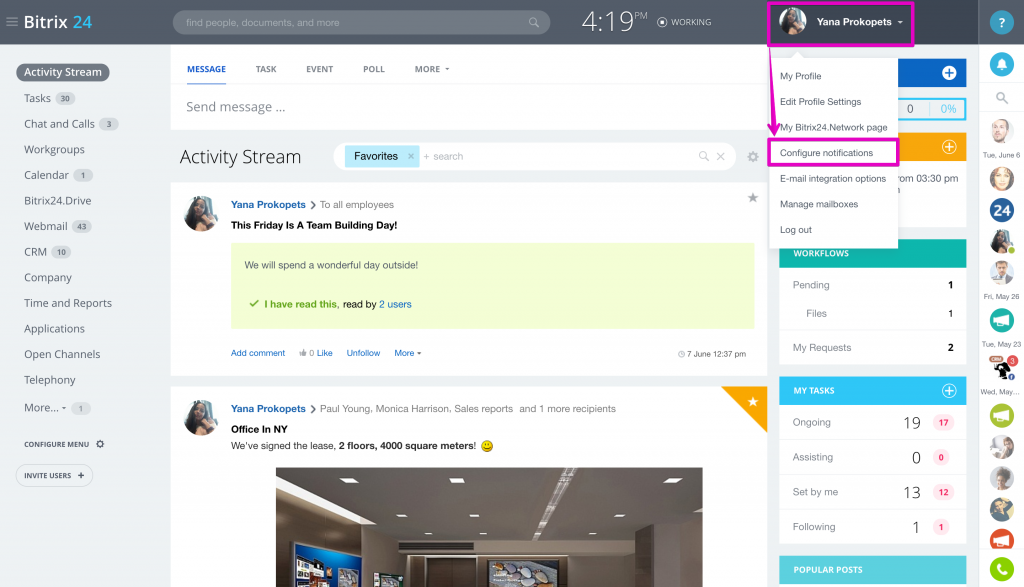 There are 2 modes available:
Simple mode: applied for all notifications of selected destination (e.g. enables or disables all email notifications)





Advanced mode: allows to configure notifications for particular options & tools:



Disabled notifications will not be shown & saved inside notifications history.
Open Messenger
Settings
to find additional notifications options such as:
Show most recent notifications - when option is disabled, the notifications history is shown empty by default
Auto mark notifications as read - if you have a big number of incoming notifications & you're afraid of loosing important ones in the flow, you can disable this option & check notifications manually as to-do list.