Projects in Bitrix24 are based on workgroups. If you need to have a project calendar or a workgroup calendar you can find one inside your workgroup: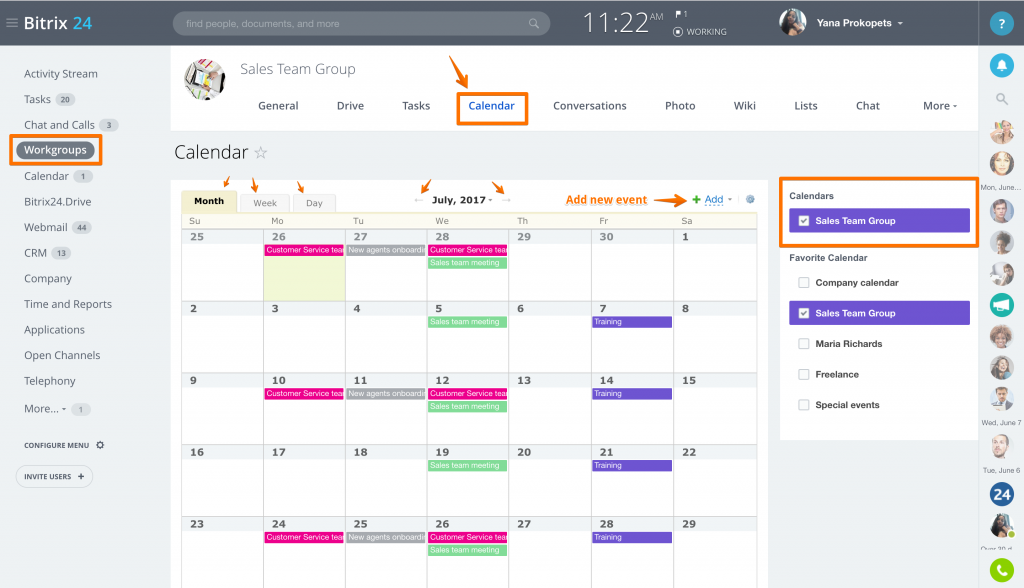 Workgroup Calendar Configuration & Access Permissions
In opposite to other workgroup features, the group calendar should be configured separately, right inside Calendar section of the workgroup. Click on the settings menu next to the calendar name & choose
Edit
: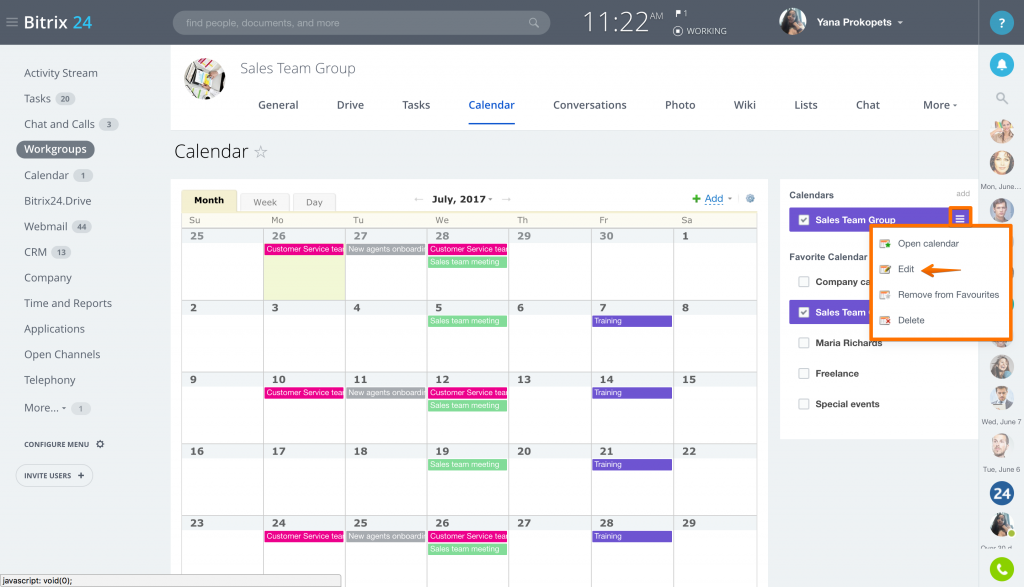 Under
Main Parameters
section you can set: calendar name, description, main calendar color (you can also set colors for each event you add individually; this color will be applied as default for all workgroup events if no other color is chosen). Calendar export can be enabled here as well.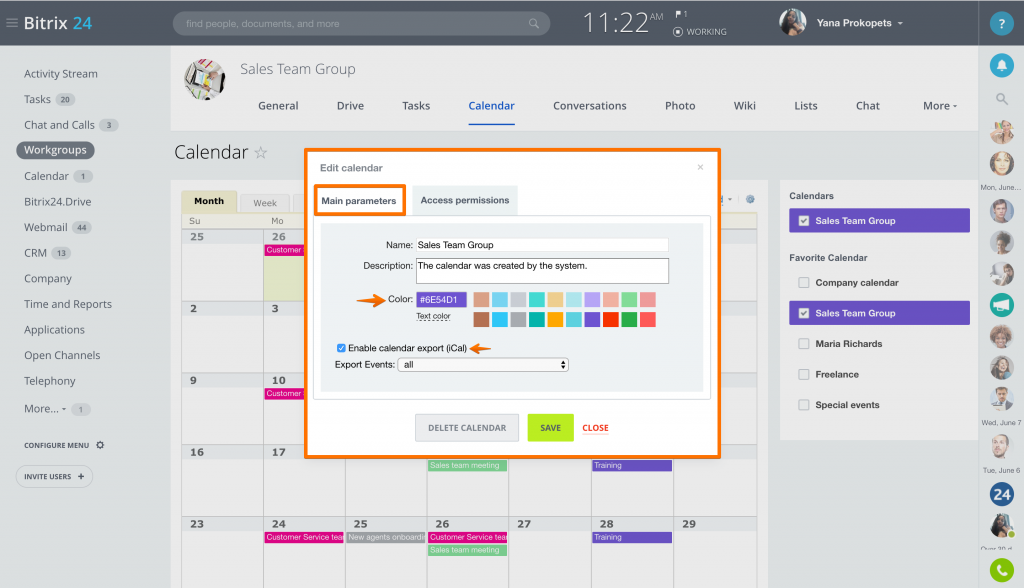 To configure users access to the workgroup calendar open
Access Permissions
section. Use Add option to add users & select access level:
Access denied
View availability - view if date & time is available for a workgroup event (not occupied by another event in the group)
View availability & names - view workgroup events names & date & time availability
View - view all workgroup events details
Edit calendars & events
Full access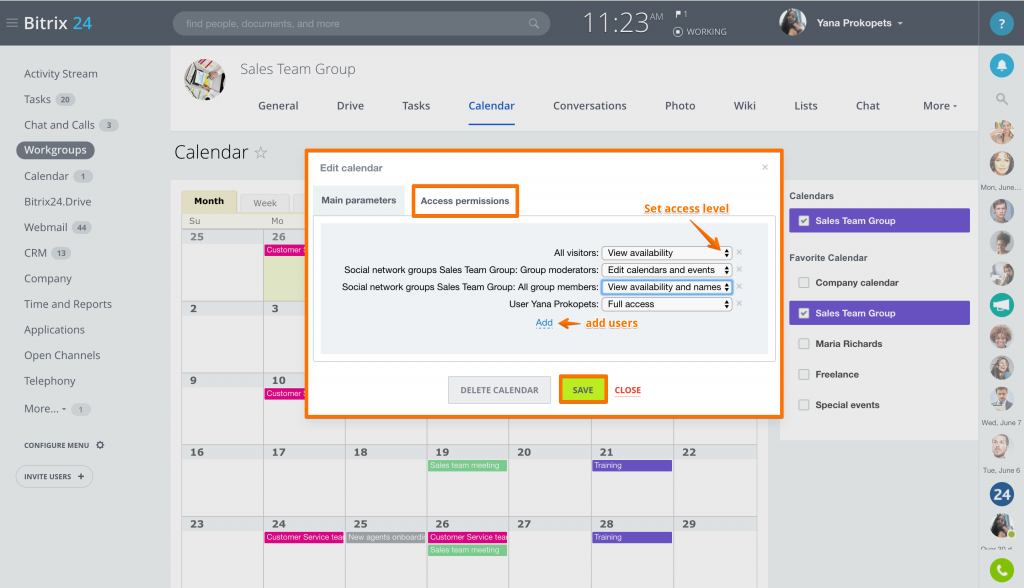 Add New Event or Repeat Events Inside Workgroup Calendar
Use Add event tab above the calendar to add new project or workgroup event.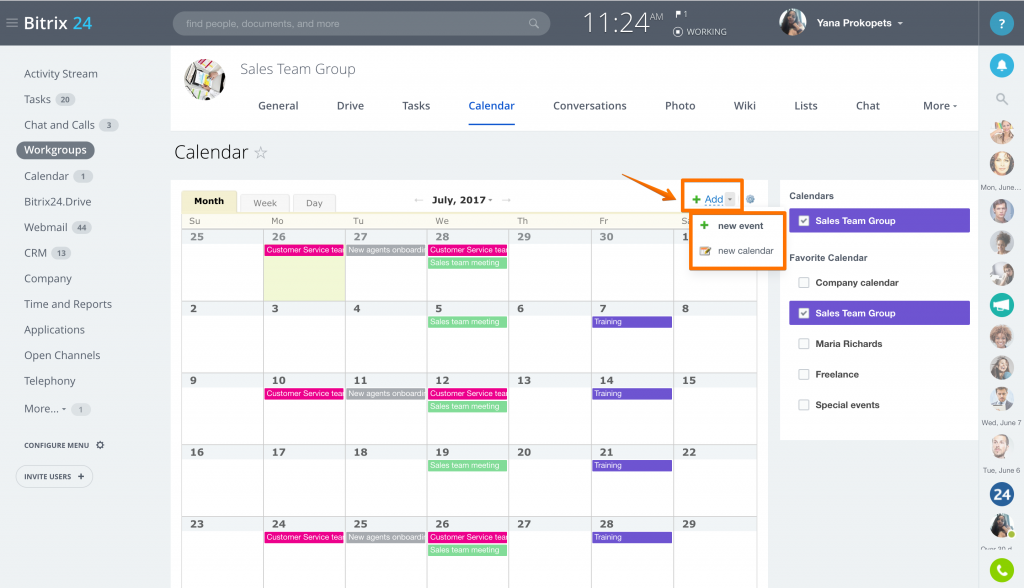 Inside
New Event
form you can set event name, date & time, location. If you'd like Bitrix24 to remind involved users about the event, you can also set reminder here.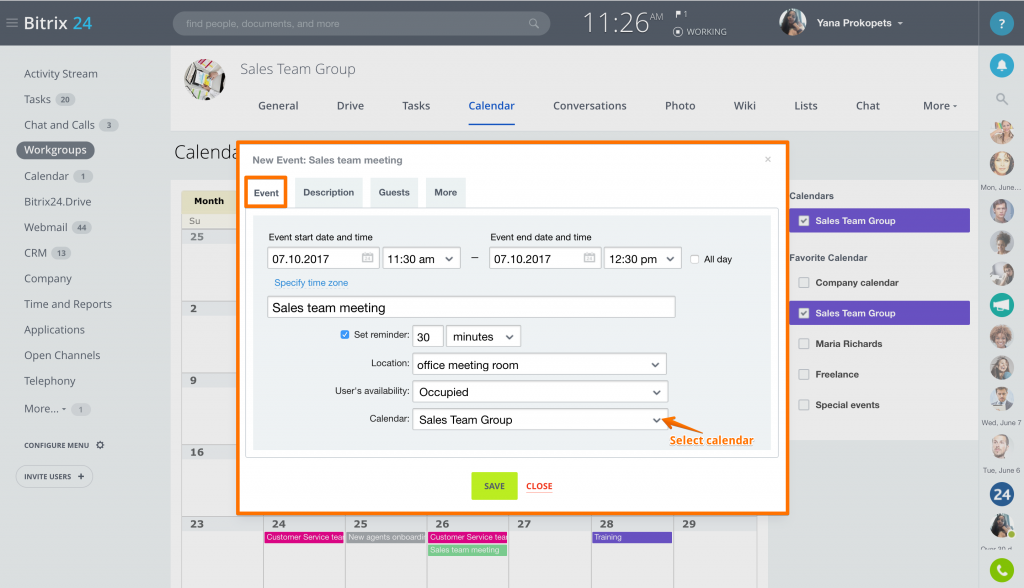 Add event
Description
- you can attach files, add links, insert videos & quotes. To open visual editor tabs (font, size, etc,) click on the A tab in the right bottom corner of the form.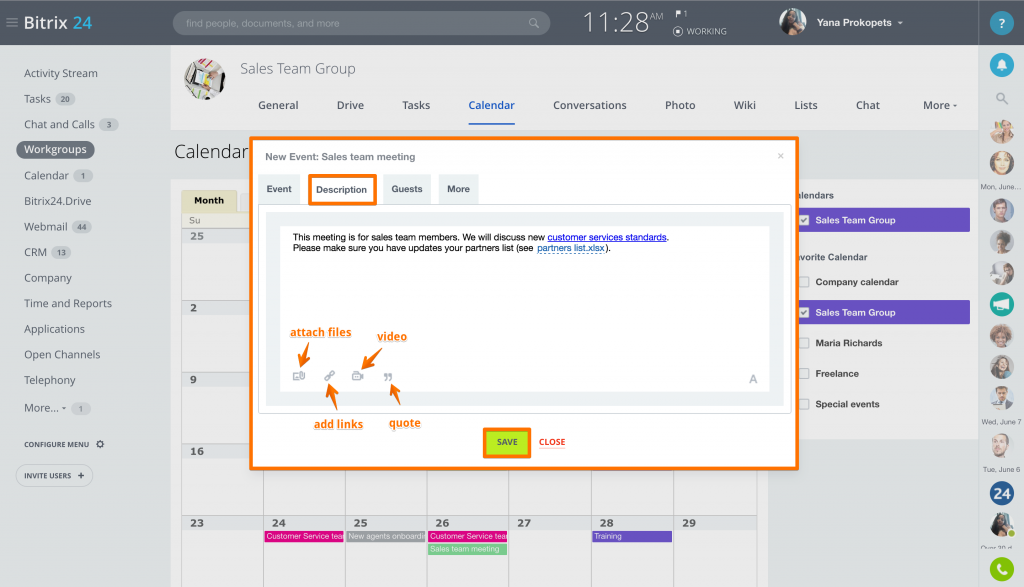 Add users, groups or departments to the event with the help of
Guests
tab. The system will show you the users availability chart & advise the nearest
Vacant Time
. Additional options include:
This meeting is public - when enabled any user can join
Notify when users confirm or decline invitation - you will receive a notification from each guest who confirms or declines your event invitation
Invite again - sends invitation again when user declines event invitation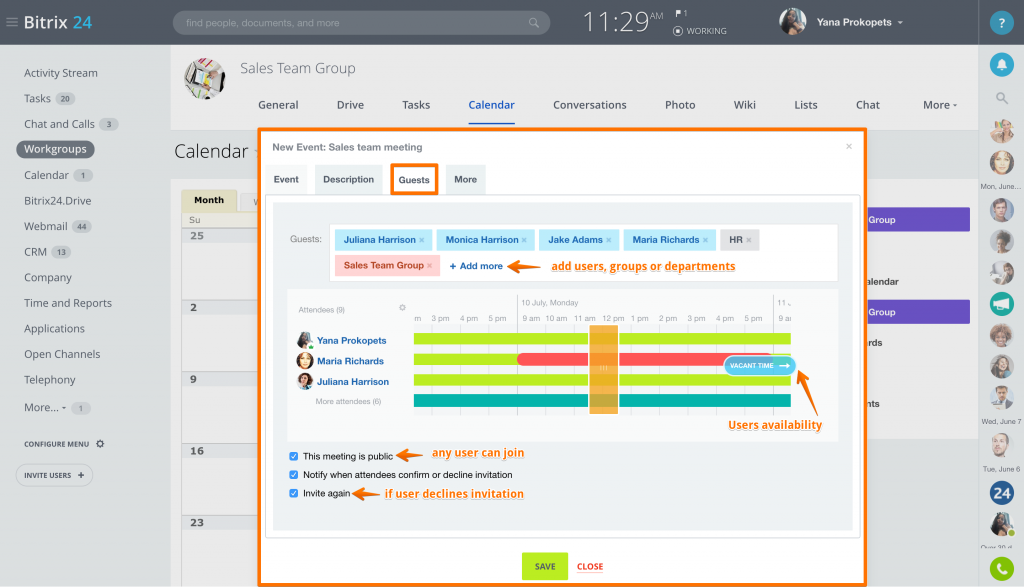 Open
More
tab to access additional options such as:
Repeat Event - set repeat event start & end dates & frequency.

Importance - set event performance.
Color - color will be applied to all repeat events generated from this form.
CRM items - connect CRM leads, contacts, companies or deals to the event.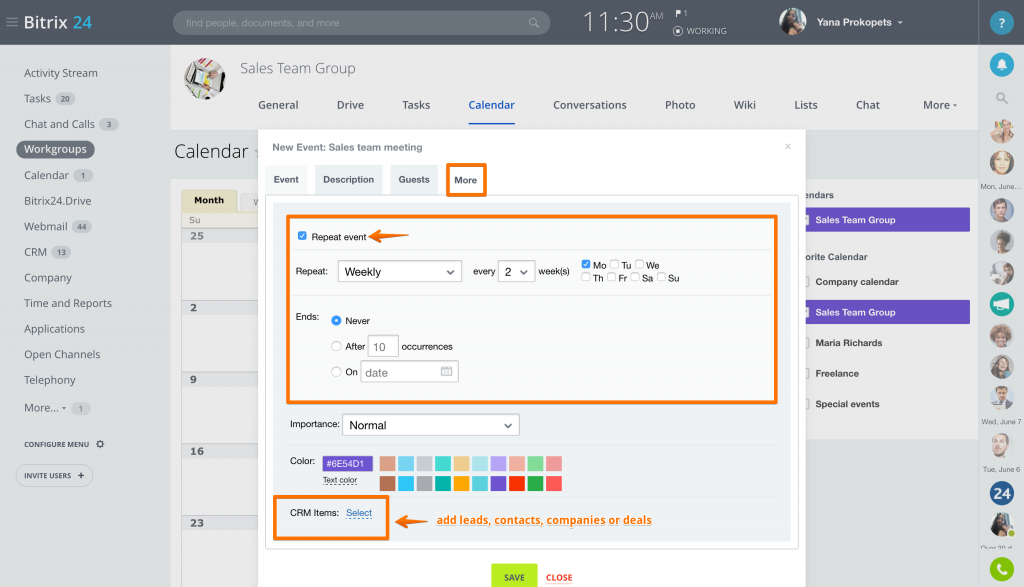 Add Workgroup Calendar To Favorites
If you don't like to go to the
Workgroup > Calendar
each time you'd like to check the calendar events or add new ones, you can add the group calendar to your
My calendar
section. Here is how:
Open Personal Calendar Preferences & click on Configure Favorite Calendars: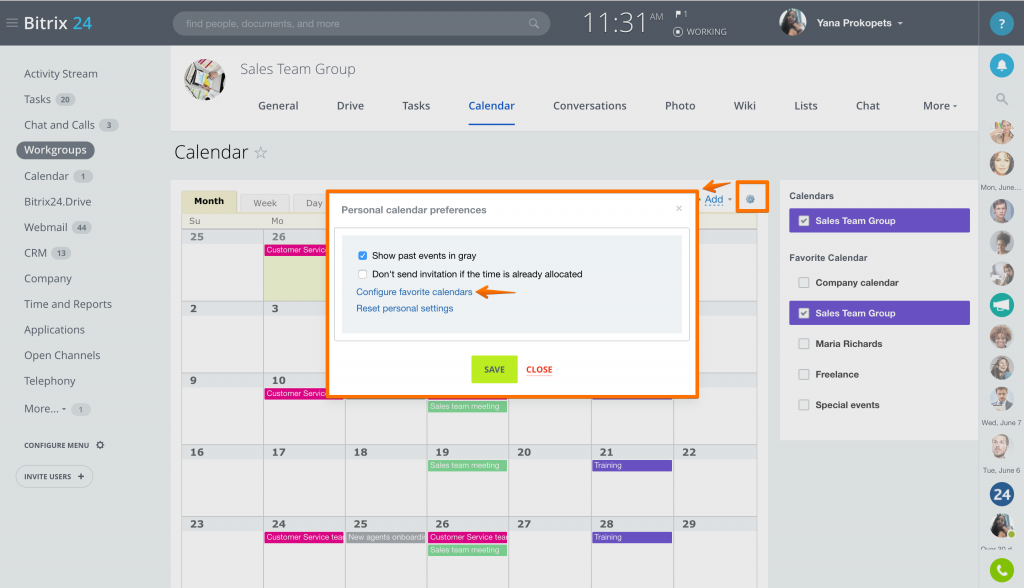 Inside Favorite Calendar form open Group Calendars section & select workgroup: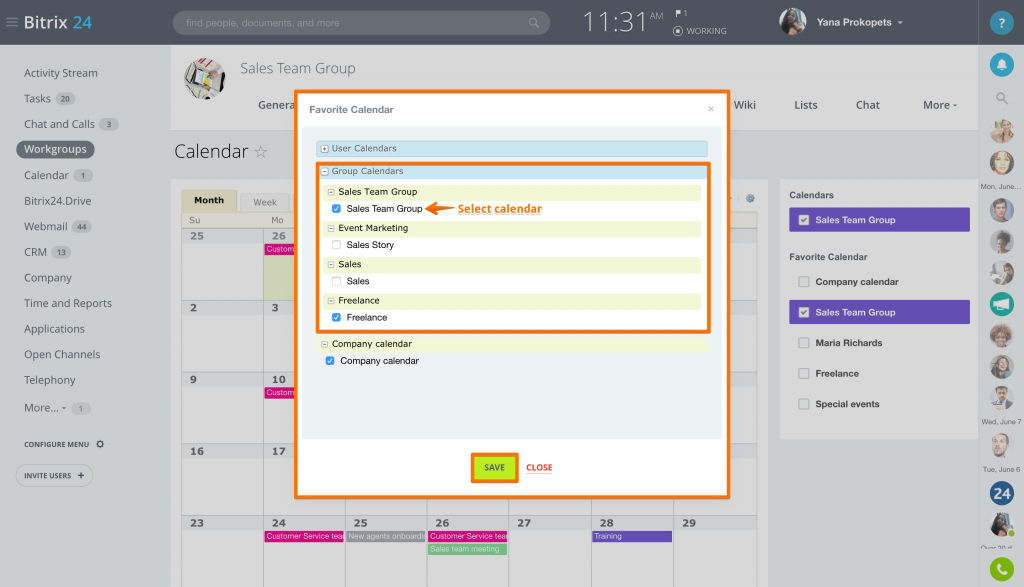 After that the workgroup calendar will appear at My Calendar section under Favorite Calendar: