Work Report - is a document containing information about employee's work made for the defined time period. Work Report is usually required by employee's supervisor & reflects employee's work summary.
In Bitrix24 Work Reports can be found under Time & Reports > Work Reports. Here Bitrix24 administrator can configure Work Reports for the account employees. Choose between report types:
day
week
month
not required
Besides that, administrator can set day of the week, month numbers and time when report form will be shown to the employee.
Work Reports can be configured for the whole department or for department employees individually.
How To Configure Work Report
You can configure work reports for the account users from Time & Reports > Work Reports > Settings. Click on the Settings icon located in the right top corner & you'll see more Settings icons appear next to each department name & employees names. This means you can configure work reports for all department users at once via department settings (employees will inherit department work report settings), or for individual employees.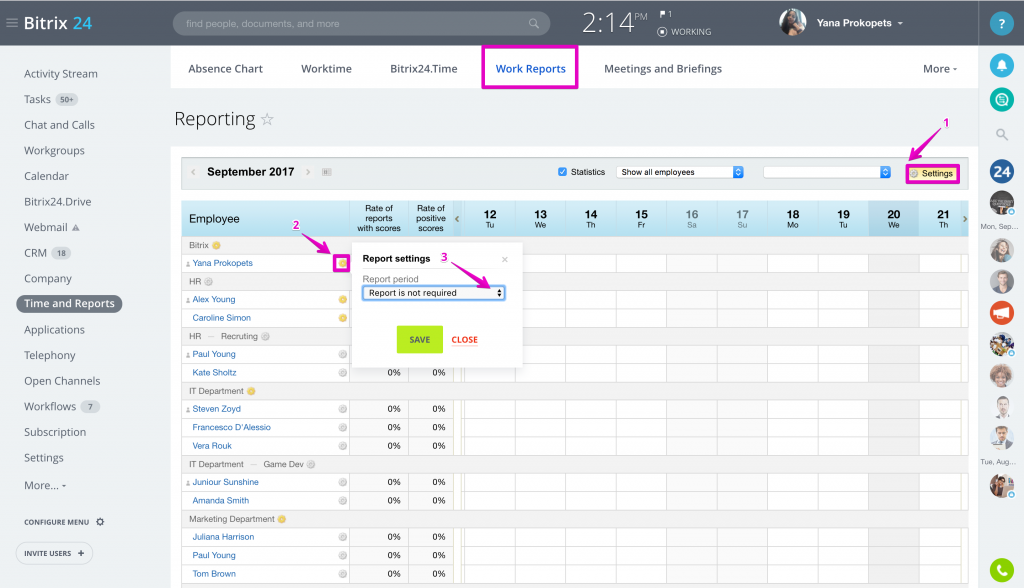 You can choose between several report frequency options: day, week, month, or switch off reports with the help of not required option.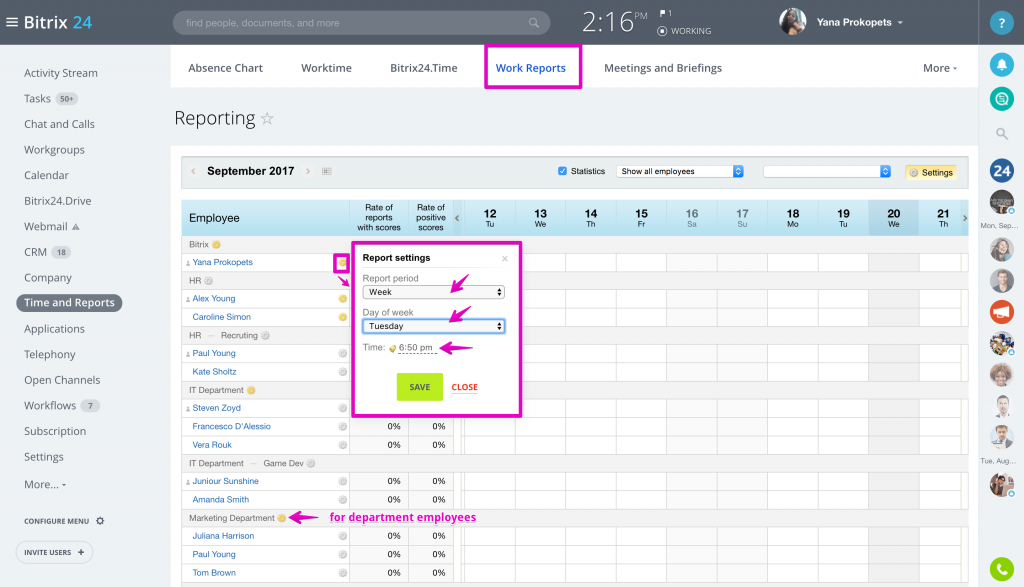 For example, you can configure work report to appear each Tuesday at 6:50 p.m., for that set report period as week, and select Tuesday as day of the week.
Use Settings icon located next to the company name (top line above employees list) to configure work reports for all account users at the same time. If you need to switch off report for all account users - select not required option.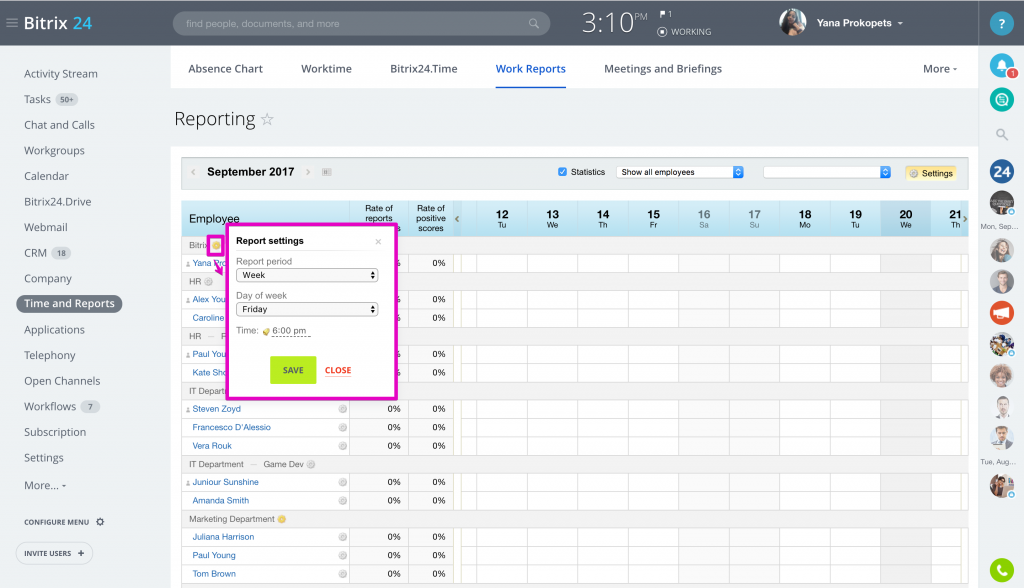 How To Fill & Submit Work Report
There are 2 different work report tools available - Daily Summary / Plan & Daily (Weekly \ Monthly) Report. Their main difference is that Daily Plan / Summary is user's personal organization tool available at any time during the day – it can be filled with necessary information & edited, when the Work Report form appears automatically daily (weekly\monthly) at the particular time (depending on the settings configured by the administrator) & after the user click Send – the form appears in the administrator's Work Reports section under Time & Reports.
Users can add information to the Daily Plan \ Summary tool and it will be automatically added to the Work Report form (it still can be edited in the Work Report form):
Please note that your Work Report can be edited after you've sent it to the supervisor (users can find their reports under Time & reports >Work reports):
But (!) only before the supervisor gives it a score (positive, negative, no score):
After the report has been scored - it automatically locks (no more available for editing) for the employee. Only supervisor (administrator) can change report's status to "unconfirmed" to open the report for editing:
Tasks & calendar events: events from your personal calendars or events where you have been invited to - will be reflected in the Daily Plan tool. If you want tasks to be added to the Daily Plan tool – you need to check "Add to Daily Plan" option in the full task's settings.
Alternatively – you can click "select from list" option to add tasks to your Daily Plan. New tasks & events can be easily added directly in the Daily Plan tool via a simple form too.
You can edit your work time directly in the Work Report form: navigate to Worktime section & click "edit" option:
It allows you to edit the beginning & end of your current working day (you may need to specify the time change reason):
Please note that the edited work time automatically receives "unconfirmed" status & will require further approval by your supervisor.
Your supervisor will see changed time log with the special "!" symbol - which means that this time is not confirmed & requires attention:
After employee's changes in work time are confirmed - this employee automatically receives a notification & the time log appears with approved green sign: