Each workgroup has a set of features that can be either activated or deactivated for the group & calendar is one of them. Workgroup calendars work same way as your
My Calendar
, with the only difference is that the workgroup calendar is available for all group members with same or different access permissions. The group calendar is designed for your convenience, so that you can create events related to the particular group & invite all group members to it.
Configure workgroup calendar
Open workgroup
Actions > Edit Group > Features
to activate (or deactivate)
Calendar
section: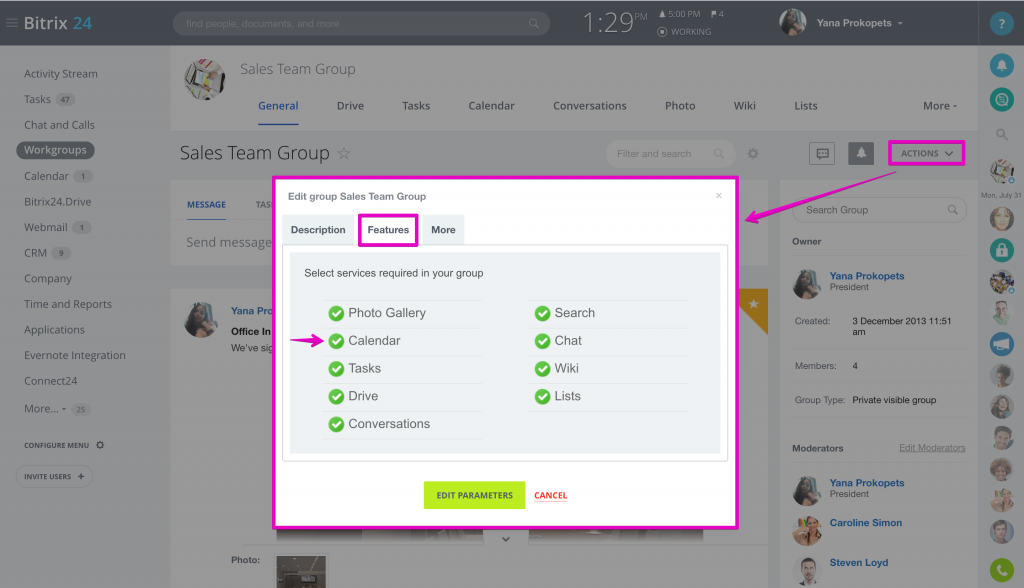 To configure Access Permissions for the Calendar click on Calendar name in the right side widget & click
Edit
: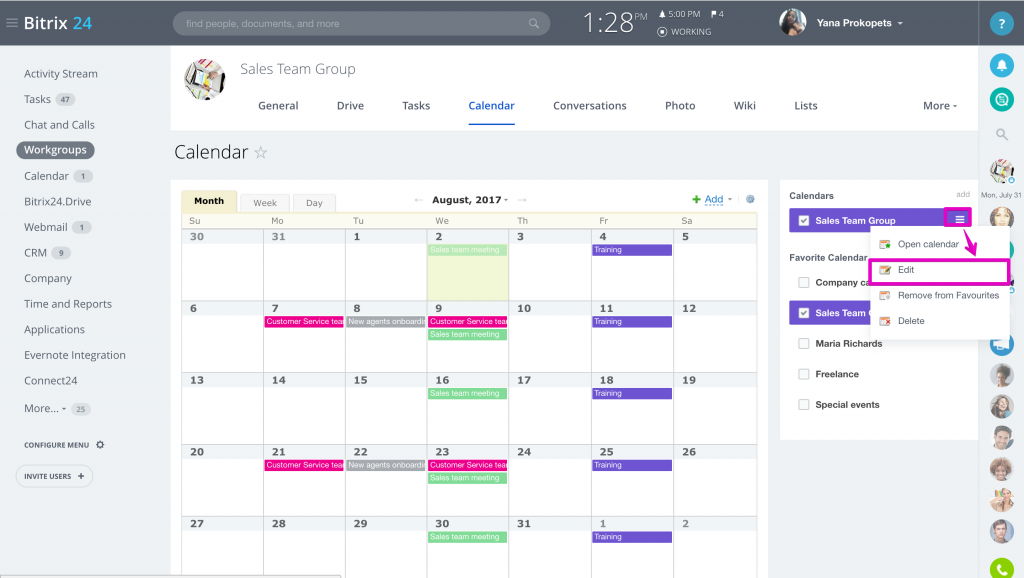 Go to
Access Permissions
section and configure access for workgroup visitors, moderators, all group members or add individual users: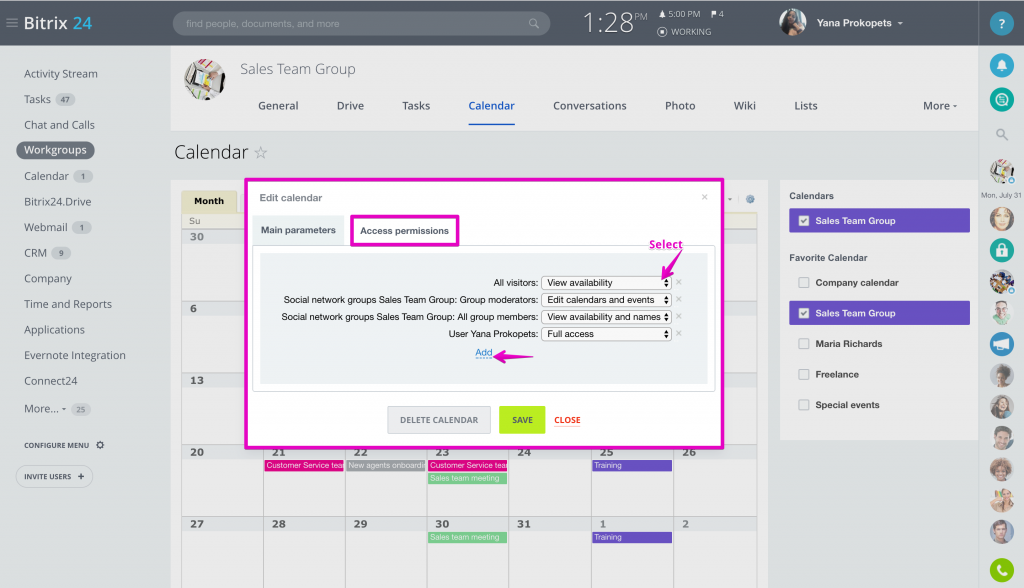 How to add an event
Use
Add
tab to add a new event to the group calendar:
Set event name, start and end time & date, location, availability or
reminder
under
Event
section:
Since workgroup events are usually added for all group members -
Guests
section comes in handy. Here you can check all group members time availability for the event & add other users as well:
Note the options below the users availability widget allows to:
set notifications for the event creator when attendees confirm or decline invitation

invite again (if user declines the initial invitation)
make event public (any account user can join)
The
More
section contains a set of important options such as:
repeat event - make recurring event for the workgroup
set importance
color - set event color
connect CRM records to the event
Add workgroup calendar to favorite calendars
There is no need to go to the workgroup each time you need to check your group calendar, simply add it to the
Favorites
& it will appear under your main
My Calendar
section.
Here is how:
Go to the workgroup calendar & open
Settings > Configure Favorite Calendars: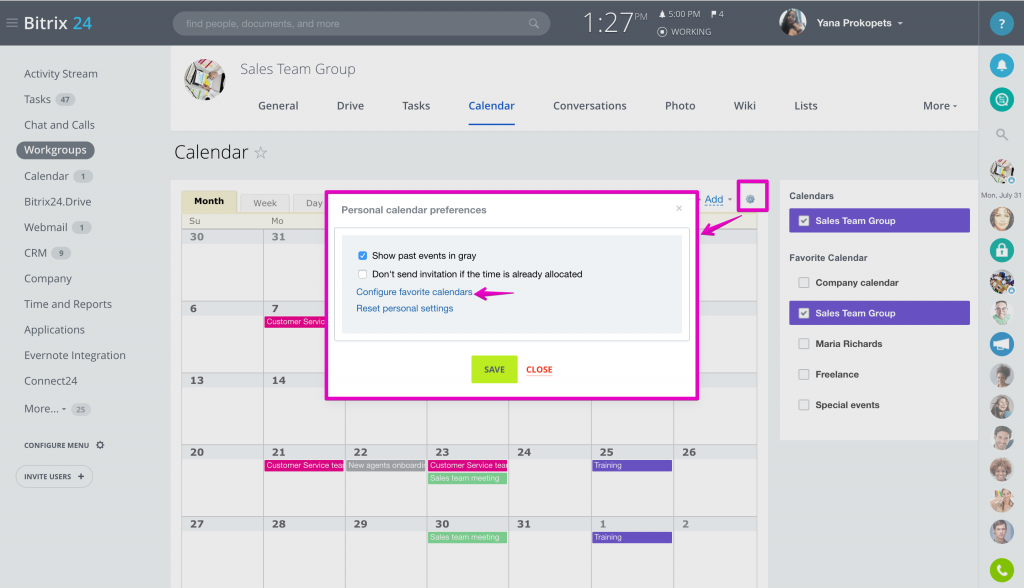 In the Favorite Calendar window go to
Group Calendars
and select your workgroup,
Save: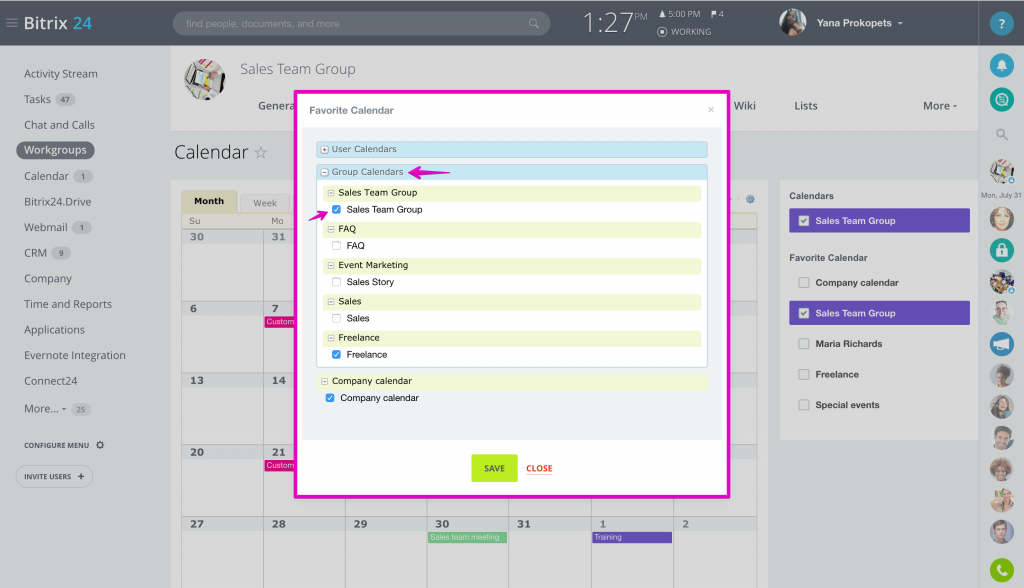 That's it! Now this workgroup calendar will be shown on your My Calendar page.