Bitrix24 not only comes with the online lead management, it also allows to automate the lead generation process. Make sure your marketing efforts are not wasted - weather you're trying to increase traffic to your website, or work on a new email marketing campaign, or even sell via social networks, you would definitely prefer all potential customers to be recorded to your CRM. And even better, recorded automatically. That is where Bitrix24 can help.
Here are the sources you can use to automate leads generation in Bitrix24:
Email integration
Web forms
Telephony
Open Channels (social networks integration)
Website widget
You may try to capture leads from different sources, but keeping them recorded in one place can be quite time-consuming & unproductive process, unless you have it all automated.
Please note that you need to configure automatic lead creation for new unrecognized customers inside each of the available tools individually:
Email integration
Please note that there are several ways you can connect your email address to Bitrix24 & integrate it with the CRM: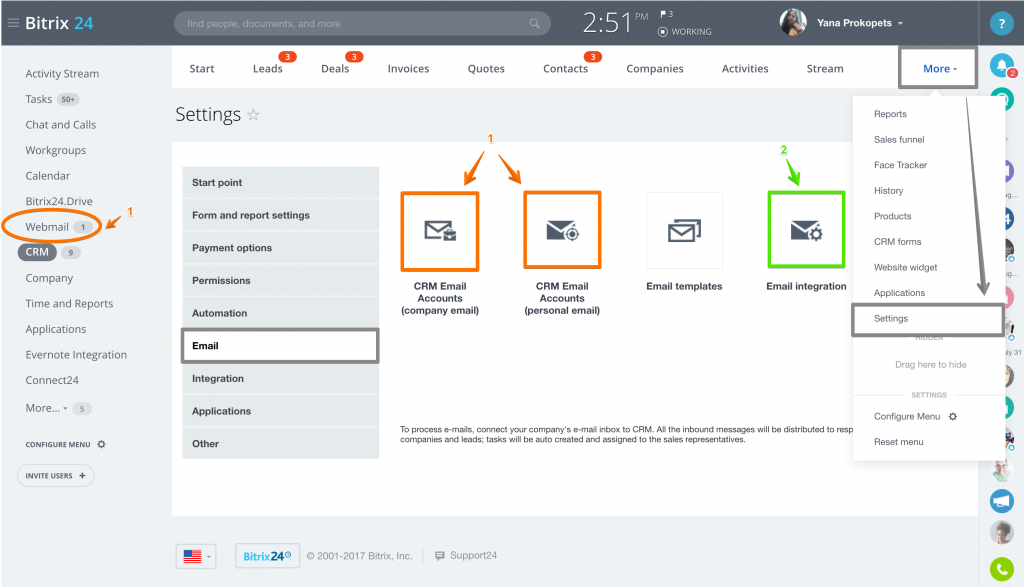 1. Bitrix24 Webmail or Email Accounts:
Email Account option is available from
Webmail
or under
CRM > Settings > Email >
Email Account
(personal or company email address). It allows each account user to connect own or company email address to Bitrix24 & integrate it to the CRM.
Webmail section includes:
Email services - allows to connect your existing mailbox to Bitrix24 Webmail (Outlook, Gmail, Yahoo!, Office 365, MS Exchange, iCloud, Aol, IMAP).
@bitrix24.com mailbox - create @bitrix24.com mailboxes for yourself & your colleagues (these mailboxes can be managed by administrator inside Bitrix24).
Connect your own domain - if you already have a mail domain, you can attach it to Bitrix24 Webmail.
Each of the options above allows to configure CRM integration. Make sure you have enable
CRM web forms
With the help of Bitrix24
CRM web forms
you can capture new leads right from your website or, if you don't have one, from public page you can create with the help of your Bitrix24.
To configure web forms integration with the CRM, please open the form creation & go to Create CRM entities > Save form data to CRM entities & select CRM record type.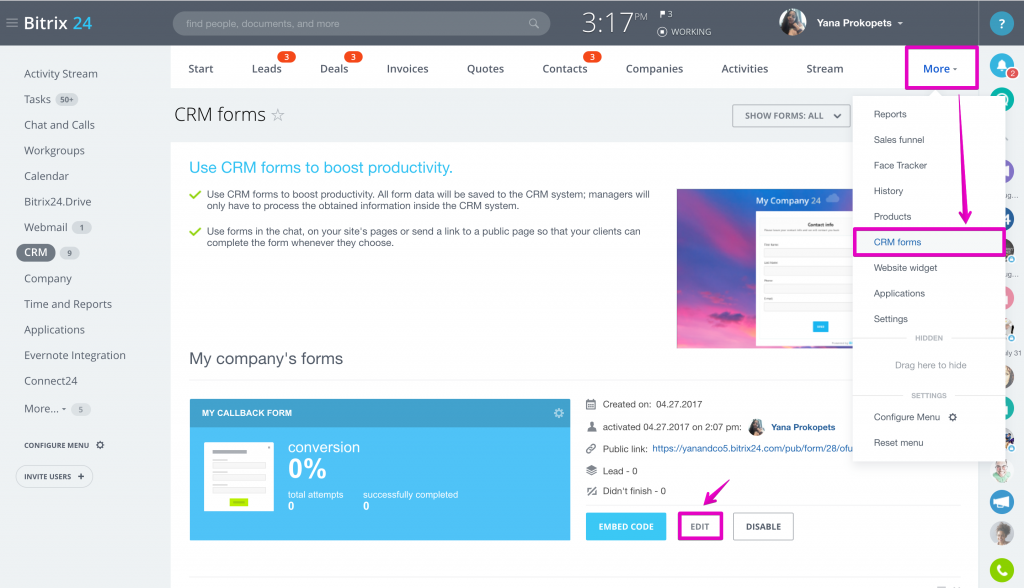 For existing CRM records there is an option to either merge, replace or allow duplicates: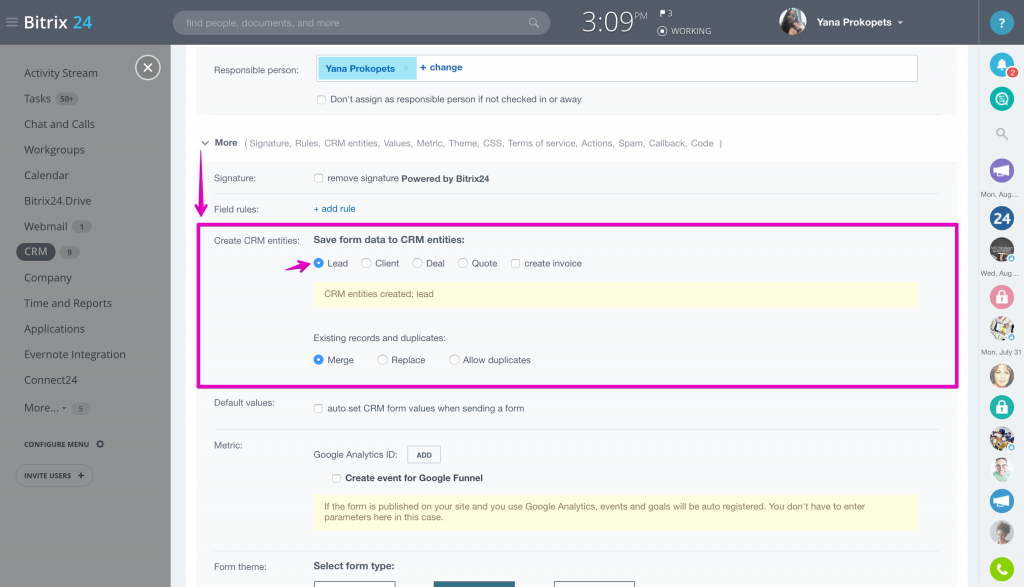 Telephony integration
The
Telephony section
of your Bitrix24 account allows to connect your number, PBX or rent a number. You can configure CRM integration for each telephony type.
How does CRM & Telephony integration work: when the call is performed (both for incoming & outgoing calls), the system is searching for this phone number in the CRM database. In case if you've specified this number in the CRM client's details page ("phone" field), the call will be automatically bound to the found CRM item.
If the number is not found in the CRM
option - when enabled, make the system automatically create new leads for new numbers, or offer the user to create a new CRM record in the call window.

To configure this option please go to Telephony > Connection > Configure number > Check for number in all CRM records (should be enabled) > If the number is not found in the CRM.
Open Channels
Open Channels
is a tool for your Bitrix24 account offering integration with famous social networks and other messengers. A fast and easy way to communicate with your clients in real-time. Simple as that - you will get all clients messages in your Bitrix24 chat. Conversely, your clients will receive your response via their message source – Facebook, Instagram, Telegram, Skype, Web chat, Viber, etc.

To configure this option please go to Open Channels > Create\ Edit channel > Verify Client in CRM database > If client was not found in CRM. Important: a new lead will be created only if client information is available.
Website widget
New clients visiting your website can now be automatically saved to your Bitrix24 CRM via our
website widget
. The widget includes:
chat, web form & callback form
.
To configure CRM integration for the website widget please configure each part - chat, web form & callback individually.