New CRM record sliding form is finally here! It hasn't been applied to all Bitrix24 users yet (beta), but you can activate it for your account from
CRM > Settings > Other > Other Settings > General > View Settings > View Slider in Viewer & Editor
.
The New Lead form consists of the same default fields as an old version had. The only required field is still the lead name, which means it is enough to fill this field to be able to create a new lead. Scroll down to add client's details like name, status, amount, etc.: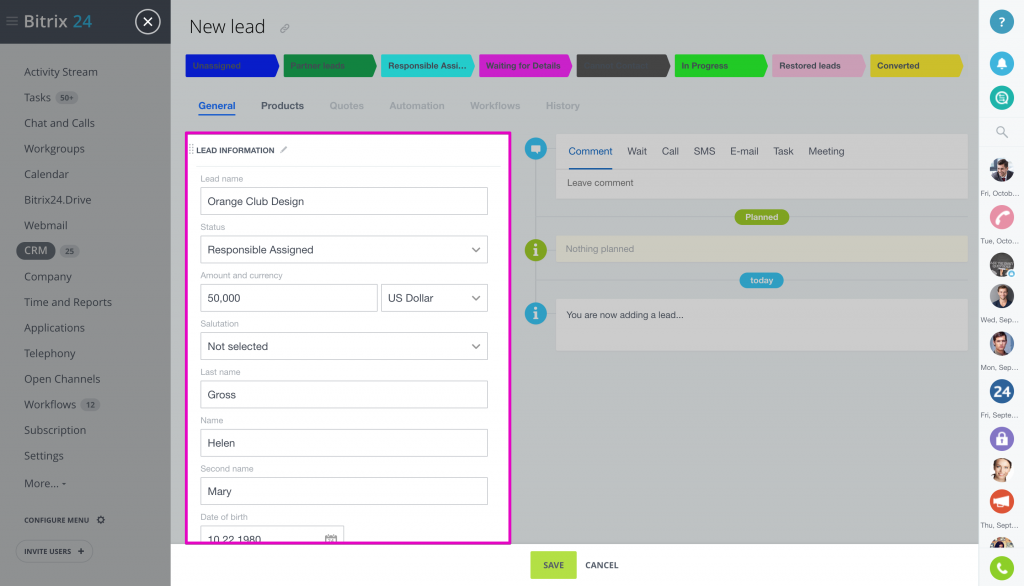 Scroll down to find date of birth, position, company name, email & phone, etc.: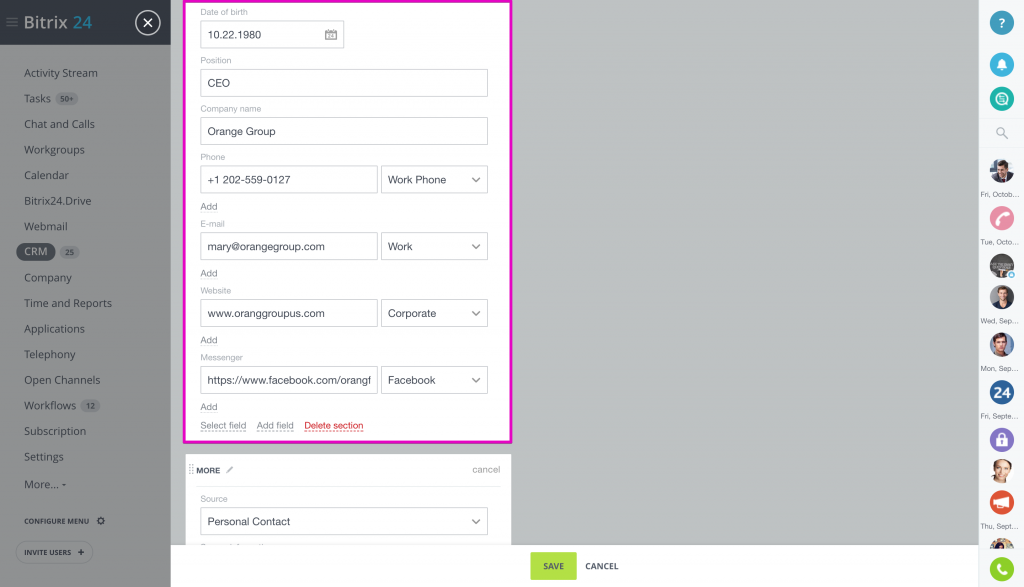 The
Add Field
tab located below the details block allows to add custom fields of the following types: text, number, yes\no, date\time, money, link, address on Google Maps, list. To access more field types please go to
CRM > Settings > Custom Fields
.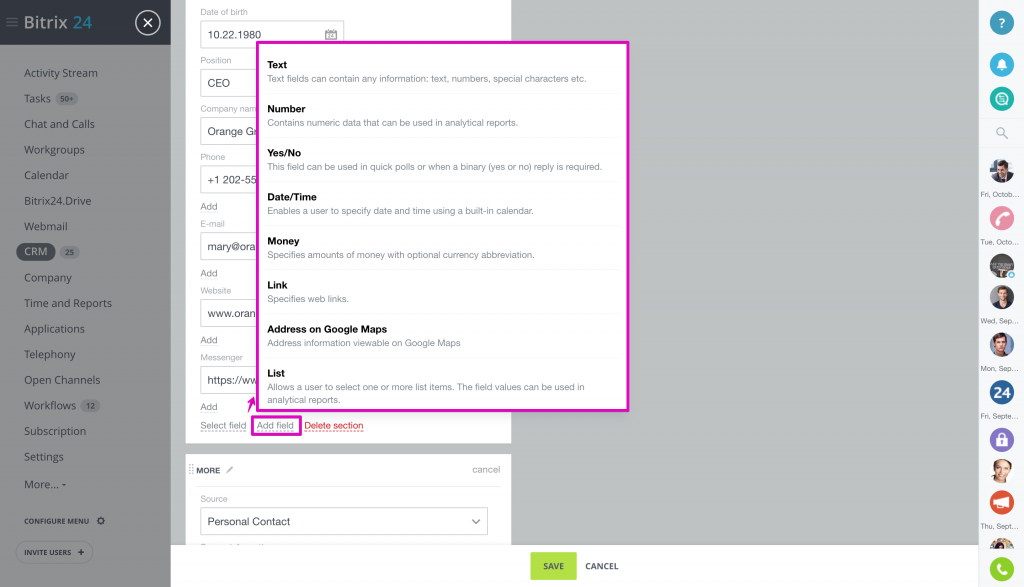 Below you'll find
More
section, use
Change
option to open list of other fields, including existing custom fields: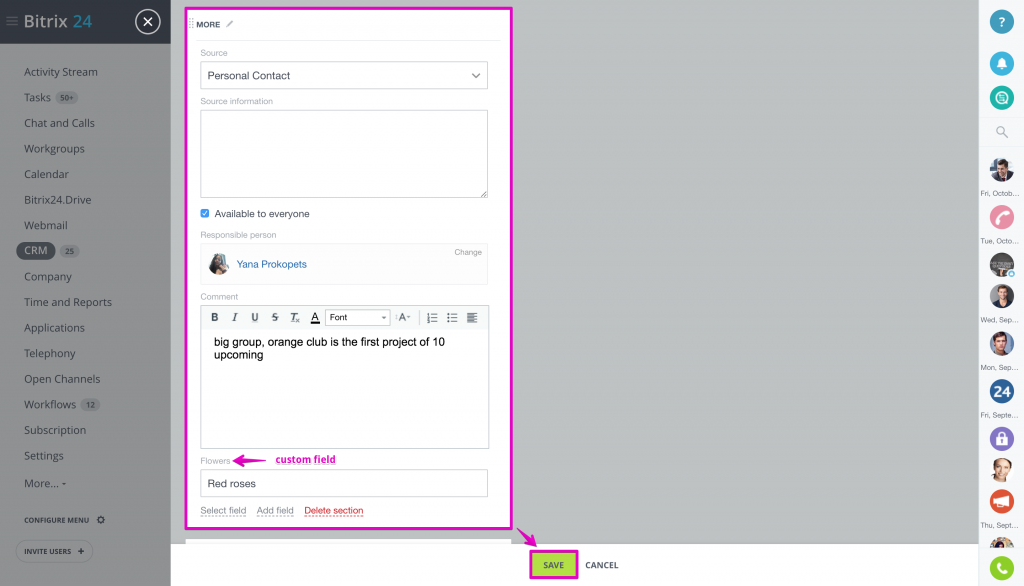 After the new lead form is saved, you'll see all options available for this record. Statuses panel is located above, click on any status to set it for the lead.
Switch between lead sections to access more options:
General - main lead details form
Products - here you can add new products to the lead or select products from the product catalog
Quotes - create new quotes for the lead
Automation - configure automation rules
Workflows - select workflow template
History - shows lead history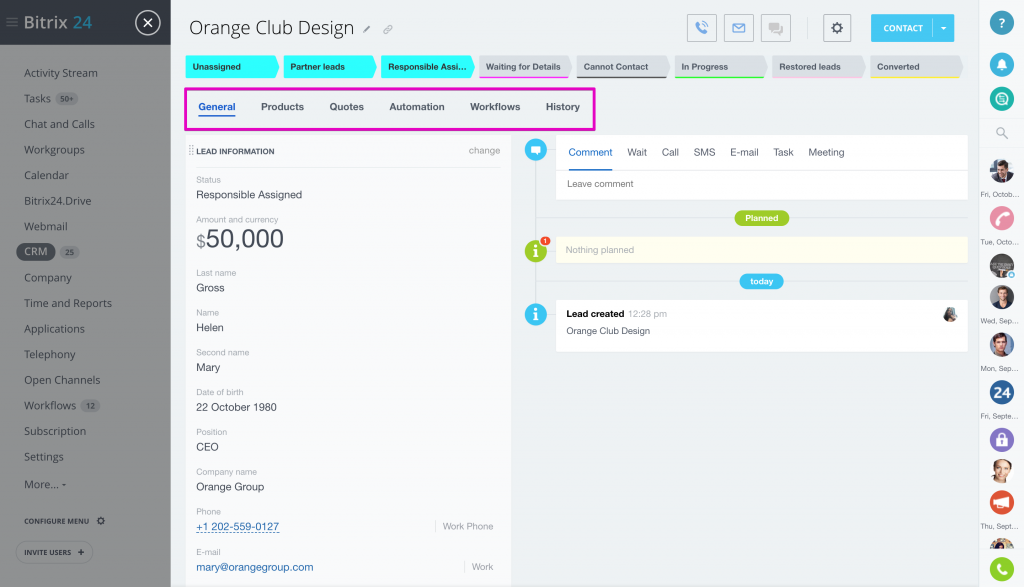 Products
Go to
Products
section to add new products to the lead or select products from the
product catalog
: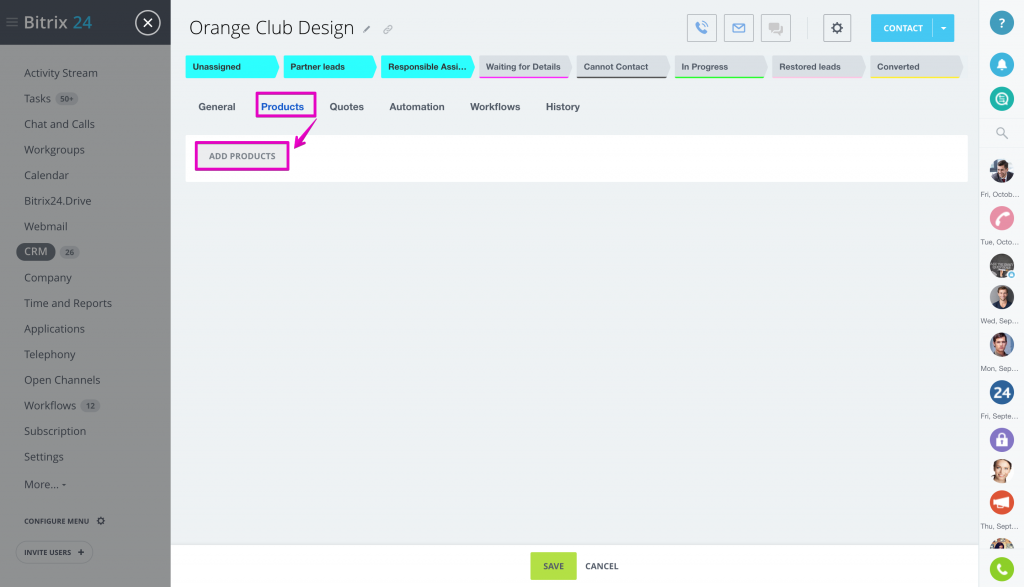 All products added to the lead will be automatically reflected under
General > Products
section: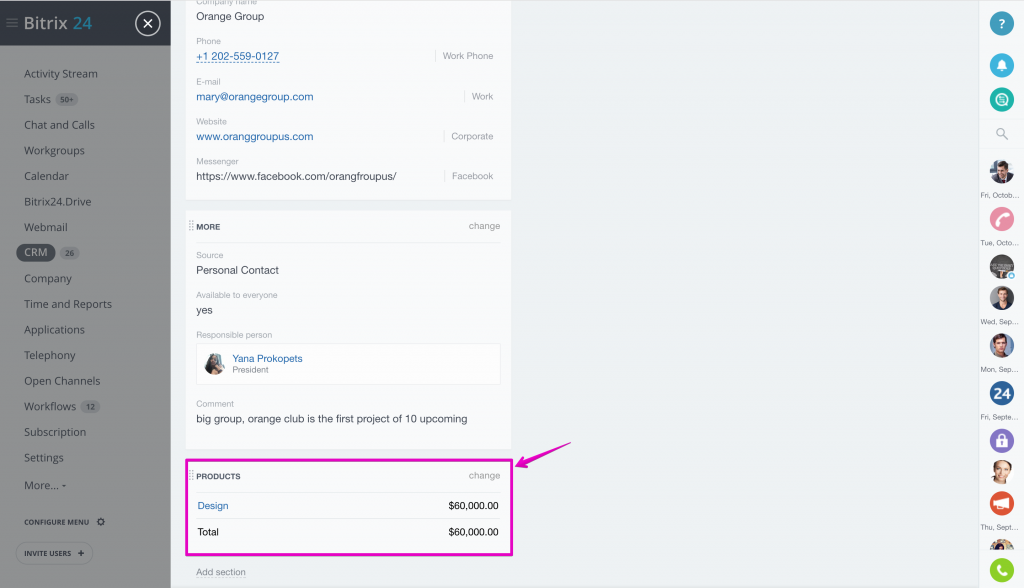 Quotes
Go to Quotes section to add a new quote for this lead. All quotes associated with this CRM record will be shown under this section.
Automation
Switch to
Automation
section to add
Automation Rules & Triggers
to the lead statuses: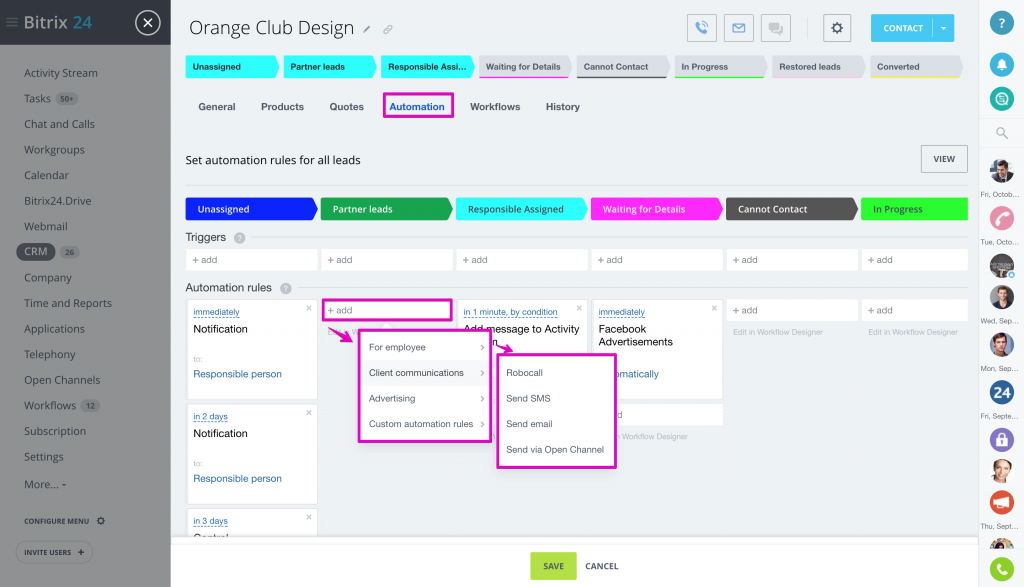 Workflows
Navigate to
Workflows
to
Run a new business process.
Please make sure you've created workflow templates before from
CRM > Settings > Automation > Business Processes: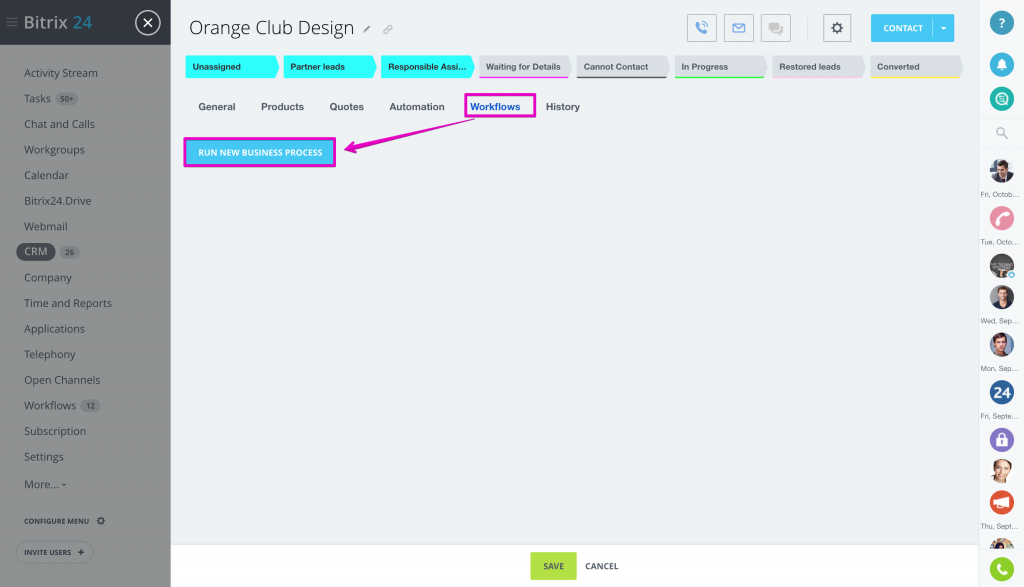 History
All changes made to the CRM record are recorded under it's
History
section: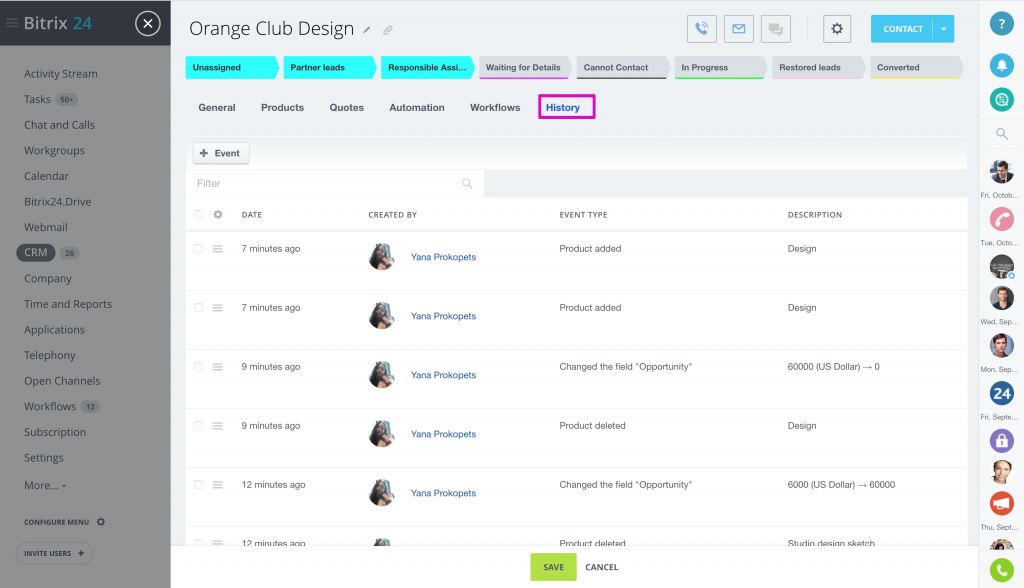 Stream
The General section is visually divided into 2 sections: Lead Information & Stream.
If you've added phone number, email address and messenger to the Lead Information form, then
Call, Email
&
Message
tabs will become active in the left top area of the lead page. Click on it to make a new call, send message or email: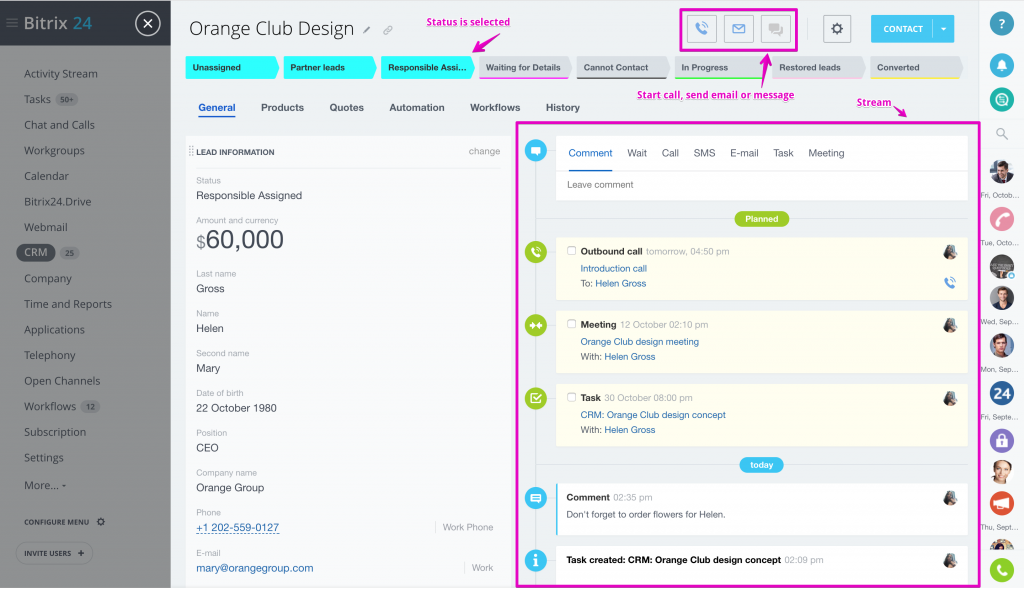 The
Activities
line include: comments, wait rule, call, sms, email, task & meeting.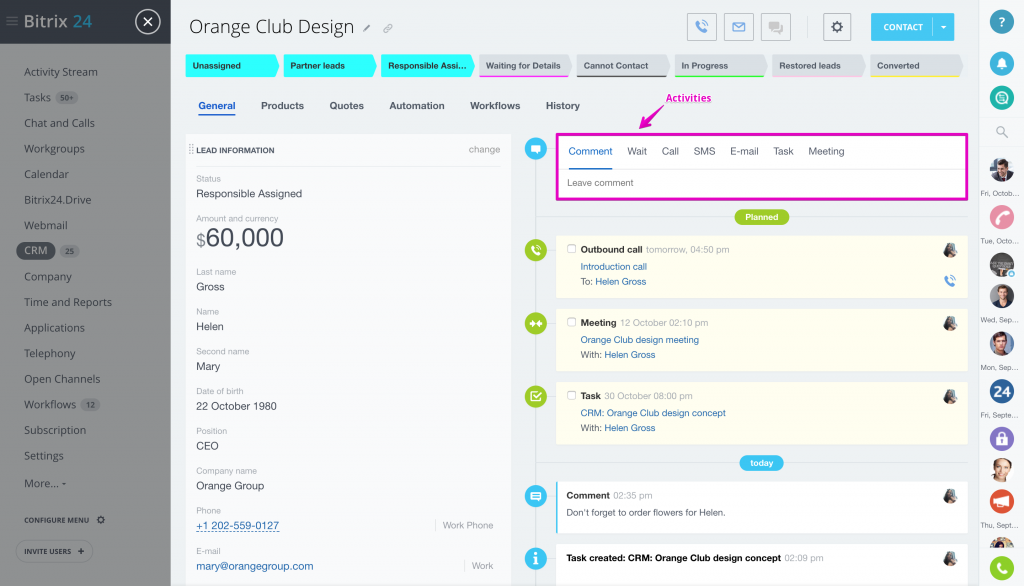 Comment
Add comment & click Send: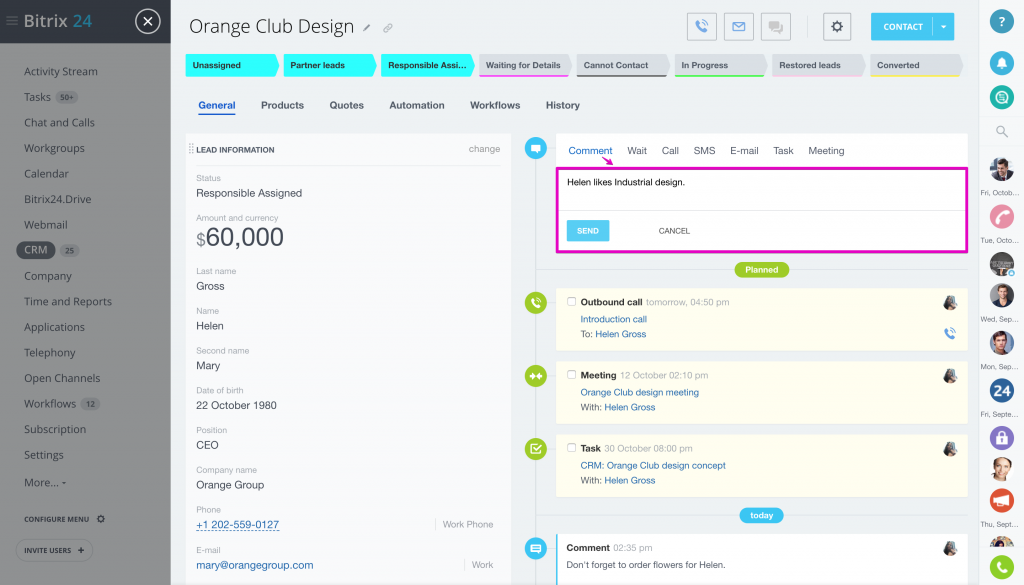 Wait
Wait rule is a new automation rule created in order to leave comments or instructions for either inactive leads when any activity is detected from their side or for new leads in 1 day from the date they have been added: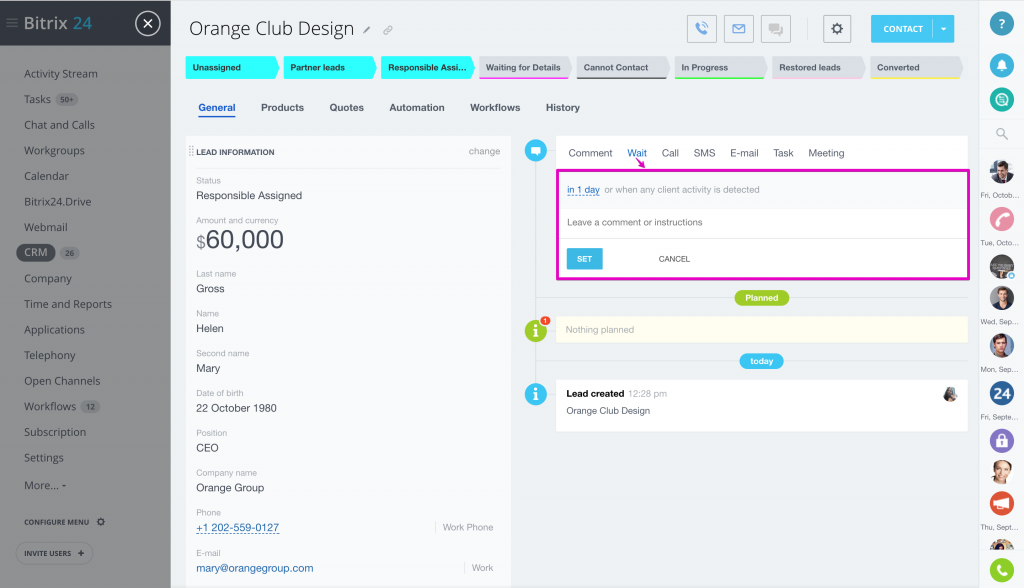 Call
The Call planner tool allows to plan the call taking into account user's availability (time scheduler widget) & add call details: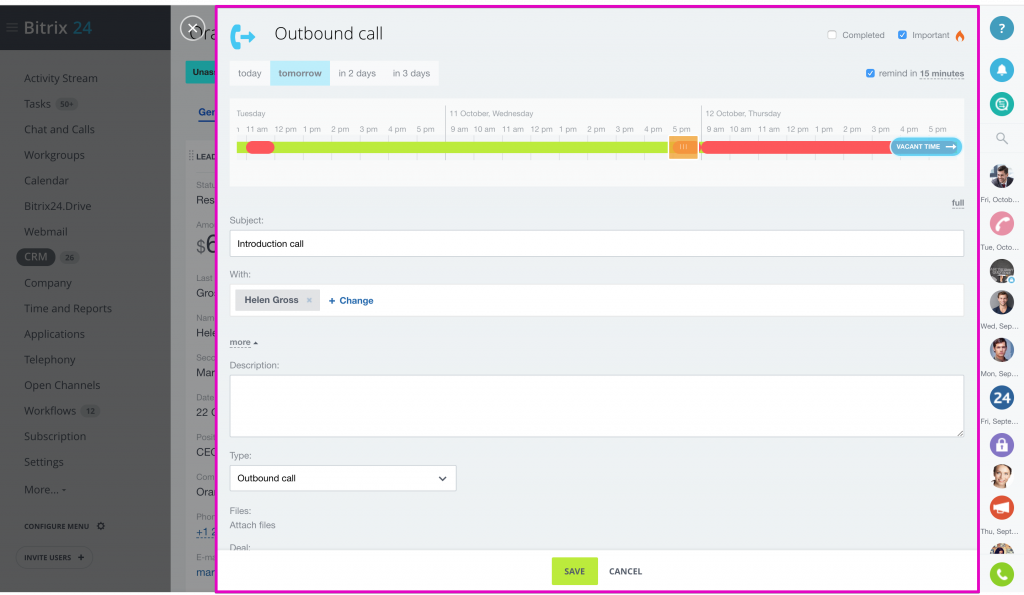 SMS
Configure sms provider & send sms to your clients.
Twilio integration
is available.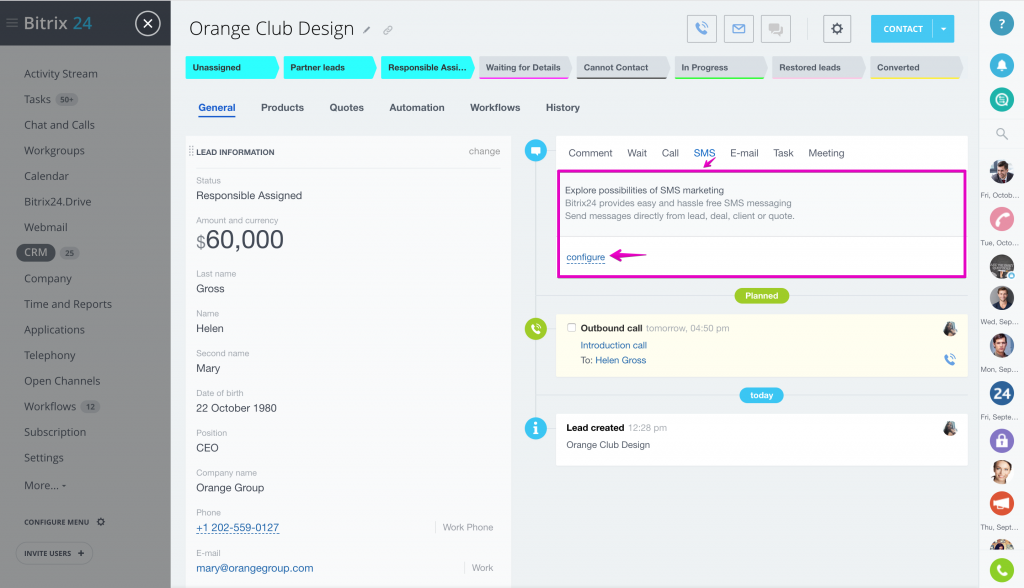 Email
Send email message: add message subject, text, attach files & send it away: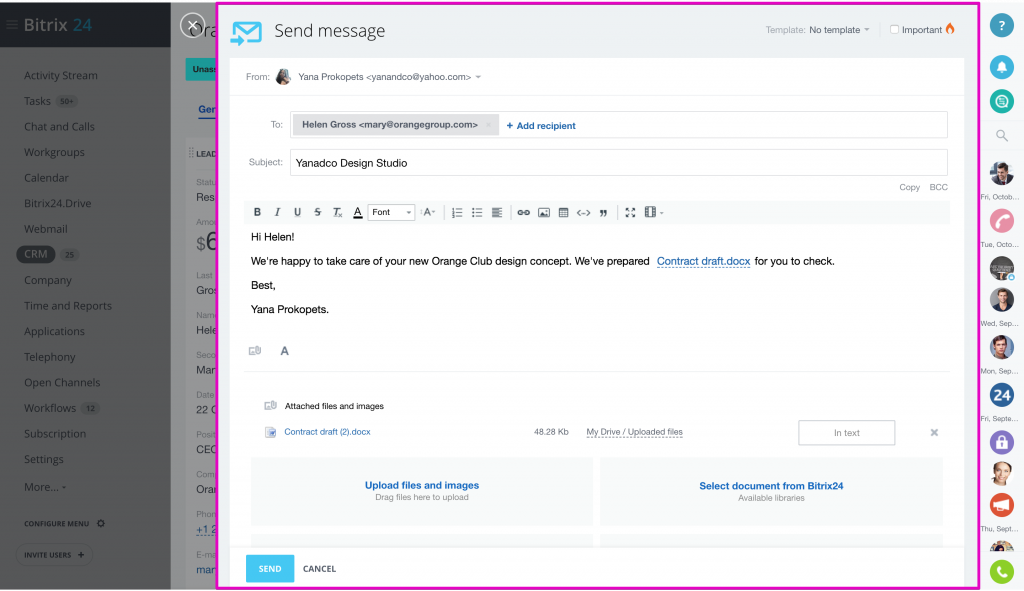 Task
Add
Tasks
to the lead in a few clicks: a full task from is available: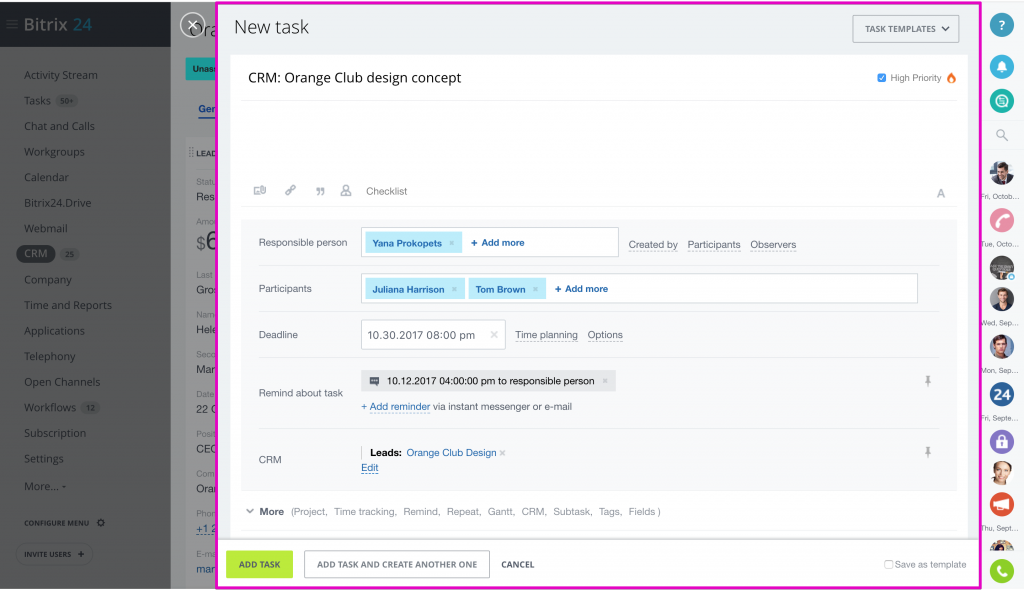 Meeting
Plan a Meeting - add location, subject, description & set the meeting time, taking into account user's availability (time scheduler widget):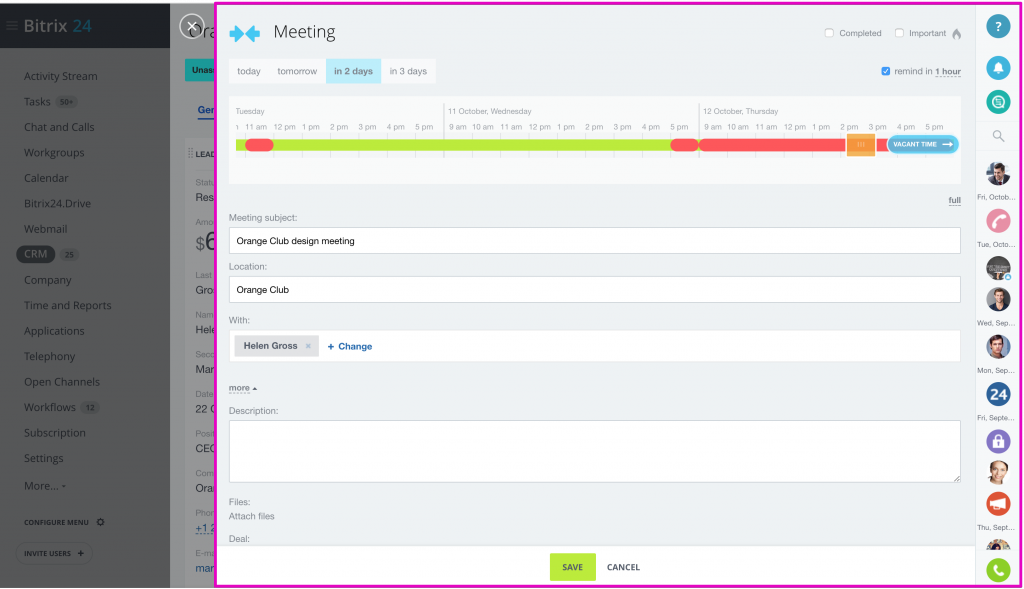 Complete or postpone activities right from the Stream: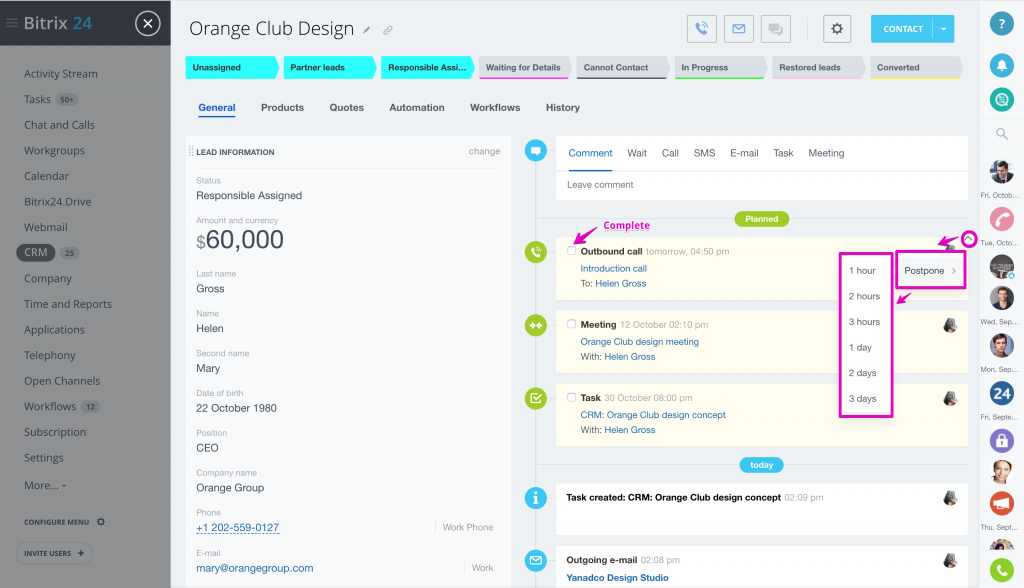 Remember you can always
Copy lead, Reset form settings
(to default) or
Save
or
Reset form preferences for all users
via
Settings
option: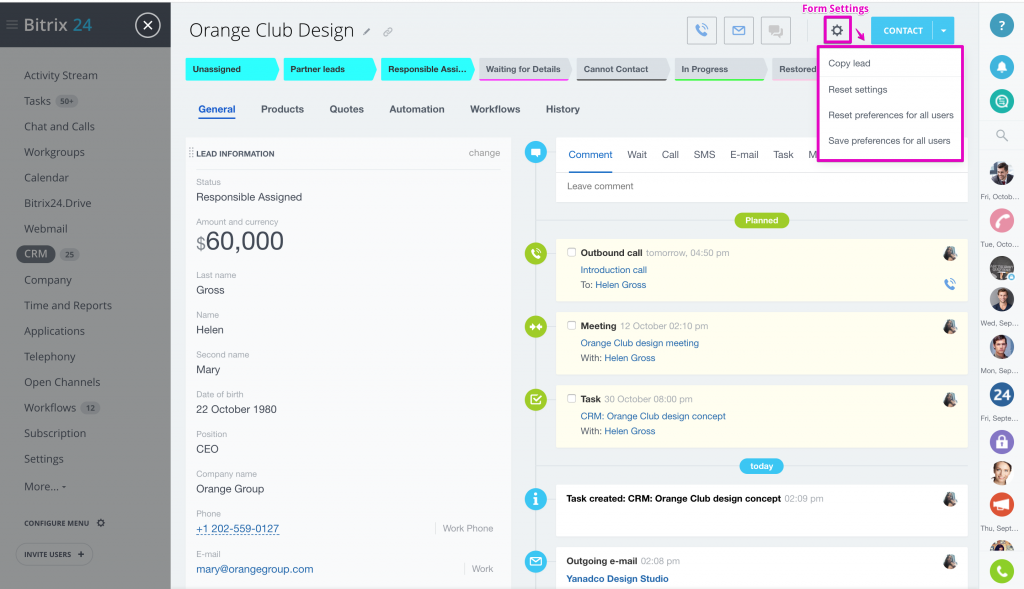 When the lead is processed,
convert it
to deal, contact, company or combination of those: