What to do if my CRM data seems missing:
Step one. Make sure that the data is actually missing.
To do that, please go to CRM > History and specify Delete in the Type filter. No need to fill out any other filter fields - only the 'Type' field, as shown on the screenshot below. If leads, contacts, companies or other entities were deleted, the History will show who and when deleted them.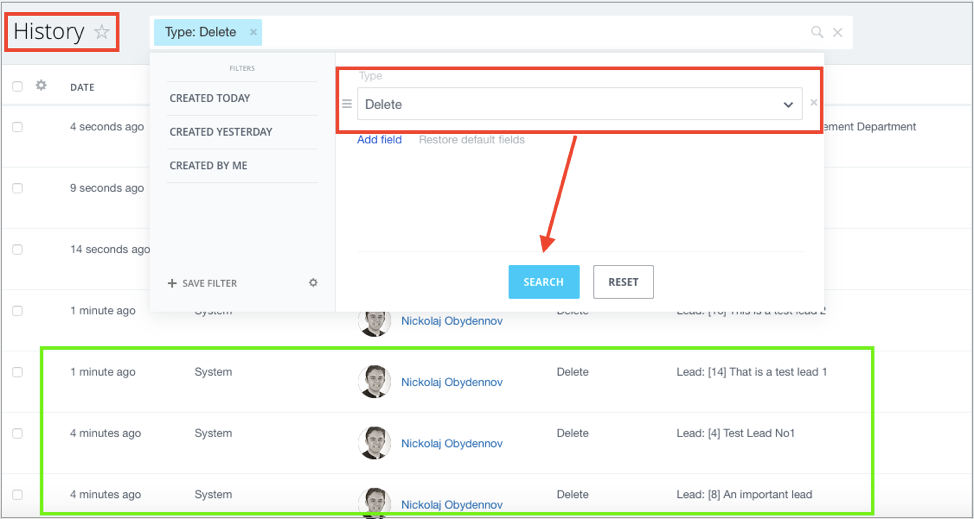 CRM History is available to all commercial plans. You can upgrade to any commercial plan to gain access to CRM History or activate free 30-day Professional plan Demo mode that provides access to wider selection of features.
Note: After you have upgraded to a higher plan, you will see all actions that were performed even before the CRM History feature becomes available to you - including deletions.
If CRM History does not provide information about deleted entries and you cannot find missing CRM records, please check, if you have a filter applied to the CRM records list. If you have any filters, please clear them.

Step two. Find out how to restore data.
When you are sure that the data was deleted, here is the solution how to restore it:
Backup is performed daily for all Bitrix24 accounts, independently from the subscription plan. Restoring data from the backup is time-limited to 1 previous week max.
To restore the data, please submit a request to our Helpdesk (see Step 3 below). If you believe that somebody deleted data on your Free plan account, and that person is not a registered user, please report this to Bitrix24 Helpdesk.
Note: please submit a request to Bitrix24 Helpdesk only if you need to recover a large amount of data. Restoring data is a complicated and time-consuming process, so it's quite impractical to use this option if only a few elements were lost.
The following details are to be considered:
- Only Bitrix24 account administrator can send a request to the Helpdesk for the lost data to be restored;
- Data restoring CANNOT be performed for a specific user/employee: it will be applied for all users registered at the specific account;
Find more about how your data is backed up by Bitrix24 here.
In general, there are 3 options for how your data can be restored:
1) CRM module rollback to a specified date (important - all new CRM data after this date will be lost). If you have deleted list of contacts, companies, leads or deals that option may be helpful.
2) CSV file. Another way to restore contacts, companies, leads or deals – is to send a request to Bitrix24 Helpdesk for a file that will contain the list of CRM records at the specified date.
We will send you a .CSV file so that you can import records back to your account.
This option may be the most convenient to active CRM accounts, since all other data will be kept untouched (up to date) and you will be able to manually import missing records.
3) Bitrix24 account full rollback to a specified date (important - all new account data after the restore date will be lost).
If any type of CRM data, products or user fields were deleted from Bitrix24 CRM, this option may be suitable to you.
Please note: if custom fields or products were deleted from the CRM, CRM module rollback (option 1) wouldn't suit you. Only full restore of Bitrix24 account data will return lost fields or products.
Step three. Send a data restore request to Bitrix24 Helpdesk.
If you decided to restore your data, please perform the following actions:
1) Write a message to Bitrix Support24 chat or contact Bitrix24 Helpdesk. Specify in your message:
when the data was deleted (date and time)
which data restore option is better in your case (see Step two)
2) Bitrix24 Helpdesk team will inform you, what backup copies are available and are closest to the requested date. After that, we will wait for your confirmation for data restore time and preferred option.
Important: Data Restore is performed only to Bitrix24 Standard & Professional plans subscribers. Please upgrade to Bitrix24 Standard and Professional plans before sending a request for data backup to Bitrix24 Helpdesk. Please note that we provide data restore .CSV file to Bitrix24 Standard and Professional plans subscribers only.
You can upgrade to a higher plan at Subscription > Upgrade.