Any Bitrix24 user can link his/her email to Bitrix24 CRM using Email tracker. The system automatically creates Leads and Activities based on outgoing/incoming mail.
How to enable email tracker
Only users that have access to CRM can enable email tracker.
There are several ways to link your email to CRM (enable email tracker). The easiest way is to click on your profile button at the top right corner > E-mail integration options.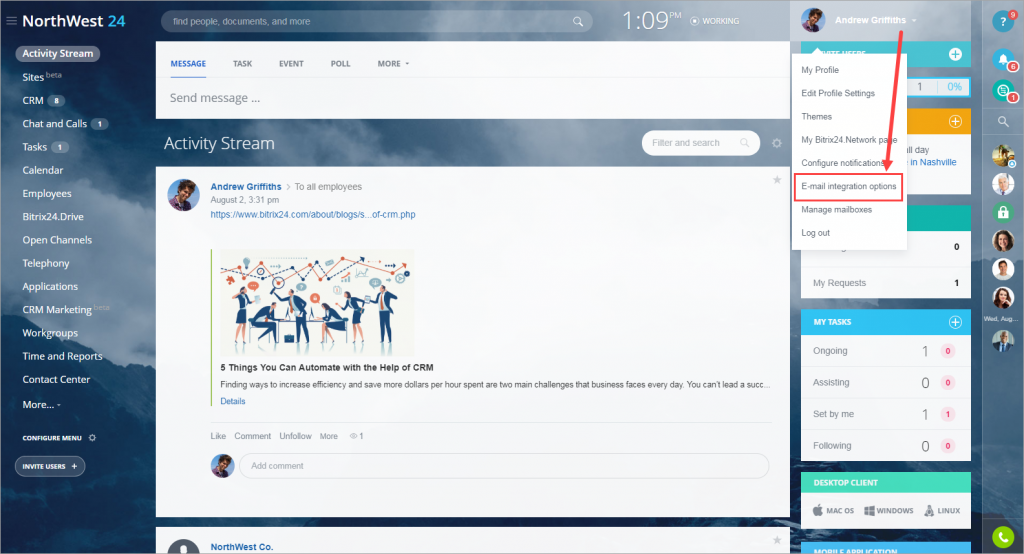 Other ways to enable email tracker

Open CRM section > Settings > Email > CRM Email Accounts (personal email).
Using Webmail section.
If you have already attached your mailbox to Bitrix24, you just need to click Enable button next to CRM integration.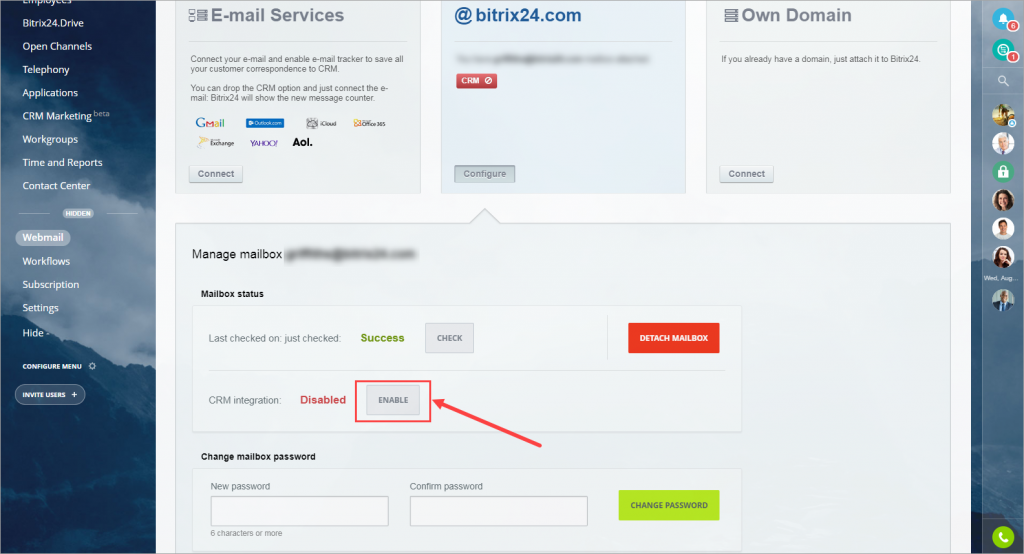 If you haven't attached any mailbox to your Bitrix24, just select the connection option and tick Link to CRM.

There are three connection options available:
E-mail Services
@bitrix24.com
Own Domain
You can link your mailbox to CRM using any of these options.
CRM integration settings
All the settings are pretty easy:
Link to CRM - this option links the selected email address to Bitrix24 CRM.
Fetch data for - the system will fetch mail received not earlier than the specified time period.

"Fetch data for all the time" option is available only to Bitrix24 Professional plan subscribers.

Create lead for new e-mail address - enable this option to automatically create leads and activities when an email from an unknown sender is received (sender address is not found in your Bitrix24 CRM) or when you send an email to a new address (address is not found in your Bitrix24 CRM). Otherwise, activities are created for emails received from the address that is found in your Bitirx24 CRM and activities or leads are not created for emails received from/sent to unknown addresses.

Also, here you can specify Lead source.
Create contacts using attached vCard - if there is a vCard attached to an email, Bitrix24 CRM creates a new contact using the information from vCard.
After linking your email address to Bitrix24 CRM you can:
Add email addresses to the Black list so they wouldn't be processed and collected by email tracker and wouldn't be added to CRM. For example, you can add your wife's email address to the Black list so that when you get an email from your wife a new lead is not created.

Email addresses registered in Bitrix24 as employees' addresses are not processed by email tracker, as well as addresses used by your employees to enable email tracker. You can also add a whole domain zone to the black list. Just enter @example.com or example.com (not *@example.com).
How it works
A special green mark shows that your personal email address is successfully linked to Bitrix24 CRM.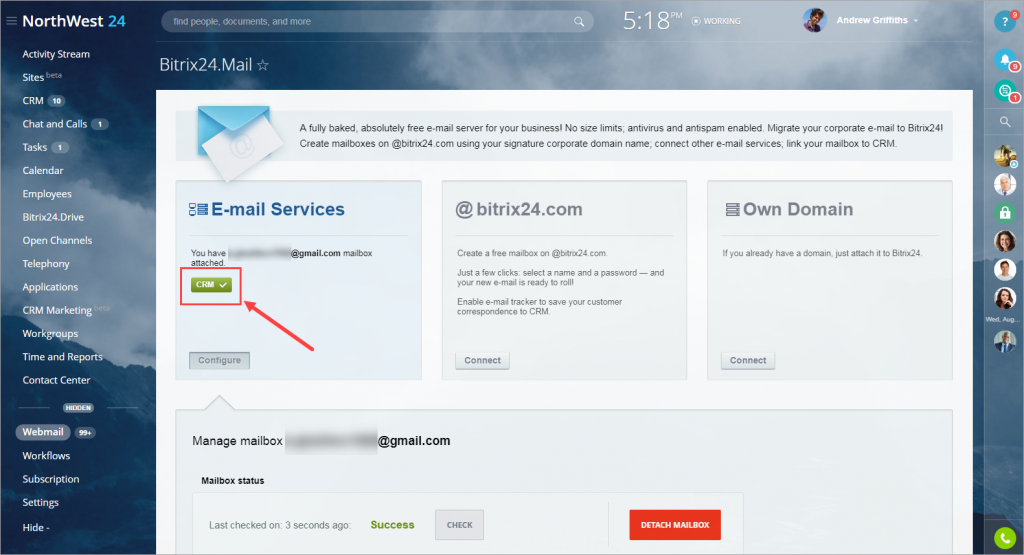 After enabling email tracker, all the mail from unknown senders is added to CRM as Activities or Leads.
Leads are created automatically as Activity has to be linked to a CRM element.
Mail from senders that are already saved to CRM (as a Lead, Contact or Company) is automatically added to a corresponding CRM element (Lead, Contact or Company) as an Activity.
Email tracker automatically collects new mail once in 10 minutes. So sometimes it's possible that an email has already been received but a lead hasn't been created yet.
Incoming mail status (read/unread) is synchronized with Activity status (completed/not completed). If you delete an incoming email without opening it, a corresponding Activity is deleted automatically. If there is a Lead created just for this Activity, it gets deleted as well.
An administrator can manage users mailboxes, but cannot link them to CRM. Only user can link his/her mailbox to CRM.
When connecting Gmail mailbox with Bitrix24 you may get "This app isn't verified" notification. Click
Advanced
.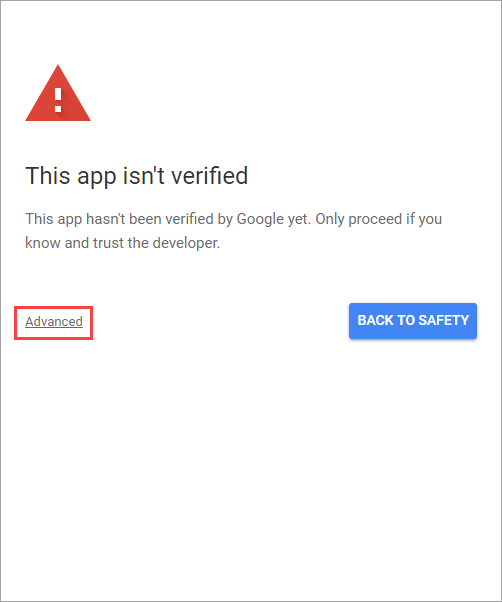 Then click Go to Bitrix24 Connector (unsafe).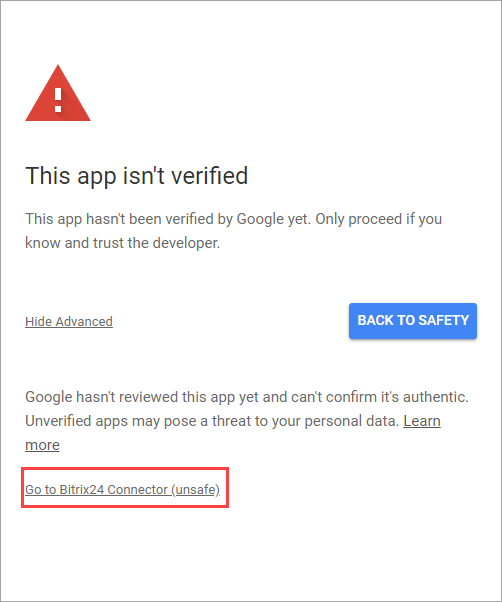 Click Allow.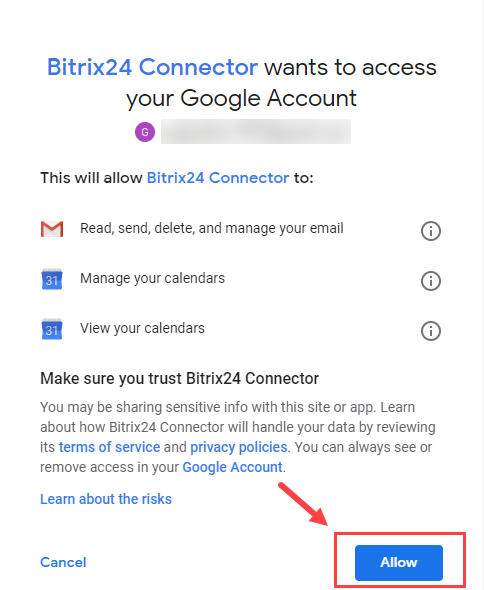 How often email tracker collects mail
Email tracker automatically collects mail every 10 minutes, if the user is working in Bitrix24. Or it collects mail immediately if the user clicks Webmail button in the menu on the left.
Email tracker collects mail once a day if any user (not the owner of the mailbox) works in Bitrix24.
If nobody works in Bitrix24, email tracker doesn't collect mail at all.
Recommended articles