On February 1st, comes the so-called DNS Flag Day. Some websites may be unavailable.
What does it mean?
The Domain Name System (DNS) is a hierarchical decentralized naming system for computers, services, or other resources connected to the Internet or a private network. It associates various information with domain names assigned to each of the participating entities. Most prominently, it translates more readily memorized domain names to the numerical IP addresses needed for locating and identifying computer services and devices with the underlying network protocols. By providing a worldwide, distributed directory service, the Domain Name System has been an essential component of the functionality of the Internet since 1985. (
Wikipedia
)
The current DNS protocol is unnecessarily slow and inefficient. It'll be replaced by the extended protocol (EDNS). Until recently, both these protocols were working simultaneously, which was affecting the stability and speed of the DNS protocol.
Changes were made in the server software responsible for the DNS operation, and from February 1st, servers that don't support EDNS will be unavailable.
How to check if my domain is ready for the planned changes?
Most of the companies will not even notice these changes, as most of the DNS providers have prepared for that in advance. Small companies that have their own DNS servers and don't update their software may face some problems.
To make sure that your domain will not have any problems due to changes, follow this link: https://dnsflagday.net/.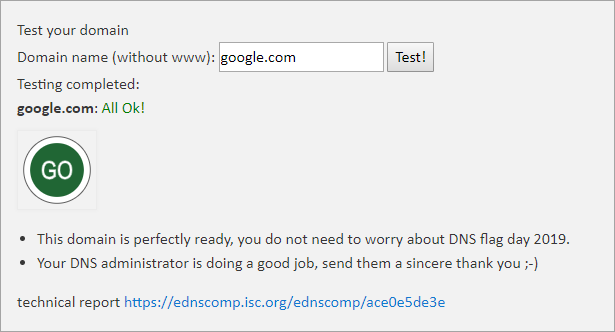 What about Bitrix24 servers?
Bitrix24 uses Amazon Route53 as a DNS provider. This service supports EDNS.
Although the test detects some minor problems, our clients have nothing to worry about!
The test detects minor problems, as Amazon Route53 ignores bad requests. Other requests are processed correctly. That's the feature of Amazon Route53.