Check if automation rules and triggers in CRM are available on your plan. You can find all the information about Bitrix24 plans on the
pricing page
.
Use automation rules to streamline client management process and help employees adhere to lead processing algorithm. Automation rules will perform actions in an unattended manner: send e-mails, make calls, etc.
Go to CRM > More > Settings > Automation to configure Automation rules and Triggers.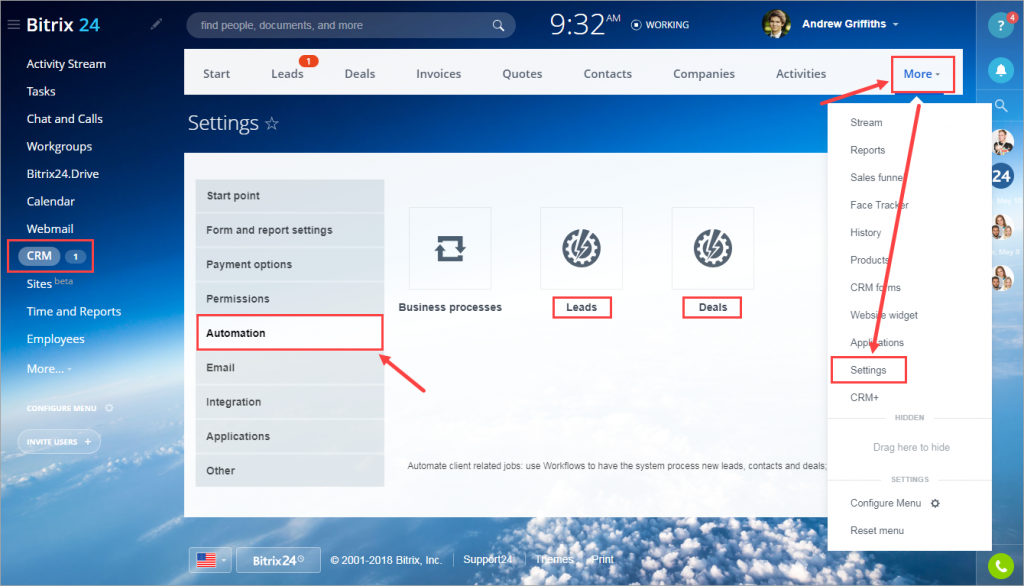 Automation Rules
An automation rule is linked to a specific status. As soon as a CRM entity moves to a new status, an automation rule specified for that status is activated. Automation rules can specify the activation time and an action: task, notification, e-mail, call or other action of your choice.
You can configure automation rules once & the only thing your sales agents will need to do is execute tasks & activities automatically set by the system.
Run – this is the key parameter which specifies when the rule should be applied and the action performed.
● Immediately – action will be performed immediately after CRM record has changed its status. If you will configure several rules with "immediate" parameter – all of them will be applied at the same time when record's status is changed.
● In - delay interval before the rule is applied, after a CRM record has changed status. This is probably the most popular parameter, which helps to build CRM record's processing based on one status. For example, after an email is sent to the client (e.g. lead status = email sent) – call back in 1 day to know if the client is interested in the proposition. In 2 days - to send another email, etc. The action chain can consist of multiple automation rules, where each rule is to perform a particular activity in a defined amount of time (minutes, hours, days).

● Before – the rule will be applied to the specified time period prior to the date specified in the CRM record (lead or deal). For example, it can send a payment reminder in one day before the due date.

● After previous automation rule - this parameter helps to build logic actions chain of actions, when your rule shouldn't be activated before the previous rule is applied. For example, you need to call your client after an email is sent to make sure it was received and read. If email hasn't been sent, the call won't be scheduled.

Automation Rules Types
All automation tools are grouped into 4 categories: for employee, for client communication, advertising, custom automation rules.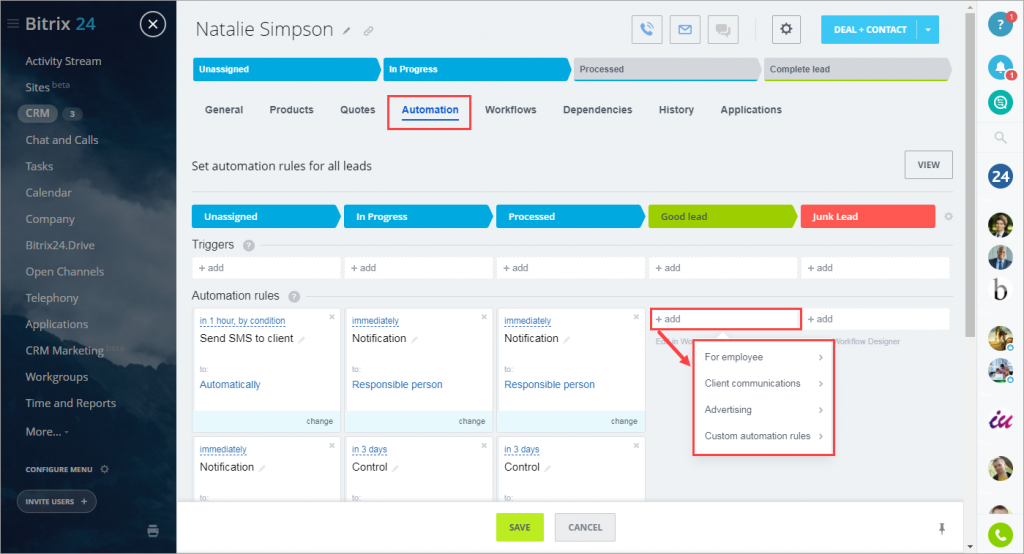 1. For Employee:
2. For Client Communication:
3. Advertising:
these are rules that automatically send client data to the target audiences and remarketing lists in various ad networks. Please note that this rule only sends the information about the client (email or phone). You should have the ad configured inside selected advertising platform first. You will need to add your advertising network's authorization details to Bitrix24 rule settings page and configure further available parameters.
4. Custom Automation Rules
Access permissions to Automation Rules
Click CRM > Settings > Permissions > Access Permissions to configure user access permissions.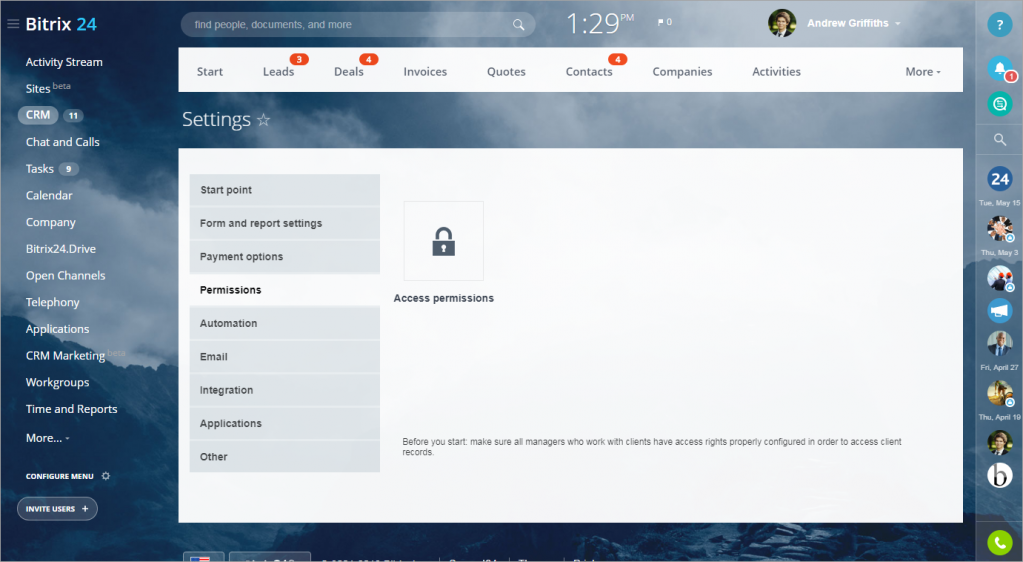 Choose the role that you want to edit access permissions for and select actions that this role can perform - Update or Read.
You can give users different access permissions to leads automation rules and deals automation rules.