"You do not have enough money in your account to complete this operation" error
This error message may occur if you don't have enough money at your account. Please note that Telephony balance is common for incoming & outgoing calls, meaning all costs are charged from the same balance. You can check your balance under Telephony > Balance and statistics.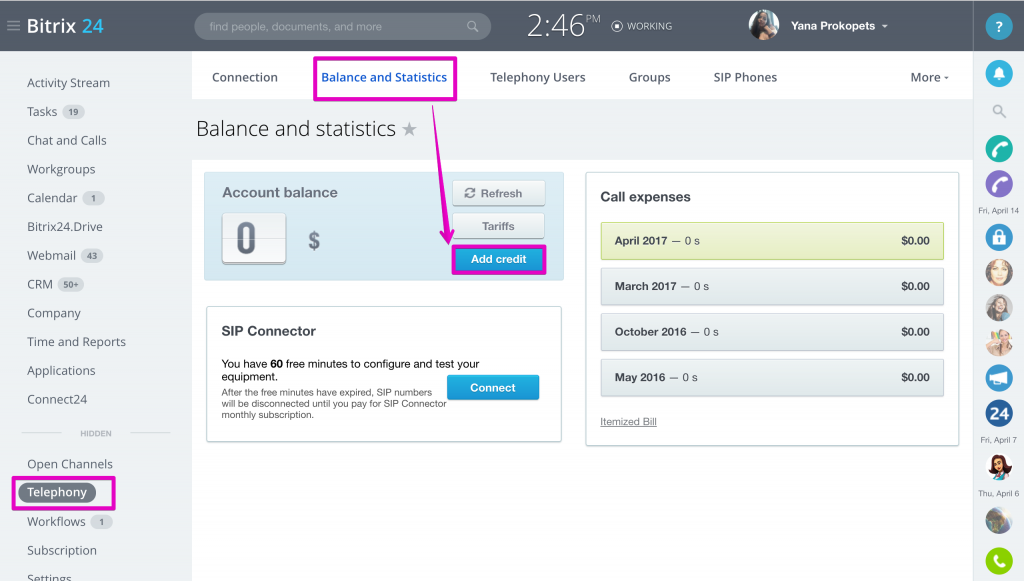 In case you don't have enough money for balance auto recharge – this information will also be displayed there.
SIP PBX charges
You can connect your PBX to Bitrix24:
Sip Connector rent is charged monthly.
Incoming calls will be free of charge (at our end).
For outbound calls & call forwarding test minutes or active SIP Connector subscription are required.
Outbound calls will be charged by your PBX provider.
You check available test minutes under Telephony > Balance & Statistics. New accounts have default 60 minutes available to test the connection. After free minutes expired, SIP numbers will be disconnected.
Please note that SIP Connector subscription is purchased per one Bitrix24 account. Which means if you have active SIP Connector subscription & would like to connect several PBX, you won't need to purchase additional SIP Connector subscriptions.
I've been charged for the outbound calls though have purchased SIP connector
You can be charged if the phone calls are routed through relay or rented phone number. In this case, the calls go through and are charged by our operator. If you have SIP connector configured, you need to go to Telephony > Telephony Settings and set your BPX as the Default number for outgoing calls.
Please note that SIP connector configuration is not required for incoming calls.
Rented number charges
You can rent a number for incoming calls.
The rent is charged monthly, when the incoming calls on the rented number will be free of charge for you.
If you use rented number as number for outbound calls, such calls will be charged according to our provider prices.
Please remember that call forwarding is in fact an outbound call & is charged accordingly.
Voximplant (our telephony provider) starts charging the call once the callee picks up the phone. So they don't charge for the airtime.
What will happen to my rented number if I didn't pay on time
If you have rented number from Bitrix24 but didn't manage to pay for the rented number subscription renewal on time, here is what will happen next:
this number won't be taken from you immediately, it will stay reserved for your account for one month since the renewal due date. For example, if your subscription had to be renewed by 1st of July, the number will be reserved for you till 1st of August. The number will stay reserved for your account for 1 month only & will be completely disconnected from your account after.
incoming calls won't be available, your clients will hear the sound of beeping as if busy.
if you had rented number configured for outgoing calls - these calls will be routed through the default "main outgoing number" given by the system.
Please note: your new subscription validity period will be countered from the due date of payment. For example: if your rent number subscription renewal due date was 1st of July, but you purchased it 15th of July, your new monthly subscription will expire 15th of August (not 1st of August).
Toll Free numbers charges
You can rent Toll free numbers.