You can connect Telegram with Bitrix24 open channel in a few steps by using Telegram Chat bot.
Go to Conact Center > Telegram. Select an open channel to connect Telegram bot with and click Connect.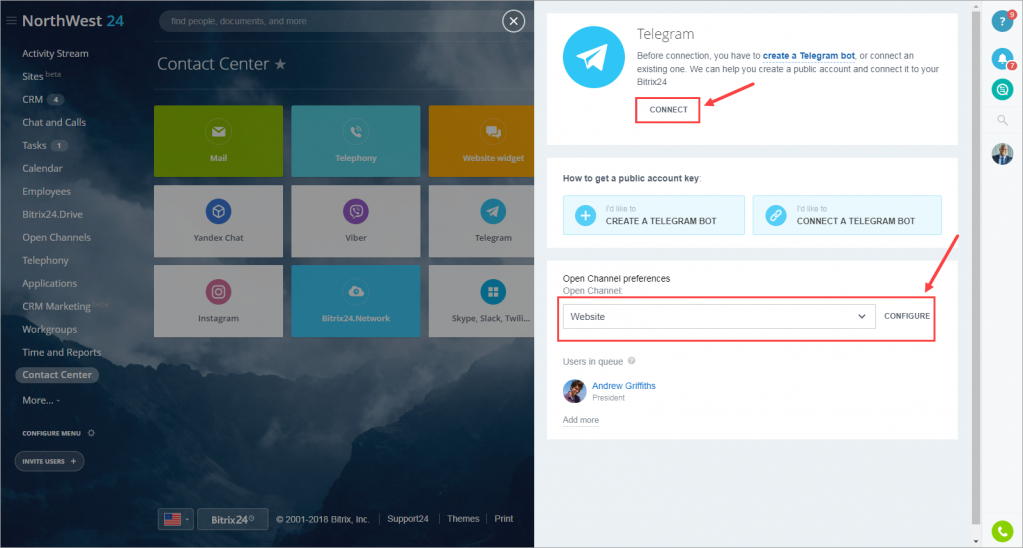 You need to have an access token to connect Telegram bot. You can get it when creating a new bot or request it for the existing one:
Create a new bot
Follow the link and click Open in Web or click Send message.
Click Start.
Select the command to create a new bot - /newbot.
Now it's time to name your bot so that your customers can find this bot in Telegram. This name is also displayed in the list of contacts and channels in Telegram.
Enter the username of your bot. It must end in "bot".
Copy your access token.
Paste the access token and click Connect.
Request access token to the existing bot
If you already have a Telegram bot but do not know the access token, you can request it. Follow the link and select the command /token.
You'll be shown all the bots you have created. Select the one that you want to connect with an open channel in Bitrix24.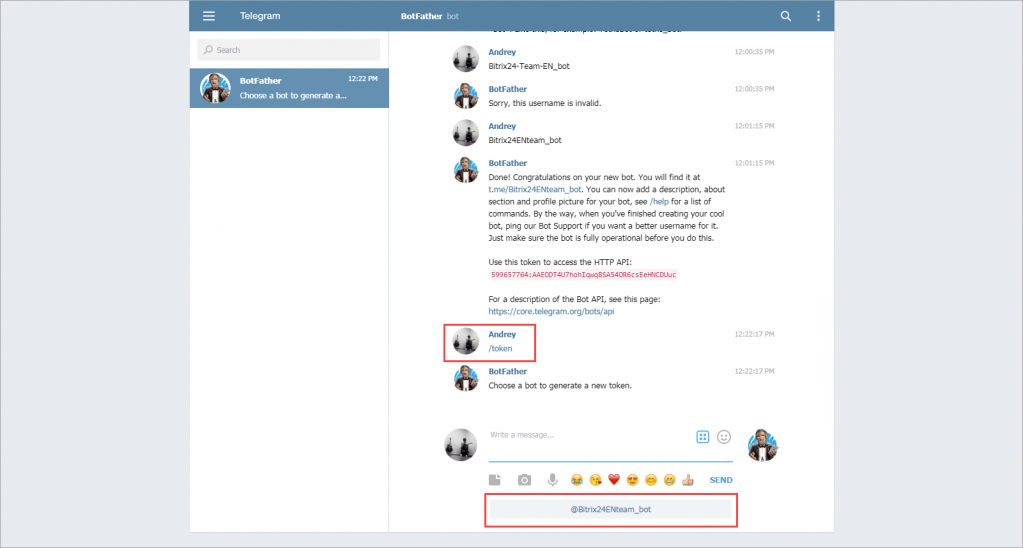 Copy your access token and paste it to the Access Token field > click Connect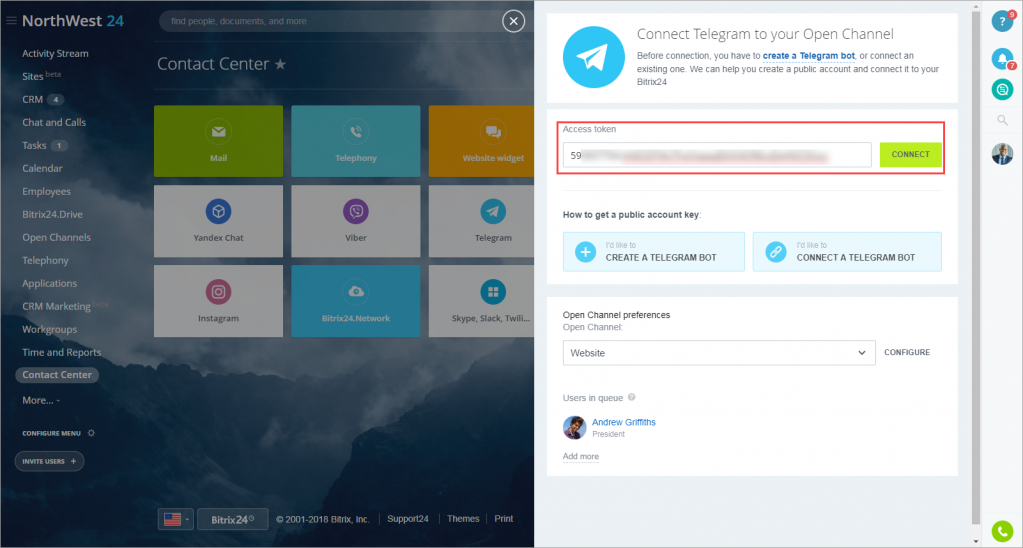 Done! Telegram is now connected with your Bitrix24 and you'll be able to communicate with your clients in Bitrix24 Messanger.
How it works
Your client clicks the website widget and sends you a message via Telegram.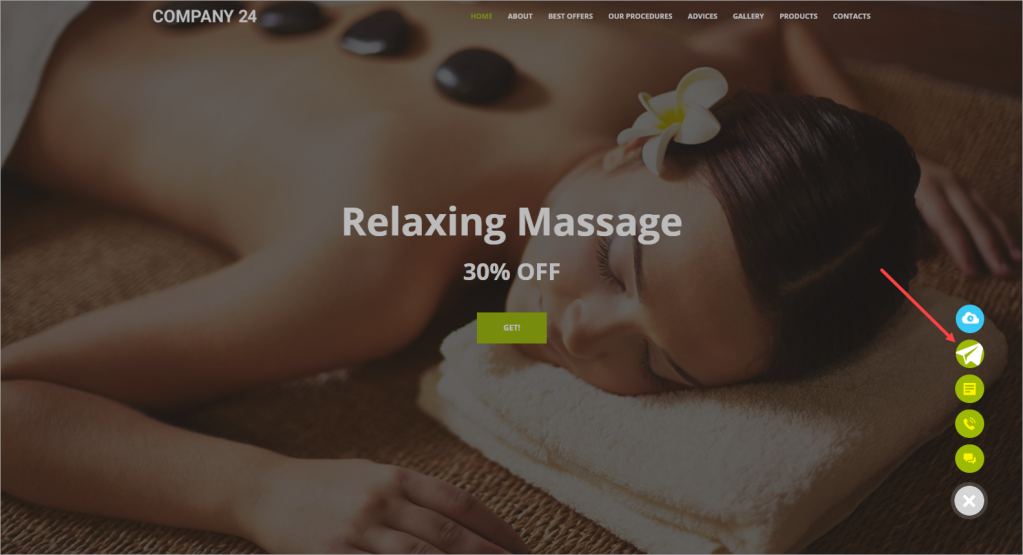 You get a message in Bitrix24 Messenger. If this client is not found in CRM database, the new lead is created.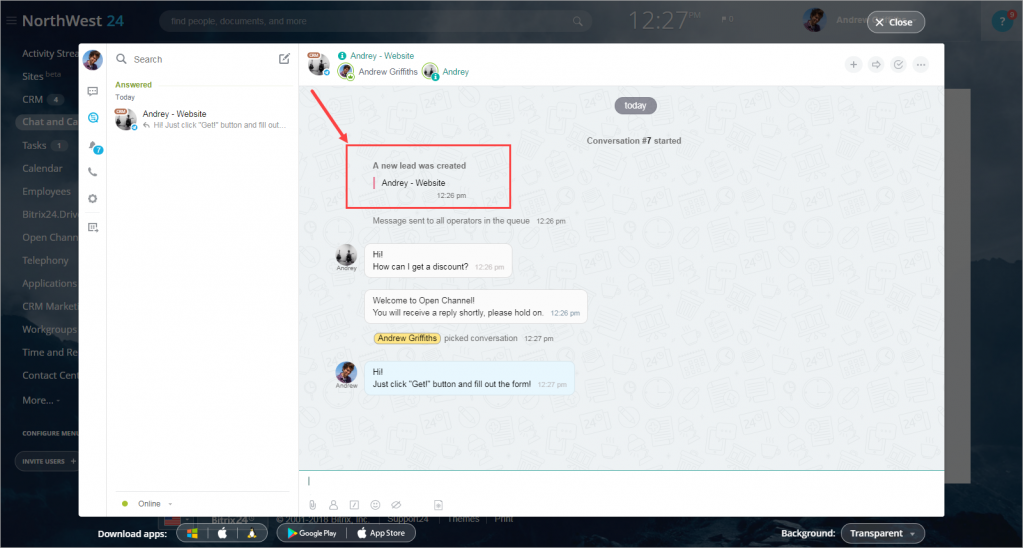 Chat history is saved to CRM form.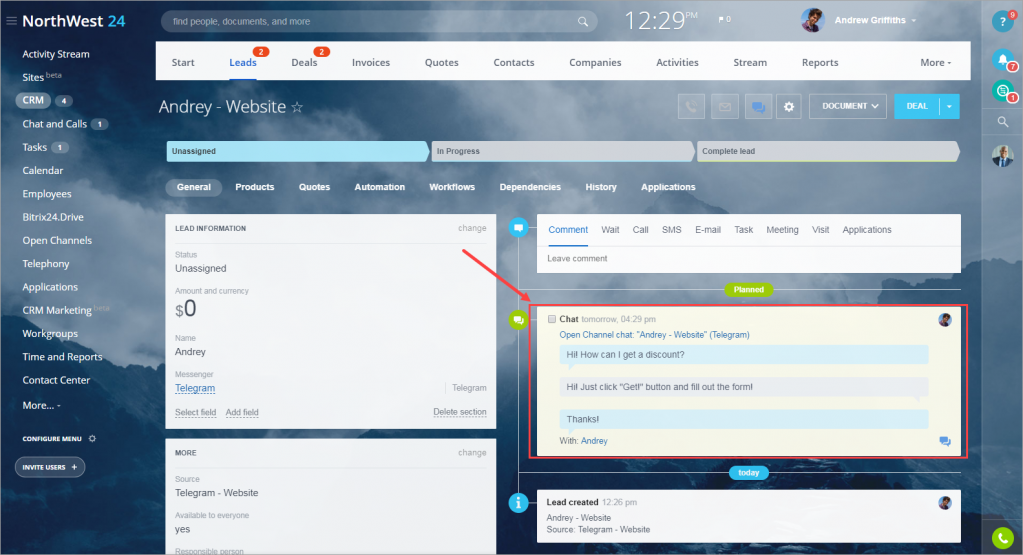 Important features of connecting Telegram with Bitrix24:
You cannot create more than 20 bots for one Telegram account.
Files larger than 20MB cannot be sent due to Telegram API restrictions.
If the same Telegram bot access token is used in multiple Bitrix24 accounts, this Telegram bot will work only with the Bitrix24 account that was connected with Telegram last.
You can edit your messages when communicating in this channel.
Telegram doesn't pass the client's phone number when you communicate with this client. You can get the client's phone number saved to CRM only if he/she sends a message containing the phone number.
Recommended articles: