When an employee joins a company, he or she signs a job contract. The employer specifies the employee's schedule and working hours. These data become the basis for calculating wages, taking into account the hours worked.
If a company doesn't control working hours, it can run into problems with payroll: employees may work fewer than planned hours or consistently overwork.
Keep track of working hours and daily reports of your employees in Bitrix24. All information is collected on one page and you can easily monitor the working time of each employee.
You will learn:
Check if this option is available on your plan. Read more information on the
pricing plan
.
Where to track the working hours
Go to the Company section - Time and reports - Worktime. You can see the duration of work days and daily reports of employees.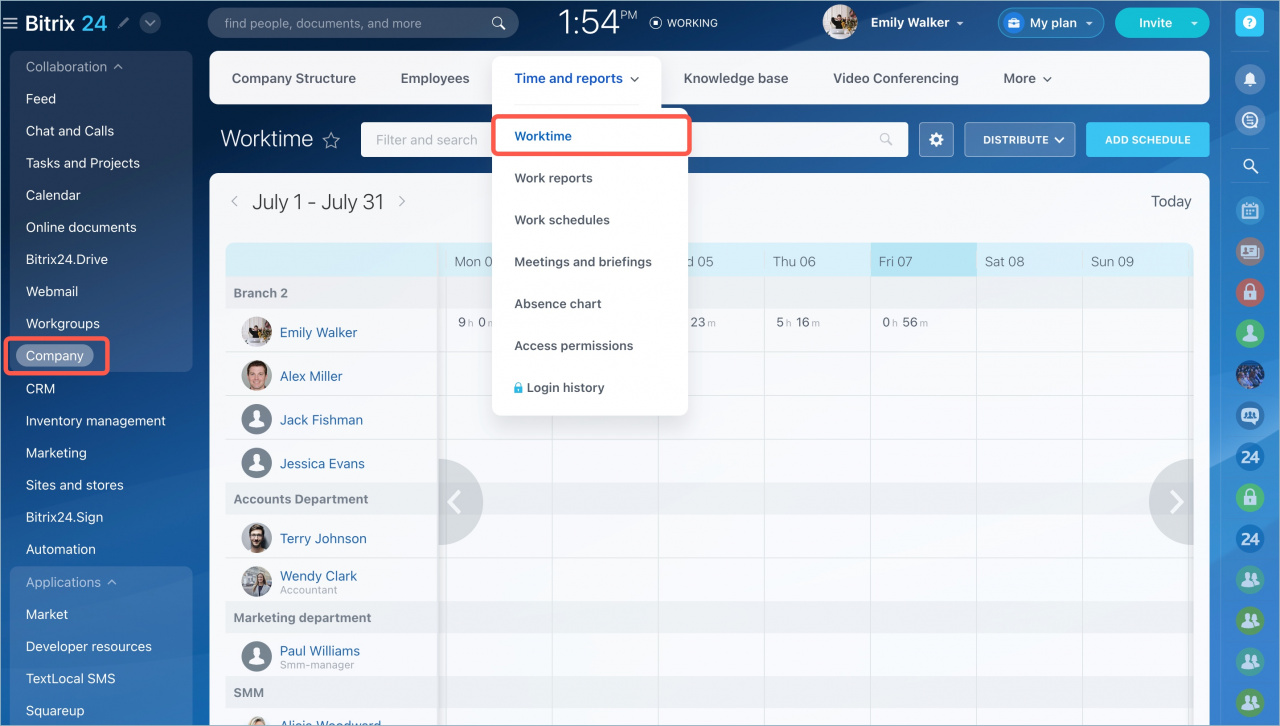 The administrator sees the workdays of all employees.


The supervisor sees only the workdays of the subordinates.


The employees sees only their workdays.
If an employee has two entries in the schedule on the same day, it means that the employee was added to the new work schedule during the work day. In this case, the employee will see the You didn't close the previous day error.
Read more information in the articles:
How to use filter of working days
Employees can use the filter to set up only the reporting period of the schedule and see their working time on certain dates.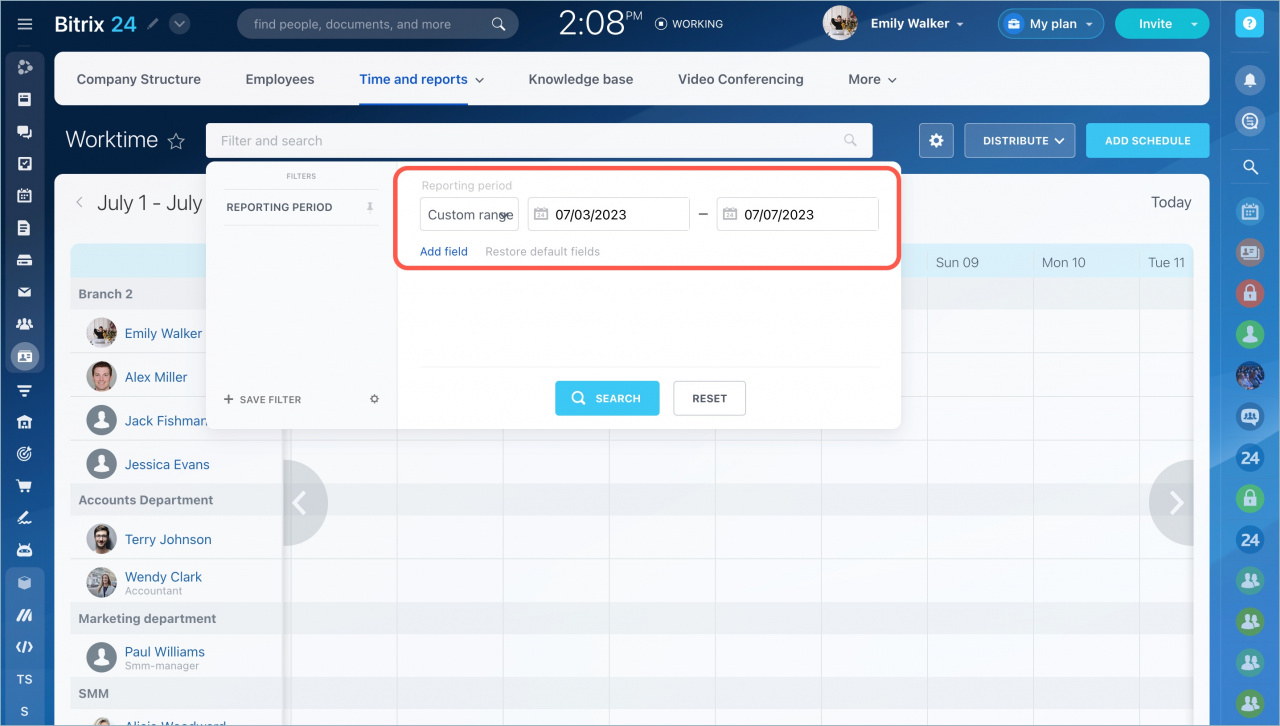 A supervisor and an administrator can read and edit time records of all employees. They can customize the fields in the filter to find the information they need faster.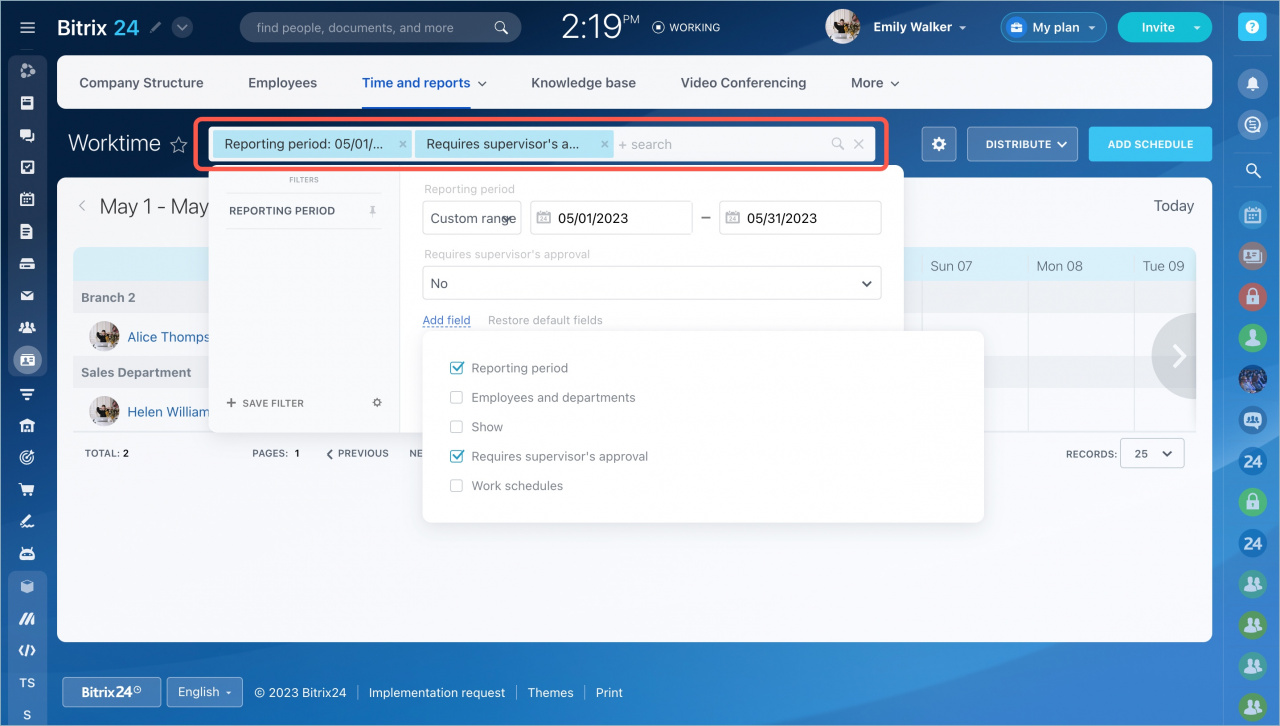 Learn what to do if an employee forgot to close the previous day:
Time management
Employee's working day
Select the employee and click the day in the calendar grid. You will see the information about workday duration, breaks and daily report.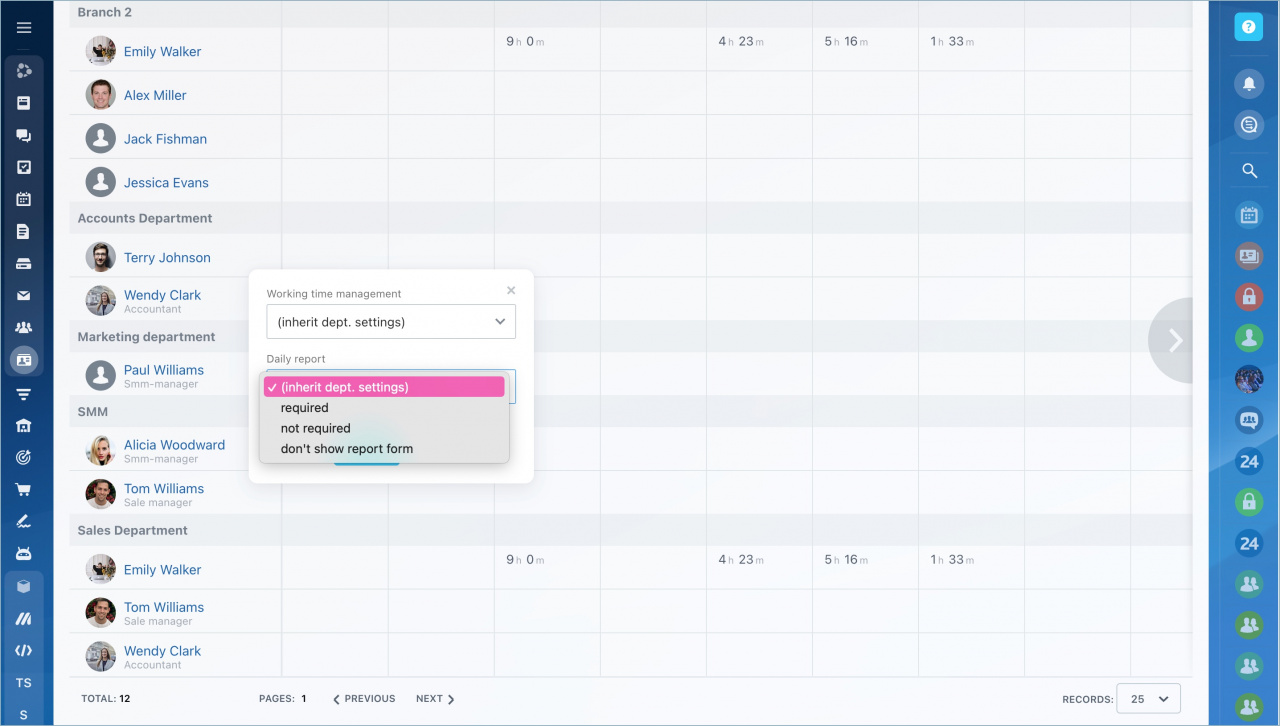 If an employee forgot to start or close the working day, the supervisor can change the working hours.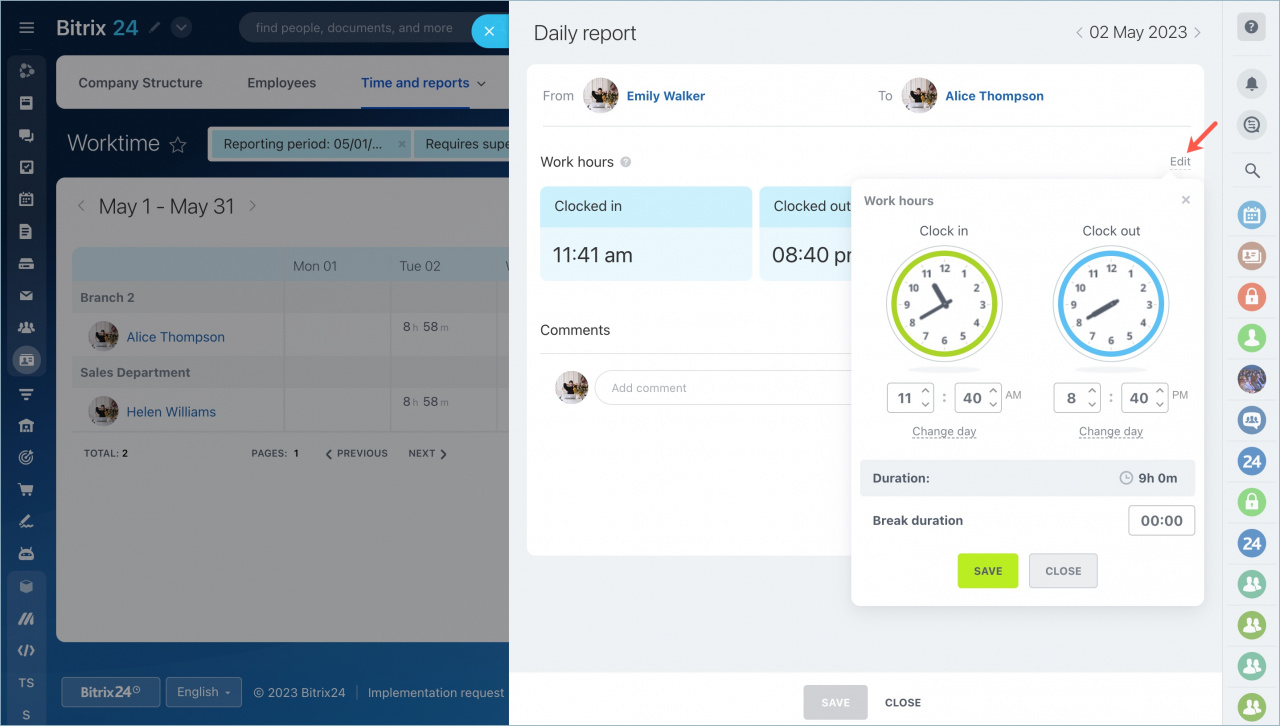 How to configure daily reports
To configure a daily report form, click on the clock icon next to the employee. Select a customization option in the Daily report field and save your changes.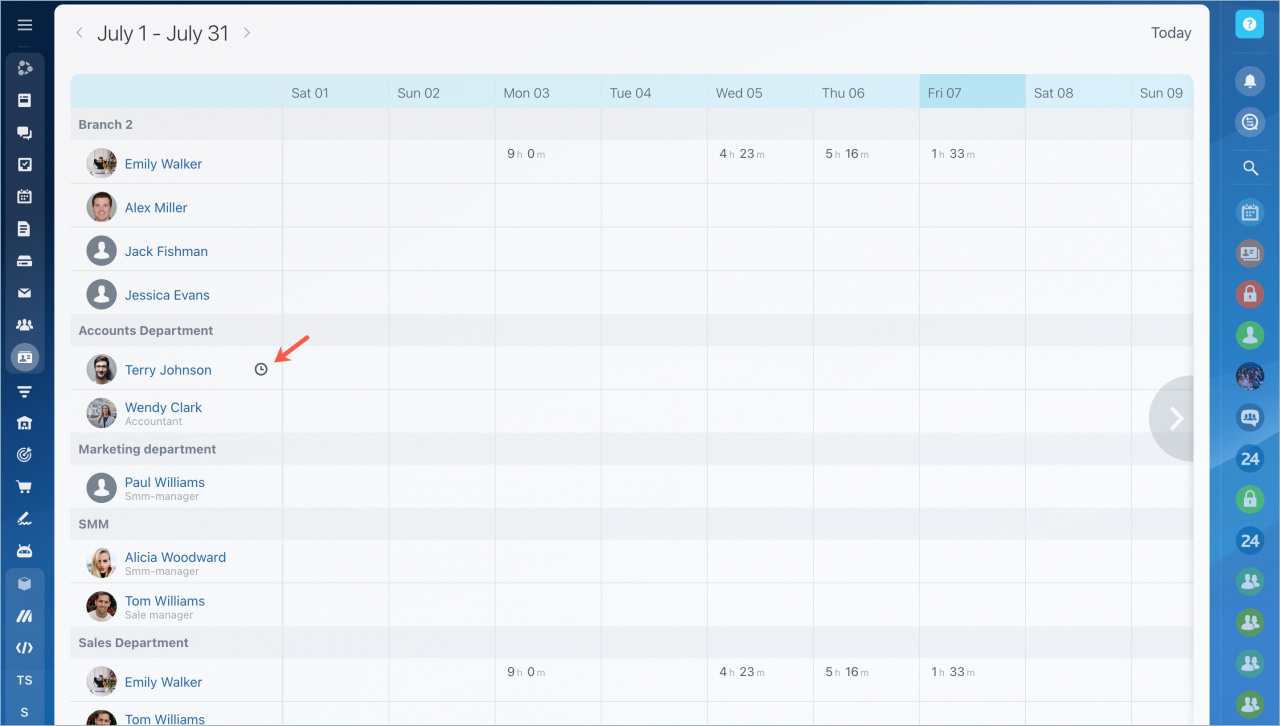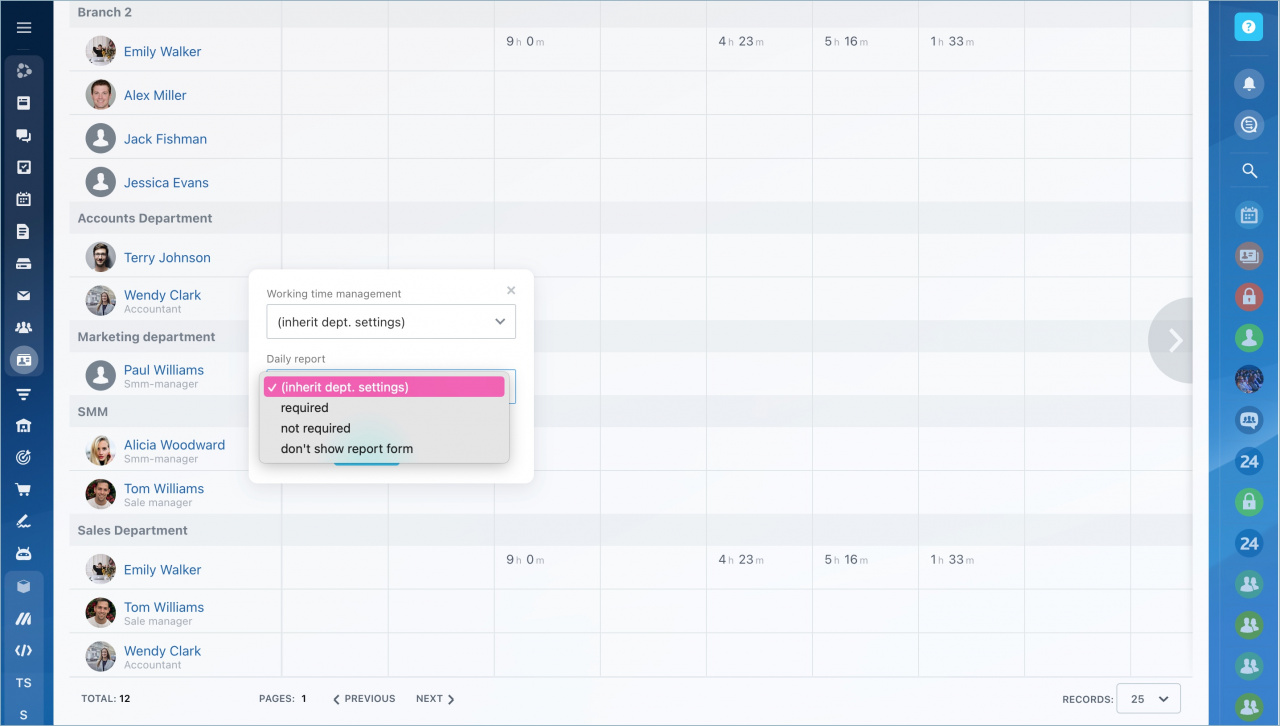 Required – the report form will appear at the end of the working day.


Not required – the report form will appear, but the employee may not fill in it.


Don't show report show – the report form will not appear at the end of the day.
Additional settings
Click the gear icon to see the additional settings of the working time.
Statistics – this option adds a table with general information about employees' working time.


Clock-ins and clock-outs – this option displays the start and the end time information in the calendar.


Time zone – you can choose a time zone to display the working time.


Work schedules – the administrator can view, edit and create new work schedules.


Export to Microsoft Excel – exports a table with the working time of employees for the selected reporting period.