Open Channels Reports
are available to all Bitrix24
commercial plans
subscribers.
Open Channels Reports will help you understand what the most popular open channel with your customers is, how effective your operators are, what the average reply time is, what the satisfaction rate is, etc.
How it works
You can see all the essential information related to open channels in one place - effectiveness of operators, the number of messages got via each messenger or social network, average reply time, etc.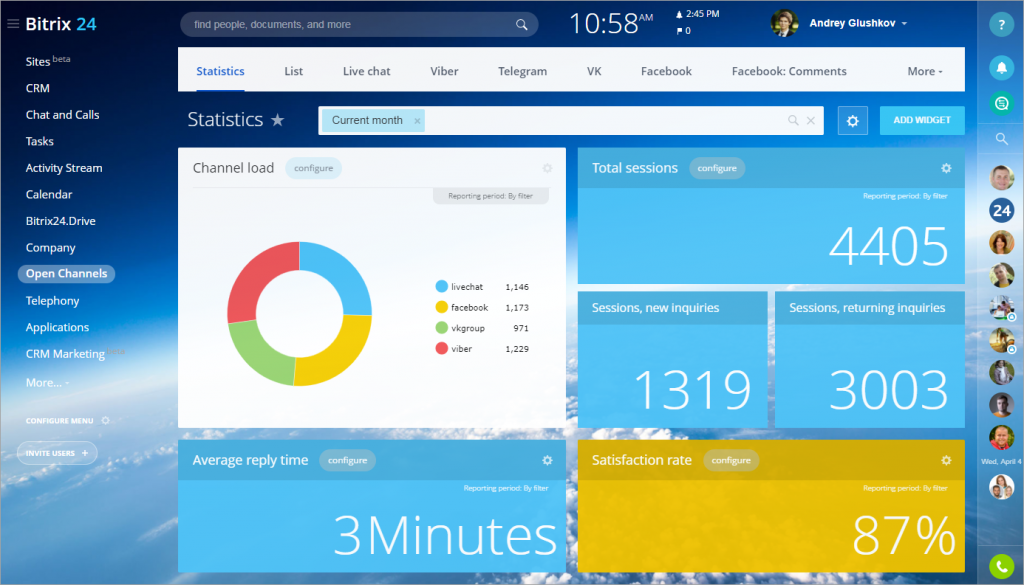 How to customize the appearance of reports
Reports are presented as widgets, and you can move them with a mouse.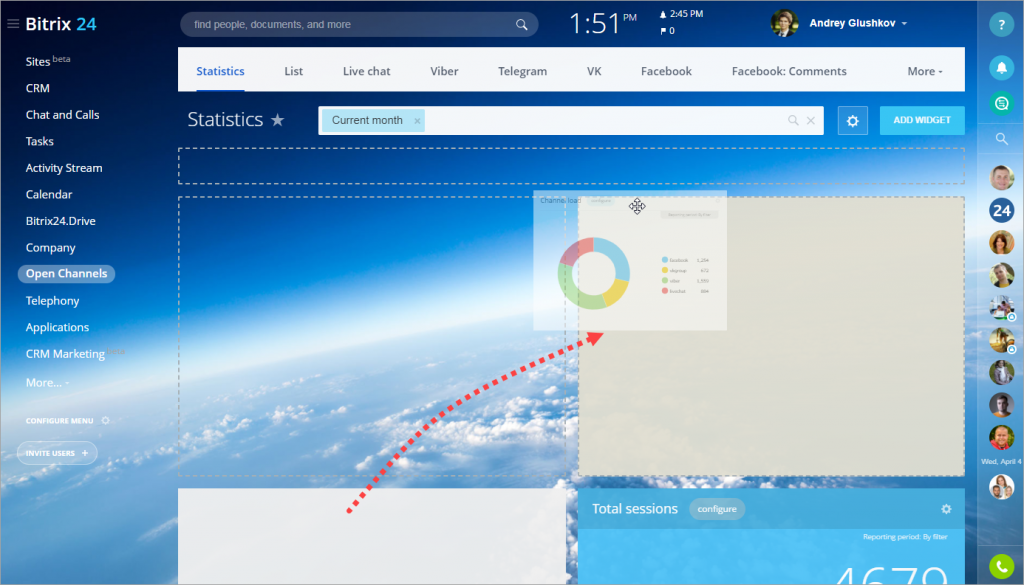 You can delete any widget by clicking Gear>Delete.
Also, you can configure any widget. There are two ways to do that - you can click Gear>Settings or just click Configure.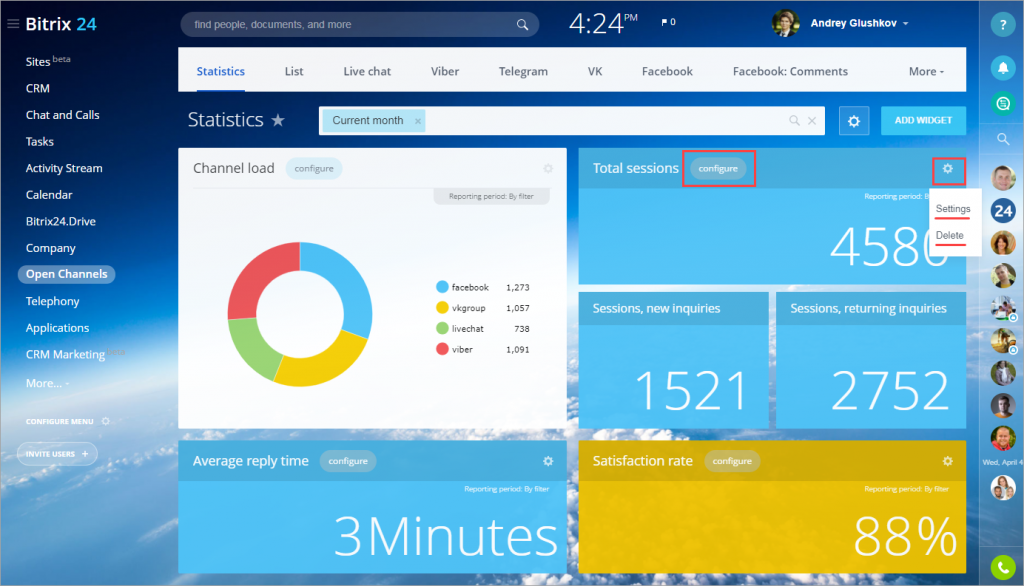 You will get to
Report Settings
. Here you can choose the widget's color.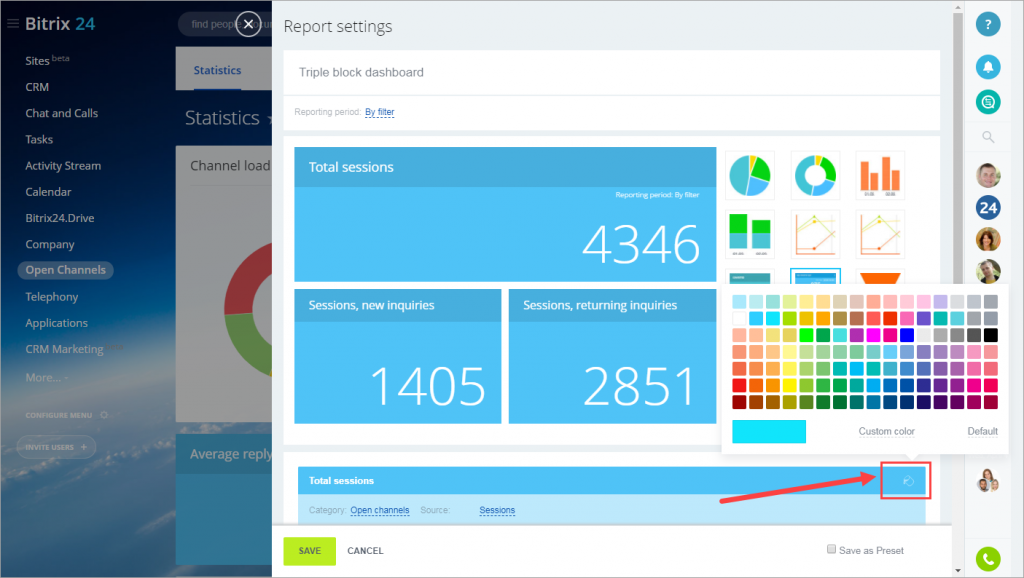 Report Settings
You can also configure in
Report Settings
:
Click Pencil to rename the report.
Click By filter to set a Reporting Period.
Click menu on the right to choose the report presentation form (pie chart, bar chart, stacked column chart, line graph, number, funnel, dual axis graph or active).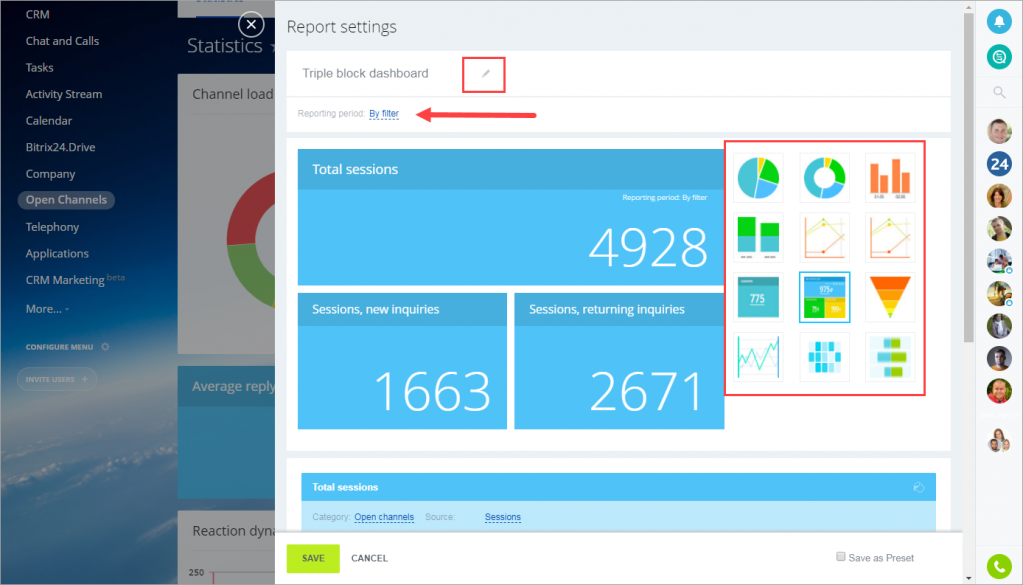 Scroll down and you can set the category and the source of the data used in the report.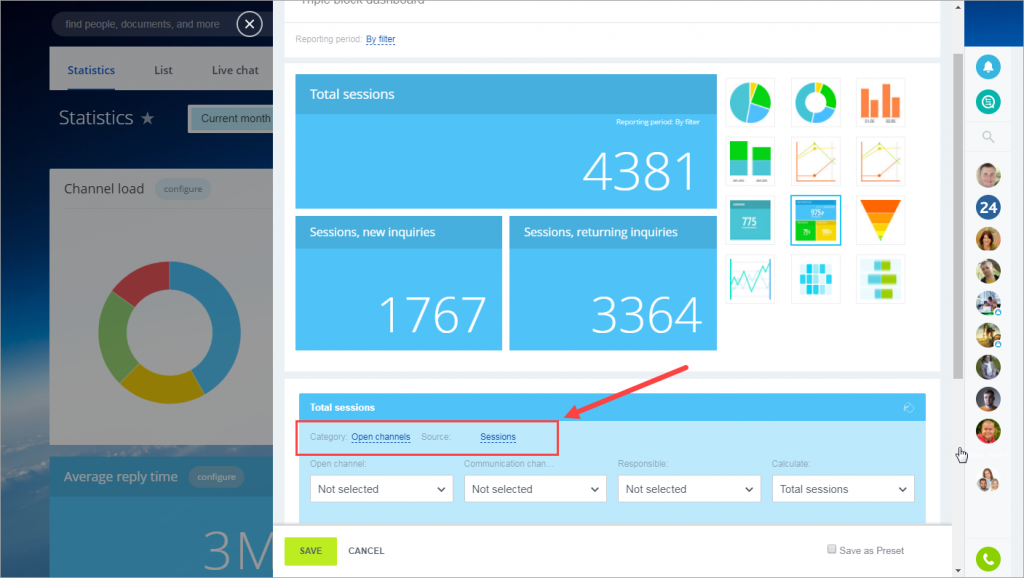 Open channels category uses Communication channels, Responsibles and a variety of Open Channels Counters as a source of data.
Here's a list of Open Channels Counters:
Total sessions
Sessions by the hour
Sessions, new inquiries
Sessions, returning inquiries
Sessions with positive rating
Sessions with negative rating
Unrated sessions
Rated sessions
Assigned sessions
Answered sessions
Skipped sessions
Satisfaction rate
Open channels is the only category available right now. We will add more Bitrix24 tools soon, so stay tuned :)
How to add a new widget
Click the button at the top right corner to Add widget.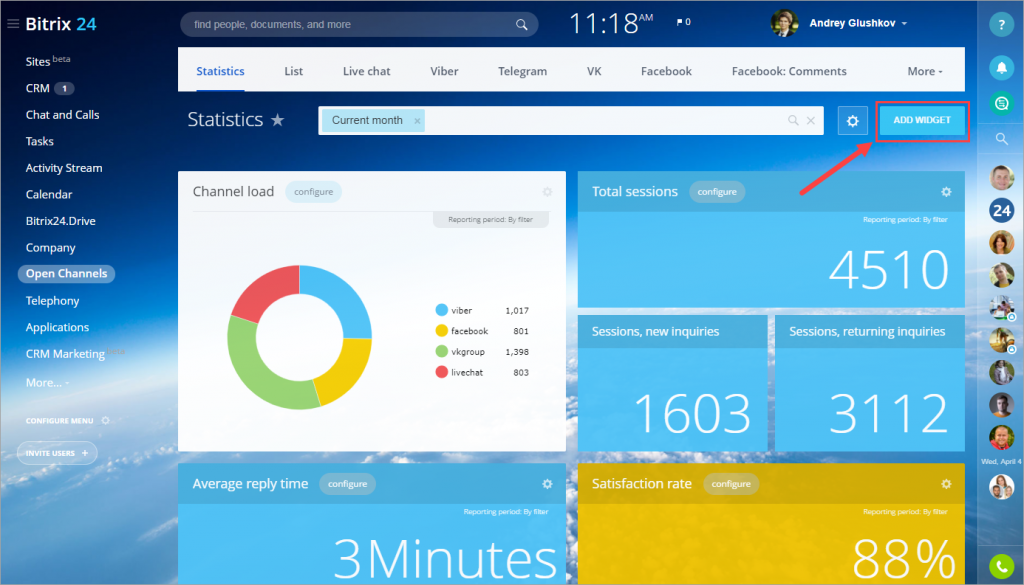 Choose where to save your new widget template.
Add a widget template to a certain group. Only two groups are available right now - Open channels and My reports. There will be more groups added soon!
Customize a new report and click
Create
. Flag
Save as preset
in order to add it to the dashboard in one click in the future.
Demo mode
If you don't have enough data to create a report, you can use
Demo mode
to adjust and customize reports.
You can switch to the real data by clicking
Disable demo mode
. All the changes made in demo mode will be applied to the real data automatically.
Also, you can reset all the settings to default in this menu.
We're sure that you will enjoy this brand new tool and create Open Channels Reports without any problems!