You can configure chat settings in the Bitrix24 Messenger or Desktop app by clicking the cogwheel button.
General
Hide messages in "Recent" list - you can show/hide the text of the last message under the user picture in the contact list.
Show birthday notifications - show/hide output of notifications and chats with colleagues who have birthdays.
Show colleagues in the list of recent chats - show/hide users who were recently invited to Bitrix24 in the list of chats.
Auto mark notifications as read - if you have lots of important notifications, we recommend disabling this option to process notifications manually.
Use large smileys - you can enable/disable this option to use large/small smileys in chats.
Show rich links - if this option is disabled, links in chats will be displayed as plain text without any additional information and pictures. This option works for all chats and needs to be enabled/disabled by each employee individually.
Enable sound - you can enable or disable sound for notifications. The sound itself cannot be changed.
Send messages on - here you can select which keyboard shortcut you want to use for sending messages ("Enter" button or "Ctrl+Enter").
Color for your conversation in mobile chat - select a color for your conversations in chats in the Bitrix24 Mobile app (the person you are sending messages to will have the chat with you marked with this color).
Run application on quick access bar click - if you've installed and launched the new all-in-one Desktop app, you'll be automatically taken to it once you click the dialogue icon in the quick access bar on the right.
Visual theme - enable a light or dark theme in the messenger. Automatic mode allows you to enable a theme depending on which theme is installed in Windows or macOS (the Bitrix24 app for Windows and Mac is required).
Notifications
Go to the Notifications tab to configure notifications.
There are two modes for notifications configuration: Simple and Advanced.
In the Simple mode, you can configure notifications for the following services: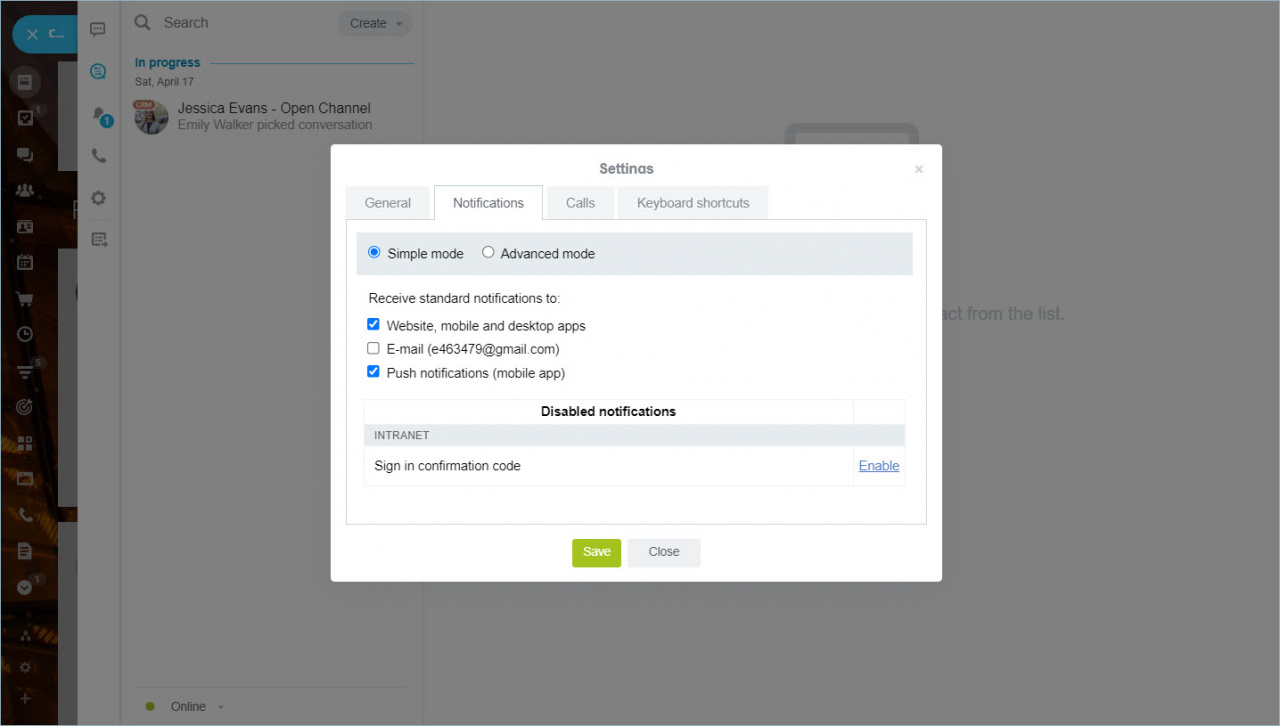 Website, mobile and desktop apps
Email;
Push notifications (mobile app);
Disabled notifications - this group of settings contains important notifications that were disabled for some reason, such as one-time login confirmation codes for two-factor authentication, notification of new mail or telephony calls. .
In the Advanced mode, you can enable/disable notifications for different Bitrix24 tools:
Note that email notifications are disabled by default, but you can always enable them. Disabled notifications are not saved to the notifications history.
Calls
In this section, you can configure video preferences for group video calls:
Accept incoming video feed from all - videos from all group call participants will be displayed in the call window.
Accept incoming video feed from speakers - only the video of the user who is speaking is displayed.
Don't accept - you'll see profile pictures of group call participants instead of their video.
After selecting the microphone and webcam, a microphone audio level indicator and webcam image will appear in the window.
The Request HD video option allows you to receive a video call in the best quality. If you have problems with the Internet or video in calls, try to disable this option.
The selected equipment is linked to the browser, not to the user. If you change computers or browsers, you need to configure the webcam and microphone again.
Keyboard shortcuts
In this tab, you can see a list of keyboard shortcuts for quick work in chats.
Keyboard shortcuts in the web version are only available for chats. It is not possible to change the keys.