Check if this tool is available on your plan. You can find all the information about Bitrix24 plans on the
pricing page
.
The absence chart registers the company's employees being out of office for vacation, business trip or whatever reason.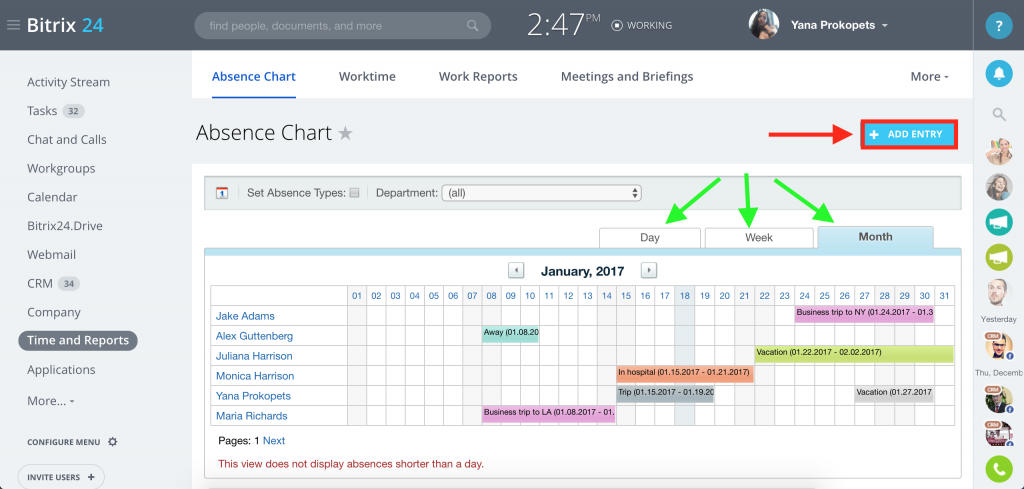 Select one of the most common absence types - business trip, maternity leave, sick leave, unpaid leave, annual leave, etc. Each type of absence is indicated with a unique color. The absence chart can display data in three-time scales: intraday, weekly or monthly.
Please note that the monthly grid does not display intraday leaves so as not to overwhelm the chart with less relevant data.
To quickly view the leave details, hover the mouse pointer over the leave.
Initially, the absence chart contains data for all the unavailable employees. If required, you can view the report on a certain department: select it in the drop-down list on the context toolbar. To filter the data by the kind of leave, use the button Set Absence Types on the context toolbar.
How to add new absence to the chart
Only users with
administrative access to your Bitrix24 account
can manage Absence chart section. But each Bitrix24 user can add own absence via personal calendar (Calendar > My Calendar > Add new event > user's availability = away (add to absence chart).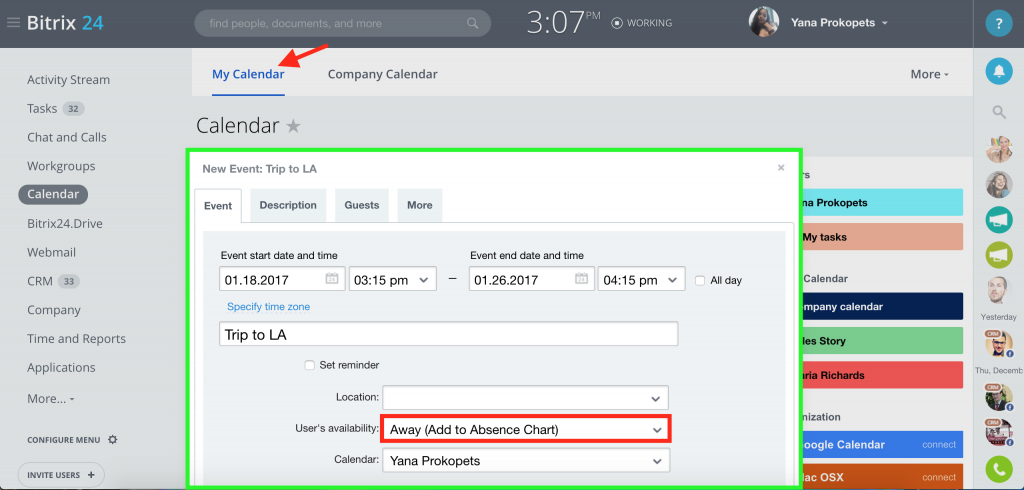 The system updates information in the absence chart automatically using data provided by the personal calendars. Such entries added by users via personal calendars will be marked with a neutral grey color.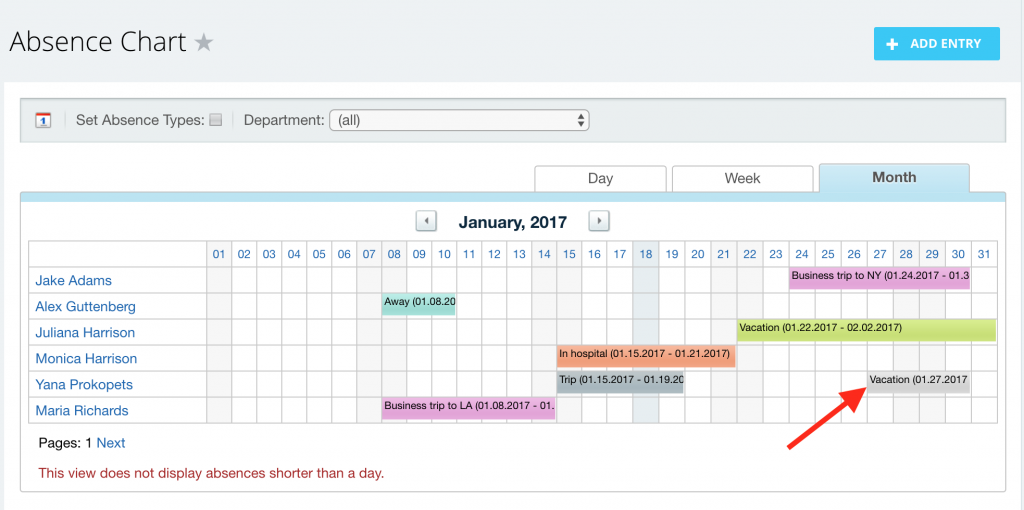 Important: absences added by Bitrix24 administrators via Absence chart widget will not appear in users personal calendars.
Absences approved and added via Workflows (business processes)
If you are planning a vacation, maternity leave, business trip, sick or unpaid leave and need it to be approved fast – no need to run after your colleagues anymore, you can just launch the leave request right from your Bitrix24 Activity Stream: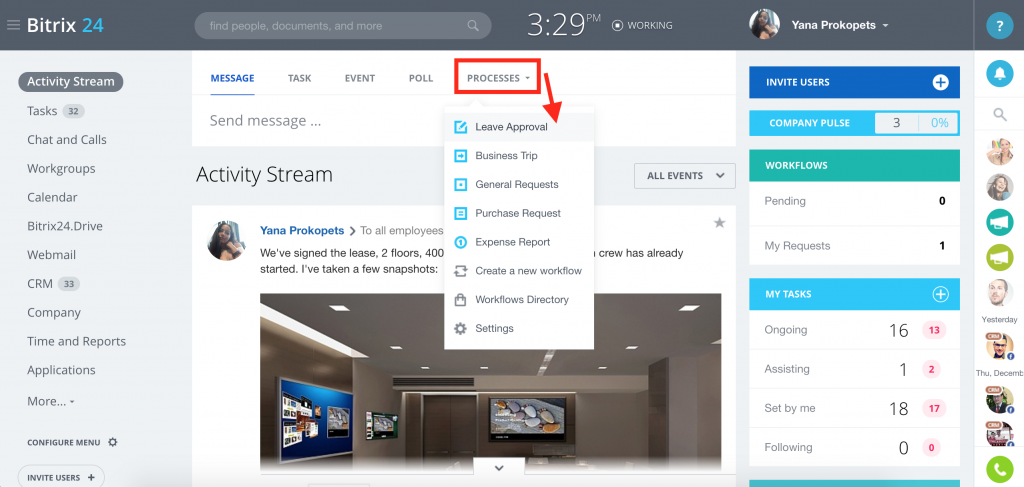 Please note that business processes are available to Bitrix24 Standard & Professional plans only.
Here is how to add a leave request: fill the following required fields - absence type, start date and end date, if you'd like you can also add the reason for leave description: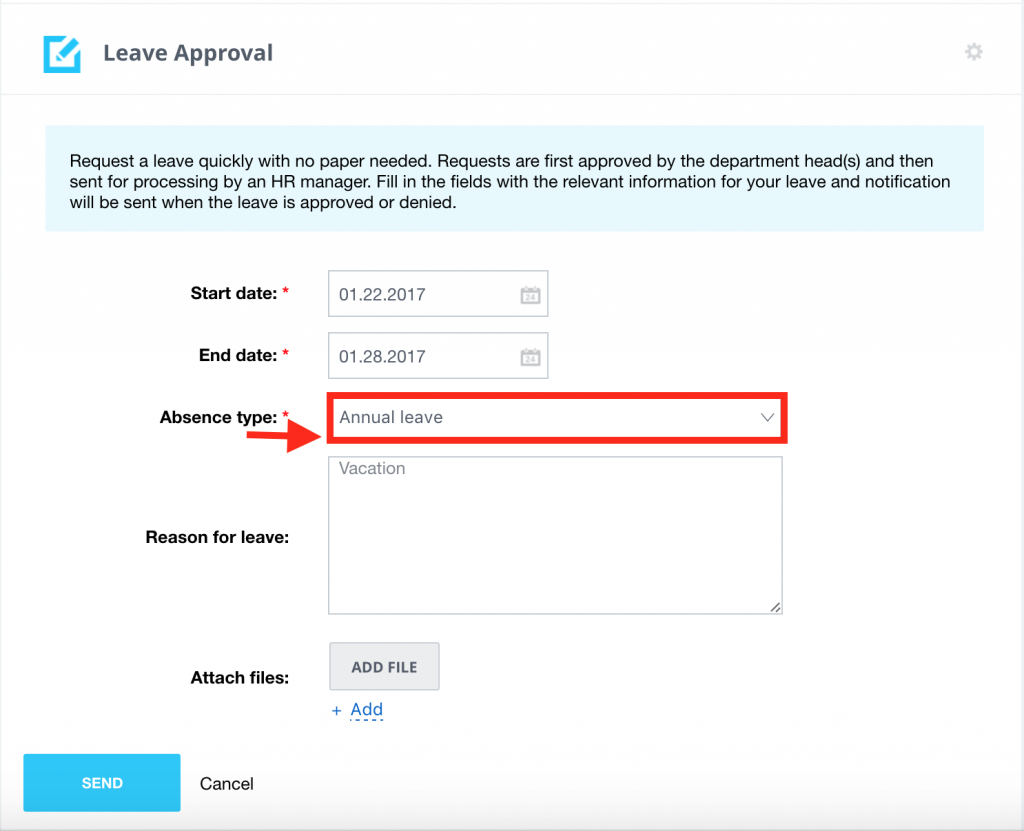 After all employees involved in the process approved the request – it is sent to the final responsible user to finish the approval. When the leave request is approved and confirmed - it will be automatically added to the Absence chart (more about Leave approval workflow here).