In this article, you can find answers to the most popular questions about rented numbers in Bitrix24 Telephony.
I want to use Bitrix24 Telephony. What are the connection options available?
Here are the available connection options:
Rent a number - for outgoing and incoming calls at Bitrix24 rates.
Connect your PBX (Office or Cloud) - for outgoing and incoming calls at your provider's rates. Connection via SIP connector (payable monthly, separately from Bitrix24 telephony) or using REST API.
Can I use Telephony for free?
Telephony is available only on commercial plans.
If you want to test Telephony:
rent a number or use SIP-connector in demo and integrator mode for 15 days;
use integration via REST applications in demo and integrator mode for 15 days.
Can I test outgoing calls? Is there a demo balance?
When your telephony account balance is zero, for any outgoing call (test, regular, callback, from CRM or mobile app) you'll hear the recorded voice message. So you can not make a real outgoing call when your balance is zero.
But you can test the connection quality. Just follow the instructions given in the recorded voice message.
How to top up the telephony balance?
In your Bitrix24, go to the Telephony section > Connection page and click Top Up.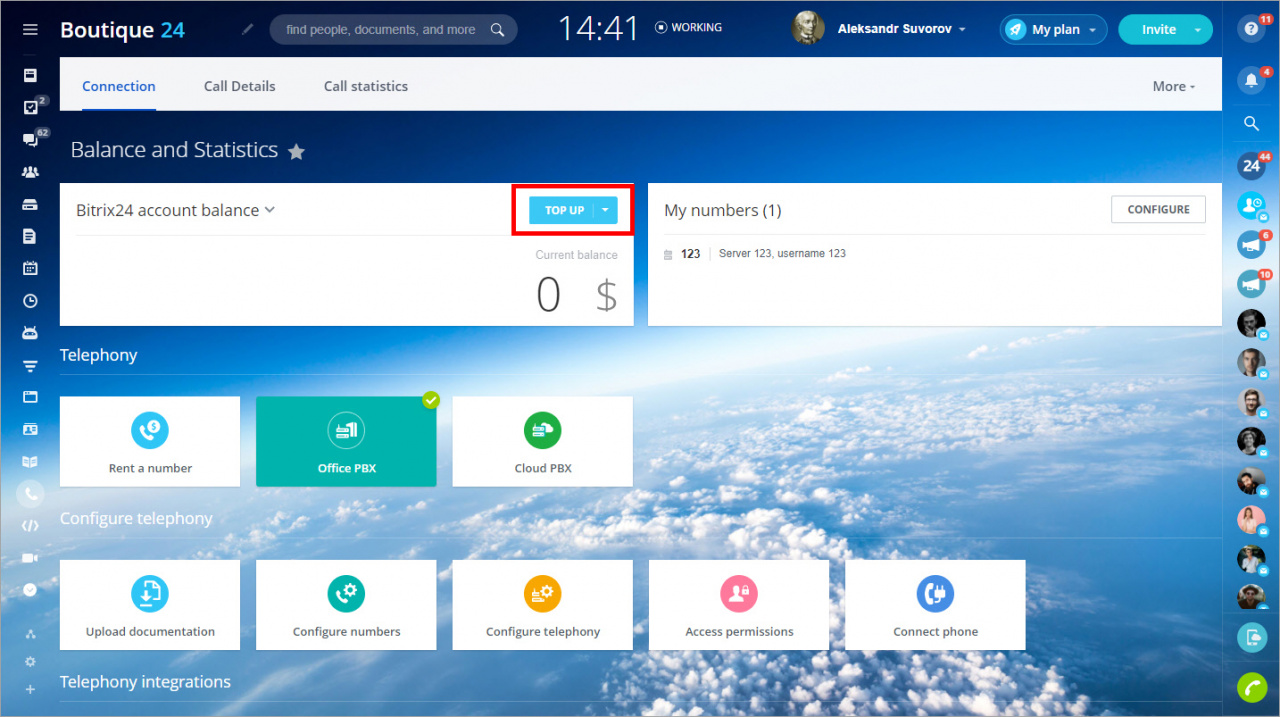 You will be taken to the Voximplant Billing page.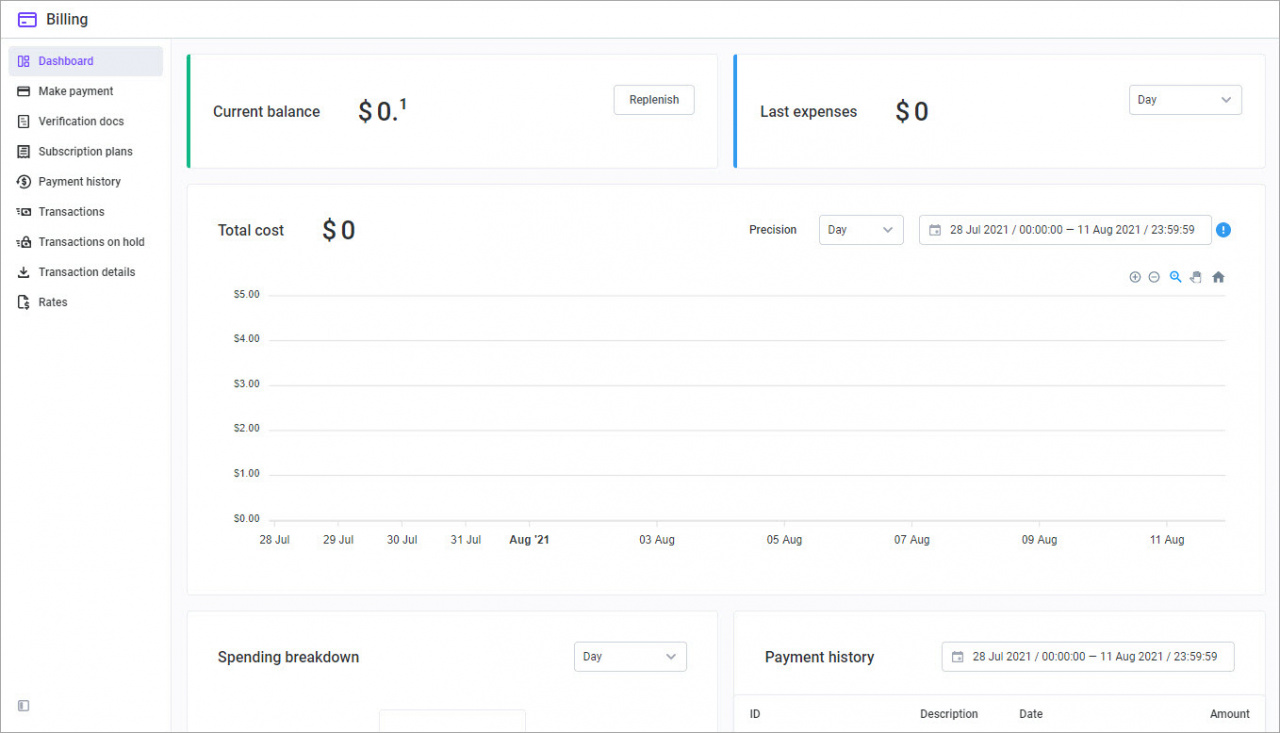 On the Voximplant billing page, go to the Make payment tab. By default, there is only a bank card payment option to top up the balance.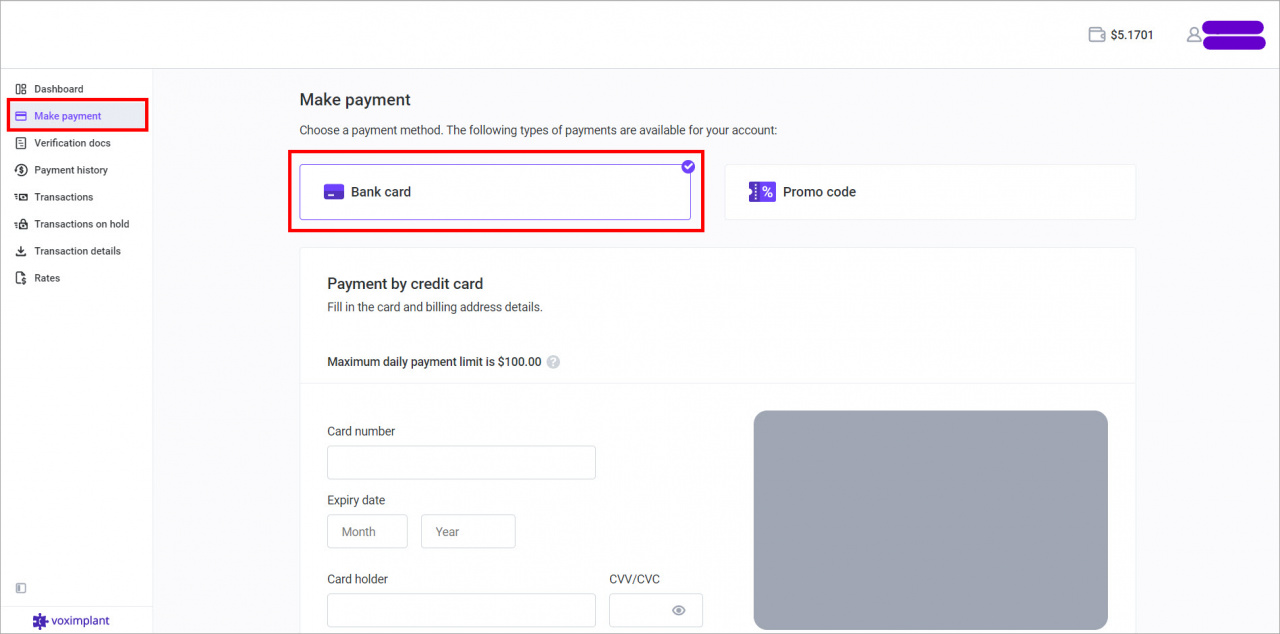 While Voximplant does not directly accept PayPal payments, there are workarounds that allow you to use your PayPal account to replenish your balance with Voximplant.
To use PayPal as a payment option, you can use:
PayPal Cash Card
PayPal Business Debit Mastercard
PayPal Key
If you have a Personal account, you can request a PayPal Cash Card, which is a debit card.
If you have a Business account, you can apply for the PayPal Business Debit Mastercard.
PayPal Key is a virtual card that can be used at any online merchant that accepts Mastercard. PayPal Key is available to a growing number of Personal and Business account customers. If you see the PayPal Key option in your account, follow these steps to complete set up.
Maximum top up amount per day is 30 USD, minimum payment is 10 USD. Maximum spend per day is 100 USD.
To expand the limits, please contact Voximplant support service at support@voximplant.com.
When applying to the support service, you need to specify your Username and Account Number. They are located in the upper right corner of the Voximplant account.
Select the top up method, amount and make payment. You will get a receipt on the email specified in the billing address. It is a notification that the funds have been successfully added to the balance.
Can I use the rented number as a default number for outgoing calls?
Yes, you can. Just go to the Telephony section > Configure Telephony > Telephony Settings > Configure default numbers and select the rented number as a default number for outgoing calls.
What happens if I miss the payment due date?
If you rented a number and for some reason didn't have enough credit on your telephony account balance at the time of auto-renewal, the rental fee will be overdue.
In this case, all incoming and outgoing calls will be unavailable - your number will be always "busy".
The operator doesn't take your number away immediately after the payment overdue. You have two months to add credit to your balance to auto-renew the rent and make incoming and outgoing calls available. But after two months, if you haven't added enough credit, the rented number is taken away.
A new rental period will begin from the actual moment of your payment.
For example, the rental fee was overdue on 01/01/2018 and you were able to add credit to your balance on 01/12/2018. In this case, the next payment due date is 02/12/2018, not 02/01/2018.
How many phone numbers can I rent?
Free plan users can rent only one phone number.
Commercial plans subscribers can rent as many phone numbers as they need.
To rent another phone number, just click Telephony > Rent a number.
The system may request to upload additional documents (e.g. proof of address, passport or ID copy) for some regions or countries. You cannot rent another number in this region if your documents were not processed. Usually, they are processed by Voximplant Inc. within 2 working days.
How can I transfer the rented number from one Bitrix24 account to another or from Bitrix24 Cloud to Bitrix24 On-Premise?
The rented number can be transferred only between accounts with commercial plans.
Just submit a ticket to Support24 and follow their instructions.
Important:
A ticket to Support24 must be submitted by an administrator of a Bitrix24 account that the rented number needs to be transferred from.
If you want to transfer the rented number from Cloud to On-Premise, you need to specify your On-Premise license key in the message to Support. Transfer is performed by replacing the On-Premise telephony account with a Сloud account. Numbers, balance, settings,and SIP-connector are transferred. Confirmation of documents for renting a number in Bitrix On-Premise is not required.

There is no need to top up balance and pay for SIP-connector. If there are funds on the balance of On-Premise telephony, request a refund in Support before transferring.

Both accounts need to have additional documents uploaded (proof of residence) if it's required by the country where the number is rented (you can find the full list of such countries in the article - Rent a number in Bitrix24).
If additional documents on both accounts belong to the same person, it's enough to specify the next information in the ticket: Bitrix24 account address that the rented number needs to be transferred from, Bitrix24 account address that the rented number needs to be transferred to and the rented number itself.
If additional documents belong to different persons, you need to submit a ticket with detailed information about both Bitrix24 accounts.
When you migrate from the Cloud to another Cloud Bitrix24, only the number is transferred. The funds on the balance are not transferred. The number will not be available for using while it is being migrated.
Can I make a call through an external app?
You can connect any compatible softphone SIP-application on your mobile phone or your computer.