Telephony access permissions are available on all the commercial cloud plans and in Bitrix24 On-premise.
You can specify
employees who can make outbound calls

outbound calls directions available to employees (for example, employees will be able to call CRM clients only)

who can listen to call recordings

who can rent numbers or configure telephony settings, etc.
Account administrators can configure Telephony access permissions by adding roles in CRM > Add-ons > Telephony > Connection > Access permissions.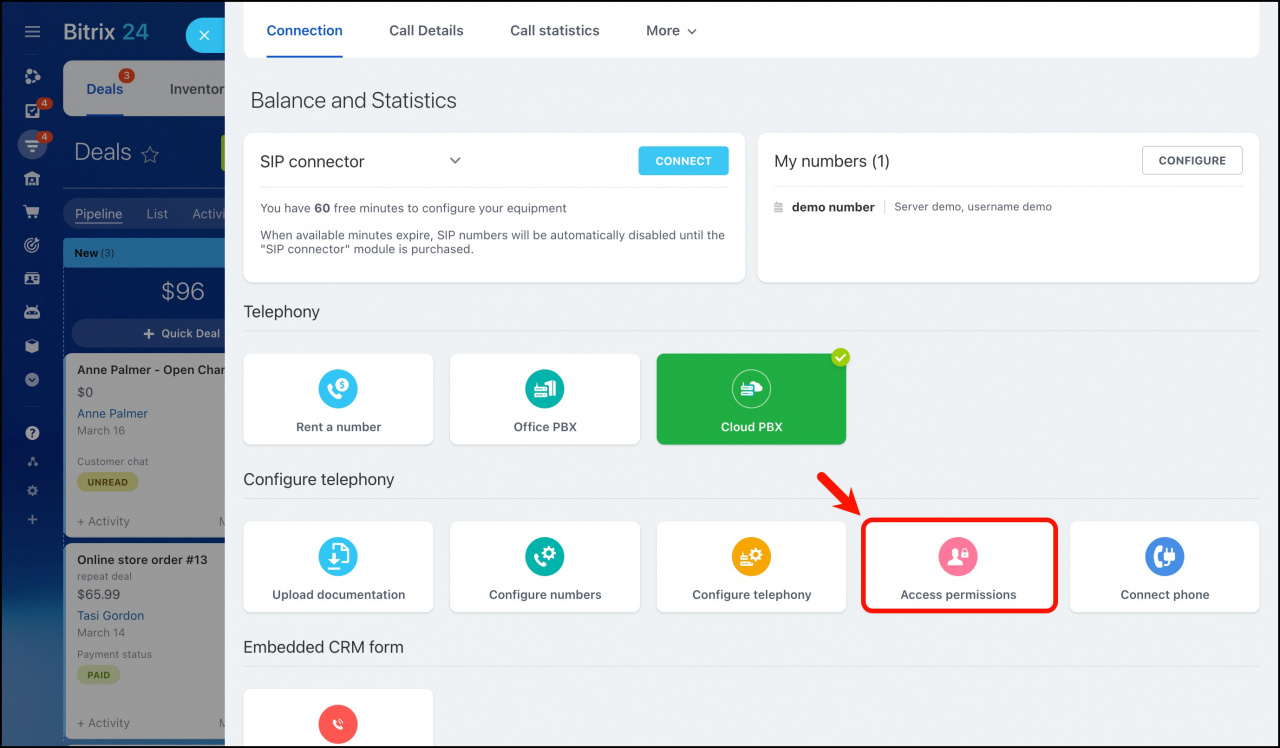 Roles
Access permissions are based on roles. By default, there are four roles available: Administrator, Chief executive, Head of department, and Manager.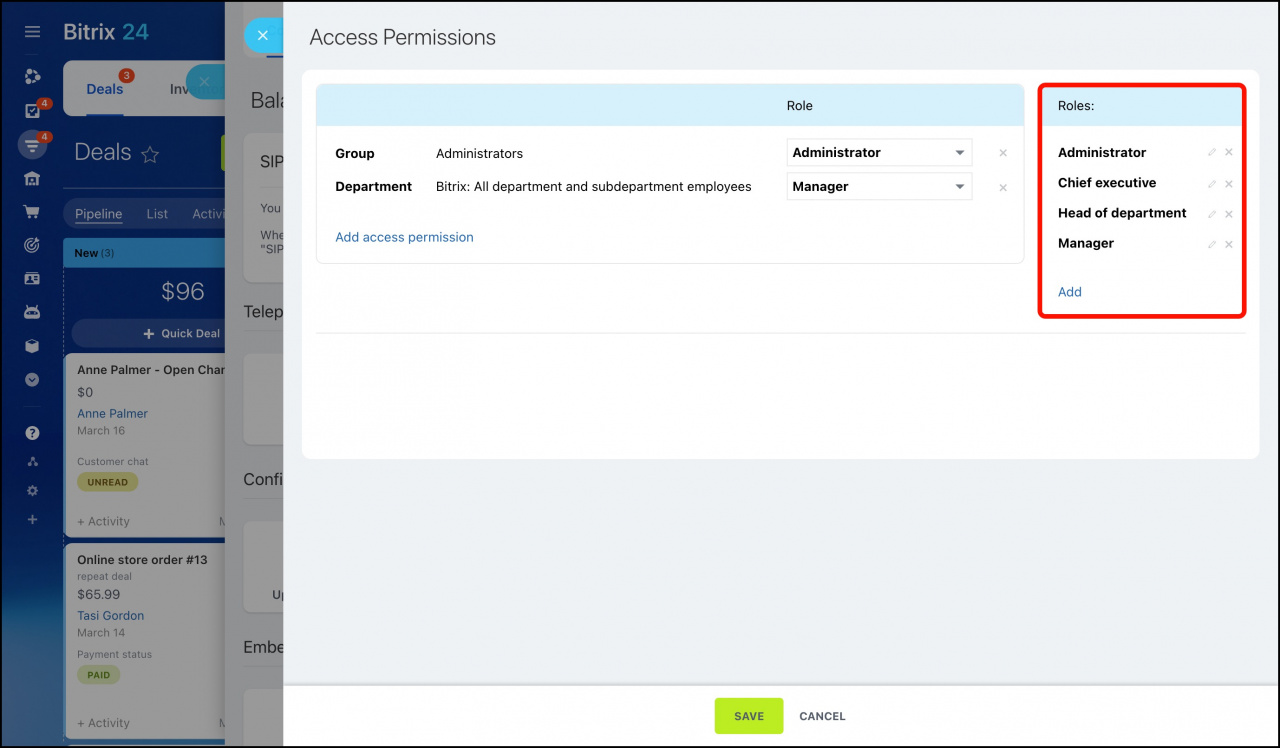 Administrator role provides a maximum access level, Manager role - a minimum. Each role can be connected with individual users, a particular department and its employees, account administrators, etc.
The roles help you manage access to view the call statistics, listen to the call recordings, make outbound calls, configure use or telephony settings, and manage numbers.
You can set access permissions for these actions as any, personal, personal and department, or set access as denied.
For example, if you set Manager role with access to call recording as personal and department, it means that all managers of a department will have access to their own call recordings and the same department's managers' call recordings.
Configure outbound call directions available to employees – any, only CRM clients, CRM clients & company employees, or set access as denied. You can also specify which CRM clients can be accessed in the CRM access permissions section.
Bitrix24 administrators always have full access to Telephony sections regardless of the assigned role.
By default, administrators have Administrator role and other users have Manager role. But you can set your own access permissions for different user categories by clicking Add access permission.
Add roles
You can add new roles by clicking Add button.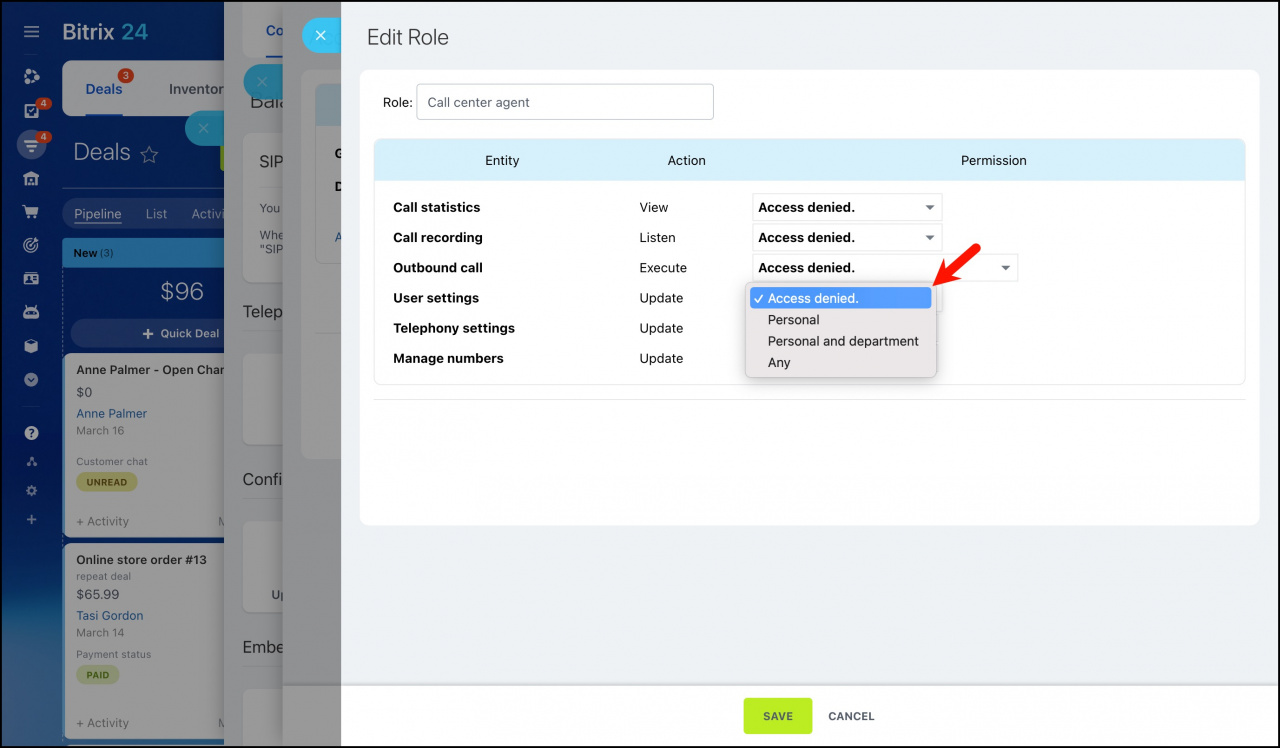 Enter the name of the role and specify access permissions that this role will give to users.
Also, you can edit existing roles. Access permissions settings are the same as when creating a new role.
Telephony access permissions features:
If a user has several roles, the system compares the access permissions of these roles and the user will get the highest access permission level specified in these roles' settings.

Access to call recordings takes into account access permissions to Telephony - Recorded Calls folder on Company drive.

For administrators and developers: when using Bitrix24 Telephony REST API, access permissions given in this section are also important. That is, an external application will work for some users, but will not work for others.