Sometimes your clients call you to get some basic information, for example, your company's working hours or fees for services. Such information can be provided in the pre-recorded voice message. If they need more information or need to talk to your employee, they can follow the instructions and dial the number.
What is Bitrix24 IVR?
Interactive voice response (IVR) is a technology that allows Bitrix24 Telephony and CRM to interact with your clients through dialpad input. The system plays the recorded message, your client dials a certain number and the system automatically routes the call.
Bitrix24 IVR Options
Forward the client's call to the particular operator or the queue group
Forward calls to an external number (outside Bitrix24 telephony system)
Clients can enter an extension number to reach a particular person
Leave a voice message
Replay voice menu record
Quit voice menu (the call will be processed the way it's specified in the phone number settings)
Go to another level of the voice menu
First, the system process an extension number dialed while listening to the welcome music. Then the IVR menu is launched and your client can dial a number to use one of its options.
The direct call to a certain employee is not supported. You can specify the employee's extension number after listening to the welcome music or when using the corresponding option in the IVR menu.
Configure IVR
Important! Make sure to configure Bitrix24 Telephony first.
Click CRM > Add-ons > Telephony > Connection > Configure telephony > Voice menu.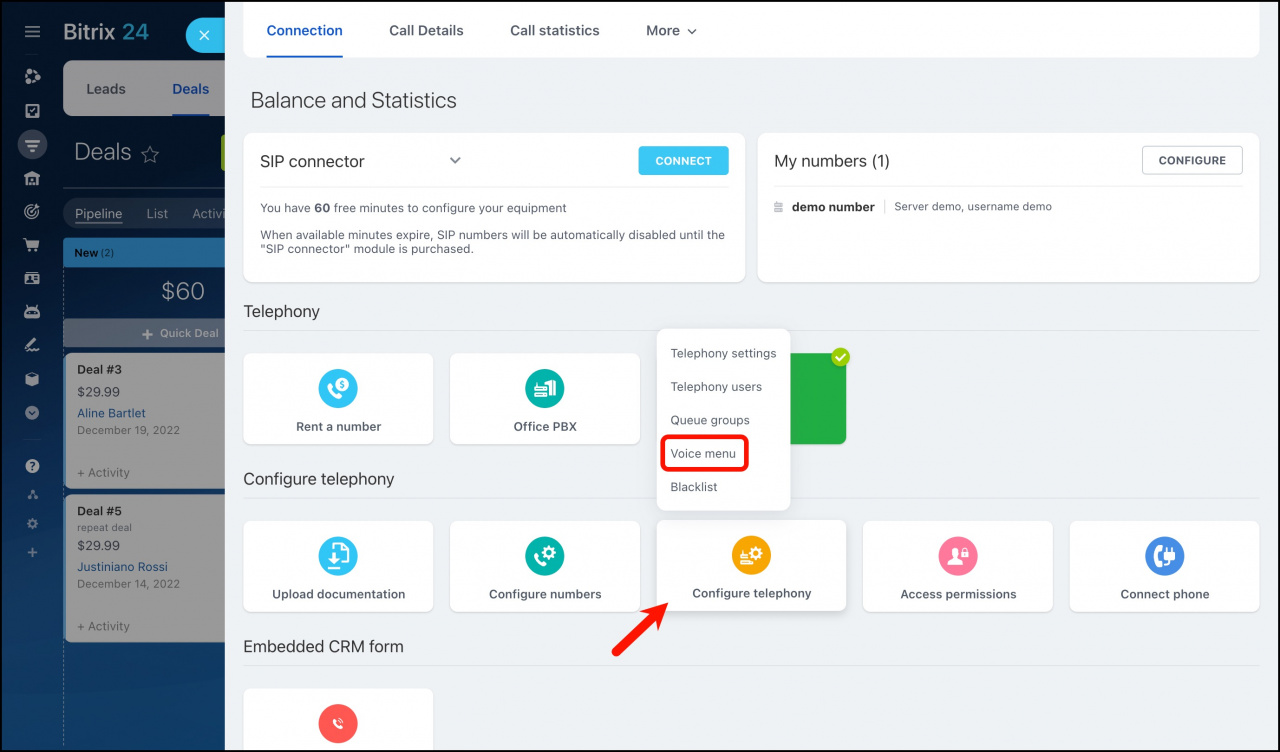 Here you can edit or create a new voice menu.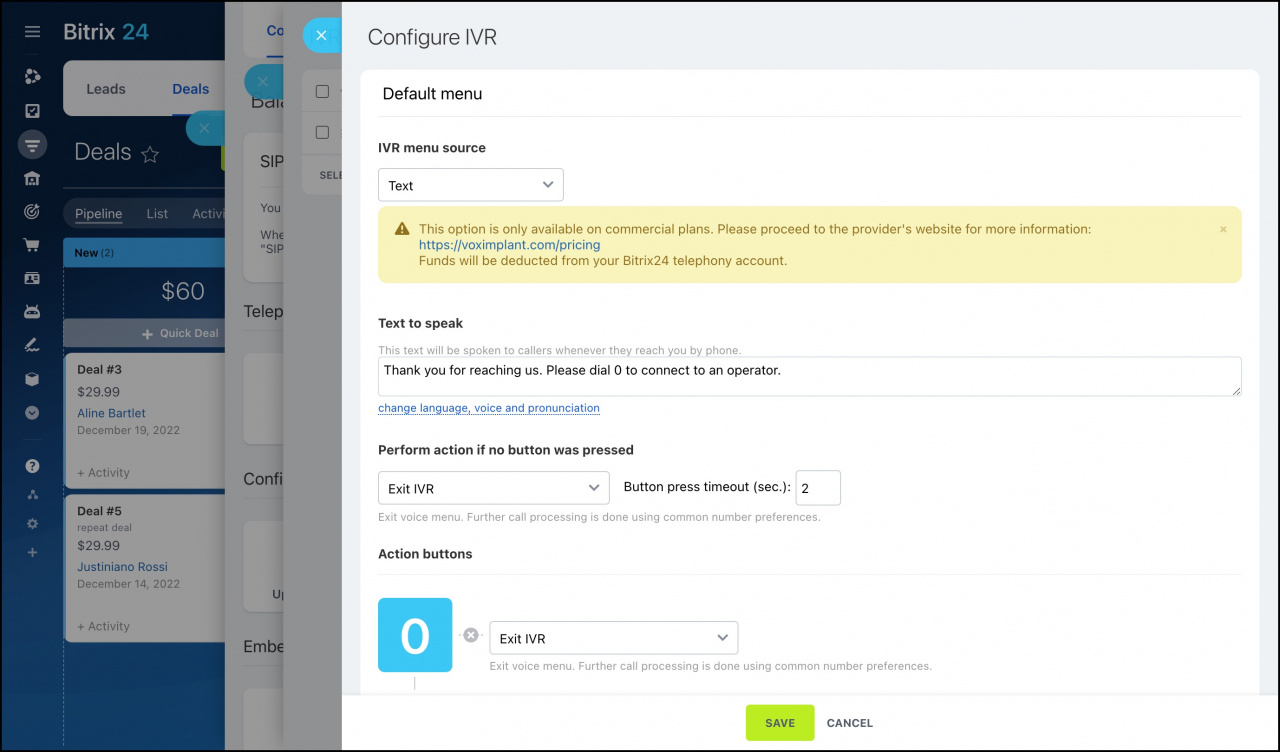 You can choose between two IVR menu sources: audio file or text.
If you choose to add text, it will be spoken to callers by a robot whenever they reach you by phone (language, voice, speed & volume can be configured).
The text-to-speech option is paid. You can read more about the plans on the operator's website in the Text to Speech section. Charges are charged from the telephony account in your Bitrix24.
If you decide to upload an audio file, it should be in mp3 format, mono, and its size shouldn't exceed 2 Mb.
Perform action if no button was pressed option gives two choices: exit IVR or repeat voice menu recording.
Phone buttons should be configured as Actions Buttons.
Also, you can create IVR nested menus by adding a new action button > + > New menu.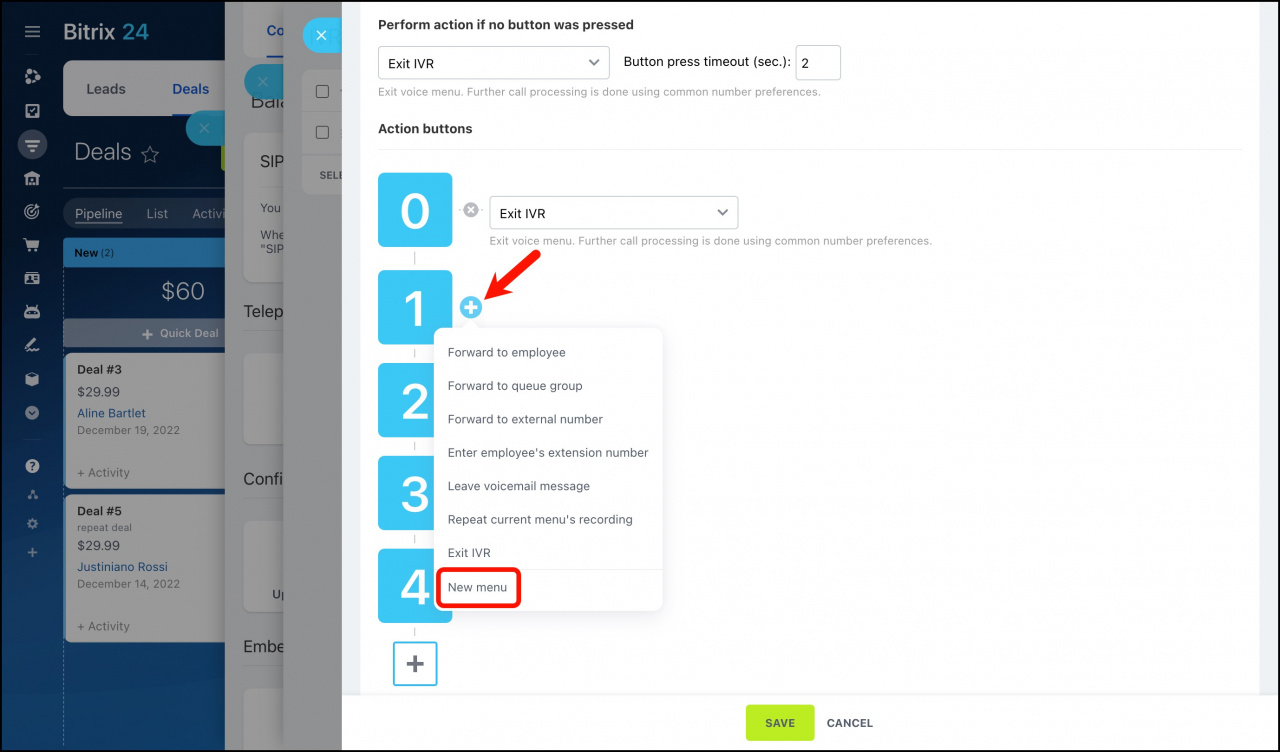 Queue groups
If you have set calls forwarding for your IVR actions buttons, then you can configure queue groups by clicking Queue group settings.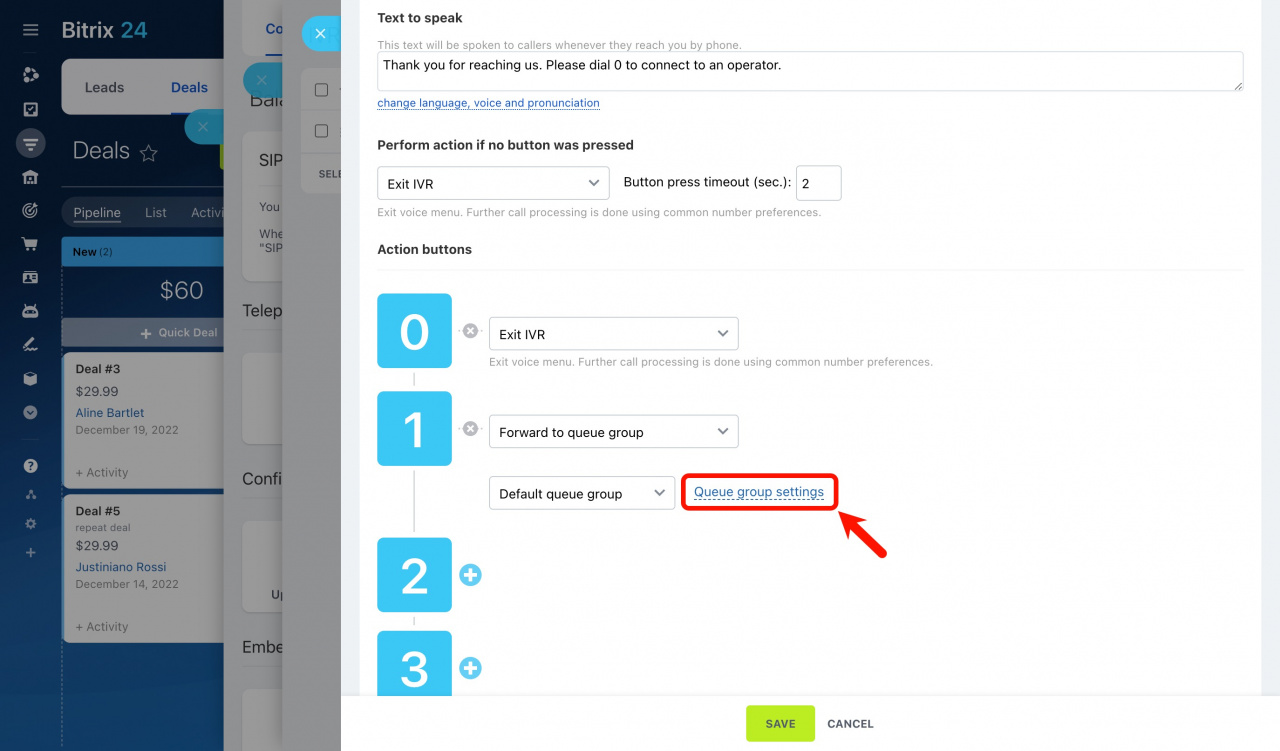 Or click CRM > Add-ons > Telephony > Connection > Configure telephony > Queue groups.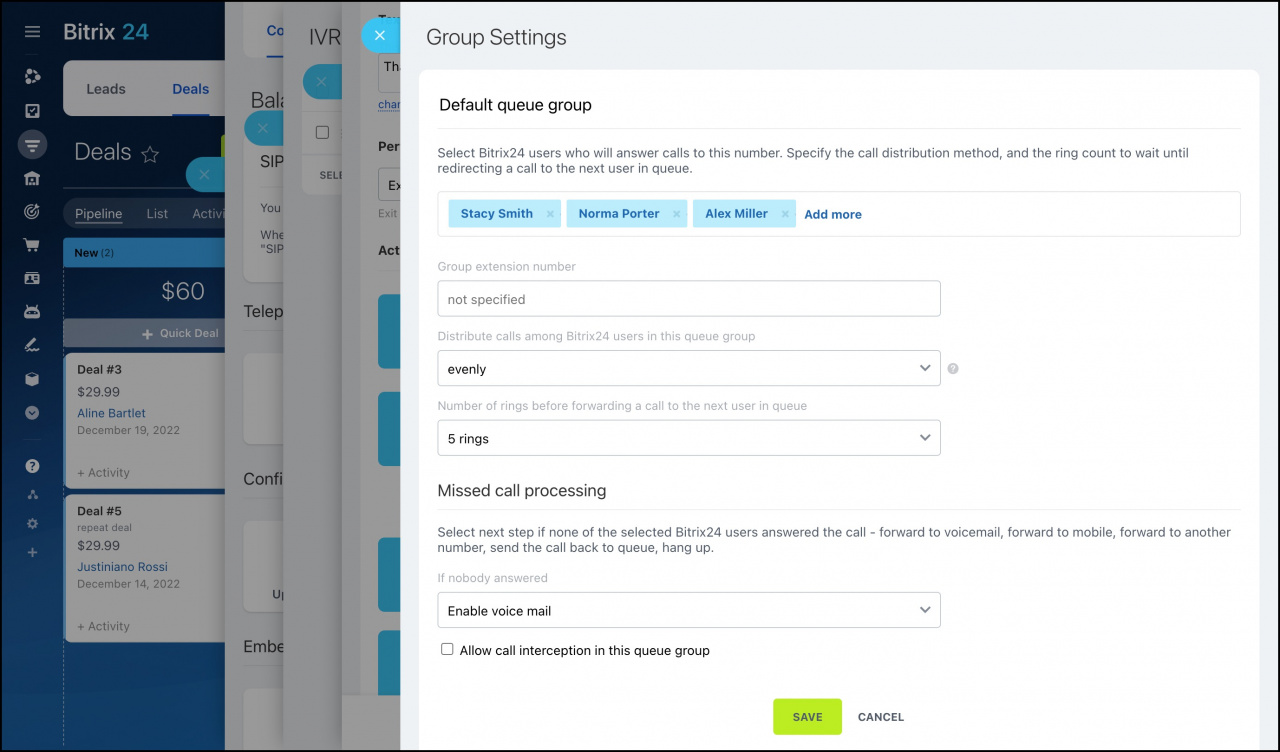 Here you can select Bitrix24 users who will answer inbound calls to this number. Specify the call distribution method and the number of rings before forwarding a call to the next user in the queue.
The number of levels you can create in the IVR menu depends on your plan. You can find all the information about Bitrix24 plans on the
pricing page
.