Telephony Connection Types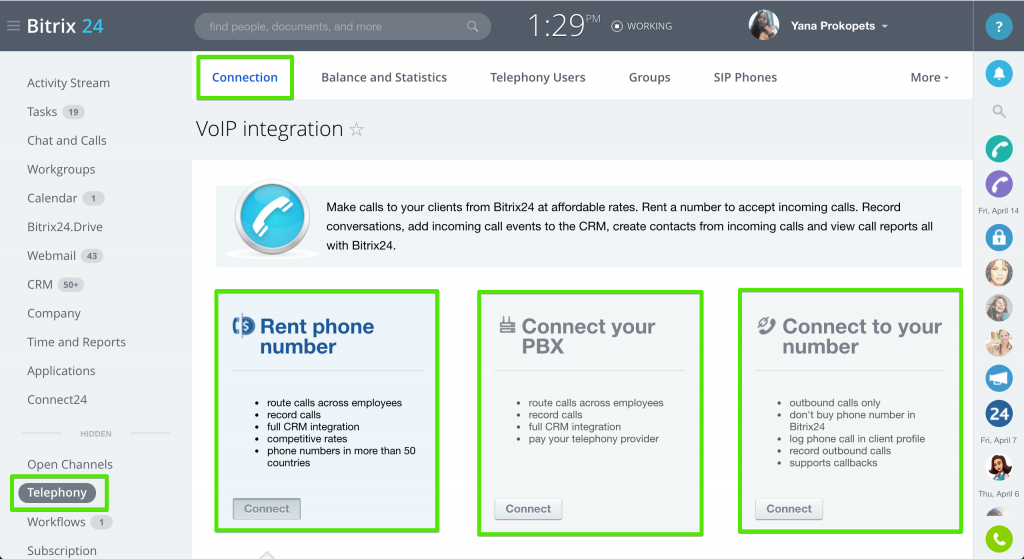 You can find available telephony options under
Telephony > Connection:
Connect to your number - for outgoing calls so that contacts you call will see your correct number and be able to call you back.

Please note that 'Connect to your number' option only displays your phone number in caller ID for outbound calls made through Bitrix24 after activation. It does not connect your number and Bitrix24 CRM for inbound calls.

Rent a number - lease a number from our operator and bind it to your account. To do so, just select the country, region, and one of the numbers types offered. If a number is no longer needed, it can be eliminated.

Make sure to upload additional documents (e.g. proof of address, passport or ID copy) for some regions or countries. Please follow the instructions (image size should not exceed 2000px). Submitted documents are usually processed by Fastcom LLC (our VoIP provider) within 2 working days.

Connect SIP PBX - connect your office or cloud PBX.
Bitrix24 Telephony is developed using WebRTC API. Bitrix24 also uses MP3 files for storing phone calls.
Phone Number Settings
Depending on the connection type, you can come across various phone number settings in Bitrix24. Here is a short overview:
Call Routing

Extension number processing - when active, Bitrix24 will forward an inbound call to a specific employee (if the number of such an employee had been dialed) & inform about the actions in case the employee does not pick up the call.
Use IVR - a technology that allows Bitrix24 Telephony and CRM to interact with your clients through dialpad input.
Check for number in all the CRM records – inbound calls will be checked in the CRM base and the call will be forwarded to the manager assigned to this number. In addition, actions can be set up if the employee does not pick up the call.
Forward inbound call to queue – here, the queue of employees is indicated along with a number of dial tones after which the call is redirected to the employee who is the next in the queue. Click on queue settings to unroll additional options.
Save recordings of all calls - all conversations will be available in the calls statistics and saved to Company Drive >Telephony - Call Recordings.

Assess quality of service - offer a customer a chance to assess the quality of service after they have ended conversation.
Forward To Number
By default, a call will be forwarded inside a current connection. You can select another available connection to forward a call.
Time Settings:
Here you can configure working days, time, holidays & time zone. Outside of office hours the calls can be processed one of the following ways:
Forward call to specified number – add number here.
End call – this call is not chargeable, it is important for toll free numbers that pay for inbound calls. Selecting this value permits to protect the owner of toll free numbers against fraud.
Enable voice mail
Greetings & Recordings:
Select greeting language
Greeting music or recording - load your own music or recordings for calls or use standard tunes provided by the system. Please note that you can switch on\off the very first Greeting tune only, other tunes cannot be deactivated. In case you switch off the first tune, the client will be redirected to the account employee & will be further listening to the Wait Music tune instead of rings.