We recommend that you activate your free 15-day demo mode and take advantage of all the features that Bitrix24 offers. The free 15-day demo provides access to the tools available in the Professional subscription plan. Any user can activate 15-day trial.
15 days are counted continuously when you activate trial. If you deactivate trial in 10 days or if you buy a subscription, you will not be able to use the demo mode after leaving. You cannot use the other 5 days later after your subscription ends.
When your 15-day trial is finished, you can select the most suitable plan for you.
After the end of the trial period, your Bitrix24 account will return to the previous plan. All data will be saved, but access to it will be limited if this tool is not available on your current plan. When you switch to a suitable plan, access to this data will return.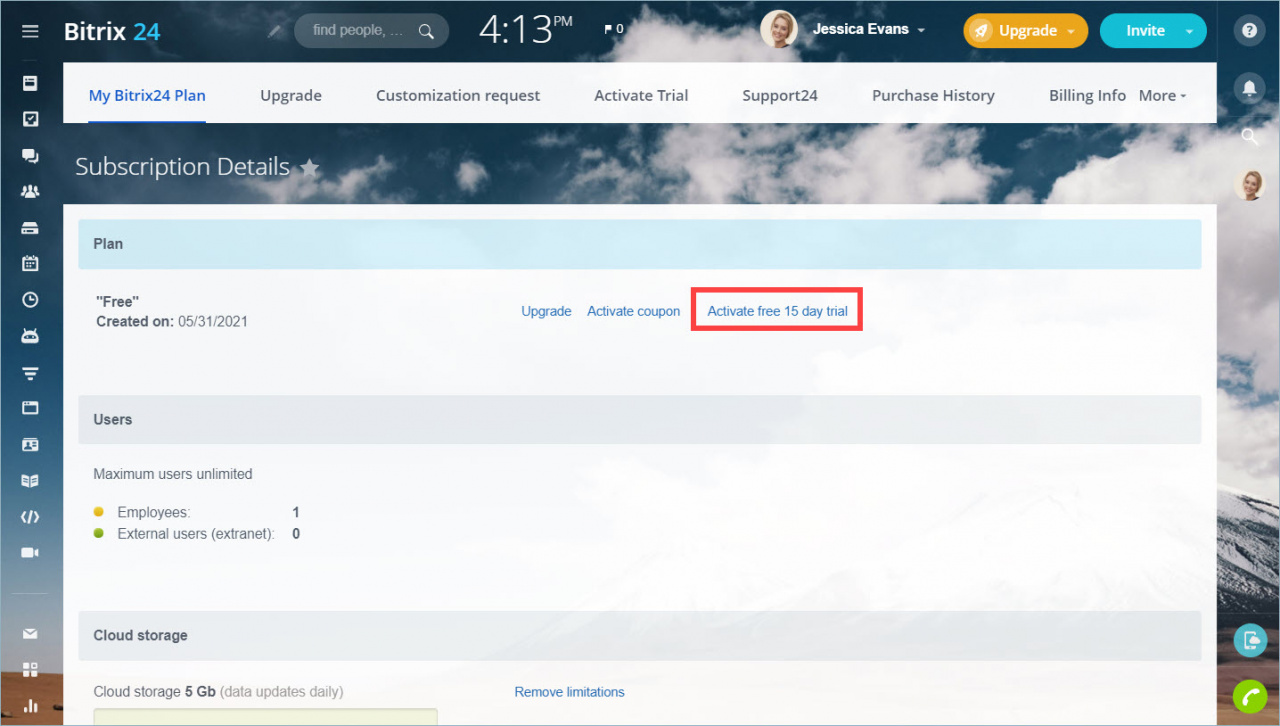 Access to technical support specialists requires commercial plan subscription and is not available to 15-days trial users.
Limitations of the 15-day trial
The Bitrix24 Cloud Storage is limited to 50Gb.
In the online store, you can add only 100 products.
You cannot rename the domain.
You cannot restore backup copies.
You cannot renew email domain for free.
An administrator cannot deactivate OTP.
You cannot transfer email domain.
You cannot upload your own logo.
You cannot change the domain zone.
Your account can be deleted after 30-40 days of inactivity.
You cannot remove "Powered by Bitrix24" on all items.
Email campaigns in CRM Marketing are not available.
You cannot switch to your domain.
IP restrictions are not available.
In Bitrix24 Sites, custom HTML and JS are not available.
Only 1 site is available for publication.
Only 1 email box connection per person is available.
Access to the email box for other users - 3 email boxes.
The number of CRM elements for the work of analytics is limited to 1000 pieces.
Number of online stores - 1 ( no more than 100 products in the catalog).
You cannot use public links to the Bitrix24.Drive files.
You can install any applications from the Market. However, you'll lose access to these applications when the free trial is over. (From January 1, 2021)
Online documents are not available
Can I use a free trial if I have a commercial plan?
Yes, you can use a free trial on a commercial plan.
If you have a commercial plan and activate a free trial, your plan will not be suspended for free trial period. It means that you will be spending days of two plans at the same time.
If you are using a free trial and decide to buy a commercial plan, you should know that all remaining days on the free trial will be burned off.
All free trial limits will come into effect at your commercial plan.
If the active commercial subscription works together with the free trial, then after the automatic charge for the commercial subscription the free trial will be cancelled.
Space in the cloud
If you added more than 5GB during the trial period, the data will remain after returning to the free plan, but you will not be able to add new files and any records (messages to the Feed, tasks and other) in Bitrix24, i.e. all information can only be viewed. You can switch to a suitable commercial plan or delete unnecessary files from the drive to free up space.
Bitrix24 Telephony
Bitrix24 Telephony is available on any commercial Bitrix24 plan.
Free plan users can test number rent, connection of your PBX via SIP-connector and Bitrix24 integration using free Market REST applications in in the trial period.
When the trial period ends, you will not be able to make and receive calls, even if you have money left on your balance. All rented numbers will remain with you. When you switch to a commercial plan, you will continueto work. You will keep your phone balance. If you rented a number, you will be charged a monthly rent.
Market applications
Market applications are available on any commercial plan.
In the trial period of free plan, you can install up to 10 free applications from the Market catalog. When the trial period is over, you will need to remove Market applications, otherwise your Bitrix24 will be blocked by the Plan Compatibility Check.
Automation rules and triggers
All automation rules and triggers configured during the trial period will remain after returning to the free plan, but will no longer work. The functionality can be used again with the same settings after switching to the commercial plan.
What happens when my trial expires?
After the trial is over your account will be automatically downgraded to Free plan. All data will be kept (for any advanced tool you used during the trial), however, the access to it may be limited. The access to that data will automatically be restored when you upgrade to an appropriate Bitrix24 plan.
When the free trial period is over, your Bitrix24 account will have only one administrator again (the last logged in administrator).
How can I understand how many days left until the end of the free trial?
My free trial expired, but I didn't have enough time to try all the tools. Can I extend the free trial period?
Unfortunately, we don't extend the free trial period. If you want to, you can create a new Bitrix24 account and activate the free trial there. Or you can invite a Bitrix24 Partner to your account. Btrix24 Partners can activate the free 30-day trial, and you'll have any plan you want for 30 days.