The cloud space is limited and depends on the plan. When the free space runs out, you will not be able to upload new files to Bitrix24. To see how much free space is left, go to the Subscription section - My Bitrix24 plan - Cloud storage.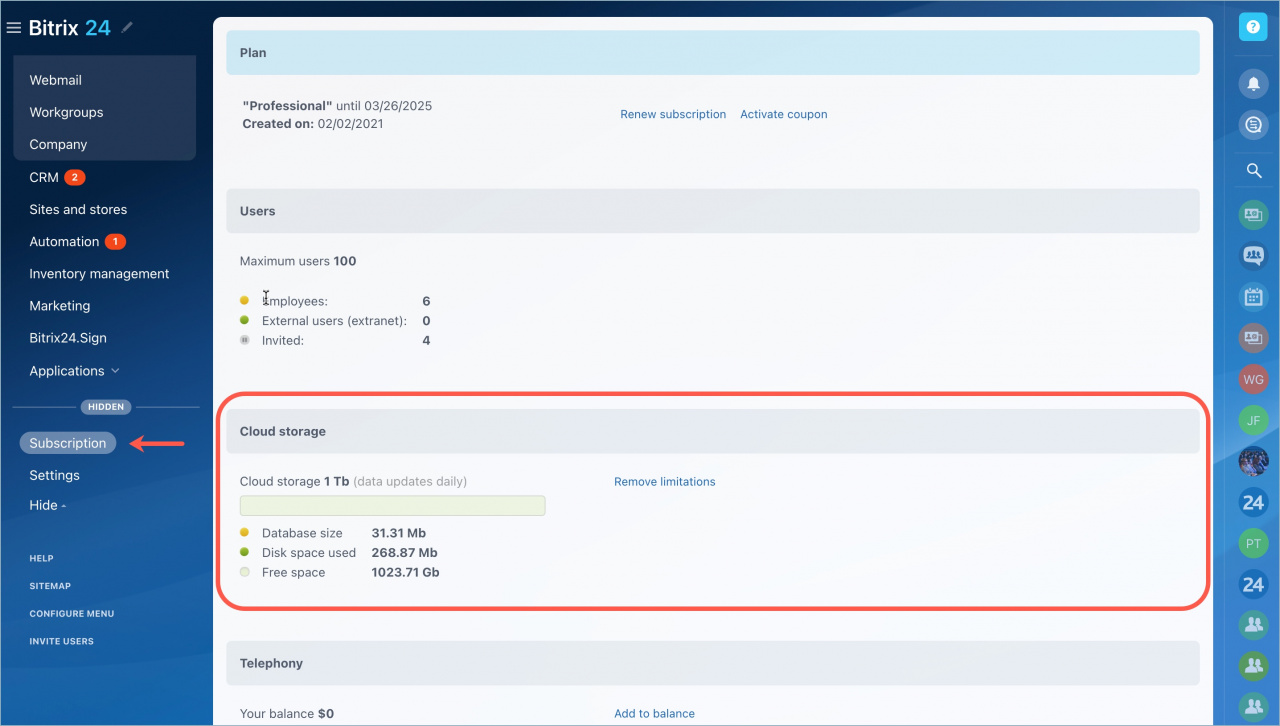 Database size
Every Bitrix24 user works with data, makes changes on the account, creates new elements. This information is stored in the database. The largest sections that most often take up space in the database are the following:
СRM - leads, contacts, companies, deals, invoices and smart processes. This also includes history, activities, and the recycle bin.


Automation - automation rules, workflows and logs.


Mail - incoming and outgoing emails, СRM marketing email campaigns.


Chats - messages from internal chats and open channel dialogs.
The easiest thing to do is to clean up your CRM space. To do this, delete old items, irrelevant activities, change history and empty the recycle bin.
If the space in CRM the database size has decreased insignificantly after cleaning up, write to Bitrix24 Support. Specialists will check what data is taking up space in the database.
How to activate Bitrix24 Support
Drive space used
This section includes all files that employees work with:
Drive files - all attachments that employees upload to My Drive, Company Disk, Project/Workgroup Drive.


Files from tasks, events, and feed - these files are located in My Drive section - Uploaded Files. Each employee has his/her own folder on his/her personal drive, where only the files uploaded by the user are stored.


Files from chats - attachments are located in the Drive section - Drive Cleanup - Expert mode - Instant Messenger storage.


Recordings of phone conversations with customers - the files are stored in the Company Drive section - Telephony - Recorded Calls folder.


Files from emails - if mailboxes are linked to the CRM, attachments from emails are saved to drive: Company Drive - Files from emails.


Files from custom fields - attachments in fields with the File type in CRM, lists and workflows.


Delete files on drive to free up space - remove old files and items from the recycle bin.
In brief
You can find the information about cloud storage space in the Subscription section - My Bitrix24 plan - Cloud storage.


The Database size section includes the information about the size of all account data except files.


The Drive space used section has the information about the total size of all files on the account.


To free up space in the cloud, delete unnecessary items and files.