Records Management or Lists help you manage record-based data. Suppliers' directories, product catalogs, expense items, etc.
Capabilities:
construction of data fields for any type of object, including files;
access settings for each list;
filters, custom fields, group editing,
lists export,
unlimited number of lists;
business processes integration;
Check if this tool is available on your plan. You can find all the information about Bitrix24 plans on the
pricing page
.
Create New List
Please note that only the workgroup owner can create new lists inside own workgroups.
Open workgroup
Lists
section. If you don't see one, please make sure you have enabled Lists inside
Actions > Edit Group > Features.
Click
Create New:
New List creation form consists of 3 main sections. Inside Settings section add list name, description, image and pay attention to the Enable Business Processes option - enable it in case you plan to run workflows based on this list:
Go to Titles section to edit elements & sections (actions with them) names:
Set access permissions to the List under Access section:
You can create several Lists under same workgroup. They will be available under Lists section of your workgroup:
Customize List Fields
To add new fields to the List go to
Actions > Customize Fields:
At Fields Configuration page click Add Field:
Inside New Field form add field name & type. There are several list types available including list, file, date & time, link to employees, etc. Multiple option allows to assign more than one field value. Required specifies that this field must exist (be filled) when adding a list item.
In case you have chosen list field type - a new tab will automatically appear. Please add list values there.
You can find all List fields at Fields Configuration page:
Add Elements & Sections To The List
List View Configuration & Filters
To configure list columns click on the Settings icon located in the left top corner of the list.
Apply To All Users
option allows to save list view preferences for all account users: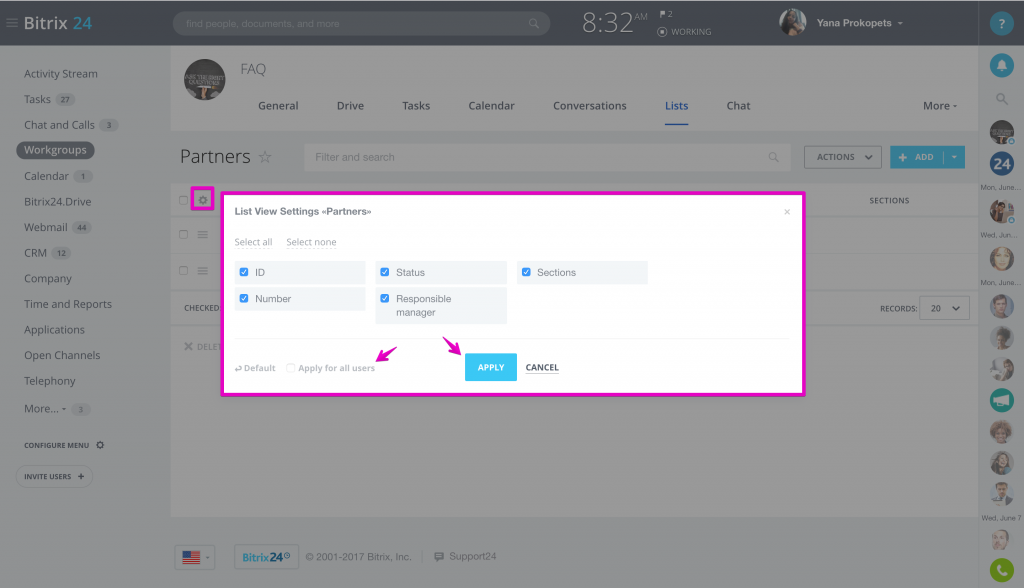 Filter & Search are located above the list. Use Add Field tab to add list filed to the filter. You can configure & save own filters or apply filter preferences to all account users as well.