You can connect Bitrix24 Live Chat to Open Channels and get clients enquires from your website.
Clients messages are processed in Bitrix24 Messenger by employees added to the open channel's Responsible person queue.
There are three ways to use Live Chat for communicating with your clients:
Public page (no website needed)
Add website widget to your own website
Add website widget to your Bitrix24.Sites website
Public page
Click Contact center > Live chat.

Select an Open Channel you want to connect Live Chat to or create a new one. Then click Connect.

Specify the public page address. The public page link that you send to a client is presented below the address field.
Public page settings
Click the Change button to configure the settings.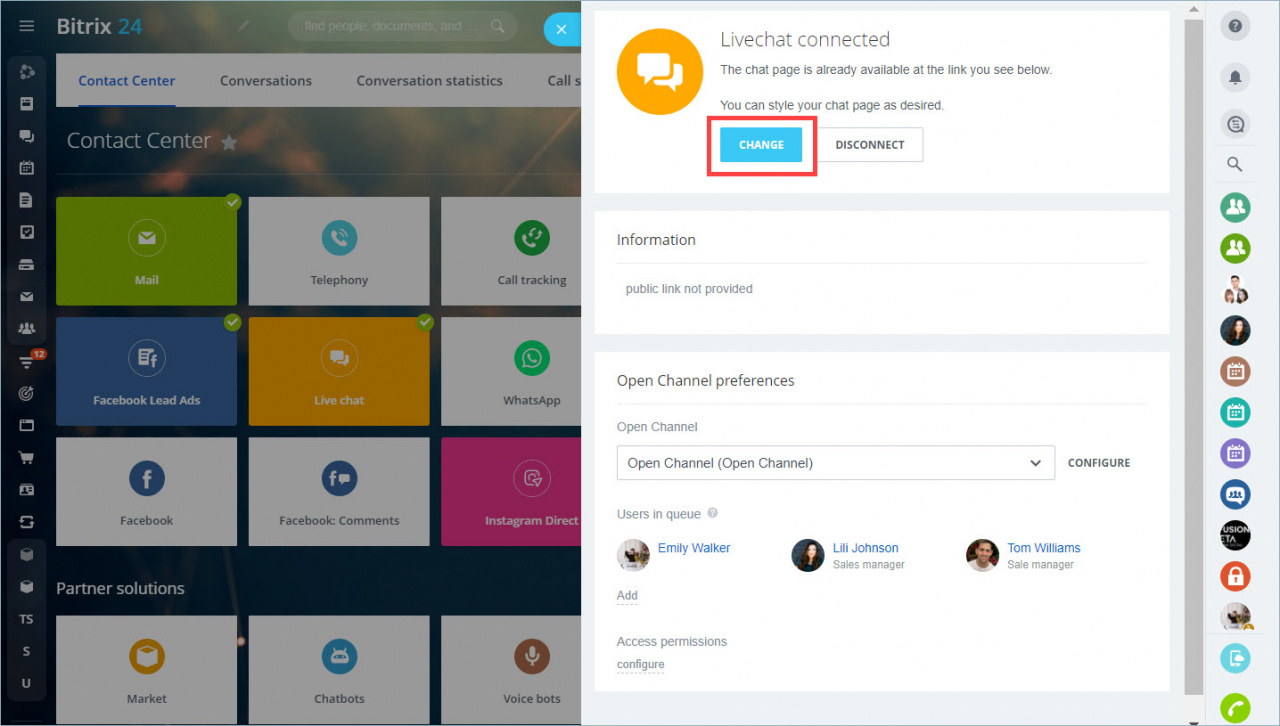 Open the Public page settings section.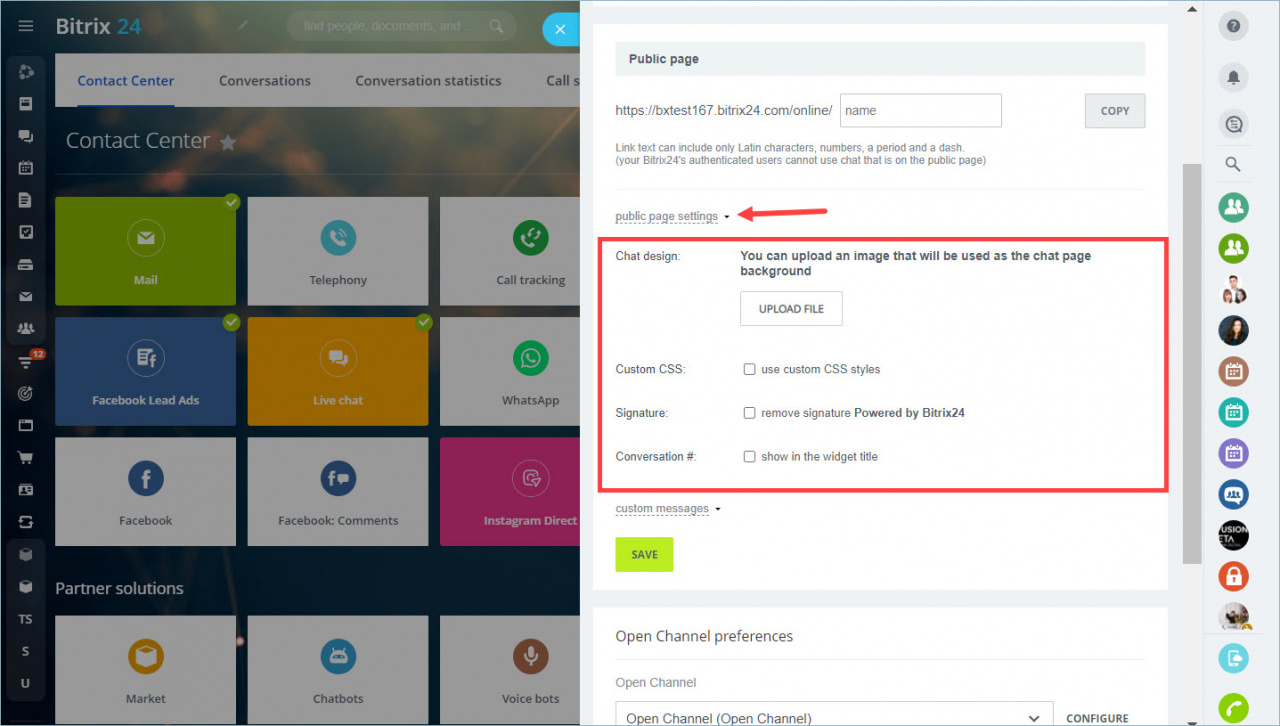 Chat design - you can upload an image that will be used as the chat page background.
Custom CSS - you can use your own CSS styles either by using a link or by entering a custom CSS in a special field.
Signature - you can remove the Bitrix24 signature on commercial plans.
Conversation # - the number of the dialog can be displayed both to the client and to the operator in the chat. This option allows the client to refer to the dialog number when solving any issues.
Here's what your client sees when follows the public page link.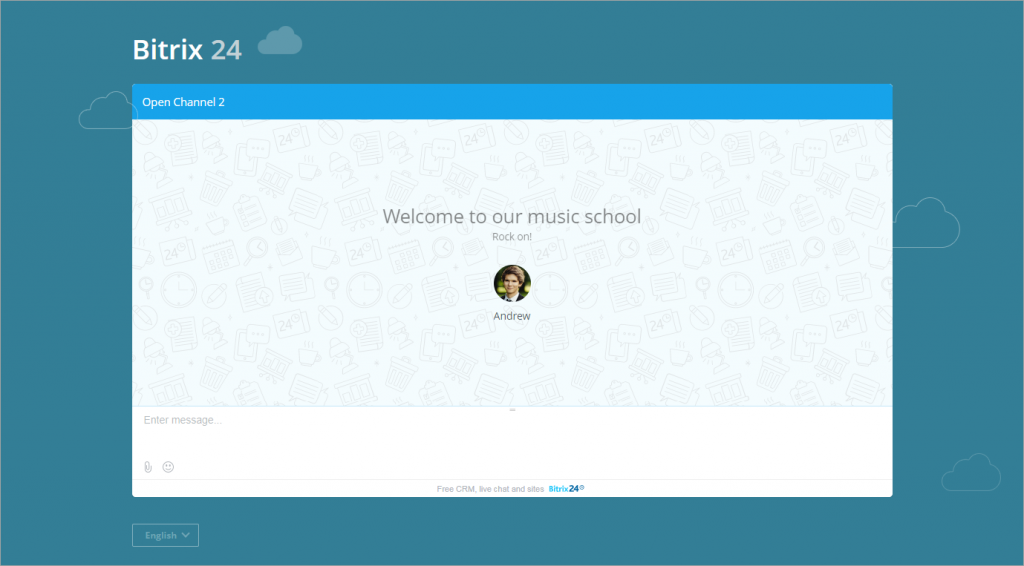 Add website widget to your own website
To add website widget to your own website, you need to copy a widget code and paste it to your website code before </body> tag.
You can find website widget code in the Contact center section - Website Widget. Then select a website widget or create a new one.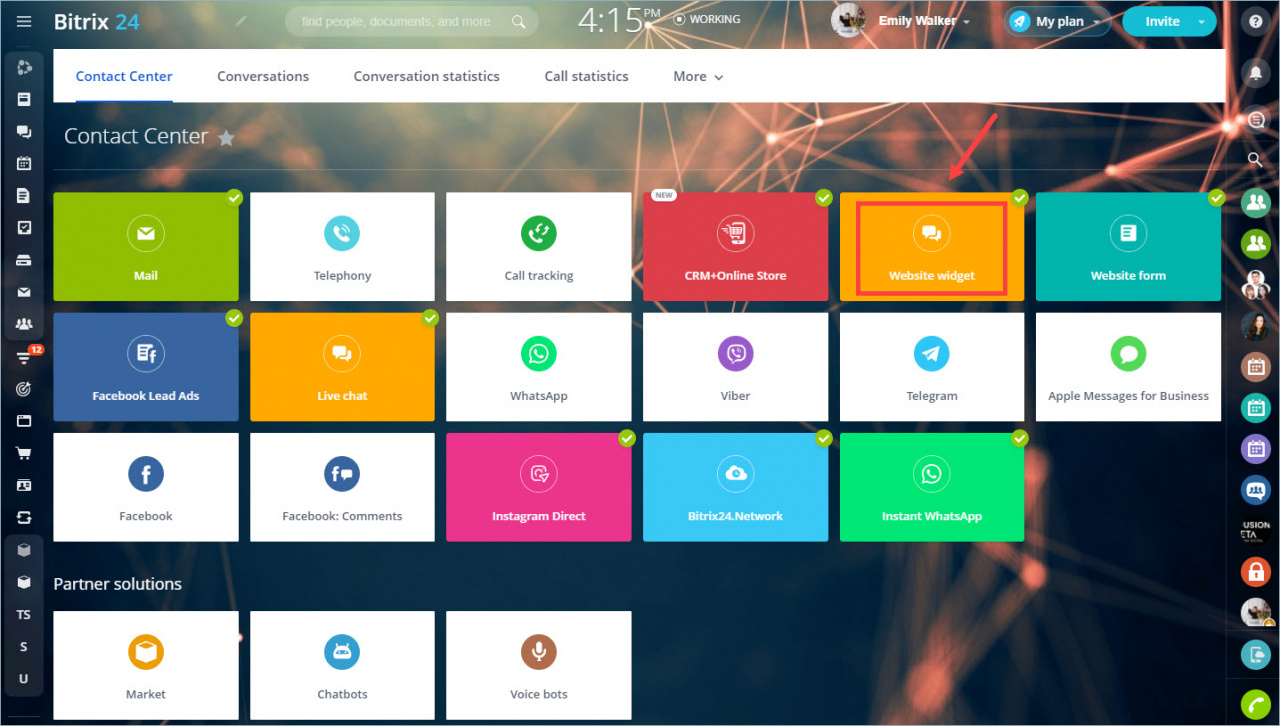 Then select an open channel with connected Live Chat or create a new one and copy the code.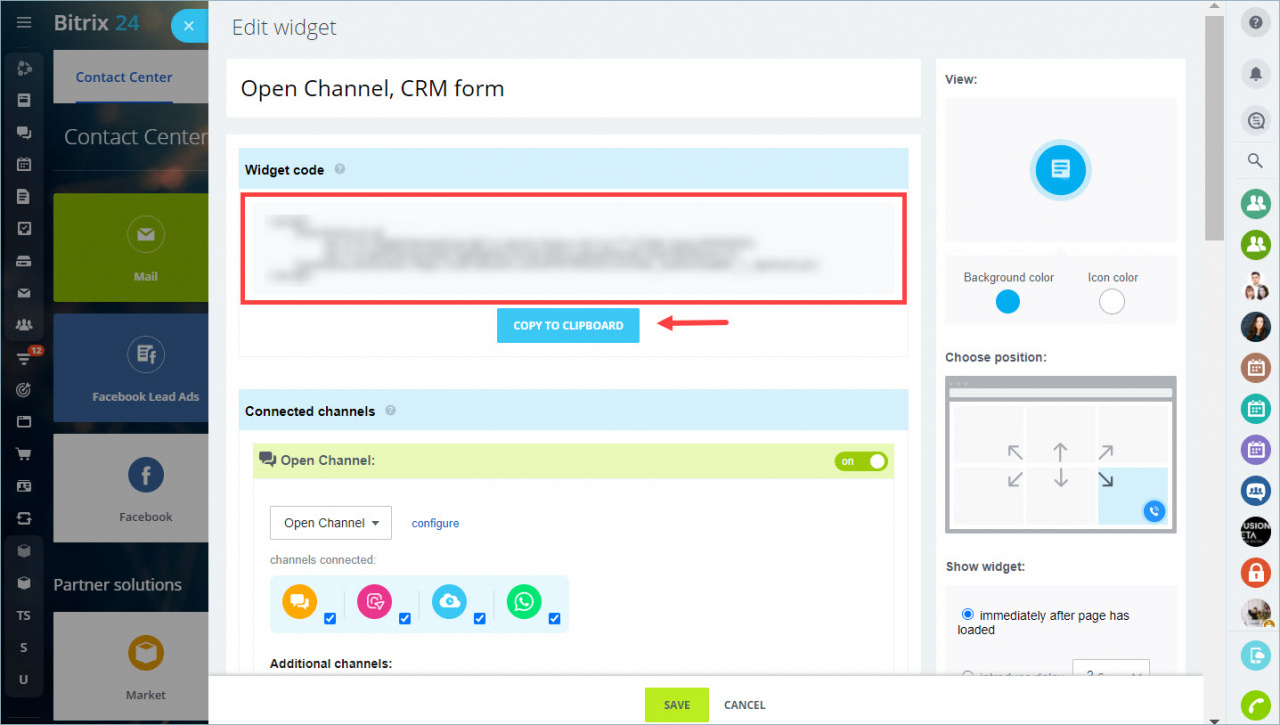 Don't forget to click Save.
Also, you can configure widget view, position on the page, welcome message, etc.
Add website widget to your Bitrix24.Sites website
By default, when you create a new website in Bitrix24.Sites, it already has a website widget. But in case you haven't created a website widget yet or you want to use the other website widget, you can configure a new website widget in no time.
Open Sites > click Actions >Configure site.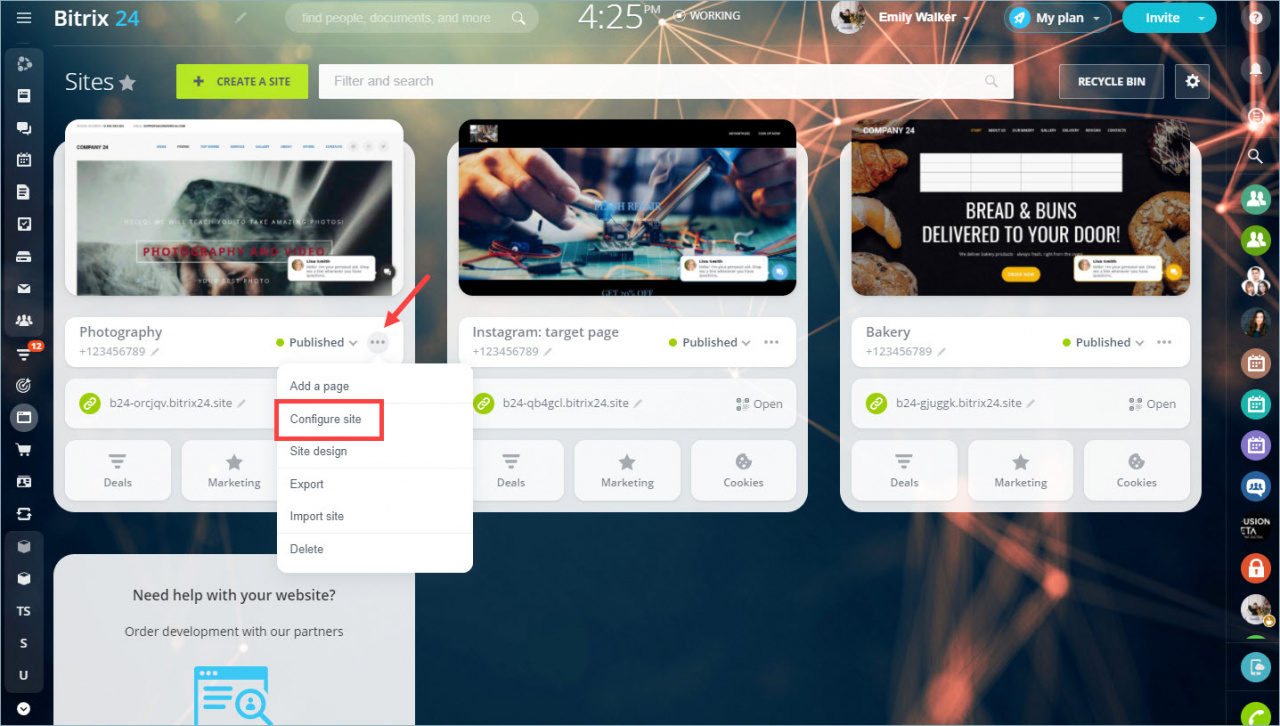 Choose the widget you want to add in Website widget section or click Edit settings to create a new one.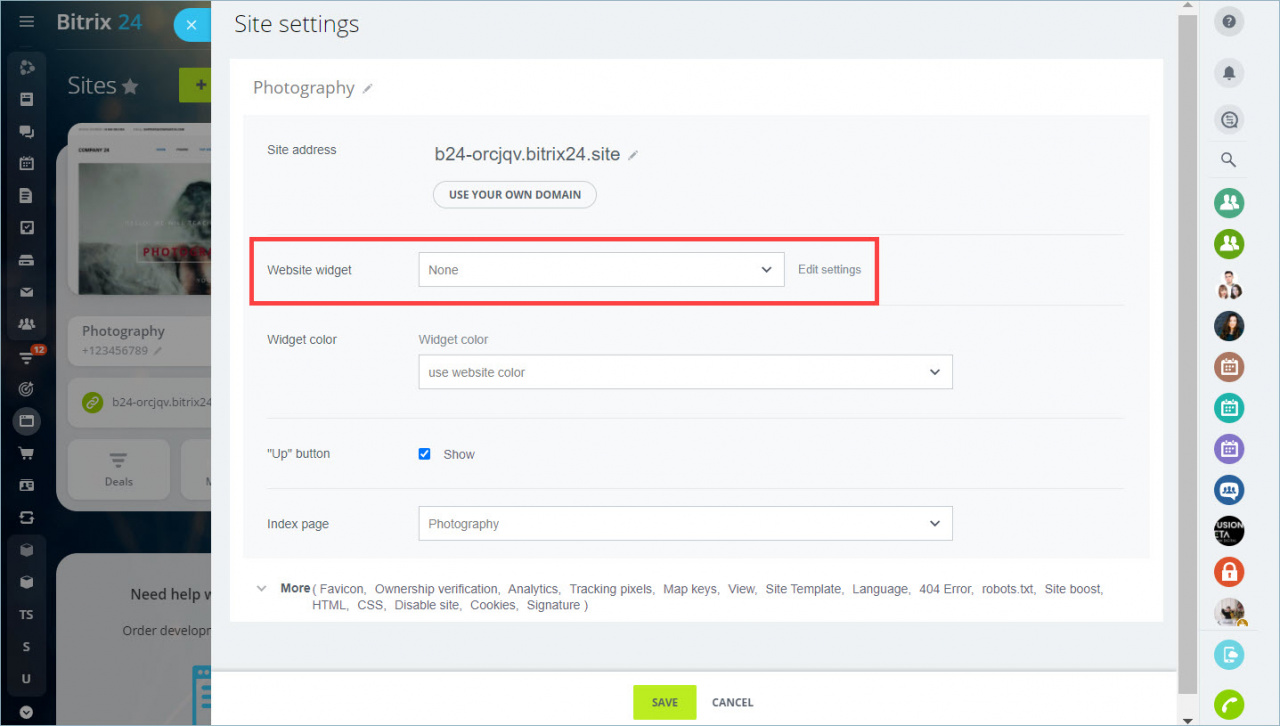 Please note that you cannot test Live Chat connection in a browser where you have already logged in to Bitrix24, as authorized users of your Bitrix24 cannot use a chat on a public page. Log out or use a new incognito window.