Bitrix24 team is constantly working on the desktop app improvements and new options. Make sure you have the latest version of the app installed.
Every time you launch the desktop app, it automatically checks if there are new versions available. If there is a new version, the app will suggest you install this update.
If for some reason you have declined this suggestion, you can always check for updates and install them later.
How to check for updates
Windows:
Right-click the desktop app icon at the bottom right corner > click the cogwheel button > About.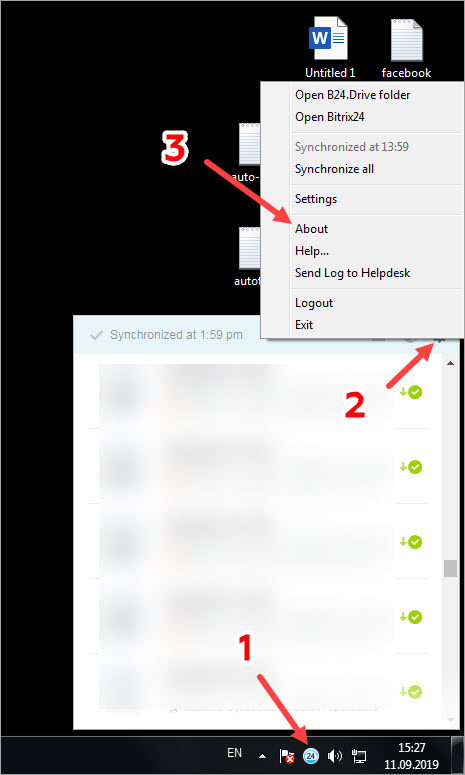 Click the Check for Updates button and install them if needed.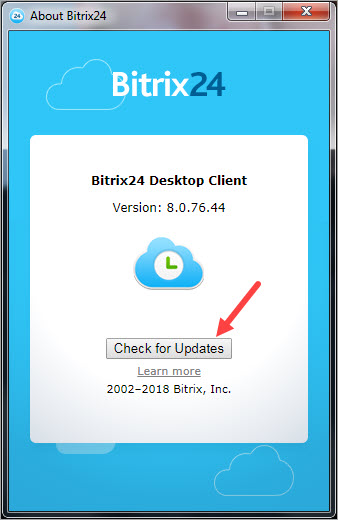 macOS:
Open the Bitrix24 menu bar in the top panel on your Mac > click Check for updates.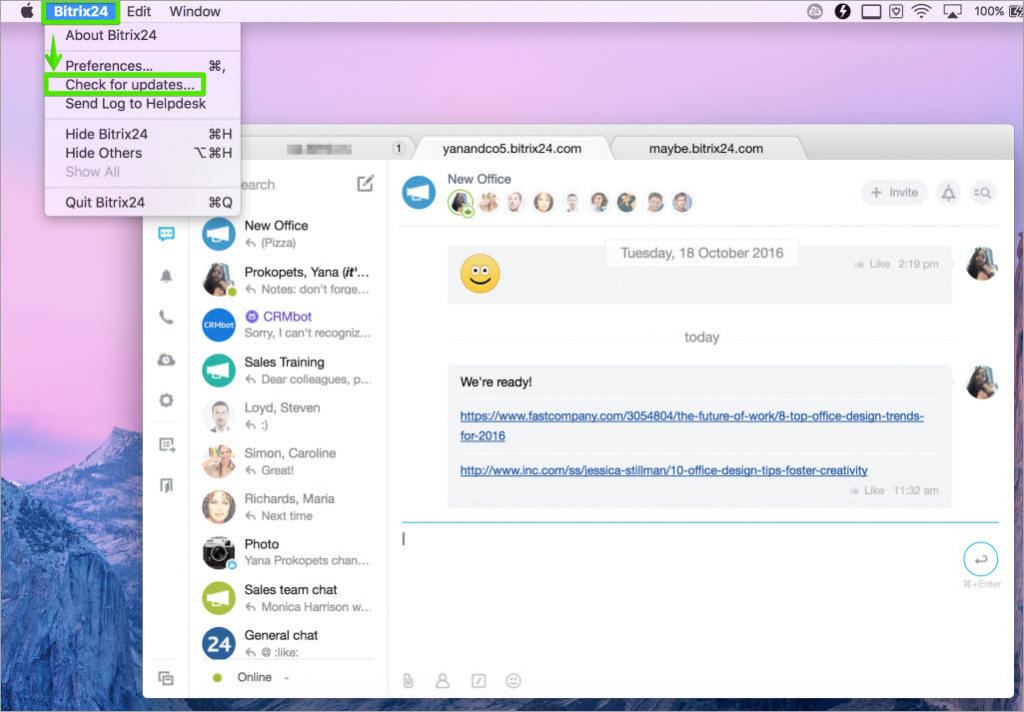 If there are any updates available, install them on your Mac.
You can also check for updates by clicking the About Bitrix24 button.
Where can I download Bitrix24 Desktop app?
You can download Bitrix24 Desktop app here - Bitrix24 Desktop and Mobile apps. Bitrix24 Desktop app for MacOS requires MacOS 10.10 or higher, Bitrix24 Desktop app for Windows requires Windows 7 SP1 or higher.
Important:
If you download and install .MSI distributive for Windows, please install the Dokan driver to be able to use the elastic drive.

If you get the error message saying that you don't have the KB3033929 update installed when installing the Dokan driver, please download this Windows 7 security update: Windows 7 SP1 x86 or Windows 7 SP1 x64.

If the EXE distribution is used to install the Bitrix24 application, the Dokan driver does not need to be installed, it comes with the EXE distribution of the application.
The exFAT file system is not supported.
DEB and RPM packages for different Linux distributions are also available to download.
Bitrix24 Desktop app for Windows XP is no longer supported.
System requirements for the Bitrix24 Desktop app: macOS 10.10 and higher or Windows 7 SP1 and higher.