Our company works on various projects. How can I bind all tasks, messages and files to a particular project so that I could select the project and access all the information bound to this project?
If you need to start working on a project, you can create a workgroup, invite to this workgroup only those employees who will work on the project, set them tasks, upload the necessary files. Workgroups help to store all data, tasks, files, and messages in one place. You can always track which tasks have been completed in a particular workgroup.
Bitrix24 includes workgroups and projects. The main difference is that project has project dates. Tasks in projects cannot be set outside the project dates.
Therefore, if you need to specify exact project dates, select the Project type of a workgroup.
What is the difference between a workgroup and a project?
A project is a special case of a workgroup. The main difference between a project and a workgroup is the connection between project deadlines and task deadlines. Project task deadlines cannot be set or changed outside of project deadlines.
Who can create workgroup/projects?
Any employee can create a new workgroup or project. The number of workgroups/projects is unlimited for all Bitrix24 plans.
How to view the list of all workgroups/projects created in my Bitrix24 account?
Only an administrator can view all workgroups/projects created in the Bitrix24 account. To do that,
enable the admin mode
.
How to archive a workgroup/project?
Open the workgroup and click the About workgroup button.
Select the Edit Workgroup option in the Actions menu.
Go to the Extended parameters section.
Select the Archived workgroup type in the list.
Archived workgroups and projects do not appear in the general list. You can find them using the filter.
You can return an archived workgroup/project to work - uncheck the Archived group type.
How to delete a workgroup?
Open the workgroup and click the About workgroup button. In the Actions menu, select the Delete Workgroup option.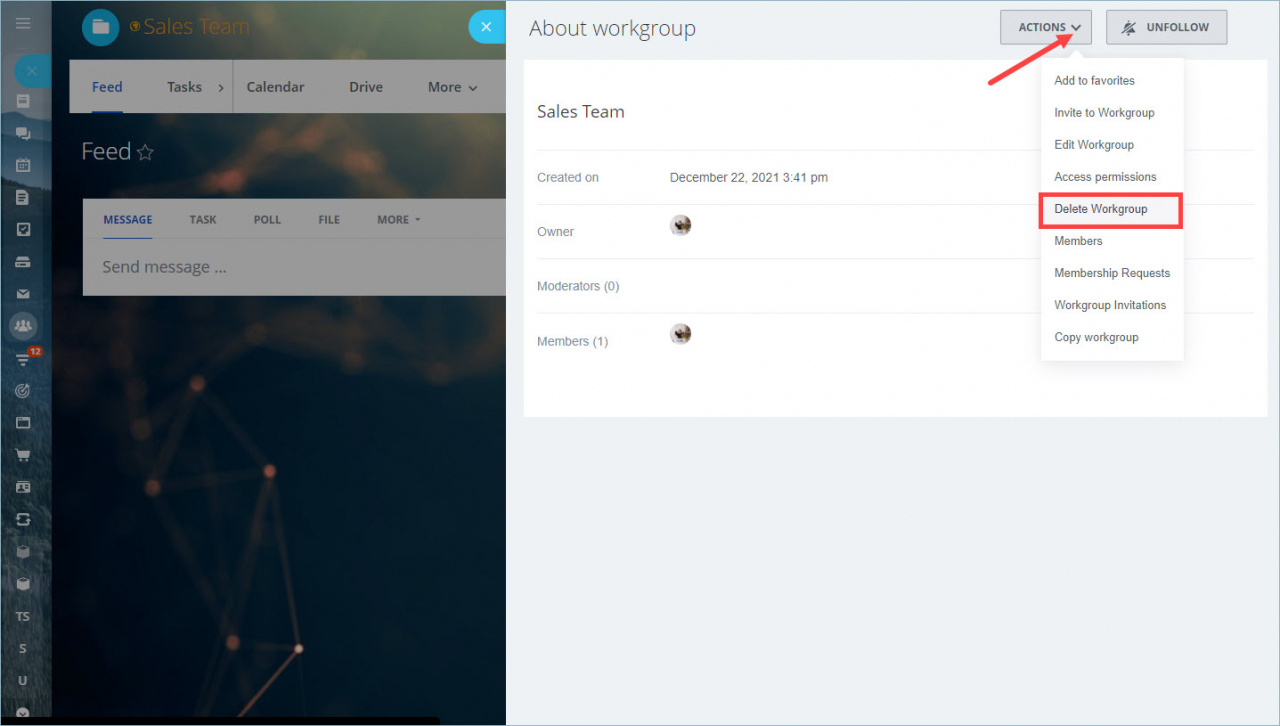 Confirm the action, and the workgroup will be deleted.
Workgroups/projects with bound tasks cannot be deleted. You need to unbind these tasks from the workgroup/project or delete these tasks first, and only then delete the workgroup/project.
How to delete a workgroup if I'm not the owner of this workgroup?
Only administrators can do that. Go to your profile and activate the admin mode.
Then go back to the workgroup and click Actions > Delete Workgroup.
You can also change the owner of the workgroup by clicking Actions > Edit Workgroup.
How to delete a workgroup member?
Is it possible to forbid workgroup/project members to see each other?
You can use the
Extranet
function (external users). Extranet users are available at all plans and are included in the total number of users (some of the Bitrix24 plans has a limited total number of users. Learn more -
Cloud pricing
). Extranet users will only have access to a workgroup/project you've invited them to and will see only those employees that are members of this workgroup/project.
If you have several extranet workgroups, members of one workgroup won't see the members of the other.
How to invite an Extranet user to a workgroup/project?
You can invite Extranet users when creating a new workgroup/project, or you can invite Extranet users to an existing workgroup/project by opening this workgroup and clicking Actions > Invite to Workgroup.