Video conferencing is now available in Bitrix24! Communicate, discuss projects and orders with your clients easily. Just create a conference and share a link with those who want to attend this conference.
When using the video conferencing feature, you can call users that are not registered in your Bitrix24.
48 participants can join the conference on the commercial plan, 12 participants - on the free plan. Learn more on the pricing page.
How to create a video conference
To create a new conference, go to the Video Conferencing section > Create a conference.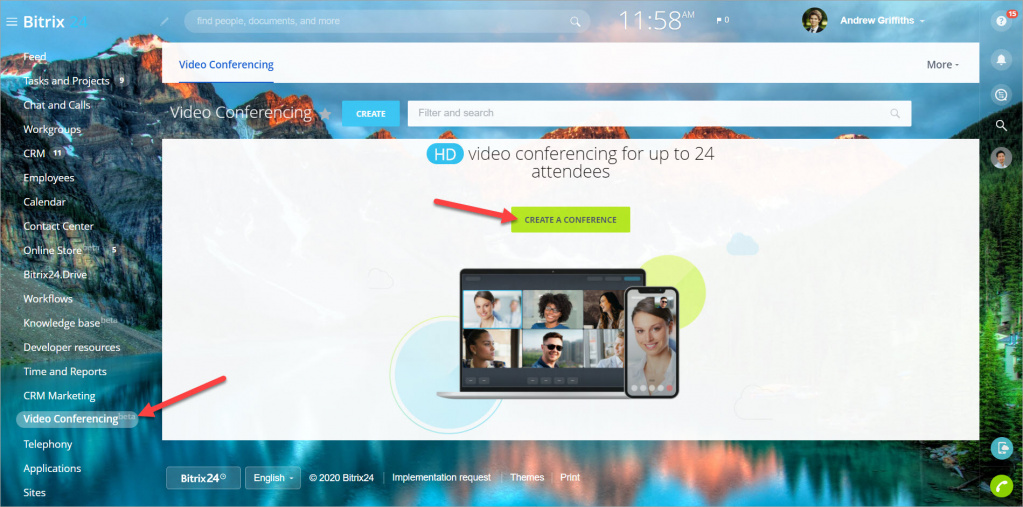 Specify the conference name.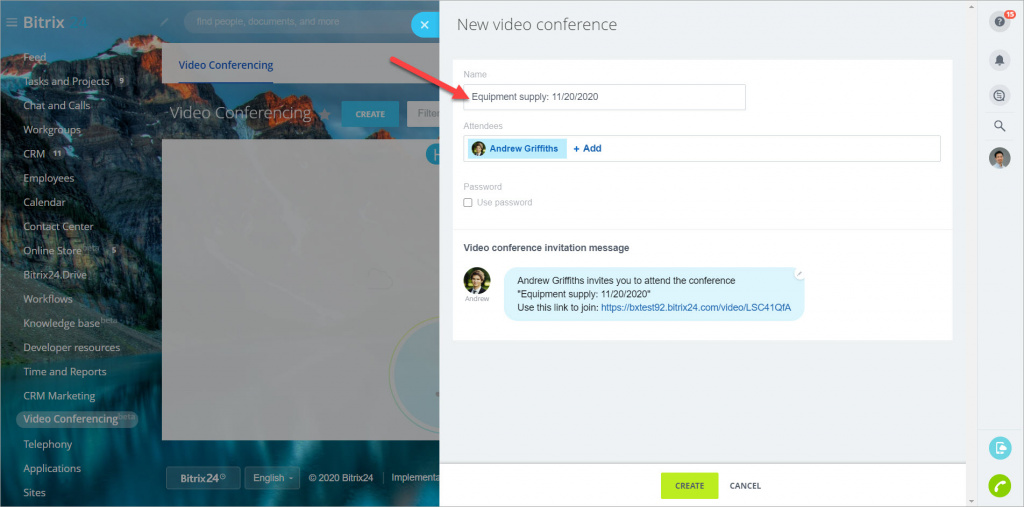 Invite your colleagues.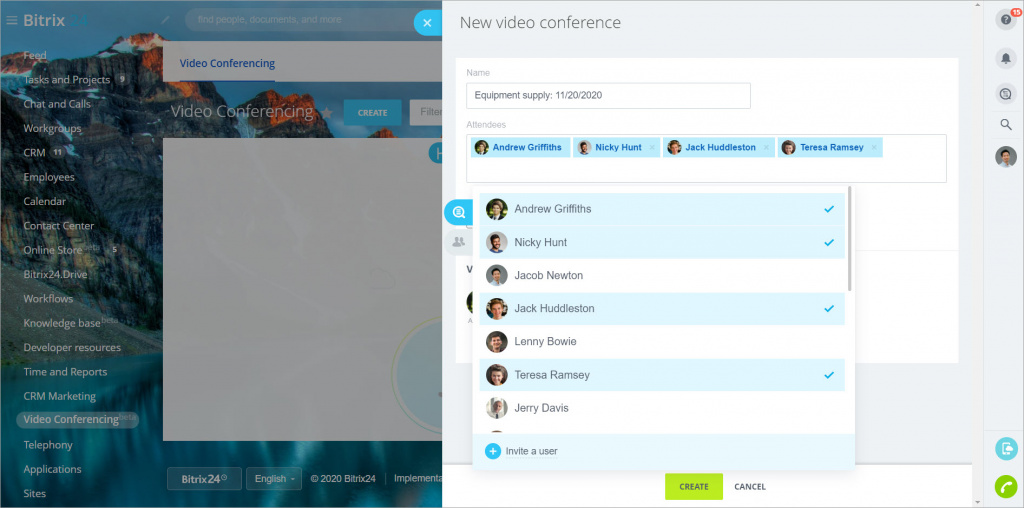 Protect your video conference with a password to prevent unauthorized people from connecting to it.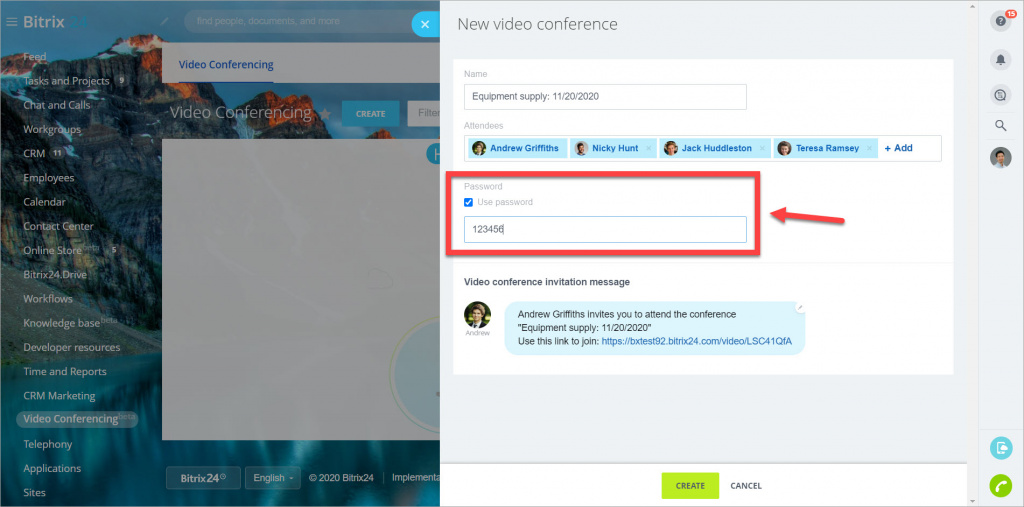 Edit the video conference invitation message by clicking the pencil button.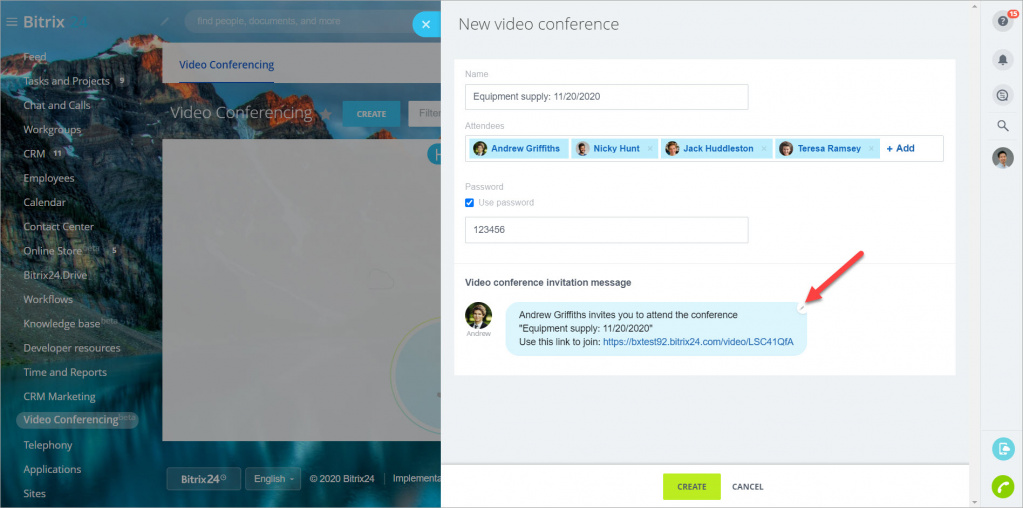 Edit the message text and click Save. Copy and send it to external attendees.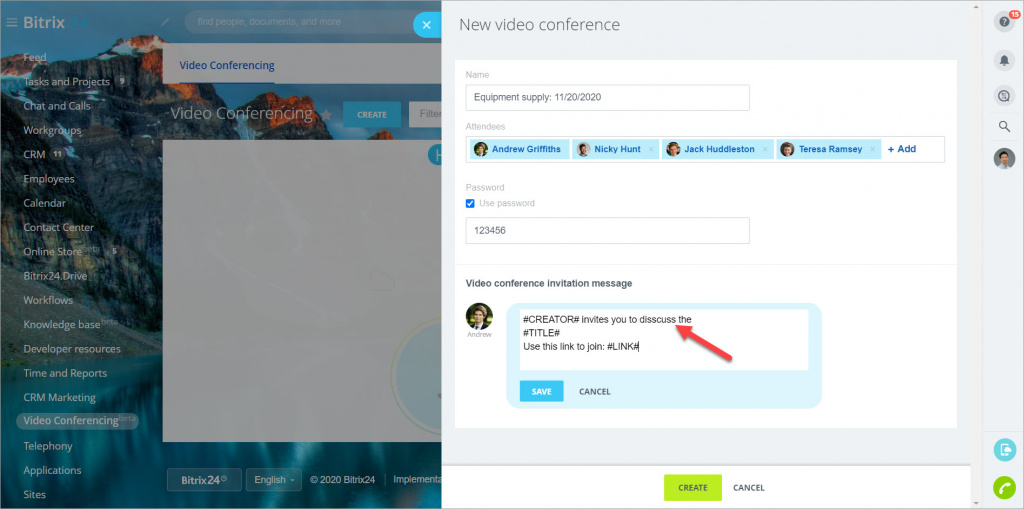 The fields: #CREATOR#, #TITLE #, #LINK# are filled in automatically.
After configuring all the settings, click the Create button.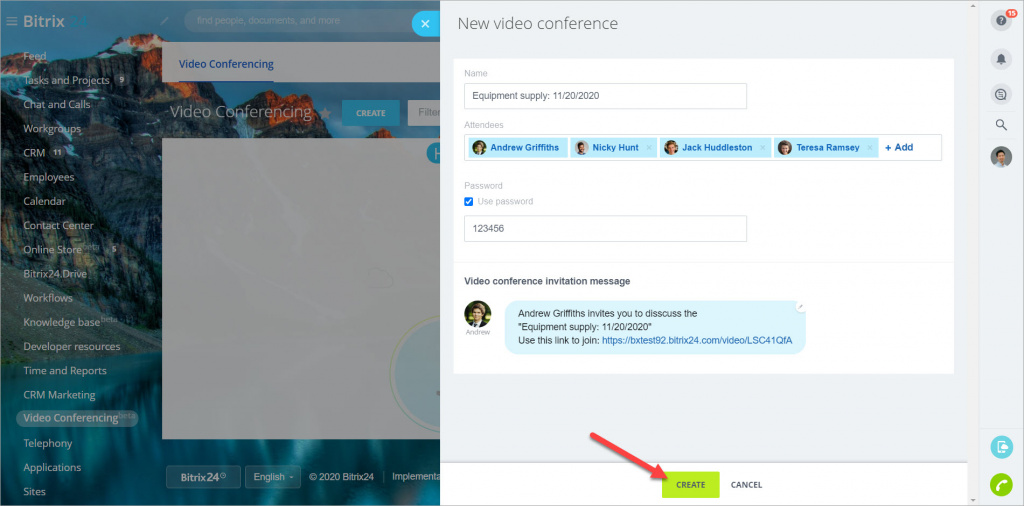 The created conference is added to the list of available video conferences. Click the corresponding button to start a video conference.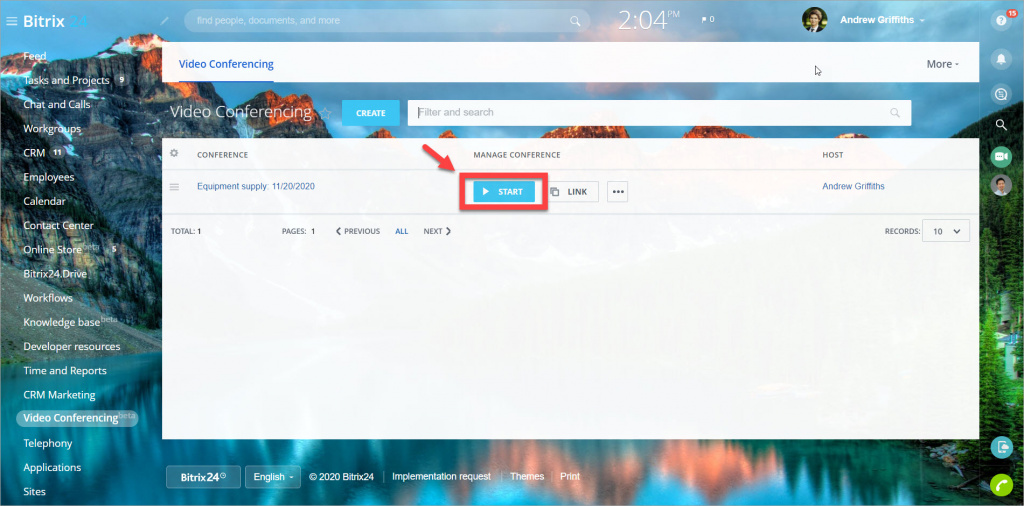 You can also start the video conference from the chat. To the right of the search bar, click the
Create New Chat
> select
HD Video conference
.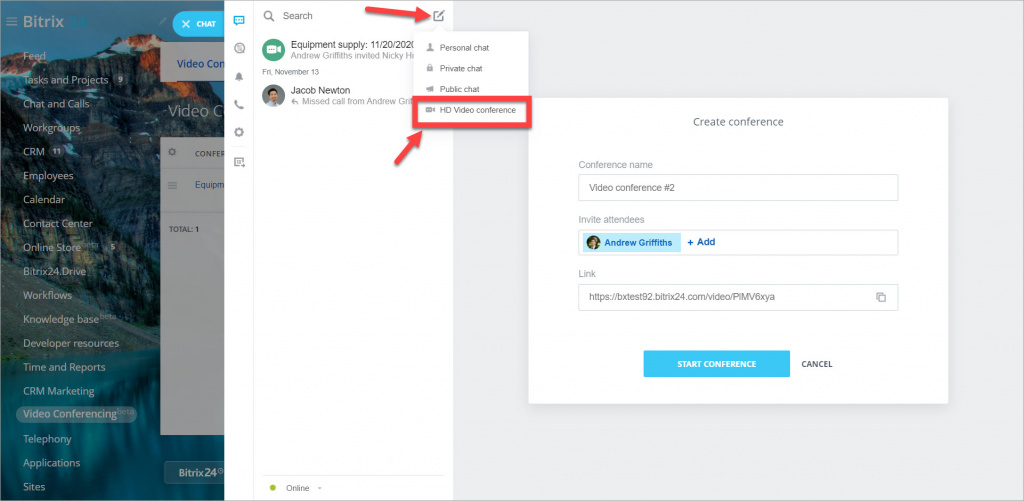 For the correct functioning of video conferencing, you need a suitable browser. Read more in the article - Recommended browser for video calls.
How video conferencing works
For example, you have a small veterinary clinic and want to host a pet grooming webinar for your clients. With video conferencing, you can send a link to connect external attendees.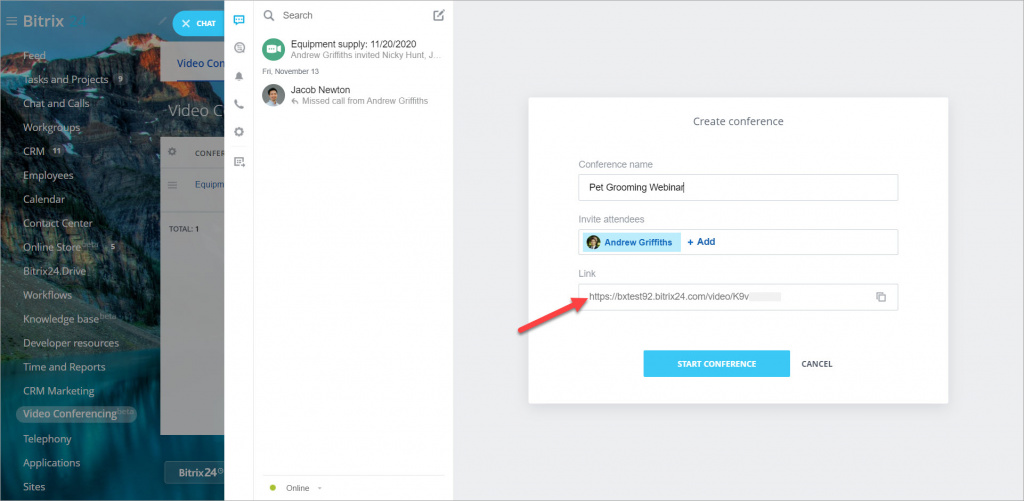 Your clients don't have to download anything or register anywhere. You can invite clients via messengers or social networks.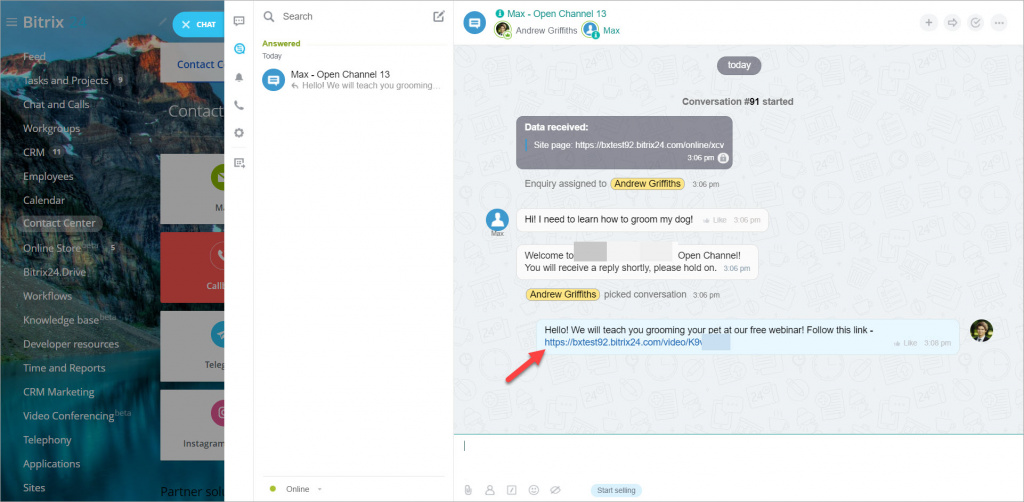 All you need to do is to follow the link and start communicating with your clients.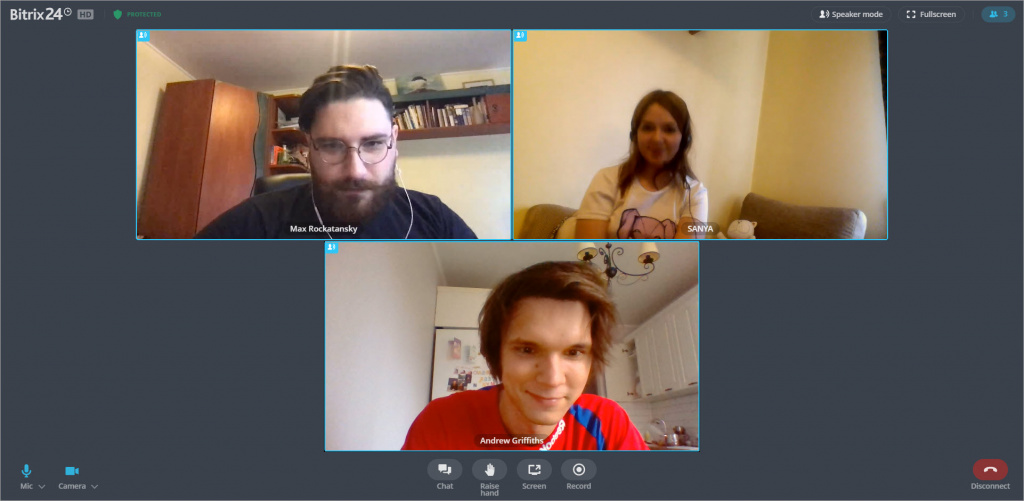 Video conference on your mobile
You can participate in the conference from your mobile phone. Follow the link to the video conference. Allow the camera and microphone access. Enter your name and select a connection option.
Video conference call menu options:
Want to say - click to notify you want to say something. A hand icon will appear when you do this.
List of participants - see the list of attendees.
Copy invitation - copy the conference link to invite other participants.
Change my name - correct your name if you forgot to enter it or made a mistake.
How to edit a video conference
Go to the Video Conferencing section to access the list of video conferences. Click the three dots button to edit or delete the selected conference. For example, let's click the Edit button.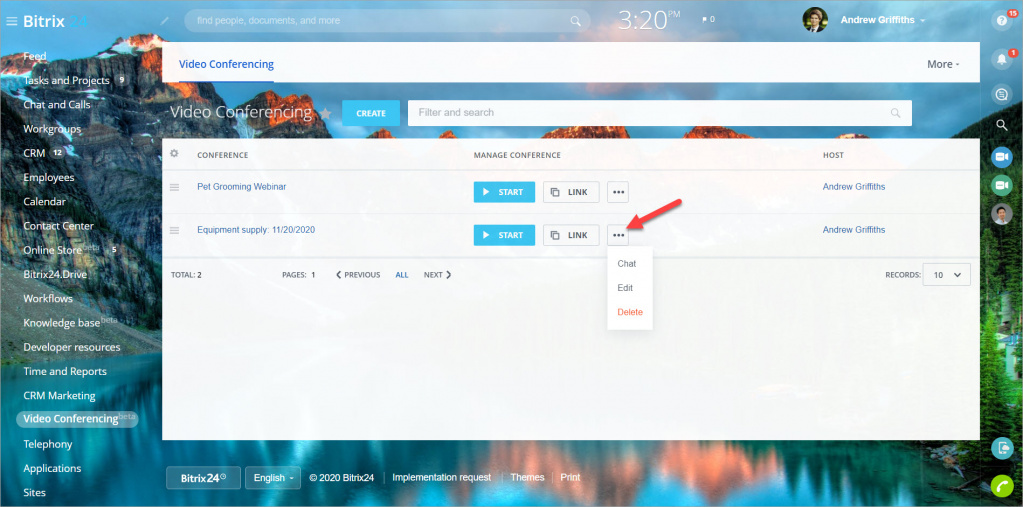 In the opened window, you can edit the conference name, attendees, password, video conference invitation message. Click the field you need to edit > click Save.