What Bitrix24 API is open for:
CRM
Social network groups (workgroups, projects)
Data storage (information blocks)
Notifications and Activity Stream
Tasks
Users and Departments
Calendars
Telephony
Bitrix24.Sites
Chat Bots and Open Channels
Workflows
etc.
Bitrix24 REST API Help:
Bitrix24 REST API documentation (online help) is available here.
Bitrix24 app design guidelines can be downloaded here.
If you have any questions about Bitrix24 API, you can request assistance from Bitrix24 Partners.
How To Create Bitrix24 App?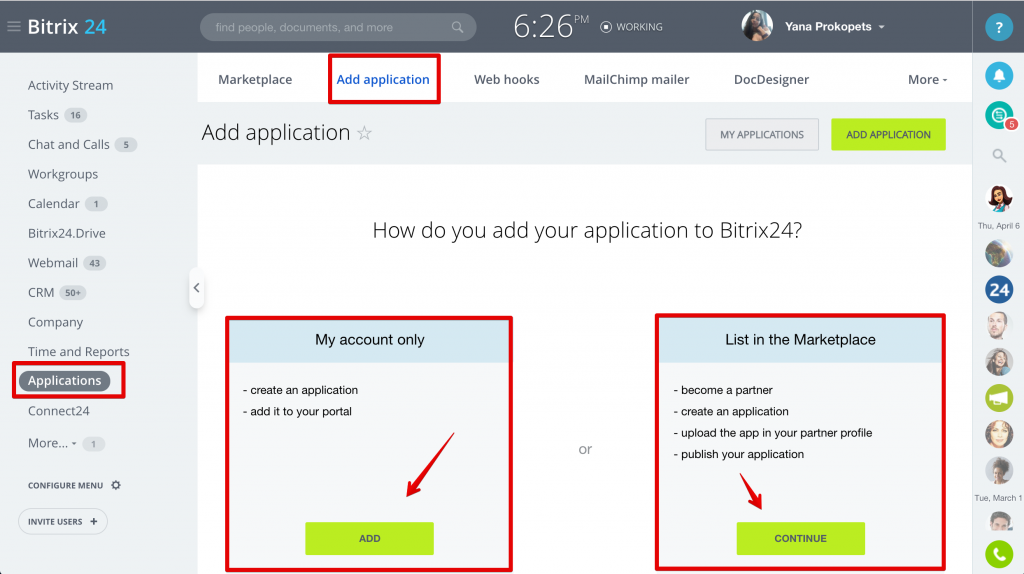 If you are an IT-specialist and considering creating a web app for Bitrix24, please follow these simple instructions:
If you'd like your application to be available to all Bitrix24 accounts, become our partner by filling out the form. If you want to create a private app for your account only, registration is not necessary.
Learn all about Bitrix24 API and how you can create your web apps.
Select 'Add application' in the Applications menu inside your Bitrix24 account (on the left) to upload your private app or register your web app in your Partner Profile if you want your app to be listed publicly!
Web app authorization and security:
The process of adding a new app to your Bitrix24 Cloud account is easy, and we also tried to make it as transparent and secure as possible. Each web app provides you with a list of data it may use (and change) in your Bitrix24 account and asks your permission to do so. The new app will be installed only if you give your permission.
The oAuth security mechanism makes sure that this web app gets access only to the data you have specified (e.g. a web app may ask your permission to access tasks, CRM leads, etc.).
Got ideas for web apps?
If you are not an IT-professional but you have special needs that you believe can be solved through a custom app in your Bitrix24 portal, feel free to share your ideas with us! We'll do our best to make your intranet solution a perfect fit for your business! Shoot us an email to Bitrix24 Team.
Lead creation from external services:
Suppose you have a form on a site that visitors can fill out. Using the REST API of Bitrix24, you can use the data received in this form to create a lead in the CRM. The REST API can be used to only to import leads in the CRM.
Creating leads in the CRM from external services can be done using the special-purpose page:
"your_name".bitrix24.com/crm/configs/import/lead.php
Read this blog post for detailed instructions.