Bitrix24 On-premise editions are ideal for large enterprises and corporate entities.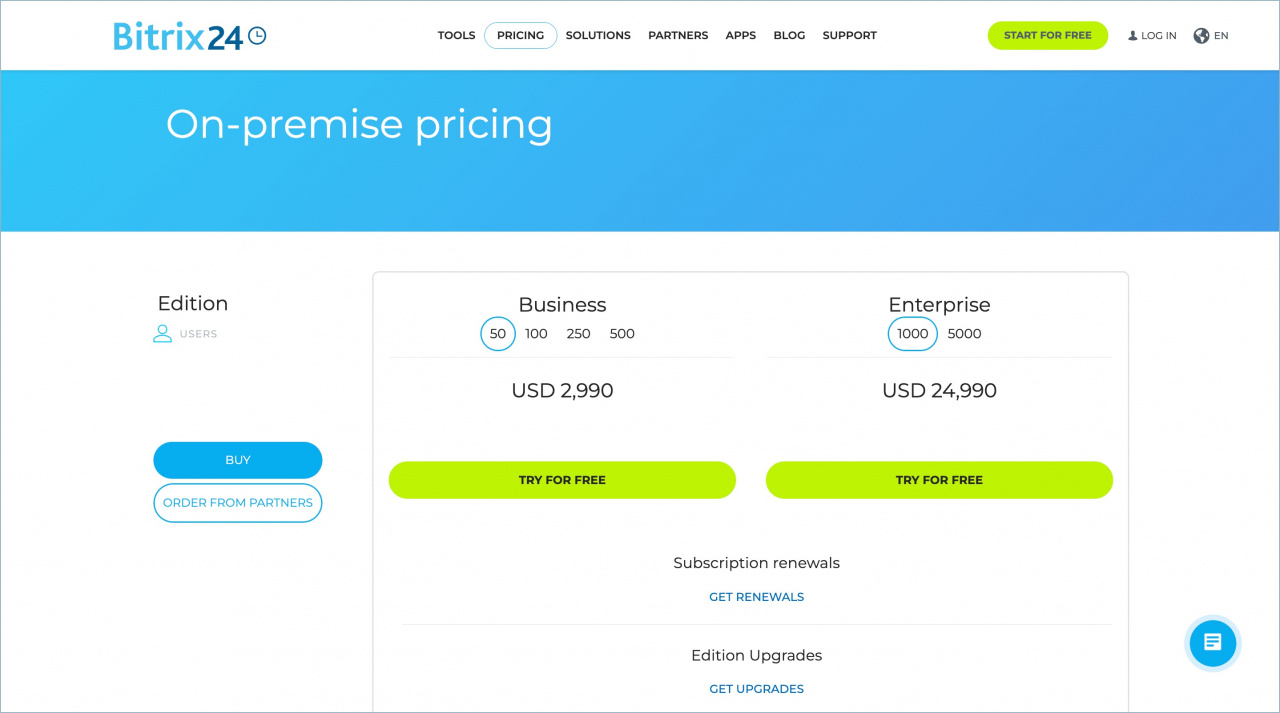 There are two Bitrix24 On-premise editions: Business and Enterprise.
Business edition
Enterprise edition
Bitrix24 On-premise Business edition includes the following features:
More users: 50-500 users can be added to Bitrix24 On-Premise Business edition account.

External users: The Extranet access provides a secure, separate space where workgroups can be shared with external users such as clients, partners, freelancers, and other service providers. All the same functionality is available in extranet groups, but these third parties can only see the workgroups that they are a part of and the various users of those groups.

e-Learning: This feature enables you to create online training courses, conduct tests, and certify users. You can create an unlimited number of online training courses and tests for your employees or people you invite in your extranet. All results achieved by an employee/participant are registered and can be tracked in a journal.

Helpdesk: Bitrix24 comes with a professional helpdesk service that lets you organize technical support services and create a transparent and efficient system for service requests. Support tickets can be created by filling out a special form in the intranet, or via email using a mailbox set up to handle the creation of support tickets.

Active Directory, SSO, MS Exchange, Sharepoint Sync: Bitrix24 integrates closely with MS Outlook tasks, contacts, and calendars (the two-way integration utilizes SharePoint lists based on SOAP). The MS Exchange Server 2007/2010 Connector serves to synchronize calendars, tasks, and contacts in your intranet from MS Exchange Server. Besides, Bitrix24 integrates with Google and Apple products through its support of CalDAV and CardDAV formats. Our product also supports Active Directory/LDAP integration, which provides your account with a centralized method of data management.
Bitrix24 On-premise Enterprise edition includes all the features of Bitrix24 On-Premise Business edition, but in addition, you get:
More users: 1,000-5,000 users can be added to Bitrix24 On-Premise Enterprise edition account.

Multiple Divisions: This extremely useful feature allows separating versions of intranet accounts for each division or department. This functionality was specially designed for companies with multiple offices and branch locations, which need a larger degree of autonomy. In essence, each branch can have its own intranet with a separate structure and design. Employees can get access to their company's intranet, the intranet of their department, and, depending on the settings, the intranets of other departments.

Web-Cluster: Bitrix Web Cluster provides a flexible solution with the real-time scalability for the specific resources (the database or web server) that need to be expanded by adding new machines to the cluster.