Bitrix24 Partners can help you select the optimal Bitrix24 subscription plan and provide you with additional product customization services.
If you want to request assistance from Bitrix24 Partners, visit the Bitrix24 Partners page and select a Partner closest to your location.
After you sign the support services agreement, Bitrix24 Partner will send you a special key.
Bitrix24 Administrator needs to activate the key in the Subscription section - Support24 tab.
Then click the Send message button.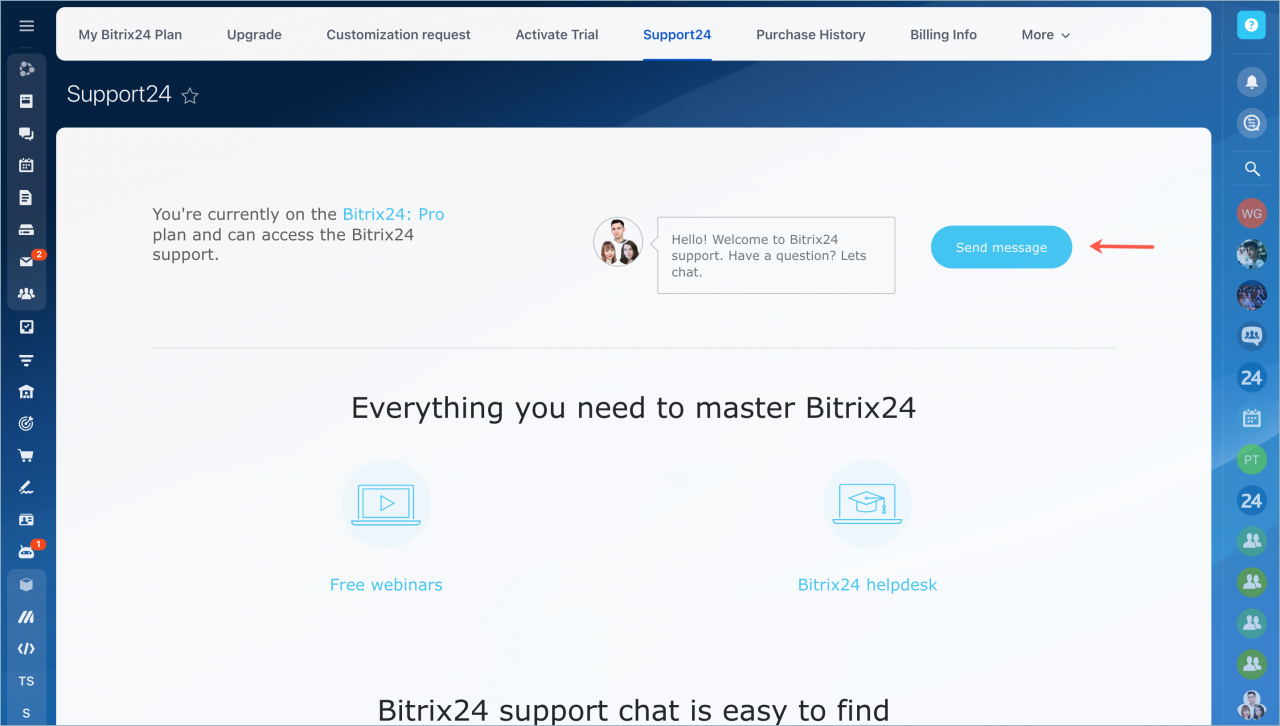 A Bitrix24 Partner Support chat will be opened and you can ask a question to the Bitrix24 partner.
Important: the Bitrix24 Partner Support chat has a blue icon with a "24" sign on it. This will help you to see the difference between the Bitrix24 Partner Support chat and other chats.
You can switch back to Bitrix24 Support at any time.
Read more in the article: How to activate Bitrix24 Support.
Important:
Only Bitrix24 administrator can activate the Bitrix24 Partner support.


Only Bitrix24 administrator or Bitrix24 Partner invited to your account can send a request to the Bitrix24 Partner Support chat.


Bitrix24 Partners may have their own rules and conditions for providing support.


If you have activated the partner support, Bitrix24 Support chat will be unavailable.


All appeals to the integrator from the free Bitrix24 clients or NFR customer accounts are handled by consultants, without transferring requests to technical support engineers.