To add new users to your Bitrix24 account, click the Invite button.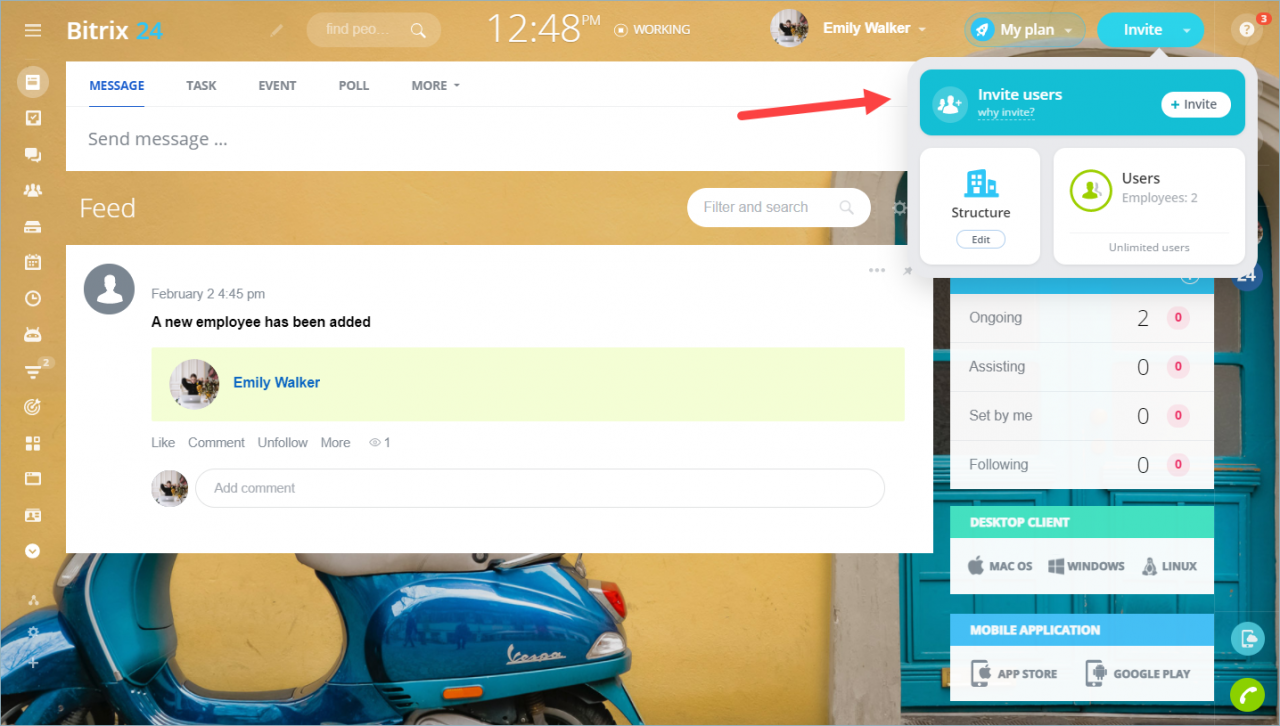 By default, only administrators can invite new users. If you want other users to be able to do that, go to
Settings
in the left menu > enable the
Allow everyone to invite new users to this Bitrix24 account
.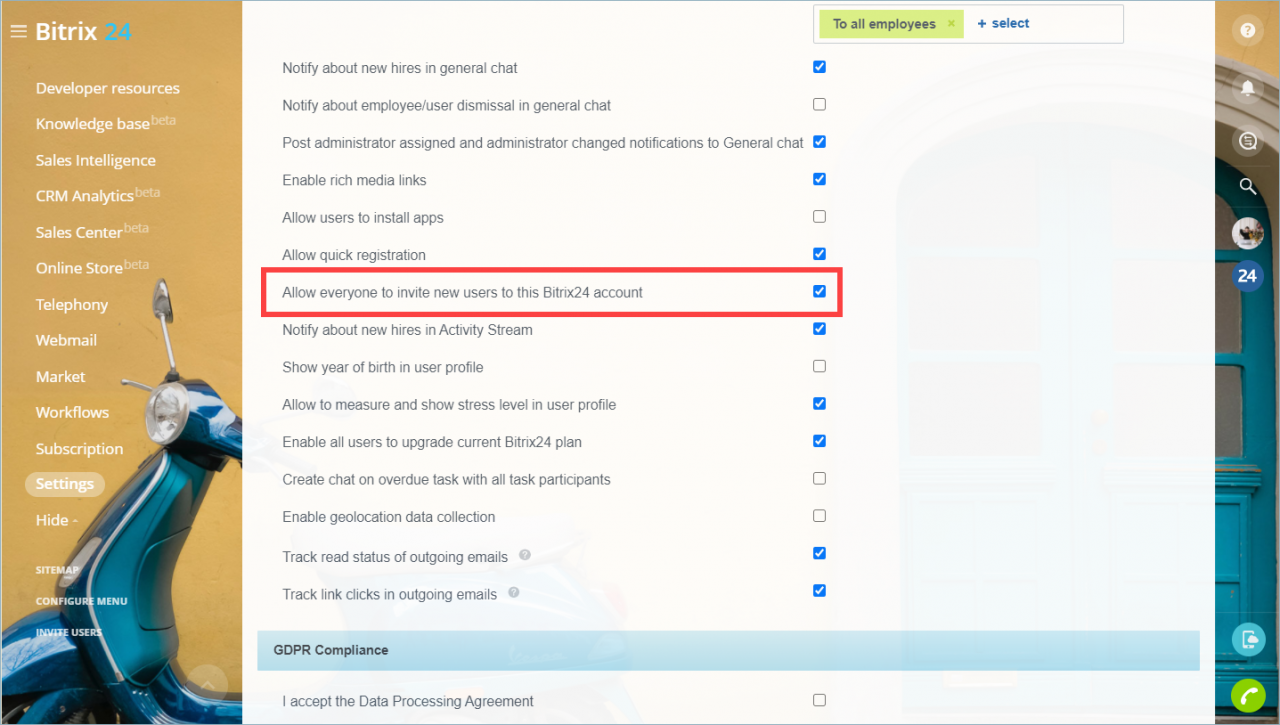 Select one of the options:
Invite via link
Invite via link is the easiest way to add new users. You just copy a special link and send it to people you want to add to your Bitrix24.
A person clicks this link and joins your Bitrix24.
Additional settings
You can disable the quick registration by turning off the Allow quick registration option.
If you want new users to register in your Bitrix24 account and access it after the admin's approval, enable the Request administrator approval to join.
Don't require confirmation for domains - new users will be able to register in your Bitrix24 account and access it without the admin's approval if their email address matches the specified email domain.
Invite via email or phone number
You can add new employees via email or SMS. Click the corresponding button > specify phone numbers or emails of future employees > click Invite.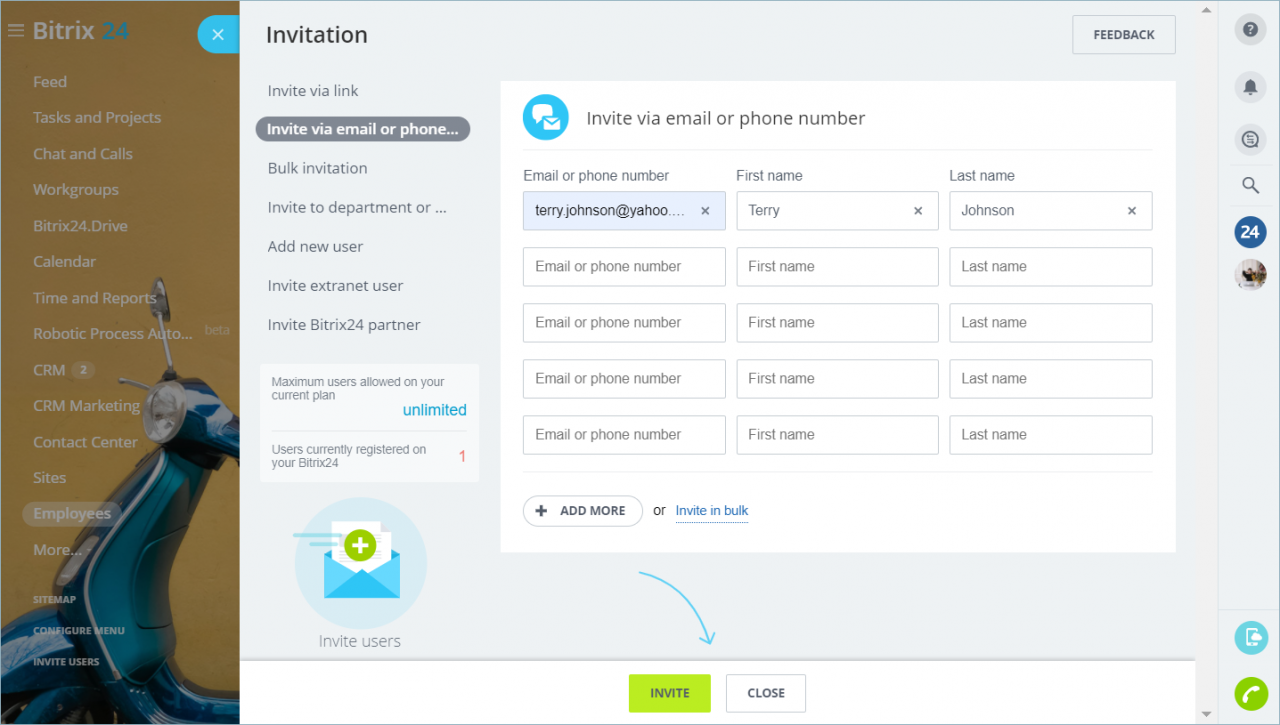 The message text cannot be edited.
You'll see the list of invited persons in the Employees section > select the Invited persons in the filter.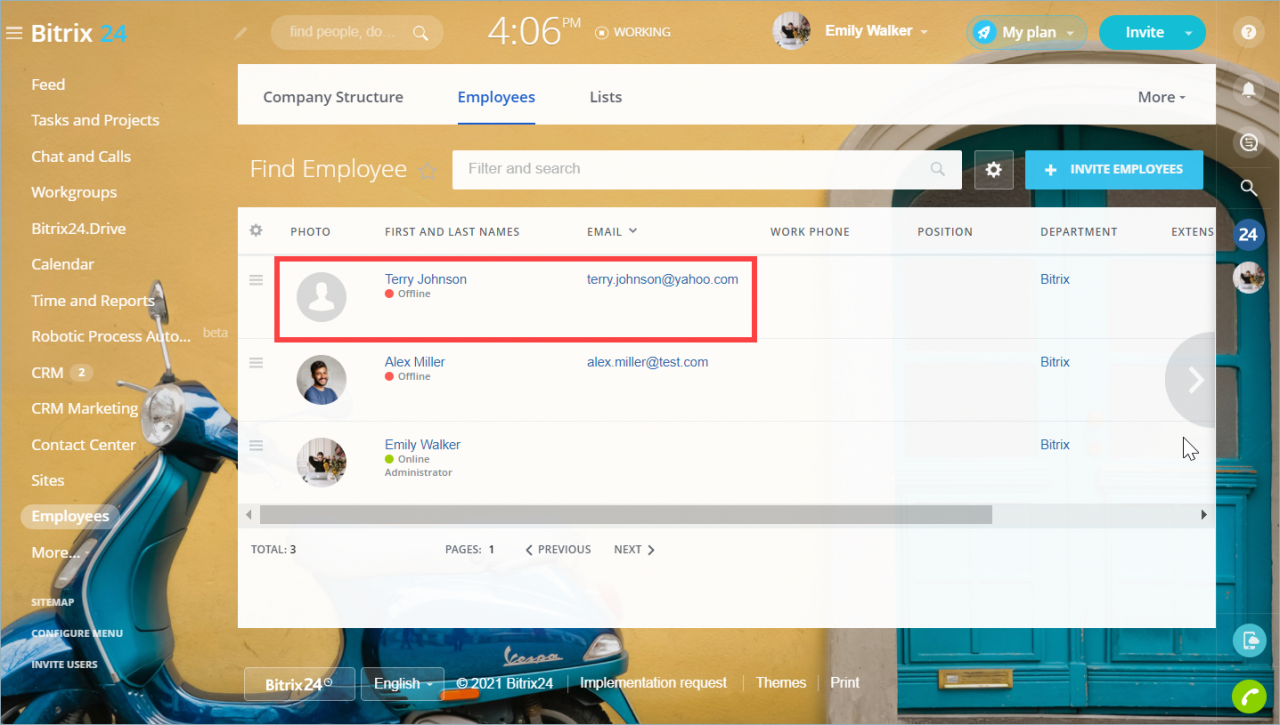 A user will get the SMS message with a registration link.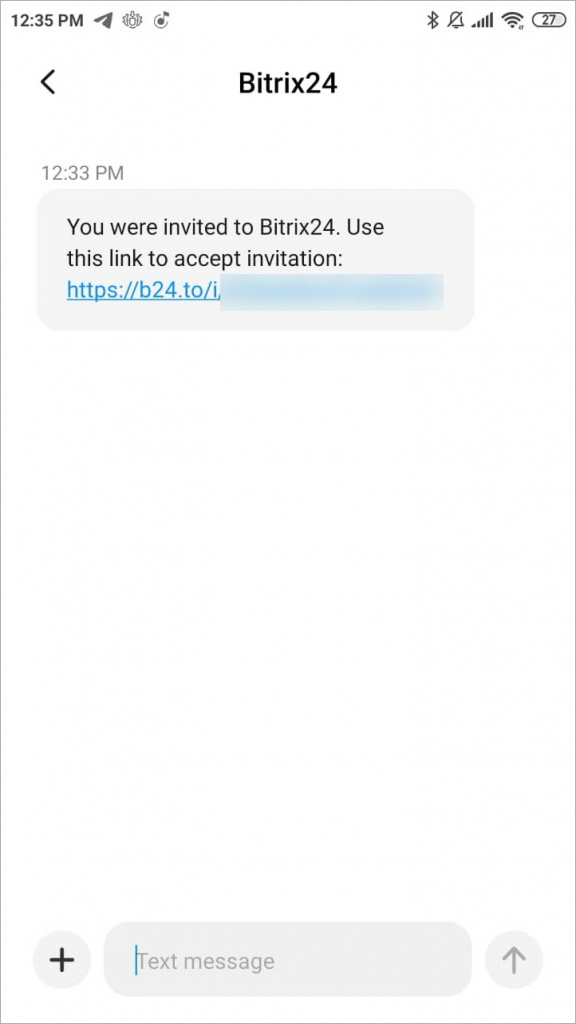 After registration, this user is added to the Employees section.
This user will need to use the specified phone number to log in to the Bitrix24 account.
Bulk invitation
Enter email addresses or phone numbers of persons you want to invite. Separate multiple entries with a comma or space. Click
Invite
.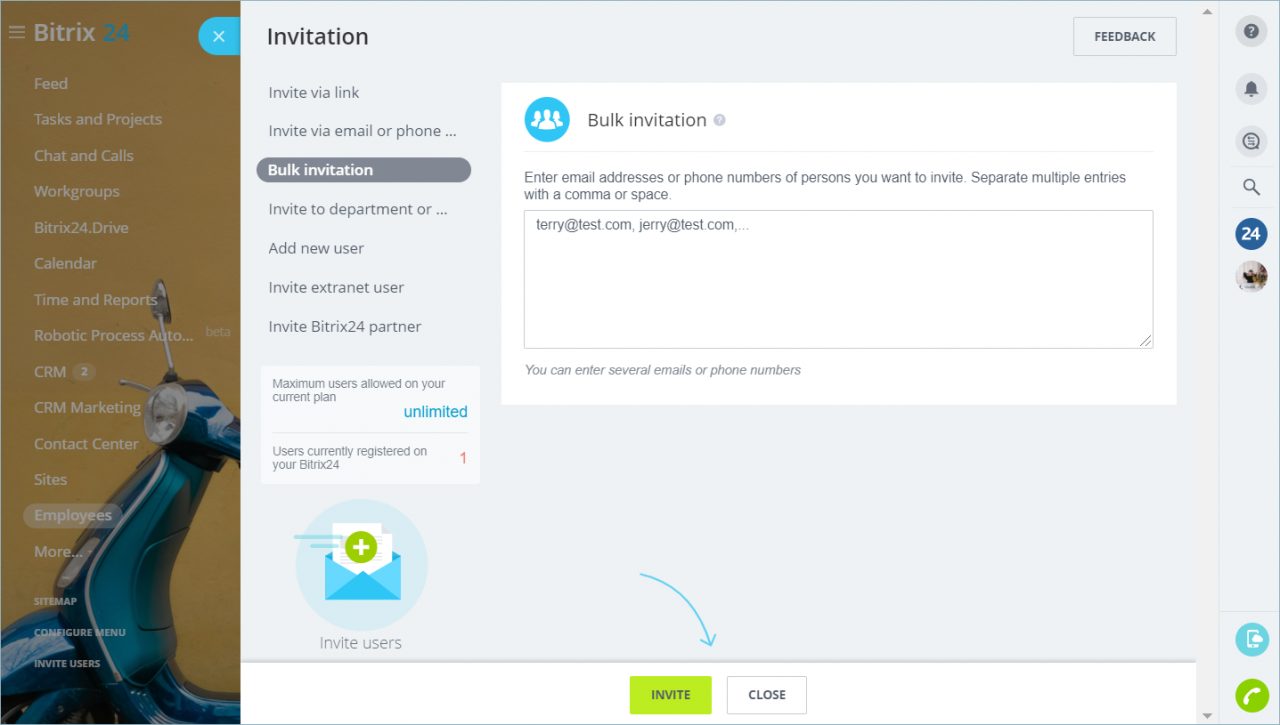 Invite to department or workgroup
Add new user
You can register a new user yourself.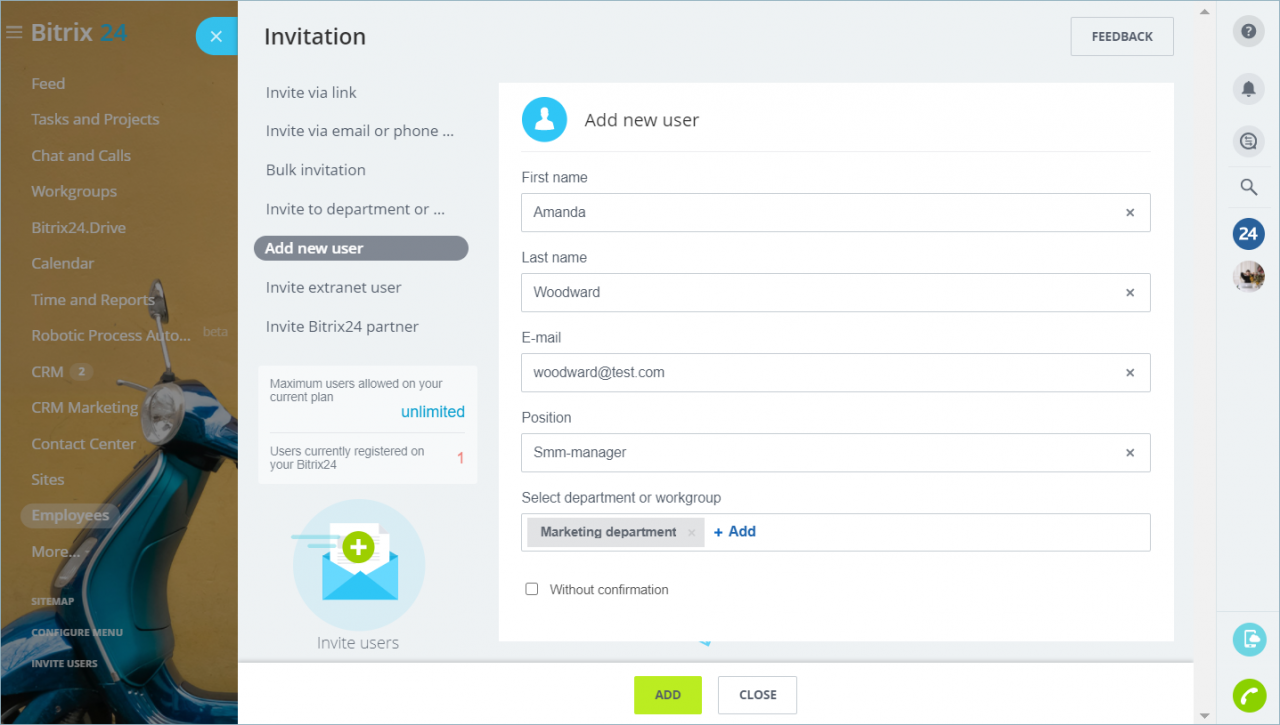 Specify the employee's email address, first name, last name and his/her position.
An email message will be sent to the specified email address with a randomly generated password. This email address will be used as a login. A new employee will need to log in to the Bitrix24 account using these credentials.
If you disable the Without confirmation option, the employee will get an email with a link to the registration form. He/she will need to create a password himself/herself.
The registered employee will be added to the Employees list and to the Company structure, not to the Invited list.
Invite extranet user
You can invite an extranet user to your Bitrix24.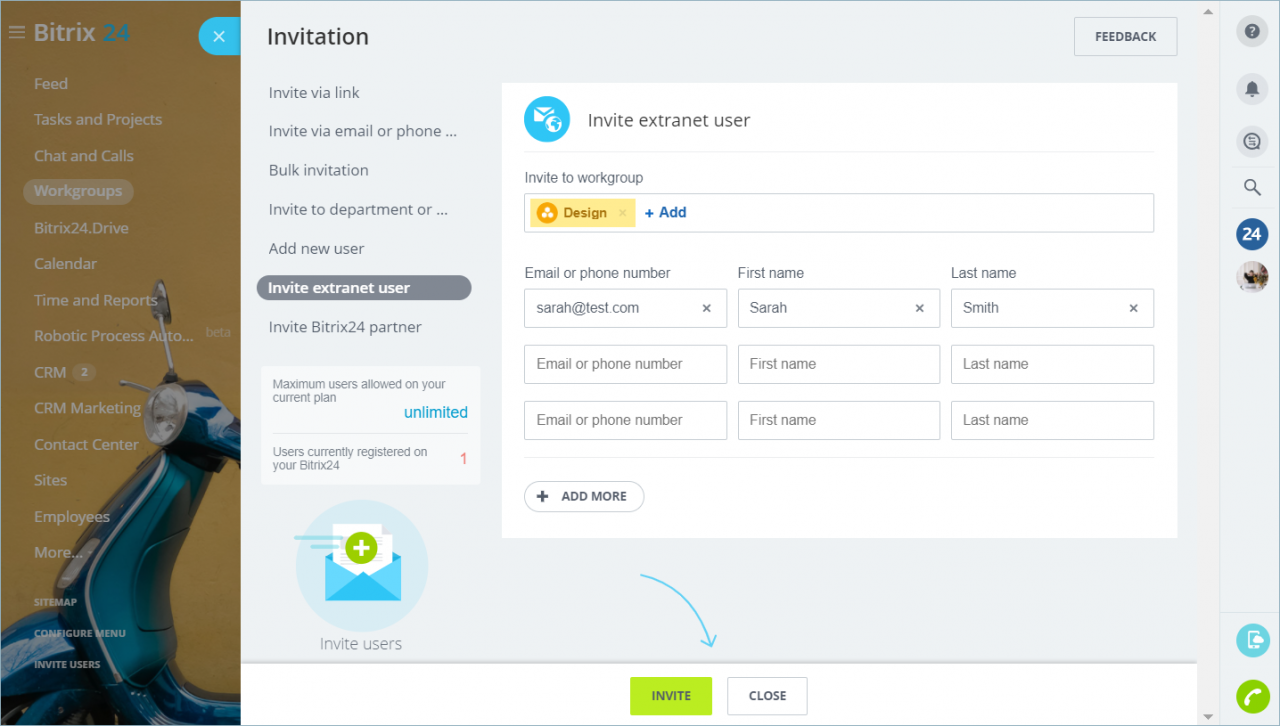 Invite Bitrix24 partner
You can invite certified Bitrix24 Partners to your Bitrix24 account. Inviting Bitrix24 Partner is a safe and easy way to have someone implement Bitrix24 for you while you can concentrate on your business.